Media Monopoly Billionaire, Rupert Murdoch, Incites Another Mob & Pushes a VIGILANTE 'Rush to Justice' through his Propaganda Outlets
A Closer Look at Janice Dean's Vitriolic Accusations that Andrew Cuomo Mishandled the Corona Virus Pandemic in Nursing Homes & the Multiple Allegations of Harassment
March 15, 2021 / US Politics / NYC Neighborhoods / News Analysis & Opinion / Gotham Buzz NYC. Part II.
We left off last week with Janice Dean telling us 'Our Family's Losses are Not Political' and she appears to do a soft launch of her campaign for NYS Governor in 2022 with what seems the unbridled media support aka propaganda of Australian born billionaire Rupert Murdoch.
Rupert Murdoch controls Fox News, the NY Post, the Wall St Journal, Harper Collins Book Publishing and he is the largest shareholder of Disney / ABC. Allowing one person, especially this one, to control this much share of America's media is harmful to this nation because he appears to use his mass media outlets propagandistically to control who gets elected.
Why Murdoch's 21st Century Fox FCC licenses aren't legally challenged for spreading all of the distorted truths to outright lies about gender and race - is incomprehensible to me.
The NY Post graphic at right was used to try to incite and railroad Democrats to oust Cuomo in one of Murdoch's many fascist efforts to bypass rule of law and due process, to enable another of his power grabs in our governmment. I did what the editor of that poorly edited Murdoch media outlet should have done, and turned it back around to feature Murdoch in place of Cuomo.
This is Nazi style management of media and government, as oftentimes the pols Murdoch propagandistically pushes out of office wouldn't bend to his will, and those he ushers in, seem to give him whatever he wants, that they can either hide from the public or con the public into believing is good for them. This is how Goebbels and Hitler usurped the people's power in the budding German democracy in the late 1920's and early 1930's.
Rupert Murdoch & Janice Dean Want You to Believe She's Sunshine, but her Tweets & Vicious Comments Reveal the Opposite
Dean Claims She's Not Politically Motivated, while Seeming to do a 'Soft Launch' of Her Campaign 2022 for NYS Governor on 'Free' Murdoch Media Infommercials
See the report posted on March 12, 2021 for a look into Janice Dean's soft campaign launch for NYS Governor and probe into some of her possible motives for launching such vehement attacks on Andrew Cuomo. Here we pick up on more Janice Dean contradictions where the Fox News host and weather person seem guilty in some measure of doing the same things of which they're accusing Governor Cuomo.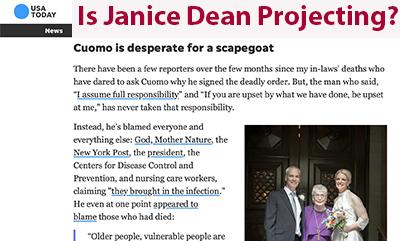 A December 12, 2020 report in the Wrap tells us that Janice Dean tweeted the following,
" ... Nothing wrong with criticizing a politician who likes to profit off the deaths of New Yorkers. (He wrote a book too about 'leadership' during a pandemic) You're right, I don't like the governor because his policies help kill my husbands parents... "
In the Friday, March 12, 2021 report I probe the guilt that oftentimes afflicts families that place their parents [in this case it's Janice Dean's in-laws] in nursing homes, and explore some possible personal motivations for placing or shifting the blame for their deaths at the feet of Governor Cuomo. There's also a brief timeline of the events in question and less so of the nursing home reporting aftermath.
---
Media Monopoly Billionaire, Rupert Murdoch, Incites Another Mob & Pushes a VIGILANTE 'Rush to Justice' through his Propaganda Outlets
A Closer Look at Janice Dean's Vitriolic Accusations that Andrew Cuomo Mishandled the Corona Virus Pandemic in Nursing Homes & the Multiple Allegations of Harassment
March 15, 2021 / US Politics / NYC Neighborhoods / News Analysis & Opinion / Gotham Buzz NYC. Part II - Continued.
Is Janice Dean & Murdoch's Harper Collins Publishing Trying to Profit off Cuomo's Handling of the Pandemic?
So Harper Collins, which is Rupert Murdoch's book publishing unit, just released Janice Dean's second book, Make Your Own Sunshine, which they advertise as,
"... inspiring stories of those who know how to fight in dark times ..."
One might think such an author would have a pleasant demeanour, but the vitriol emanating from Janice Dean's tweets along with Fox News and NY Post presentation of her angry spouts attacking Cuomo seems to reveal someone very different. And just as they accuse Cuomo of trying to profit off the pandemic, they appear to be opportunistically using Dean's attacks on Cuomo's handling of the crisis, to fill their own book publishing pockets while making a power grab for NYS governor.
So that's Janice Dean and the Cuomo nursing home 'scandal'. I could be wrong, but it looks to me like another Murdoch contrived crisis, which he seems to be using to position and eventually install another one of his propaganda promoted political puppets. See the March 12, 2021 report which includes a bit about how Murdoch appeared to install another former employee, Tony Abbott, as the prime minister in Australia, which subsequently seemed to net Murdoch's company an $882 million profit windfall - compliments of the his former employee's [Abbott] Administration failure to file a court brief.
A Closer Look at the Cuomo Harassment Allegations
The harassment accusations began with Lindsey Boylan in December of 2020. She's married to LeRoy Kim, who appears to be an investment banker. I was informed by NYS Assembly member Ron Kim's office that Boylan's husband and the NYS Assembly member are not related. Ron Kim is one of Cuomo's detractors on the nursing home issue, and he accused Cuomo of bullying him.
More coming later today 3/15/21.
---
---