This Weekend - Mothers Day & More
Broadway Tickets go on Sale, Restaurant Capacity Increased to 75%, Mothers Day Restaurants Suggestions [see 4/27 report], Some Things To Do NYC, Free Baseball Tickets, Retail Coming Back & Brief CoVid Update
May 7, 2021 / NYC Neighborhoods / NYC Things To Do Events / News Analysis & Opinion / Gotham Buzz NYC.
Weather. The temperature highs will be in the low 60's on Friday & Sunday, and high 50's on Saturday. The temperature lows will be around 50 on Friday and Sunday and in the mid 50's on Saturday. A small amount of rain [a tenth or two of an inch] is expected during the day Saturday, and a larger amount of rain [up to a half inch] is due starting Sunday late afternoon / early evening. The humidity will be 50% - 70% and the winds 5 - 10 mph all weekend.
Some Broadway Tickets Went on Sale
Effective Thursday 5/6/21 some Broadway Show tickets went on sale online. Broadway is expected to reopen on Tuesday, September 14th, 2021. According to an NBC report about 94,000 people have jobs tied to Broadway Shows. I'm not sure if this includes hotels, restaurants, taxis in addition to acting, stagecraft and production / business management, but the annual revenue figure of $14.8 billion associated with Broadway productions does include related businesses. I believe tickets to some of the big plays like Aladdin, Hamilton and Chicago won't be available until next week - but if you're interested, you should check as soon as possible.
---
Restaurants To Expand to 75% Capacity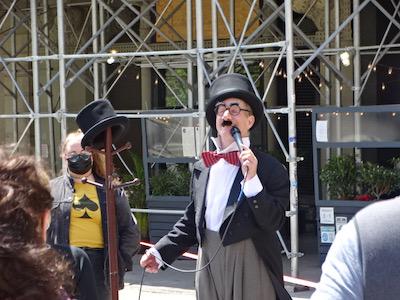 Restaurants can now use 75% of their capacity effective today 5/7/21 - just in time for Mothers Day Weekend in NYC. I believe both New Jersy and Connecticut are doing the same, with the caveat that six feet social distancing remains the guideline in effect.
New York, New Jersey and Connecticut will remove most CoVid related capacity limitations effective Wednesday, May 19th, 2021 for restaurants, retail, cultural institutions like museums and theaters, hair salons, places of worship, gyms, casinos and the like. This removal is based on the assumption that new CoVid cases and hospitalizations continue to fall.
Things to Do - Macy's Flower Show & Lincoln Center
The Macy's Flower Show started on May 2nd and runs through May 16th. See photo showing how they took the show to the adjacent parks and decorated their outer veneer.
The Met Gala is normally held this week, but has been postponed. The good news is that it's returning this year.
Lincoln Center is hosting a number of outdoor performances this month on the plaza and / or adjacent to their pavilions. On May 10 they go 'green' by decorating the concrete space with what looks to be a makeshift golfing green.
Around the boroughs, we're seeing movement of things stirring, but not yet in full motion. I kind of expect the Memorial Day Weekend to be not just the kickoff to the summer, but also to the definitive end of the CoVid pandemic - but this assumes that many of the Trumpckleheads re-enlist in reality and get vaccinated.
Free Baseball Tickets at Yankee & Mets Games
Effective May 19th, the stadiums will be able to seat vaccinated folks at 100% capacity, while seating unvaccinated folks at 33% capacity. Face mask requirements remain in effect for all baseball game attendees. The Yankees and the Mets are also offering free tickets to their games to those who get vaccinated at the stadiums with the one shot J&J vaccine. That seems like a win / win / win. The attendee gets a free ticket and free vaccination, the MLB teams can then seat three people in place of one unvaccinated and NYC and NYS will move closer to putting CoVid behind us.
80,000 NYC Municipal Workers Returned to Work This Week
The Mayor and the NYC Municipal employees are leading by example. This week they returned to working in the office. That's certain to breathe new life into the city and the surrounding businesses.
Separately, but related, as of late April over 80% of school teachers and staff had received their vaccinations. I couldn't find any recent statistics for other unions like the firefighters or police - but a December 2020 report indicated that possibly 50% of the FDNY members weren't [at the time] planning to get vaccinated. This may have changed, as proof of vaccination is likely to increase in value for entry to life as we knew it.
Many businesses are evaluating whether to mandate vaccinations after incentives fail in order to keep their staffs and clientele healthy.
Economy on the Mend - Retail Sales Up, Unemployment Down & MTA to Resume 24/7
Retail Sales Up 10% in March and new unemployment claims fall below a half million for the first time since the pandemic began [but it's still about 200,000 above normal]. Restaurants, clothing and sporting goods lead the way with an increase of 18%.
The sales increases are believed to be a result of the CoVid relief package signed by President Biden. There are some supply shortages which have come about, in part due to the pandemic, which economists are concerned will fuel inflation. Higher inflation leads to higher interest rates. Higher interest rates leads to reduced demand, particularly for high dollar value items like homes and cars. The question is whether this is a CoVid induced blip or something of a more durable nature. Stay tuned.
On Monday, May 17, 2021 the MTA will resume 24/7 operations. Shortly after the pandemic began, the MTA closed the nighttime subway for 4 - 5 hours to deep clean it. As curfews and capacity restrictions fall away, mass transit is required to keep things moving.
And What's a Week Gone by Without Someting About CoVid?
So vaccinations have retreated from their highs in April to about a third the maximum throughput. New cases, hospitalizations and deaths continue to fall, albeit at what seems a slower pace. About 80% of SENIORS and more than 40% of American ADULTS have been fully vaccinated. But this is only about a third of the entire population, although 44% of ALL Americans have had at least one shot. About 20% of the American population is comprised of kids, who to date [except those 16 - 17 years of age] have not been eligible to be vaccinated. But that's about to change.
Pfizer expects FDA approval for their vaccine for kids ages 12 - 15 as soon as this month, and to get approval for ages 2 - 11 in the fall of 2021. Moderna is looking for approval for kids 12 - 17 as early as July or August, and for younger children some time after that.
Scroll down to our April 27th report for some reviews / descriptions of restaurants for Mothers Day for each borough. Enjoy.
---
---