* Things To Do This Weekend in NYC & Boros
First Full Weekend of the New Year - 2nd Anniversary of the Trump Insurrection, Three Kings Day Parade, Greek, Ukrainian & Russian Orthodox Christmas, Shabbat Dinner, January Under the Radar Festival Begins, Mulchfest Ending & Skating & a Couple of Holiday Market Sales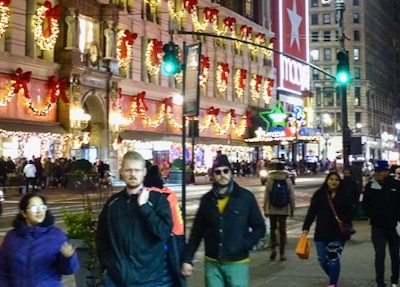 January 5, 2023 / NYC Neighborhoods / NYC Things To Do Events / Gotham Buzz NYC.
NYC Weather. The temperature highs will be in the high 40's on Friday and Saturday, descending to the low 40's on Sunday. The temperature lows will be in the low to mid 30's all weekend. The humidity will be 70% on Friday, 60% on Saturday and between 50% and 70% on Sunday. Winds will be 5 - 10 mph all weekend. A scant amount of precipitation is expected early Friday morning, as well as late Sunday night. It appears to be something one needn't worry too much about.
In the photo at right, taken last week in Manhattan, you can see Macy's in the background, in all of its holiday glory.
---
White House, Washington, D.C. - Failed Insurrection
President Biden is planning to commemorate the failed Trump Insurrection of January 6th, 2021, with a White House event planned on Friday.
Around NYC - Mulchfest Ends Sunday
NYC Parks Department is hosting Mulchfest at various locations in each borough through Sunday, January 8th. This is an opportunity to recycle your Christmas trees and wreaths. Find a location and time that suits you - https://www.nycgovparks.org/highlights/festivals/mulchfest
Manhattan
On Friday there's a Three Kings Day Parade and celebration from 11 am - 2 pm at the Museo del Barrio at 1230 5th Avenue [at 104th / 105th Street] on the UES. They are also hosting a post holiday sale at their gift shop with 15% off most items. For details see - https://www.elmuseo.org/
January Arts Festival began this week and runs through the end of the month. The Under the Radar Jazz Festival, Chamber Music America and Opera Theatre Now are all on various stages this weekend. For details see https://www.janartsnyc.org/
In the photo at right, taken in Midtown Manhattan last week, you can see the crowds have returned to NYC.
The annual Origami holiday exhibit at the American Museum of Natural History at 200 Central Park West [btwn 77th & 81st] on the Upper West Side runs through January 16th, 2023. This year the exhibit is entitled 'Beautiful Bugs' to highlight the important role of insects in the planet ecosystem.
NEXT WEEK. The Joyce Theatre American Dance Platform begins Tuesday, January 10th and the Winter Jazz Festival begins on Thursday, January 12th. It's all part of the January Arts Festival - https://www.janartsnyc.org/
Brooklyn
On Friday there's the Brooklyn Brownstone Jazz Ensemble Concert Series beginning at 7.30 pm at 107 Macon Street in the Bed Stuyvesant neighborhood of Brooklyn. Tickets are $39 at https://brownstonejazz.business.site/
The Lightscape Show at the Brooklyn Botanic Garden continues through January 8th, 2023. Tickets cost $40 for adults / $20 for kids and babies (0-2) are free.
Queens
On Friday from 11 am - 2 pm there's a Job Fair in Queens at BJ's Wholesale Club at 137-05 20th Avenue in the College Point neighborhood of Queens.
NEXT WEEK. There's a closing reception at the Jamaica Center for Arts & Learning at 161-04 Jamaica Avenue in the Jamaica section of Queens, next Friday, January 13th, from 5 pm - 9 pm. The exhibit is called The Art of Women and the Sacred Landscape of the Divine Feminine. It's free but you should rsvp at https://www.jcal.org/.
NEXT WEEK. Friday & Saturday, January 13th & 14th beginning at 7 pm there's a performance by Compass [dance group] about the evolution from patriarchal power at the LaGuardia Performing Arts Center . Tickets are $15 at http://lpac.nyc.
Bronx
The Third Avenue holiday market at 2817 3rd Avenue between 148th and 149th Streets is open for its final day on Friday, January 6th from 11 am - 7 pm.
There's a Shabbat Dinner at the Bronx Jewish Center at 900 Pelham Parkway beginning at 7 pm in the Pelham Parkway neighborhood in the Bronx on Friday.
In the photo at right, taken last week, you see the Orpheum Theater in the East Village, where STOMP, a dance and musical performance show, will end its 29 year long run on Sunday, January 8th. In April of this year, the Phantom of the Opera, the longest running musical on Broadway [35 years], will also close.
The Holiday Train Show [1/6 - 1/16/23 except Monday 1/9/23] & Glow [Saturdays 1/7 and 1/14 only ] exhibits run through the holidays at the New York Botanical Garden at 2900 Southern Blvd in the Bedford Park neighborhood of the Bronx. The train show tickets cost $35 / $31 / $20 and the Glow tickets cost $39 / $24 at https://www.nybg.org/.
The Holiday Lights show at the Bronx Zoo at 2300 Southern Blvd continues through January 8th. Tickets are $40 / $35 / $25 at https://bronxzoo.com.
Staten Island
There's a Winter Lantern Festival at 75 Richmond Terrace [the stadium] on Staten Island. The show runs through January 8th, 2023. Tickets are $18 / $29 at https://www.winterlanternfestival.com.
On Friday and Saturday at the Conference House in Tottenville, there's the Festival of Trees.
I hope your new year is off to a good start. Enjoy your first weekend.
---