Things to do This Weekend in NYC & Boros
AIPAD Photography Show, Chain Theatre Performance Continues, Fresh, Fly & Fabulous Exhibit at FIT in Manhattan; Chocolate Factory & Armstrong at LeFrak, and Next Week Sculpture Center Gala & Mets Home Opener in Queens; Luna Amusement Park Opens & Rachel Wren Exhibit in Brooklyn, Pregones Music Fest Ends Friday, Bronx Art Space Exhibit Closing Reception Saturday, NYBG Orchid Show in the Bronx; 5K Run on Staten Island, Palm Sunday, Passover Wednesday & Ramadan Continues
March 31, 2023 / NYC Neighborhoods / NYC Things To Do Events / News Analysis & Opinion / Gotham Buzz NYC.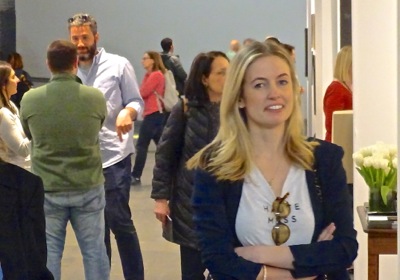 NYC Weather. The temperature highs will rise from 50 on Friday, to 70 on Saturday, falling back to 50 on Sunday. The temperature lows will range between the mid and high 30's all weekend. The winds will range from 10 - 15 mph all weekend. The humidity will fall from about 80% Friday, to 70% Saturday to 40% Sunday. There will be scattered thunder showers Saturday ending around noon and with a brief return between 7 and 9 pm Saturday night, otherwise lookin' good.
The photos in this report were taken at an AIPAD show in a prior year. See below for details.
---
Manhattan Things To Do This Weekend
On Friday, March 31st, the AIPAD [Association of International Photography Art Dealers] Show opens at Center 415 at 415 5th Avenue. The show ends on Sunday, April 2nd.
Through Saturday, April 8th beginning at 7 pm [most nights], the Chain Theatre at 312 West 36th Street [3rd Floor] will be hosting live performances of THIS G*D DAMN HOUSE. The play is described as follows, " ... Jet lagged, without warning, Danny is summoned from NYC by his brother Jacob to Florida. Their mother has 24 hrs to vacate their childhood home. The problem is, their mother is a hoarder and the house is an indoor trash heap. The brothers dig through the filth and garbage with memories, trauma, and the past rising to the surface as the deadline closes in...". For tickets and details see - https://www.chaintheatre.org.
OPEN CALL. The Chain NYC Film Festival is accepting submissions. The early bird deadline is April 29, 2023. Producers, Directors and Actors can save on entry fees by submitting their work early on Film Freeway. For details see - https://www.chaintheatre.org/.
Fresh, Fly and Fabulous is on exhibit at the Fashion Institute of Management at 227 West 27th Street in Chelsea from February 8th to April 23rd. The exhibit is dedicated to Hip Hop not just as music and fashion, but as a lifestyle and cultural statement. Hip Hop celebrates its 50th anniversary this year. Wednesday - Friday from noon to 8 pm and Saturday and Sunday from 10 am - 5 pm. There's an all day symposium on Friday, February 24th. For details see - https://www.fitnyc.edu/
Friday, Saturday and Sunday at various times at the NYU Skirball Center there's Phelim McDermott & Philip Glass: Tao of Glass which is a combination of music, dance and theatrical performance. The event is described as, " ... This New York Premiere marries ten new works from Glass with ten theatrical meditations on life, death, and Taoist wisdom. Performed by McDermott with a virtuosic ensemble of musicians and puppeteers, Tao of Glass is a storytelling tapestry, underscored by Glass's mesmerizing music, and shot through with Improbable's trademark magical stagecraft ...". For details and $78 - $98 tickets see - https://nyuskirball.org.
OPEN CALL. From March 1 - June 1, 2023, there's an Open Call by the Asian American Film Lab in a project they've entitled the 72 Hour Shoot Out. Early bird entries begin at $25, rising to $50 by April & $75 May. For details see - https://www.asianamericanfilmlab.com/
Next Week. From Friday, April 7 - Sunday, April 16 from 10 am - 10 pm, except Sundays when it closes at 7 pm, the International Auto Show will be at the Javits Center in West Midtown Manhattan. For $21 adults / $7 kids tickets and details see - https://javitscenter.com/
The first Manhattan street fair of the 2023 season begins on the Upper West Side this weekend.
Brooklyn Things To Do This Weekend
Luna Park Amusement Park at Coney Island opens Friday, March 31, 2023 from 12 noon - 8 pm. It's open 11 am - 8 pm weekends in April and all week between the Christian and Orthodox Easter Sundays [April 9 - 16].
The Rachel Wren exhibit continues at The Shirley Project Space at 609 Washington Avenue [at Dean Street] in the Prospect Heights neighborhood of Brooklyn NY. On view from March 23 - May 12, 2023. Free.
The Brooklyn street fairs of the 2023 season, begin this month.
Queens Things To Do This Weekend
On Friday evening there's a Green Space performance on UES. For tickets and details see - https://www.greenspacestudio.org/
March 27 - April 8th beginning at 7 pm, The Chocolate Factory at 38-33 24th Street in LIC is hosting performances of Night Keeper, a modern dance performance. For event details and $20 tickets see https://chocolatefactorytheater.org.
On Saturday, April 1, 2023 there's a concert entitled Armstrong Now at the LeFrak Concert Hall at Queens College in Flushing. For details and $25 tickets see - https://kupferbergcenter.org
On Sunday, April 2nd beginning at 4 pm, there's the Miss Greek Independence Pageant at the Stathakeion Center at 22-51 29th Street in Astoria Queens. If I'm not mistaken, this is where they choose one of the key Greek Independence Day parade participants. For details see - http://hellenicsocieties.org/
Next Week. On Tuesday, April 4th, the Sculpture Center is hosting its Annual Gala at 44-12 Purves Street in LIC. For further details and tickets see - https://www.sculpture-center.org/.
Next Week. On Thursday, April 6th, beginning at 1.10 pm, the NY Mets play the Miami Marlins at CitiField in their home opening game of the 2023 season.
The first Queens street fair of the 2023 season begins in Forest Hills this weekend.
Bronx Things To Do This Weekend
On Friday beginning at 7 pm the Roadside & Pregones will perform,at the Pregones PRTT Theater at 575 Walton Avenue in the Bronx. The event is billed as "... First-gen Appalachian artists of Roadside in Kentucky (1975-2020) and Puerto Rican artists of Pregones in The Bronx boast over 30 years of friendship on and off stage ... we revisit great moments in our history with Old Time Music master Ron Short, Afro-Puerto Rican Jazz artist Desmar Guevara, poet/emcee Caridad "La Bruja" De La Luz, and a bevy of other formidable guests". For $18 - $36 tickets see - https://pregonesprtt.org/.
On Saturday, April 1st, there's a closing party for the exhibit entitled Queer Nature at Bronx Art Space at 700 Manida Street [near Spofford Avenue] in the Hunts Point neighborhood of the Bronx. The exhibit is described as, " ... One of the primary arguments against homosexuality is the belief that it is not deemed as "natural", therefore cannot be considered normal. Nature is often weaponized to justify homophobia and transphobia, falsely using biology as a means to enforce social constructs. Some cells reproduce asexually, same-sex behaviors occur in hundreds of species of animals, numerous plants and animals are hermaphroditic; many of them switching genders. How can one consider homosexuality unnatural when it is evident in nature? ...". One of the reasons people's understanding and conversations about gender and race are so messed up is that the mainstream media teleprompter readers seem at least as ignorant as their audiences. For details on the exhibit see - http://www.bronxartspace.com.
Through April 23rd, the Orchid Show will be at the New York Botanical Garden. This year the installation was designed by Lily Kwong a landscape artist who explores Asian cultural themes.
The Bronx street fairs of the 2023 season, begin this month.
Staten Island Things To Do This Weekend
On Saturday morning beginning at 8 am / 9 am / 9.30 am there's a 5 K Run at Clove Lakes Park for the Arnold Obey/RUMC 5K Run/Walk benefiting the Wayne Zenna Neonatal Intensive Care Unit at Richmond University Medical Center on Staten Island. All are welcome.
The first Staten Island street fair of the 2023 Spring season begins on April 8th in the Charleston neighborhood.
Enjoy.
---