Taste of LIC - Food Festivals in Queens
The Chocolate Factory Theatre Produces Another Winner
June 5, 2012 / Long Island City LIC / Restaurants in NYC / Gotham Buzz NYC.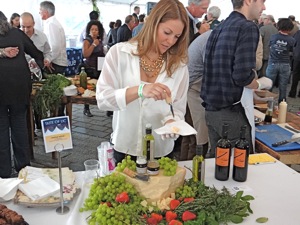 The Chocolate Factory of LIC has been putting on avante garde theatrical productions in LIC since 2004, and organizing the Taste of LIC since 2005. I've attended a couple of them, and the Taste of LIC seems to provide the right blend of scene, scenery and 'tasty' nibbles and drinks, which keeps us coming back.
In this report we'll journey to about a dozen food and beverage tables where I sampled some of each restaurateur's wares. Click here to read the rest of our report and view the photos of the delicious food and beverages provided by LIC restaurants & wine stores at the Taste of LIC 2012.
Click here to read our report and view photos of the Taste of LIC 2012. Food Festivals in NYC.
---
Taste of LIC - Food Festivals in Queens
Chocolate Factory Theatre Produces Another Winner
June 5, 2012 / Long Island City LIC / Restaurants in NYC / Gotham Buzz NYC. Continued.
It was a beautiful day to be outside as I approached the large tent set up in Gantry State Park along the East River in Long Island City.
Skinny's Cantina - Mexican Restaurants in LIC
My first stop was Skinny's Cantina, a Mexican restaurant located at Center Blvd and 47th Road in LIC next to the large supermarket FoodCellar & Company. I sampled a quesadilla topped with bits of zucchini and tomato. The quesadilla is a nacho corn chip with cheese wrapped inside of it and the vegetable bits on top of it are called pico de gallo. The quesadilla was followed by a chicken tortilla with a bit of spicy sauce on it. Both were quite delicious, and I was off to a good start.
In the photo to your right is the quesadilla of Skinny's Cantina in Long Island City.
Vesta Trattoria - Italian Restaurants in LIC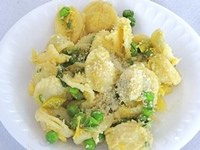 My next stop was the Vesta table. Vesta is an Italian trattoria and wine bar located at 21-20 30th Avenue in Astoria. I sampled their orichiette pasta with green peas, olive oil and Parmesan cheese. The orichiette had a soft dense texture and the peas were fresh and flavorful. I would like to have stayed for more, but I was determined to push on.
In the photo to your right is the orichiette pasta with green peas prepared by Vesta Trattoria of LIC.
The Riverview - Seafood Restaurants in LIC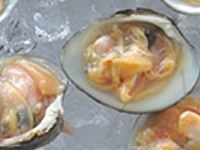 The Riverview had carved out a sort of corner complex at one end of the tent where they had set up a couple of food tables to serve a sampling of their menu. I first tasted the crabcake with avocado coulis. The coulis is a puree made of avocado, which was placed atop the soft moist crabcake. This was followed by the scallops Ceviche which is a popular Latin American dish where raw fish is marinated in citrus. The scallops were place atop a cracker, which dampens some of the citrus flavor once inside the mouth.
Next up was the eggplant caviar which was made of pepper, shitake mushroom, garlic and olive oil. I followed these with a boiled clam chaser. Each of these appetizers tasted as good as they looked. The boiled clam served by the Riverview restaurant of LIC is shown in the photo to your right.
Omnipak Import - Truffles Importers in Flushing Queens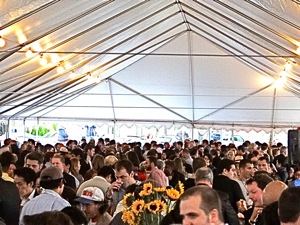 Omnipak Import Ent, Inc. of Flushing provided a sampling of truffle oils. Truffle oil is an expensive culinary luxury. Truffles are made of subterranean mushrooms that are generally found in France, Italy and other parts of the Mediterranean. Black and white truffles and oils are generally used sparingly in cooking because of their high cost. Truffles add a pungent flavor and is served with pastas, meats and cheese. I sampled some truffle oil atop a piece of cheese, before moving on.
A photo of the truffles being served by Omnipak is shown above in the story introduction. The photo to your left was taken of the crowd underneath the big tent at Taste of LIC 2012.
The Chocolate Factory - Sponsors of Taste of LIC
Chocolate Factory founders Sheila Lewandowski & Brian Rogers - our hosts for the evening - arrived at the podium to thank everyone for attending the Taste of LIC 2012. CCM Jimmy Van Bramer and CCS Christine Quinn joined them and presented them with an honorarium for their artistic contributions to LIC & NYC. As mentioned above, the Chocolate Factory has become an incubator for avante garde theater in Queens & NYC since its founding in 2004.
Brian Rogers, Christine Quinn, Jimmy Van Bramer and Sheila Lewandowski are shown in the photo to your right.


Bear Bar & Restaurant - New European Restaurants in LIC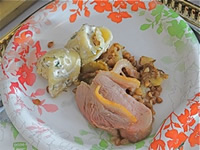 My next stop was the Bear Bar & Restaurant table. The Bear Bar & Restaurant offers 'New European Cuisine' and opened at the end of 2011. They are located at 12-14 31st Avenue in LIC. Here I sampled their slow roasted duck, which was moist and flavorful and absolutely delicious. I asked the woman how she managed to keep it so moist as frequently chefs overcook the bird and dry it out.
She said that she cooked it old fashioned style at a low heat and for six hours. I also sampled their veal ravioli, which was made Ukranian style. The dish included fresh dill and crème fraiche which was soft and complex and very, very good. I finished sampling the Bear's treats by sampling their buckwheat pilaf which is made with potato, apples and onions. The roasted duck prepared by the Bear Bar and Restaurant is shown in the photo to your right.
Court Square Wines - Wine Stores in LIC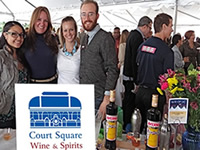 It was time for a wine accompaniment, so headed over to the Court Square Wines table to investigate the wine offerings of the day. They had a smooth Cabernet, which gave me a chance to relax and enjoy the ambiance before moving onto to sample the offerings of more Long Island City restaurants.
Court Square Wines is located at 24-20 Jackson Avenue, which is a stones throw from the subway station. The photo to your right shows the Court Square Wine & Spirits staff serving wines at the Taste of LIC in the Hunters Point section of LIC.
Cranky's Restaurant - French Creole Cuisine in LIC
My next stop was Cranky's Restaurant which offers French Creole cuisine. I sampled their Jambalaya. This was a complex mixture of baked beef, Andouille sausage, mussels and shrimp and rice, boiled in a sauce made with tomatoes, bacon, beer and blackened spices. The jambalaya was a complex, spicy broth which the accompanying rice absorbs and softens, and some of the best French Creole cooking I have tasted in quite some time. French Creole cuisine is classical French style cooking adapted to American ingredients with Spanish, American Indian and African influences.
In the photo to your right is the jambalaya served by Cranky's, one of the French Creole restaurants in the LIC section of Queens.
Sage General Store - Healthy Restaurants in LIC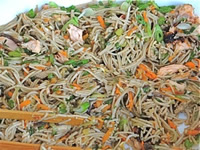 Music was playing in the background as people mingled and munched. The Sage General Store was the next stop on our Taste of LIC tour. The Sage General Store is located next to Court Square Wines noted above at 24-20 Jackson Avenue and also near the subway stop.
Leslie Nielsson and Greta Paretsky were serving salmon sobe noodle salad. The salad was made with raw salmon and sobe noodles, as well as wild mushrooms, asparagus and legumes. I was told that the cold salad was flavored with soy sauce, ginger, garlic and love. The noodles were soft and the vegetables al dente and the whole ensemble was as flavorful as it was healthy. The salmon sobe noodle served by Sage General restaurant in Long Island City LIC is shown in the photo to your right.
Tom Cat Bakery in LIC - Artisan Bakeries in Queens
I then sampled a bit of foccacia made by the Tom Cat Bakery of LIC. Tom Cat Bakery is located at 43-05 Tenth Street in LIC and has been serving Long Island City, Queens and NYC since 1987. Tom Cat Bakery provides restaurants and high end food stores with artisan breads and baked goods, and the foccacia was delicious.
There's only so much room in one's tummy and I was beginning to approach the legal limit. So I chose two more tables to visit before I was to make my way home for a couple days of digesting. In the photo to your right are the baked goods prepared by Tom Cat Bakery in LIC.
Tropical Restaurant - Ecuadorian Restaurants in Woodhaven Queens
Tropical Restaurant serves traditional Ecuadorian cuisine in the Woodhaven neighborhood of Queens, where they are located at 88-19 Jamaica Avenue. I sampled their Tostones which are fried bananas with garlic sauce. They tasted like a mix of fried of potato and banana and are likely a great side dish.
The tostones served by Tropical Restaurant are shown in the photo to your right.
The Creek & The Cave - American Restaurants in LIC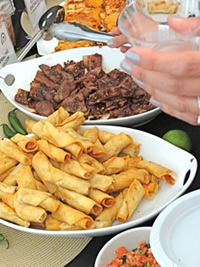 My last and final stop was at the Creek & The Cave. The Creek & The Cave is a combination comedy club and restaurant / bar located at 10-93 Jackson Avenue, which is several blocks away from any one of the three #7 subway line stops in Long Island City. I sampled the veggie and bacon quesadillas, and could easily see myself consuming more of these some Saturday or Sunday afternoon while watching a football game. I also tried one of their chicken flautas which was made of a fresh dough and filled with chicken and cheese.
And so ended my culinary tour of LIC - all in one evening, along the increasingly beautiful East River, with Manhattan looking good from the distance. The sun was beginning to fade and so was I. Needless to say, it was a fun evening, filled with good food & wine and good conversation. Bon Appetit.
Photos of Taste of LIC 2012
Click here to view photos of the Taste of LIC 2012.
---
LIC Neighborhood - Long Island City Links
$element(adman,groupad,Catgry Foodwine)$
Click on these advertisements for promotions, discounts and coupons by retailers and restaurateurs in Long Island City LIC and nearby Queens.
Click this link to go to the Long Island City section of the Queens Buzz site.
---
$element(adman,groupad,Catgry Rest)$
Site Search Tips. 1) For best results, when typing in more than one word, use quotation marks - eg "Astoria Park". 2) Also try either singular or plural words when searching for a specific item such as "gym" or "gyms".
$element(bwcore,insert_search,N)$
---
$element(adman,groupad,Sectional2 Ad)$
Click the log in link below to create an ID and post an opinion.
Or send this story to a friend by filling in the appropriate box below.
---