July 4th Week - NYC Events & Happenings
City Restaurants Turned Inside Out, NYC NYPD Protests Continue, Broadway Cancels Fall Season, Major League Sports Update, Elections Results Still Unknown with Lessons for the Fall & July 4th Fireworks Begin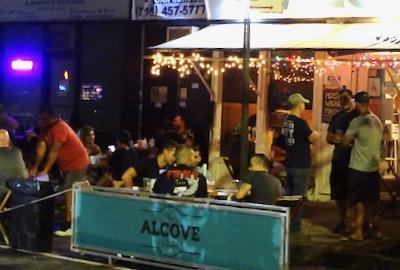 June 29, 2020 / NYC Neighborhoods / NYC CoVid 19 Special Section / News Analysis & Opinion / Gotham Buzz NYC.
NYC entered Phase II of its economic reopening a week ago. As part of that phase, restaurants were allowed to serve customers on the sidewalks in front of their establishments. Over the past week or so, more and more people have returned to enjoying a restaurant meal in a social milieu. Now when I'm returning home around or after dinner time I feel as if I'm walking right through the center of several restaurants.
Restaurants Turned Inside Out
It's kind of interesting, because I get to see the entire clientele without having to enter the restaurant and I can also see what the food looks like. I reckon the downside is that while it seems generally the customers have masks which I see lying on the tables, they take them off or pull them down while there. This makes sense as eating and drinking with the mask on is not feasible. The downside is that while I used to walk around the neighborhood without wearing the mask [it's ok out of doors when distancing six feet ], I've started wearing my mask out of doors while I'm walking through these restaurant seating areas ... just to be safe. The photo above was taken in Sunnyside Queens this week.
Phase III is expected to begin next week, and on Wednesday the Governor and Mayor will announce whether or not restaurants will be allowed to serve customers inside. There's reluctance to do so, as it is believed that the in house social interactions are one of the leading contributors to others states now seeing a surge in CoVid cases.
---
July 4th Week - NYC Events & Happenings
City Restaurants Turned Inside Out, NYC NYPD Protests Continue, Broadway Cancels Fall Season, Major League Sports Update, Elections Results Still Unknown with Lessons for the Fall & July 4th Fireworks Begin
June 29, 2020 / NYC Neighborhoods / NYC CoVid 19 Special Section / News Analysis & Opinion / Gotham Buzz NYC. Continued.
NYS Takeout Cocktail Law Extended for Third Time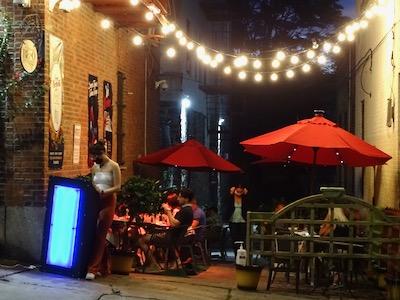 On Friday Governor Cuomo extended the NYS Takeout Cocktail Law for another month. The law was set to expire Saturday 6/27. Restaurateurs have been hurting since the CoVid Pandemic hit, closing them except for pick up, for about three months.
On June 22nd NYC entered into Phase II whereby restaurateurs were permitted to serve people outside. In Phase III - assuming all goes well [which as noted above is not a given] - restaurants will be able to serve people inside at 50% capacity.
The photo at right was taken in the St. George neighborhood on Staten Island Saturday evening 6/27.
Broadway & Carnegie Hall Cancel Fall Seasons
The Broadway League announced that the Fall Broadway season has been cancelled until January 2021. The Broadway League is comprised of theater owners and theatrical production producers / creators and affiliated contributors. Carnegie Hall also announced it was cancelling its Fall season. This is in line with what we previously reported vis a vis Lincoln Center and we understand that most - if not all - musical venues will not be coming back until 2021. The photo at right was taken along 42nd Street looking west toward Times Square and Broadway.
This has significant economic implications as cultural centers attract people to NYC from around the nation and around the world and helps drive retail shopping and the restaurant business in NYC. Over 60 million tourists visit NYC each year and their attraction to the Big Apple is driven - in part - by cultural performances, the parades and festivals and major sporting events - most of which won't be made accessible by the public this year. Many also come for the food, the diversity and non-performance cultural institutions - like the Metropolitan Museum of Art, which is planning to reopen at the end of August and MoMA is expecting to open before September. This is all dependent on how NYC and NYS are doing with respect to containing the spread of CoVid.
CoVid Pandemic Still Raging in U.S.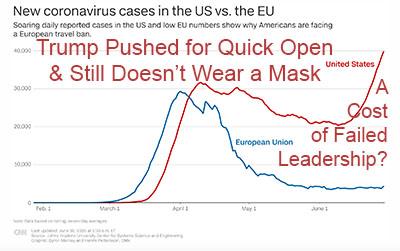 All but two states showed increase in CoVid cases the last couple days. And many state are reaching record highs, such as Florida, Arizona, Texas and California. It is believed that these states - at the Donald's pressuring - reopened too soon and that too many in the population don't wear masks - also like the Donald.
I hope it will be different in New York City & NY State, as I wish it were different in the rest of the nation. America is First in Corona Virus infections and in Corona Virus deaths. On a national level we're doing so poorly, that even our European Allies, who are opening for international travel effective July 1st, are expected to extend travel restrictions on the U.S. until we get our act together on the Corona Virus.
I found the chart shown at right on the CNN website with the data provided by Johns Hopkins University in Baltimore, Maryland.
City Hall Police Budget Protests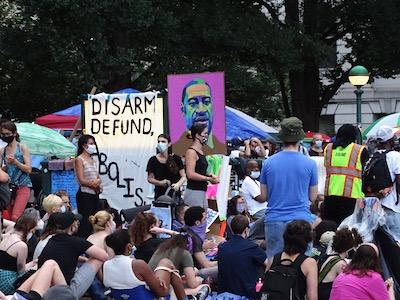 I visited City Hall over the weekend, to see what was happening at the NYPD Budget protests. I arrived early Saturday evening when there were several hundred people congregated on a warm but dry and pleasant evening. A few speakers were keeping the crowd engaged, but generally it was pretty mellow - almost like a park, afternoon sunning event. The photo at right was taken at City Hall on Saturday evening 6/27.
The Mayor and City Council are setting the next budget as we speak, which seeks to cut the NYPD budget and reallocate some of the money to alternative approaches to reducing crime. The protesters have asked for reduced funding for the NYPD, in order to reallocate funding to social services and to expand the repertoire of government responses to various 911 calls such as crises related to physical health, mental health, family troubles and so forth. They would also like to see more funding allocated to youth social programs in order to steer kids toward a productive life, rather than a criminal one. It appears that's exactly what is happening.
Murdoch Media Distortion: Is the City on Fire or is Rupert Murdoch Out of Control?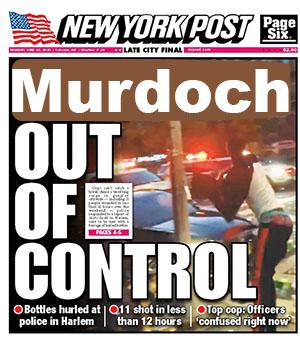 But you might have trouble learning anything about the real policy issues of the police debate if you trust the U.S. news outlets acquired and controlled by elitest Australian born billionaire Rupert Murdoch. The elitest billionaire controls the NY Post, Fox News and the Wall Street Journal - all age old American brands which he appears to use as a propaganda machine. When the George Floyd protest began, his Fox News outlet kept running and re-running the same video of one car on fire to hype the protests, increase the fear and amplify his ratings and profits.
Murdoch's latest effort seems to be to distort short and immediate sharp rise in shootings in NYC [see NY Post front page at right which I edited / corrected]. While crime is up the past couple of weeks, it's because of a gang war, which one or more of his media outlets fail to disclose / include in their reporting. Murdoch media amped this same type of fearmongering a number of years ago, when de Blasio became Mayor and ended Stop N' Frisk, by highlighting and blazing fear mongering headlines about a short uptick in crime. By the end of the year crime was at or near record lows .
Oftentimes Murdoch seems to partner with NYPBA Union Boss Patrick Lynch in trying to bring down City Hall. They both pushed aggressively to keep Daniel Pantaleo on the NYPD after Eric Garner's death. See our report on this in the Murdoch Media Madness section of Gotham Buzz - or click Pat Lynch NYPBA Union Boss and Rupert Murdoch's NY Post advocate to keep Pantaleo on NYPD in wake of Eric Garner's death.
Murdoch media appear to manipulate what their audiences see - and thus believe - in other English speaking nations like Australia where Murdoch reportedly controls about 70% of newspapers [2011], as well as in Britain where he controls an overwhelming share of newspapers [he controls over 40% including two of the largest papers such as The Sun & The London Times]. Murdoch also controls the largest share of privately owned television outlets in both nations, and his media too often seem to omit key facts and amp allegations and innuendo as a means of creating impressions in their audiences that don't align with the facts - as his NY Post did by urging the retention of Daniel Pantaleo on the NYPD in the wake of Eric Garner's death - see above link .
Murdoch's Propaganda Machine is a Fascist Threat to U.S. Democracy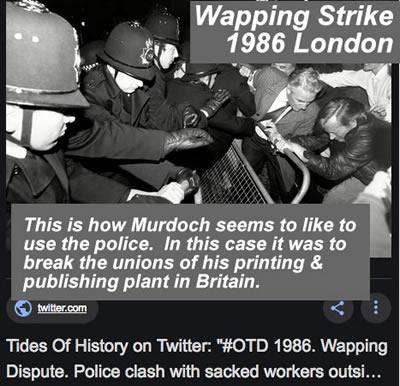 Murdoch famously used tax payer funded police power in London in 1984 - 1985, to bust the printing and related unions at his media companies in that nation. Murdoch seemed to propagandistically promote Prime Minister Margaret Thatcher in multiple elections, which she won.
And Thatcher seemed to return Murdoch's propagandistic media favors, by green lighting Murdoch's acquisition of the London Times. This enabled Murdoch to consolidate his grip on the media market in Britain, as he already controlled the News of the World, which was the nation's largest paper.
This appears to parallel what Murdoch has done here. After providing seeminglly limitless infommercials and unrelenting propaganda support for the Trump presidency, the Donald's FCC and Department of Justice appeared to greenlight the Disney / ABC merger with Murdoch's Fox - which now puts Murdoch in a commanding position in the U.S. TV market as he now controls or is the largest shareholder in two of the nations four TV networks. This enables him near control of the news the majority of Americans see.
Murdoch Appears to use Government & Police Power to Crush Unions
UK Prime Minister Thatcher also gave Murdoch unwavering government / police support to bust the printing and related unions serving his company. The strike and the beat down of its struggle lasted nearly a year at Wapping [outside of London], where numerous people were injured and far more arrested. In 1987, years after the strike, in an anniversary protest of the strike, 300 people were injured in what some believed was use of excessive force by the police. During the strike 400 police were injured and 1262 people were arrested. The breaking of the unions greatly enriched Murdoch, yielding dividends for many years to come. About 5,500 jobs were at risk and most were lost.
This one of many reasons I believe the man who controls more media in America than anyone else - by a terrible long shot - is a fascist. Merriam Webster defines fascism as,
"... a form of far-right, authoritarian ultranationalism characterized by dictatorial power, forcible suppression of opposition, as well as strong regimentation of society and of the economy ..."
Murdoch Controls a Near Monopoly Share of U.S. TV Market
This is one of the main reasons why the current political and cultural situation in America, has become so dangerous to our nation's democracy. Especially in light of the Donald's green lighting Murdoch's inverted takeover of Disney / ABC. In that March 2019 merger, Murdoch sold some Fox assets to Disney / ABC for $71 billion, which enabled him to become that corporation's largest shareholder.
Thus Murdoch is now the largest shareholder at Disney / ABC which is one of America's four TV networks. Murdoch also controls Fox TV, giving him control and / or significant influence in half of the nation's four national networks. He also controls the Wall Street Journal and the NY Post - two of this nation's largest newspapers. Hulu streaming is also controlled by Disney / ABC.
Murdoch Appears to be Insidiously Gaining Control of Disney / ABC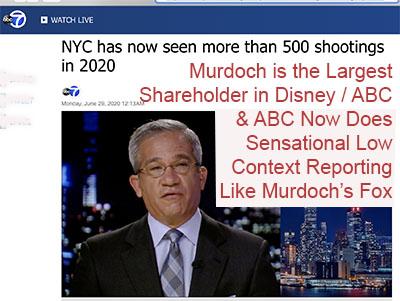 The February 25, 2020 appointment of former Disney Parks, Experiences and Products Executive Bob Chapek - to replace Bob Iger as the new Disney / ABC CEO - came as a surprise to most analysts.
But I suspect it came as no surprise to Murdoch. And it would come as no surprise to me if Murdoch pulled strings to obtain that appointment. If Murdoch's past machinations are any guide, he's already well on his way to quietly and insidiously putting Murdoch people in key positions of that organization, as he works to transform a couple credible and venerable brands of that American corporation [Disney & ABC] into outlets of his propaganda machine.
I tell you this so you're aware of the real threat to American democracy - the media Trojan Horse. Russian 'President' Vladimir Putin could only dream of having the power and influence in American government that Murdoch has. Murdoch's mendacious media seem to spin the news into what Murdoch appears to want the audience to believe. And what he wants them to believe seems to have everything to do with who he wants elected. And who he wants elected appears to be related to what he thinks whoever is elected can and must do to further enrich and empower Murdoch. It's simple logic.
NYC is NOT on Fire: But Violent Crime is up & Other Crimes are Down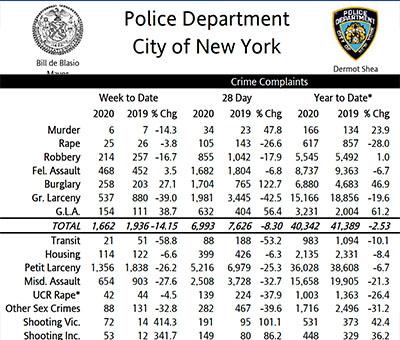 This is an unusual year in many respects. Burglaries are up, but robberies are down. Rapes are down and violent crime is up. As mentioned previously, a good share of the killings and violence seems related to gang related turf wars.
In thinking about police funding, consider listening to whatever side you're not on. Not always, but generally, both sides have valid points and something to say. We need law enforcement and law enforcement needs us.
There's no good reason we can't work together - except that some people [like Murdoch perhaps?] will exploit the situation to eke out personal gains. Pay attention to those who seek to do this, including the police union boss(es), who appear for too long to have protected a few 'bad apples' in the NYPD. These few 'bad apples' really make it hard for all of the other good policemen and women to do their jobs, and their retention on the NY Police force increases the risk for all of the police officers working at the NYPD .
Negotiation and compromise are good. It's how this nation has been able to move forward. It's how the nation was founded. It's respectful and recognition that perhaps the other side has a point - no matter how wrong it may be. Inevitably there's some measure of logic driving the position of each side. But sometimes you have to look hard, and then even when you find it, you may totally disagree with it. But at least then you are informed and on the road to a deeper understanding.
Major League Sports 2020 Seasons - To Be or Not To Be?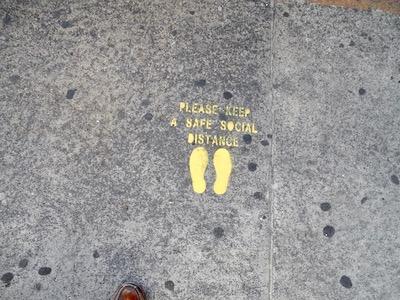 Major League Baseball teams are expected to begin practice on July 1st and the season begins on July 23rd or 24th for a 60 game season. One of the MLB players has already opted out.
The NBA is expected to have 22 teams begin practice on July 7th to play 22 games prior to the playoffs, which are currently expected to begin July 30th. The 22 teams included in this round robin were those who had secured berths or were within six games of a berth. NBA players are not required to play and one significant player from the Brooklyn Nets, Wilson Chandler, has already opted out. All the games will be played at the Disney in Orlando. Florida recently became the new epicenter of the Corona Virus.
The National Hockey League announced plans to go straight to the Stanley Cup Playoffs. As such NHL practice begins July 10th. The playoffs are expected to begin two to three weeks later in late July or early August at locations in two separate to be chosen cities. There's a wrinkle in that 26 players out of 250, tested positive for CoVid 19. Stay tuned.
And the NFL so far is continuing with its season opening / plans for September 7th. All 32 teams are expected to begin practice in late July which is normal. But the 32 teams are located in 23 states and what's going on in those states CoVid-wise, may impact the NFL plans, as it is both a contact sport [increases chances of CoVid infections] and an outdoor sport [reduces chances of CoVid infections].
NYS & NYC Election Results - Still Waiting for Mail In Votes
It's estimated that the mail in votes for the 2020 NYS primary represent about two thirds of the vote. At an estimated 700,000 votes, that puts the turnout at lows equal to the 2014 interim election. So CoVid isn't good for democracy.
The unfortunate thing is that I could find no data indicating to voters in which districts those mail votes were sent. And many mail in votes get disqualified, making it a very imperfect process - see below.
Losing Electoral Strategy: Vote by Mail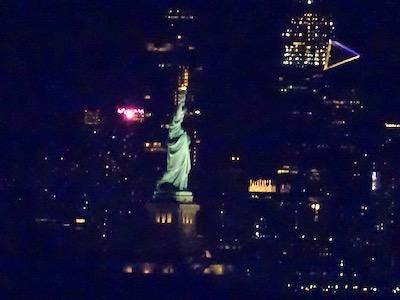 Democrats and Republicans need pay heed as voting by mail is no panacea. In spite of Democrats and TV News pundits denials there is no voter fraud via mail. There appears there was some in Paterson, New Jersey.
But that's really the least of it. Way too many mailed votes are disqualified. About 8% of the mail in votes were disqualified in the most recent national election [2018] according to an April 7, 2020 report in Politico. And I know from personal experience that they disqualify ,mail-in votes on what seem stupid technicalities. I forgot to sign the outside of the ballot envelope, and so my ballot was disqualified in one of the 2018 elections.
Hence I would not bet the farm in the upcoming election on the mail in vote, as it seems likely to provide enough chaos to provide the chaos makers and managers enough room to spin, distort and obtain whatever election result they want - like Murdoch's Fox News seemed to do late at night in the 2000 presidential election in Florida.
July 4th Fireworks NYC: Monday thru Friday & Saturday
The plan is to make the Macy's fireworks visible to all. Historically the fireworks go off around 9.20 or 9.30 pm [dusk / dark] and last 20 - 30 minutes emanating from one location. This year the fireworks will be launched from multiple locations on each week night so that collectively all New Yorkers will have an opportunity to see them. And on July 4th there will be some sort of celebration which will include a video of the weekday nights plus something from the Empire State Building.
Story, photos and commentary on graphics by Michael Wood.
---
---