Is Trump Using Taxpayer Dollars to Fund his Campaign & the DHS to Work for Him for Free?
Thursday Afternoon 10/15 in an NYC Neighborhood, Boxes of Food were Distributed with a White House Letter from Trump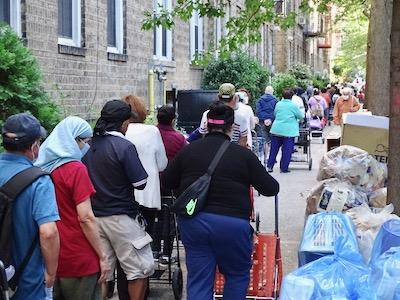 October 15, 2020 / NYC Neighborhoods / U.S. Politics / News Analysis & Opinion / Gotham Buzz NYC.
I fell upon a food distribution event at the corner of 43rd Avenue between 46th and 47th Streets on Thursday, October 15th. It was being distributed by what appears to be a non-denominational church group - Mosaic Church and Community Center of 46-01 43rd Avenue in Sunnyside.
So I took a few photos of what seemed an ordinary event these days, until I asked them to allow me to photograph the contents in the boxes, where I found a letter from Donald Trump, in what appears to be a possible use and abuse of taxpayer dollars to fund his cash strapped re-election bid.
Letter on White House Stationery Signed by Trump
The contents of the letter are as follows and a photo of the letter in English is shown at right. The letter was also written in Spanish on the reverse side.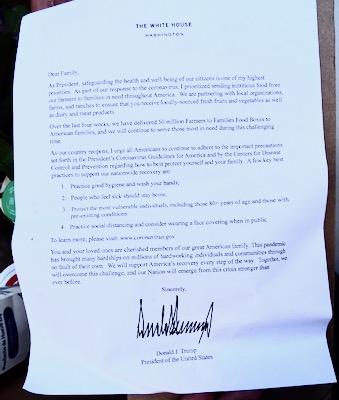 The White House
Washington
Dear Family,
As president, safeguarding the health and well being of our citizens is one of my highest priorities. As part of our response to the coronavirus, I prioritized sending nutritious food from our farmers to families in need throughout America. We are partnering with local organizations, farms and ranches to ensure that you receive locallly-sourced fresh fruits and vegetables as well as dairy and meat products.
Over the past four weeks, we have delivered 50 million Farmers to Families Food Boxes to American families, and we will continue to serve those most in need during this challenging time.
As our country reopens, I urge all Americans to continue to adhere to the important precautions set forth in the President's Coronavirus Guidelines for America and by the Centers for Disease Control and Prevention regarding how to best protect yourself and your family. A few key best practices to support our nationwide recovery are:
1. Practices good hygience and wash your hands.
2. People who feel sick should stay home.
3. Protect the most vulnerable individuals, including those 80+ years of age and those with pre-existing conditions
4. Practice social distancing and consider wearing a face covering when in public
To learn more, please visit www.coronavirus.gov.
You and your loved ones are cherished members of our great American family. This pandemic has brought many hardships on millions of hardworking individuals and communities through no fault of their own. We will support America's recovery every step of the way. Together, we will overcome this challenge, and our Nation will emerge from this crisis stronger than ever before.
Sincerely,
Donald J. Trump
President of the United States
---
Is Trump Using Taxpayer Dollars to Fund his Campaign & the DHS to Work for Him for Free?
Thursday Afternoon 10/15 in an NYC Neighborhood, Boxes of Food were Distributed with a White House Letter from Trump
October 15, 2020 / NYC Neighborhoods / U.S. Politics / News Analysis & Opinion / Gotham Buzz NYC. Continued.
The New Non-Denominational Church Group Distributing the Food Boxes is About a Year Old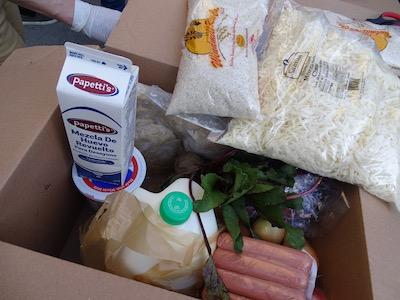 The church group that was distributing these boxes with the letter enclosed, have been serving food boxes to the community since late March when the pandemic began. I did a cursory search and it appears the Church isn't a traditional one, per se, but rather a new, non-denominational one that began operating in the area about a year ago.
Per the letter noted above, the Donald's insertion of himself into this food distribution process only began four weeks ago, but with the Donald, one can never be sure of what the real facts are.
It Reminded me of an Encounter I had During the 2016 Election
Four years ago, outside of my post office, there was a Communist group that had set up a stand with posters bashing Hillary Clinton that included something to do with wars and oil. At the time I engaged them in conversation to try to understand who they were, and what they were about. The guy I spoke to told me that they were doing these pop ups every day, but couldn't tell me where the next one would be. They also didn't have any hand out literature, and he reluctantly verbalized a website name which I never bothered to check.
But what surprised me was that they were bashing Clinton - not Trump - as communists historically had been associated with the left. But real efforts at communism died a long time ago, and communism in most traditional cultures like Russia and China, morphed back into the authoritarian regimes that they were, that are associated with the far right. I ignored all this at the time, but once the Russian collusion investigation got underway, the whole incident seemed to make more sense.
Did the DHS Illegally Steer Funds into a Trump Campaign Effort?
Because this letter was issued on White House stationery without a campaign pitch - per se - I am guessing that this was possibly illegally funded by the Department of Homeland Security using taxpayer dollars.
Chad Wolfe is currently acting in an illegal capacity in the position of Secretary because the Constitutional limit for acting Cabinet level Secretaries is six months - which for Chad Wolfe expired in June 2020. This appears yet another case of Mitch McConnell failing in his fiduciary duties to the American people, in order to serve himself.
If I am correct, this may well be an illegal use of taxpayers' dollars to bolster the reportedly cash strapped Trump re-election Campaign. That's likely why Trump has also been using the White House as campaign headquarters and for Trump rallies, which if not illegal - should be - as it is use of public property for private purposes. Maybe Trump found a technical loophole, or maybe he just doesn't care because he'll just fire anyone who tries to enforce compliance like he's done to five Inspector Generals this year alone. But it certainly looks corrupt, as the Trump Campaign / DHS appear to have bypassed the state and local government in the distribution.
The church group, hasn't returned my phone call, and the Trump Campaign hasn't responded to my email.
I also called the Department of Homeland Security, which first said they didn't have anything to do with the U.S. CoVid response, and that that was the FDA's responsibility. Then I asked what about the economic emergency / disaster response, specifically relating to food distribution, and they directed me to FEMA. I contacted FEMA who gave me an email address, where I sent them a link to this report asking for clarification. As of this posting I haven't received a response. Perhaps local and state government officials and the corporate news organizations will do some follow up.
It Looks Like Trump is going to Try to Lie, Cheat & Steal this Election Until Biden is Inaugurated
This year numerous efforts appear to have been initiated by Trump and Republicans in an effort to cheat their way to victory. In California Republicans apparently installed what appeared to be phony ballot drop boxes to 'harvest' Democratic votes. Earlier this summer Bill Joy, a Trump campaign donor and newly appointed Post Master General, started removing the postal service infrastructure needed to collect and process mail ballots in a timely manner. That was preceded by another Trump effort where, allegedly Rudy Giuliani and others, threatened to withhold U.S. foreign aid [taxpayer dollars] to pressure the Ukrainian government to release any kind of dirt [real or imagined] on Biden's son Hunter [again the use / abuse of taxpayer money to fund a Trump re-election bid]. And this summer Trump appeared to illegally use the Department of Homeland Security as a national police force in what seemed an effort to provoke violence in cities like Seattle and Portland. And he seems to be urging his supporters to show up at polling stations to intimidate voters. And Rupert Murdoch's NY Post published [one of ?] Murdoch's traditional October Surprise story[ies], which Murdoch appeared to try to amplify on his Fox News and his Wall St. Journal, but which was deleted on Twitter and Facebook because it didn't appear to be supported by the facts [they ought to delete more of Murdoch's stuff than just that one story - for the same reasons]. And so on and so forth.
I suppose if Trump cheats enough, he might still pull off an upset, as he's surely not going to win in a fair race.
How Much Ignorance can America Democracy Withstand?
According to Merriam Webster / Oxford ignorance is defined as "lacking awareness, knowledge or intelligence". My own definition is ignorant people are those who ignore things that shouldn't be ignored.
I have talked to many Trump supporters over the past four years and generally I have found them to ignore quite a bit of information that rounds out the full picture of Donald Trump. They shut down when presented with the facts they don't want to hear, which is why so many of them seem to watch Fox News - because Fox News often enough doesn't present a fair nor balanced nor full account of politicians, issues and events.
The Germans who voted for Adolph Hitler ignored his foibles, until they could no longer do anything about them. I hope Americans don't allow the same to happen here. German Chancellor / Dictator Adolph Hitler, in talking about lying, cheating or stealing an election, said,
"If you win, you need not have to explain... if you lose you should not be there to explain."
See below for other reports I've done comparing our current situation in America to 1920's and 1930's Germany.
---
---