NYC Street Fairs, News Updates & NYC Things To Do This Weekend
Entertainment Venues Reopen to 33% Capacity, Marijuana has been Legalized in NYS, CoVid Variants Comprise Over 70% New CoVid Cases, NYS Vaccine Eligibility Expanded to Include 30 Year Olds on up & Next Week 16 Year Olds on up, Assuming Vaccinations Continue at Their Current Pace, NYC Street Fairs May Return a bit Before or After the Beginning of Summer [GUESSTIMATE], Governor's Island to Open May 1st & Easter is Sunday, which is also the day Passover Ends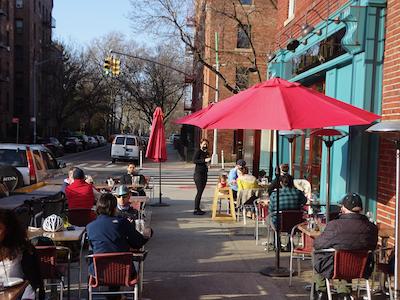 April 2, 2021 / NYC Neighborhoods / NYC Corona Virus / News Analysis & Opinion / Gotham Buzz NYC.
Weather. No rain is expected this weekend. The temperature highs will be in the low 40's on Friday, the mid 50's on Saturday and the low 60's on Sunday. The temperature lows will about 30 early Friday morning, rising to about 40 by Saturday and into the mid 40's by Sunday. Humidity is expected to remain low between 30% and 40% on Friday and Saturday, rising to between 40% and 50% by Sunday. Winds will be about 10 mph on Friday, dropping to 5 - 10 mph the rest of the weekend.
Restrictions on Entertainment Venues Loosened: Can Reopen to 33% Capacity
On Friday, April 2nd, 2021 entertainment venues in NYC can reopen to 33% capacity with limits of 100 people indoors and 200 people outdoors. There's concern the Governor has gone from an abundance of caution, to something quite different, as New York ranks third in the nation in new CoVid cases per capita [42/1000] according to an April 1, 2021 report in the NYT.
Governors Island Reopens May 1st w/ New Weekend Ferry Service to BK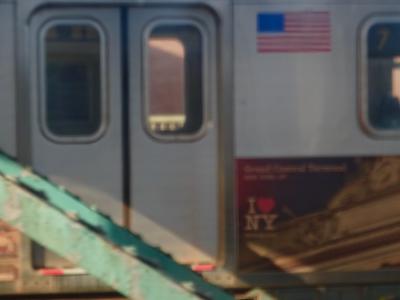 Ferry service to Governors Island resumes May 1st from Manhattan in the Battery Maritime Building at 10 South Street which is at Whitehall Street, just north of the Staten Island Ferry Terminal. The island is open from 10 am to 6 pm weekdays and until 7 pm on weekends. This year there will also be two new Governors Island ferry stops in Brooklyn on the weekends and holidays - one at the Atlantic Bassin in Red Hook and the second at Pier 6 in Brooklyn Bridge Park.
Mary Jane / Marijuana: So is it, Hi, How are you? Or How Hi Are You?
NYS legalized marijuana on Wednesday, March 31, 2021. Legalization of the substance is expected to bring in about $350 million in tax revenue. Marijuana will be taxed at a 13% rate, with 9% going to NYS, and 3% going to NYC and the last 1% going to counties. The money will be reinvested via community grants, education and drug rehabilitation programs with an eye toward helping those neighborhoods most in need. Those folks found guilty of low level marijuana offenses will have their police records purged vis a vis pot related arrests and convictions.
---
NYC Things To Do This Weekend, News Updates & NYC Street Fairs
Entertainment Venues Reopen to 33% Capacity, Marijuana has been Legalized in NYS, CoVid Variants Comprise Over 70% New CoVid Cases, NYS Vaccine Eligibility Expanded to Include 30 Year Olds on up & Next Week 16 Year Olds on up, Assuming Vaccinations Continue at Their Current Pace, NYC Street Fairs May Return a bit Before or After the Beginning of Summer [GUESSTIMATE], Governor's Island to Open May 1st & Easter is Sunday, which is also the day Passover Ends
April 2, 2021 / NYC Neighborhoods / NYC Corona Virus / News Analysis & Opinion / Gotham Buzz NYC. Continued.
The Race to Vaccinate: New CoVid Cases Rising / Fluctuating as Variants Grow to More than 70% of New Cases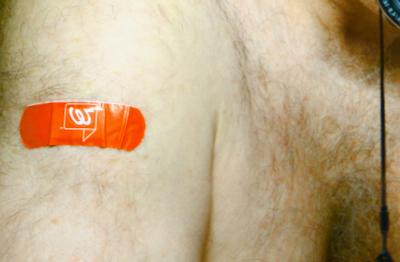 We're possibly on the verge of turning the corner on the pandemic, via a rapidly escalating rollout of the vaccines developed to thwart the virus from taking over the world. But while the vaccinations are growing weekly, so - it seems - are the new, more contagious and more deadly variants of the virus. Just little over a month ago, we reported that the new variants represented over 50% of the new CoVid cases. A week or two ago it was 60%, and this week the new variants are said to represent over 70% of new CoVid cases.
And in the last week of March, new CoVid cases in NYS reportedly jumped by nearly two thirds [64%], versus the prior week, to about 67,000 total cases for the week ending 3/28/21. Bear in mind that's just one week of data and not a trend, per se, as there are so many numbers out there, it's sometimes difficult to decipher what's really going on. The good news is that it seems the vaccines also appear to provide some good measure of protection against the new variants, and the number of people vaccinated is growing quickly too.
At present about a third of the nation, state and city have received at least one vaccination shot. About half that level are already fully vaccinated. Assuming a three to four week delay for the second shot, about a third of us will be fully vaccinated by early May, and possibly by that time two thirds of us will have received at least one shot. And assuming all of those trendlines hold, then by early June we'll have reached 'herd immunity' with about two thirds of the population immune and again hopefully - the remaining third on their way to a second shot.
So for planning purposes, this implies that we could be moving in full motion sometime in the June / July time frame, assuming people remain vigilant with masks, social distancing, hands washing and staying home when they're ill. Which looking at the current stats seems to reflect ISN'T HAPPENING.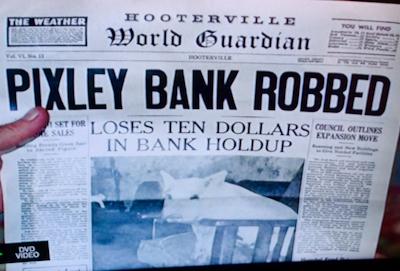 This Tuesday, March 30, 2021, the Governor announced that people aged 30 and older are now eligible for vaccination. And next week, on Tuesday, April 7th, people aged 16 and older - which is everyone but children - will become eligible to be vaccinated. At present the U.S. is averaging nearly 3 MILLION VACCINATIONS PER DAY.
Was the Pixley Bank Robbed & Did Arnold Lose $10 in the Heist?
There's an old silly sitcom, Green Acres, which I tapped into during the CoVid pandemic. It was a complete waste of time, so-to-speak, but some of the 170 episodes were funny, and all of it world's away from the reality we've been experiencing this past year. There's a photo down below that shows one of the Hooterville World Guardian newspaper headlines which reported that Arnold, the pig, had lost $10 in a bank heist.
NYC Street Fairs Appear Likely to Return By Early Summer, Maybe a bit Before
This IS NOT AN OFFICIAL STATEMENT, but rather a calculated guess.
NYC street fairs come in a number of varieties, including the simple street fair where vendors sell their wares. Others offer food, beverages and music. And still others are something akin to full blown community festivals, complete with all of the above, as well as live entertainment, stages and open air theater-like configurations.
Likewise some street fairs are managed by the arts, non-profit and community groups themselves, while others hire professional managers of street fairs to handle the organizational logistics, including booking and managing the vendors, as well as marketing the event and collecting fees. All street fairs, as you might guess, are open air events, and therefore less likely to be CoVid spreading events.
Offsetting that last statement, is that some of the NYC street fairs can be very well attended, leading to crowding throughout the event. Others are less crowded at the beginning and at the end of the street fair event, but can get crowded in the middle of the day. And some NYC street fairs seem to attract a steady stream of shoppers, but don't seem to run any tight crowding risk.
And there's another factor to consider, and that is that the 60 million tourists we host each year [that's an average of five million per month] have not yet come back. So all events, including street fairs, in the short run, are likely to be less well attended than in the past. But over time, as the vaccinations roll out, this will likely diminish as we approach normal.
So the NYC Mayor's Office is rumored to be in the midst of debating when, where and how to open the street fairs to the public, without concurrently increasing NYC's CoVid risk. They probably have explored the following options, which I've given consideration to myself: 1) such as beginning to open the street fairs up one by one, with short notice to minimize crowds - like they did last summer for the July 4th fireworks, or 2) they could set up socially distanced lines controlling the flow into the street fairs [but this doesn't make a whole lot of sense, as the bottleneck of such an arrangement would likely be worse than just letting people decide their own socially distanced comfort levels], and 3) waiting long enough [May or June] to achieve herd immunity, and hope that folks continue to observe CDC protocols regarding masks, social distance and handwashing.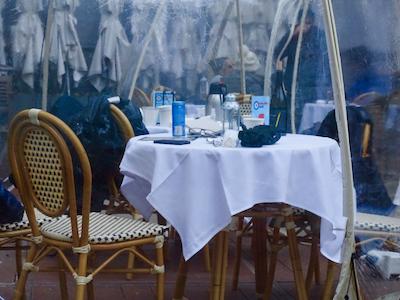 Where the Mayor's Office ultimately ends up is difficult to assess, as it sounds like they've not yet decided themselves, as they're grappling with these and a host of other issues. I think if you keep an eye on the CoVid vaccinations numbers, in tandem with the CoVid contagion numbers [and watch deaths too, because the relationship of deaths to new CoVid cases may fall, as vaccinations curtail new hospitalizations and deaths], you may be able to zero in on a reasonable expected date for the resumption of street fairs yourself.
MY UNOFFICIAL GUESSTIMATE, assuming the vaccination trends continue, the contagion numbers begin to slow, and the deaths and hospitalizations ratio to new cases continues to change for the better [aka decline], I'm going to go out on a limb and say that NYC street fairs may be back in business somewhere between mid May and late June. With one big caveat being how effective people are in reining back in the spread of CoVid, which again seems to be raging out of control.
So what's your guess?
At Present Possible Complications by the Open Streets Initiative Deemed Minimal?
One last point is that the Open Streets initiative, which began last year in response to the pandemic, continues this year. Last year in the Open Streets program, 67 miles of NYC streets were cordoned off from automobile through traffic in order to provide neighborhoods with more breathing room. That program, which includes the expansion into the streets by restaurateurs, continues this year. I don't expect this to complicate the street fairs program, but it remains to be seen how the two programs will be managed concurrently.
Have a nice weekend.
---
---
---