This Weekend Things To Do NYC & News Updates
MTA Usage Continues Upward Climb, More Venues Begin Hosting Events & Visitors, NYC Restaurant Curfew Extended from 11 pm to 12 Midnight Effective 4/19, Ramadan Began Tuesday 4/14, Reminder that New Tax Deadline is 5/17, Unemployment Claims Drop while Consumer Spending Rises & Earth Day on Thursday 4/22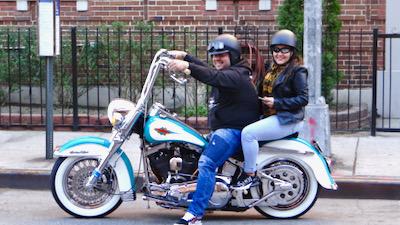 April 16, 2021 / NYC Neighborhoods / NYC Corona Virus / News Analysis & Opinion / Gotham Buzz NYC.
Weather. Temperature highs in the mid 50's on Friday, rising to 60 on Saturday and the mid 60's on Sunday. Temperature lows will be in the low 40's on Friday, rising to the high 40's the rest of the weekend. Humidity will be between 50% and 60% all weekend. Winds will be about 10 mph Friday, falling to about 5 mph the rest of the weekend. There's a small chance [less than 35%] of a small amount [less than 1/10th of an inch] of RAIN on Friday. The rest of the weekend should be clear.
In the photo at right, you can see what seems to be happy couple, heading out to enjoy the fresh spring air.
MTA Ridership Continues to Grow, Albeit Slowly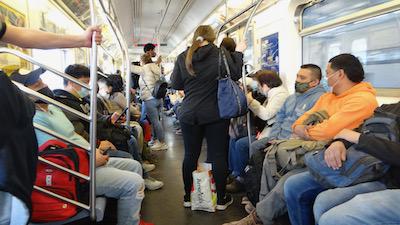 One of the metrics I use to evaluate how we're doing is mass transit usage in NYC.
If my memory serves me right, subway usage fell over 90% around the beginning of the pandemic. Last fall it had risen to being down 80%, this winter it had risen to being down about 66%, and this week it's still around 66%, but on some days we're seeing it down in only the 50%+ range.
Bus ridership didn't fall as much as the subways and has remained at about 50% for the past half year or so. Again - if my memory serves me correctly - it was down about two thirds during the summer of 2020, and down about 85% or so at the beginning of the pandemic.
As now nearly a quarter of New Yorkers have been fully vaccinated, and nearly 40% have received at least one dose. As noted in our April 12, 2021 post, deaths continue to decline likely due to the growth in vaccinations, particularly among the most vulnerable segments of the population [aged 65 and older accounted for about 85% of deaths].
Children are more susceptible to catching the new strains of the Corona Virus because it has a stronger mechanism to attach to their developing sinuses. So given vaccines for children under age 12 are about a half year away, discretion is the better part of valor.
As you can see in the photo taken a week ago, the subways, while not crowded, are beginning to have a more normal passenger load.
---
This Weekend Things To Do NYC & News Updates
MTA Usage Continues Upward Climb, More Venues Begin Hosting Events & Visitors, NYC Restaurant Curfew Extended from 11 pm to 12 Midnight Effective 4/19, Ramadan Began Tuesday 4/14, Reminder that New Tax Deadline is 5/17, Unemployment Claims Drop while Consumer Spending Rises & Earth Day on Thursday 4/22
April 16, 2021 / NYC Neighborhoods / NYC Corona Virus / News Analysis & Opinion / Gotham Buzz NYC. Continued.
Restaurants Can Stay Open until Midnight 4/19, Ramadan Began 4/14, Taxes due May 17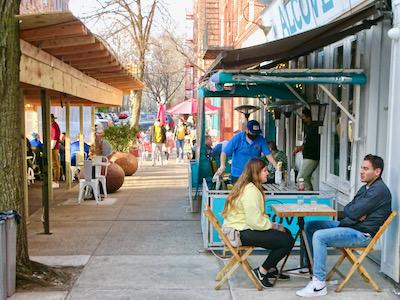 We're not yet back to being the city that never sleeps, but we're reawakening and prepping to do so. Governor Cuomo announced that NYC restaurants can now stay open to midnight effective Monday, 4/19.
The Muslim Holy Month of Ramadan began Monday night, April 12th. The holiday ncludes a month of fasting from sunrise to sunset by Muslims. Ramadan ends on Wednesday, May 12th with the feast of Eid-al Fitr, which is the festival of breaking fast.
The deadline for taxes was extended to Monday, May 17th, 2021, so Thursday, April 15th wasn't so hectic.
Bronx & Brooklyn & Queens Botanical Gardens Open to Visitors, The Shed Hosts Outdoor Events & Lincoln Center is Going Green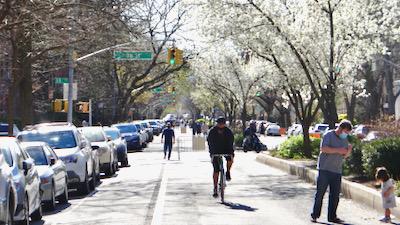 Both the New York Botanical Garden in the Bronx, the Brooklyn Botanical Garden and the Queens Botanical Garden are all open to visitors. Buying tickets online is highly recommended as they are limiting capacity by providing timed entry. Also note that the indoor and interactive exhibits are still closed at the Brooklyn Botanical Garden, while it appears both the NY Botanical Garden in the Bronx and the Queens Botanical Garden are allowing entry, but restricting capacity so there may be waiting.
The Shed, a non-profit cultural organization operating at Hudson Yards, started hosting outdoor events, generally of a musical nature. The performances are not free, ticketed and by rsvp at theshed.org.
Lincoln Center has done a few limited outdoor events, and appears to be reawakening. Based on what I've seen so far, I would say their next big event is Monday, May 10, 2021 where they unveil 'The Green'. The re-do, with a theatrical green ground landscape, will remain in place through September, so you'll have plenty of time to see it.
In the photo at right you can see a cyclist barreling down the road on a beautiful spring day. This weekend the weather is mostly good.
Roth Theatre Light Show Performance, New Museum Manhattan & Sculpture Center Queens 2021 Exhibits, Earth Day Next Week & Tribeca Film Festival Coming in June
There's an ongoing theatrical performance entitled Blindness at the Daryl Roth Theatre at 10 East 15th Street just off Union Square Park. It's a light show of sorts. Rvsp and pay attention to their disciplined CoVid protocols - http://www.darylroththeatre.com/
The Sculpture Center in LIC in Queens is open Thursday through Monday from 12 noon - 6 pm. They currently have on exhibit the Law of Large Numbers: Our Bodies and In Practice: You may go but this will bring you back. Rsvp at https://www.sculpture-center.org/
The New Museum at 235 Bowery in Manhattan is open Tuesday through Sunday from 11 am - 6 pm. They appear to be doing weekly in gallery talks. One of the current exhibits is entitled Grief and Grievance: Art & Mourning in America.
Earth Day is Thursday, April 22nd. NYC Parks is hosting a number of events at various parks around the city beginning this weekend and running through Earth Day. Give your planet some love - see https://www.nycgovparks.org/events/earth_and_arbor_days
The Tribeca Film Festival returns June 9 - 20, 2021. It appears to have chosen outdoor venues and likely capacity will be limited. They're looking for ushers and premier passes have already gone on sale - https://tribecafilm.com/
The Economy Appears on the Mend
Consumer Spending Up, Unemployment Claims Down Significantly & Mortgage Rates Decline Slightly
Retail sales for March were up 9.8%, after falling 3% in February. The stimulus checks are believed to have fueled the splurge. And unemployment claims fell to their lowest level since the pandemic began to 613,000. Mortgage rates ticked down a bit the last couple of weeks to between 3.1% - 3.3%.
Enjoy your weekend.
---
---