Omicron Sweeps NYC & the Rest of the U.S.
NYS Hit its Highest Number of New Cases Friday 12.17.21, Omicron Now Dominant Strain in America [73%], Breakthrough Infections & Need for Boosters, Multiple Measures of Vaccine Effectiveness, NYS Governor Hochul Foreshadows Change to Definition of Fully Vaccinated Likely Coming Soon, NYC Mayor de Blasio Offers $100 to those who Boost Before Year End, False Positives Coming from Some Testing Kits, Hospitalizations Trending Toward Younger Age Groups & Kids Getting Infected at Higher Rates
It's Not the Omicron Virus that is Dividing Us. It's the Manipulative Murdoch Mass Media, that Continually Misinforms its Audiences. The Highly Paid Propagandists do This in Order Enrich Themselves & Empower the 90 Year Old Multi-Billionaire by Undermining the Government Officials who Won't Give Rupert what he wants out of the Public Purse & Domain
December 20, 2021 / NYC Neighborhoods / NYC Things To Do Events / News Analysis & Opinion / Gotham Buzz NYC.
So the Omicron variant represents the third wave of Corona Virus sweeping the land. First it was the original CoVid 19, then the Delta variant and now Omicron.
The Omicon variant spreads far more easily and hence far faster than the prior two variants, which spread around the globe in a matter of months. Omicron is beating them hands down in terms of spreading, even in nations that have some good measure of vaccinations - but nowhere near the two thirds plus needed for 'herd immunity'. Reportedly, the Omicron is spreading 2x to 4x faster than the Delta variant which reportedly spread faster [by about 50%] than the original strain of CoVid. As of the last week of testing, Omicron represents 73% of all new cases in the U.S.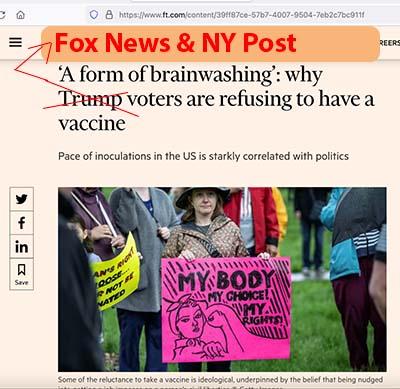 In the graphic at right you see a headline from FT, which is the Financial Times of London, noting how something that should be common sense has become a political hot potato. At the end of this update on the Omicron variant, we'll take a look at how science and the truth are being distorted by millionaires and billionaire(s) in what appears an attempt to manipulate voters perceptions. The goal is to change the perceptions of their viewers enough, so their viewers will vote for the candidates chosen by the propaganda billionaire and his friends. The end game is, of course, getting the billionaire / propaganda machine selected pols into office, so they can fill their pockets with the taxpayers' money, and obtain legislative changes that are anti-democratic.
Oftentimes reports like that found in the Financial Times fail miserably to call out media mogul Rupert Murdoch, who controls an overwhelming share of the daily national news media in the U.S., Britain and Australia. For my money, Murdoch [not Trump] is the root cause of so many of our current problems by virtue of the disinformation he spreads, which is inserted into many of the news reports that his organizations deliver to well over a hundred million people each day. Murdoch hides behind his media brands, propagandists and favored pols, while the other media and government officials seem either: 1) ignorant of his incredible influence on our daily news, and thus a huge swath of American people's views, or 2) are unwilling to do the right thing and call Murdoch out into the open so the public can get a closer look at who's dominating the national conversation.
The last point made is an important one for the Smartmatic and Dominion Voting Systems lawsuits [more on this below]. My advice to their attorneys, is to hire a great public relations firm to publicize the hell out of each case, making damned sure to include Keith Rupert Murdoch in EVERY news release / update as the slithery Murdoch - like Voldemort in Harry Potter - doesn't like the light of day. And then ride the case to the end, because you're in the right, and what you're fighting for is - in part - the heart and soul of America.
NYS Sees its Highest Number of Daily New CoVid Cases Since Pandemic Began
In NYC New Infections Double in 3 Days & in the U.S. Omicron is now 73% of New Cases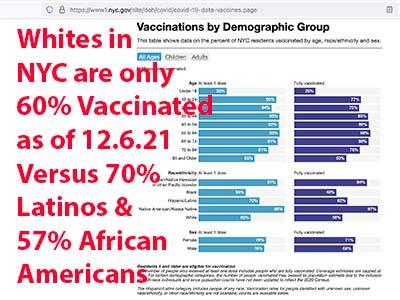 A testament to the Omicron variants transmissibility is that on Friday, December 17, 2021 NYS saw its highest number of new CoVid cases [21,027] in a single day since the pandemic began according to an New York Times report. In NYC the infection rate nearly doubled in just three days, rising from 3.9% to 7.8% from Thursday, December 9 to December 12, 2021 according to a December 16, 2021 NBC report.
I checked the NYC website a couple of weeks ago and found the chart at right, which - to my surprise - showed Whites as the second slowest group to vaccinate. Hispanics were a full ten percentage points ahead of them, and African Americans were only three percentage points behind them. I interpret this as the power of Murdoch's media in NYC as he owns / controls Fox News on WNYW [channel 5], WWOR [channel 9], the NY Post, and the Wall Street Journal.
---
Murdoch also appears to be in the process of cementing his control of Disney / ABC where he became one of its largest shareholders via an inverted aquisition of Disney / ABC in March of 2019. Murdoch appears to be taking control of ABC News, as the other two top shareholders are financial companies that are also two of the largest investors in Murdoch's Fox News. Thus Murdoch seems to be hard at work insidiously corrupting what was once a TV network controlled by native born Americans. FDR recognized the great power of television to influence large audiences. Hence, per original FCC mandates set in the Roosevelt years, only native born Americans were allowed to control TV media outlets. Rupert Murdoch first convinced President Ronald Reagan to loosen the TV ownership restrictions. And then Murdoch appeared to convince other pols thereafter, to continue unwinding the legislation surrounding broadcast media, as part of what appears to be his corrupt 'trade deals' with politicians. The trade deals usually seem to be comprised of unlimited media support / infommercials posing as news, in exchange for tax breaks and legislative favors. Murdoch and his corrupt pols win and the American people lose, just like he did in Australia and Britain.
WPLG, an ABC TV station reported on December 16, 2021 that Omicron grew to represent 80% of the new CoVid cases in Miami Dade County in just two weeks. Murdoch favored pol, Florida Governor Ron DeSantis [DeSantis already gave Murdoch's Disney / ABC a HALF BILLION $ tax break] tried preventing school districts from imposing mask mandates, which are known to slow transmission. According to a CDC study on the USS Theodore Roosevelt [a U.S. submarine], wearing masks reduced CoVid transmission by as much as 70%.
Why Omicron Spreads Easily - Vaccine Effectiveness Wanes Over Time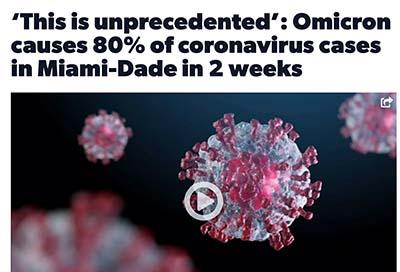 One of the reasons, besides the Omicron mutations which enhance transmissability, is that the protection provided by the existing vaccines begins degrading after even three months. The Pfizer and Moderna vaccines achieved over a 90% effectiveness rating against the contagion of the first CoVid variant after full innoculation. This means they reduce your chances of getting the virus by 90% plus [WSJ 12/6/21]. These fully innoculated ratings fell to about 77% - 88% with the Delta variant, which is still a significant reduction in your exposure to catching CoVid.
According to a November 5, 2021 Web MD report, a study of 800,000 veterans published in the journal Science provided the following insights. By the end of the first three months after the second innoculation, vaccine effectiveness dropped as low as 76% [Moderna], 70% [Pfizer] and 52% [J&J - CDC is recommending in favor of the other two vis a vis J&J]. This result came from a study of veterans over age 65. For people under the age of 65, the efficacy rates rose to 84% for Pfizer, to 82% for Moderna and 72% for J&J.
Note that efficacy has many measures [see below], but the efficacy discussed above is prevention from contracting the virus at all. The more important measures of efficacy are prevention of hospitalization due to severe illeness and death, where the vaccines were nearly 100%.
'Breakthrough Infections', Boosters & Other Factors
Governor Hochul Foreshadows an Update to the Definition of Fully Vaccinated & Mayor de Blasio Offers $100 to Those Who Obtain Their Booster Between Now and Year End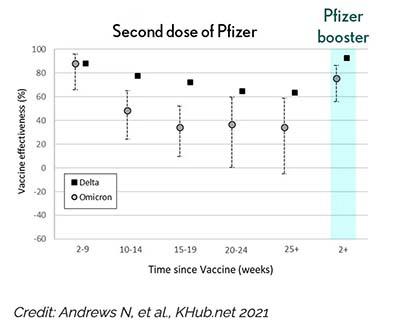 When a vaccinated person catches CoVid it's called a breakthrough infection. According the Johns Hopkins Medicine 11/23/21 breakthrough infections generally happen to people who have weakened immune systems due to age or underlying conditions like diabetes, obesity, cancer or AIDS, oftentimes as their vaccination protection wanes.
A study in Washington state referenced in the John Hopkins article said that breakthrough infections through August 2021 were 1 in 5000. Since the Delta variant, the number of breakthrough infections has grown significantly to 1 in 100. The booster shots are believed [prelimarily] to restore much of the efficacy lost over time, including vis a vis the Omicron variant. See the chart at right which was posted on the Directors Blog at the National Institute of Health on December 14, 2021.
On December 16, 2021 NYS Governor Kathy Hochul foreshadowed that a change was likely coming to the definition of 'Fully Vaccinated' to include the booster shot as well. This is wise, given the chart shown at right, where you can see the declining effectiveness of the current definition of fully vaccinated in light of the new CoVid variants and how boosters are expected to protect people, by raising the level of antibodies in one's system.
Mayor de Blasio went a step further, offering $100 to New Yorkers who get vaccinated between now and year end. As of this writing 12.21.21, approximately 60.7 million Americans, or about 18% of the population, have received their booster shot.
Vaccine Efficacy Metrics - 1) Contagion 2) Severe Illness & 3) Death
Effectiveness is measured along three primary categories - 1) contagion which I just explained, 2) hospitalizations / severe illness and 3) death.
According to a study published in the journal Science, the Pfizer and Moderna vaccines continue to be between about 70% to 80% more effective in preventing severe illness / death from CoVid [this means it reduces your chances of severe illness by those percentages]. The study included 800,000 veterans and was conducted in the first half of 2021. I found this information in a November 5, 2021 WebMD report.
Your chances of becoming severely ill depends, in part, on how old you are, how healthy you are, and how long ago you became fully vaccinated, as vaccine effectiveness declines over time. But in any case, your chances of avoiding severe illness and death are significantly reduced if you're vaccinated.
On December 16, 2021 the CDC ruled in favor of the Moderna and Pfizer vaccines vis a vis the J&J vaccine because it has lower efficacy, and there have been a small number of blood clotting issues that have resulted in hospitalizations [54 people], but some ending in death [9 people] of mostly women.
In the graphic at right, Forbes exposes Tucker Carlson's distortions and deceptions - if not outright lies - about CoVid vaccine deaths. The deceptive Tucker gave a distorted presentation of data collected in the VAERS database, which like many of his show segments, so twisted the truth as to make black look like white and wrong look like right. This deception, like so many other deceptions done by Carlson and Fox News, seems an attempt to manipulate events in order to prolong the CoVid crisis and slow, if not stop, our economic recovery.
Carlson and other Fox TV News teleprompter actors then follow up on their continual stream of news distortions to persuade these same people to vote against the government officials trying to enable us to move forward past the pandemic and keep the economic recovery going. By dissuading his millions of viewers from getting vaccinated Carlson and Fox are helping prolong the pandemic, slow the economic recovery, and make more probable their viewers' hospitalizations and deaths. It's worth noting that Tucker Carlson has been vaccinated, and so has pretty much every other on air newscaster at Fox News too.
Omicron Testing - Some At Home Test Kits Yield False Negatives & Growing Infections of Kids
There are lines of people waiting to obtain CoVid tests, from government run testing sites, prior to traveling home or elsewhere for the holidays. There's a certain wisdom in doing so, as some At Home tests have been found to yield false negatives vis a vis the Omicron variant. This means the test will tell you that you don't have CoVid, when in fact you may.
As this is a fairly rapidly evolving pandemic, with the mutations developing and spreading around the world in real time, you have to be sure to obtain the most recent test kits, as older test kits may miss the new variants. It's important to be aware of this while making decisions about how to test [at home / at a government run site] and what test kit to purchase.
Lastly, in the chart at right, you can see how kids are catching CoVid at a far higher rate than they did in the early pandemic, and as the nation vaccinated [the dip in the chart this summer]. Now, children are catching CoVid more frequently than at any time in the pandemic, as the vaccination efficacy wanes over time, and new variants spread throughout the population. And, as you will see in the chart below, more kids are also ending up in the hospital relative to the rest of the population - as now 61.5% of the nation is fully vaccinated and 73% of the nation has received at least one shot.
The Demographics of Hospitalizations are Trending Younger
While somewhere in the neighborhood of 80% of deaths occur in people who are aged 65 and older, hospitalizations have grown among those who are significantly younger [see chart at right]. A chart provided by Statista, an information company, shows how CoVid contagion has changed since the pandemic began. The largest outbreak came a year ago, in tandem with the holidays and - as you can see from the chart - older people [in green] took heavy losses, likely as families got together. This would have exposed the older people to younger people who might not have known they had it.
The second takeaway from this chart is how children make up the second largest group of those hospitalized. They also saw an upswing in hospitalizations over the holidays last year - but perhaps even more importantly - is that they, as a group, are placing a close second to the elderly in CoVid hospitalizations.
Lastly, note the dip in June / July of this year when we almost had CoVid beat. But the vaccination trend stopped, allowing the Delta variant hit us with a siginficant second wave, as the vaccine effectiveness waned.
The Price of Vaccination Ignorance - $20,000 per Hospitalization or $5.7 Billion in June, July & August 2021 Alone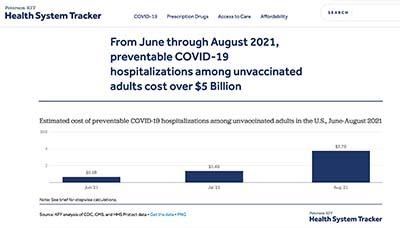 It's worth noting that the average CoVid hospitalization costs approximately $20,000 per patient according to a Peterson Kaiser Family Foundation [KFF] Study referenced in a September 14, 2021 Health System Tracker report.
In that same report the KFF estimated that vaccinations could have prevented 287,000 hospitalizations in June, July and August of 2021 worth an estimated healthcare savings of $5.7 billion.
Unvaccinated CoVid Hospitalizations, Death Rates & the Information Sources Relied Upon to Make Decisions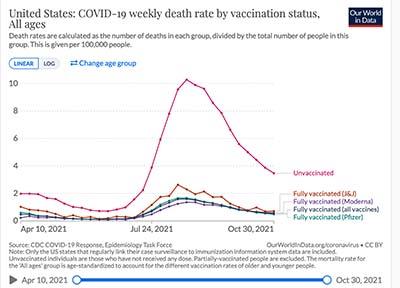 I did a bit of research into what's driving CoVid hospitalizations and death rates. Ignoring the science - aka the truth - seems increasingly the domain of one political party in this nation. I believe it is related to - if not because - of Rupert Murdoch's massive disinformation media machine.
Other news pundits think it's about Trump, or the Republican party. I think it's about what information people are using to base their decision on and where they get it. Unfortunately the Goebbels-like propagandist now controls about half of America's daily national news media. Consequently the disinformation he spreads through his multiple media brands including Fox News, the Wall Street Journal, the NY Post, Disney / ABC, MarketWatch and Harper Collins Publishing (to name a few) contains an air of legitimacy as these are recognized brands Murdoch acquired over the past five decades and then seemed to proceed to corrupt - from a journalism point of view.
In the graphic at right, from a December 10, 2021 Our World in Data . org report, you can see how most CoVid deaths in America are attributable to the unvaccinated, many of whom use Fox News or other Murdoch media as their go-to source for information about current events, government officials and issues like CoVid. Murdoch media appear to manipulate news reports to get their viewers to see the world as Murdoch, the Australian born billionaire, wants them to see it - not how it is. This is not unlike how Goebbels and Hitler deceived the Germans leading up to and through WWII.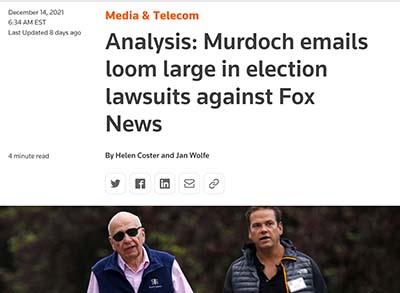 Thus the ignorant - meaning those who ignore large swaths of information - represent the unvaccinated. They tend to be younger, Republican, uneducated and White. Except for age, this is not unlike the Fox News viewing demographic. If you scroll up to the second graphic in this report, you'll see how Whites are the second most unvaccinated group in NYC, where Murdoch controls two TV stations [channels Fox 5 and 9 which are WNYW & WWOR], two daily newspapers [NY Post and WSJ], and he's now one of the largest shareholders in Disney / ABC where he seems to be influencing personnel changes / choices.
And because Murdoch media viewers are getting distorted, deceptive and sometimes downright false information they then decide not to vaccinate. See the Tucker Carlson graphic at right - then do a search to read that story about how Carlson so distorted the truth by omitting key facts (ignoring key facts = ignorant). Murdoch media audiences are paying a high price for trusting dishonest, manipulative propagandists like Carlson, lying Laura Ingraham and Hallelujiah Hannity, as according to the Kaiser Family Foundation, CoVid hospital stays cost on average $20,000.
Hence they, the unvaccinated, many of whom are Fox News / NY Post viewers / readers - now comprise somewhere between 75% to 95% of all CoVid hospitalizations in the nation, and most of the deaths. I think unvaccinated Fox News viewers who were hospitalized or lost loved ones, ought to file a class action lawsuit against billionaire Rupert Murdoch and the Fox News network for providing misinformation to win higher ratings and profit, in a manner not unlike how the Voting Systems companies, Smartmatic and Dominion, have sued Fox News for purveying false information to their viewers regarding the integrity of the election of 2020, for largely the same purposes. See graphic above right, taken from a Reuters report on December 14, 2021.
Network TV News & Pundits' Blindspot - the Goebbels-like Mass Manipulation by Murdoch's National Media Brands Acting in Concert as one Huge Propaganda Machine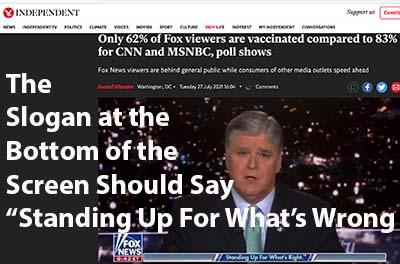 According to a July 27, 2021 report by the Independent, only 62% of Fox News viewers were vaccinated versus 83% for CNN and MSNBC viewers. See graphic at right, where I added the commentary in large white lettering at left.
We're going to take a closer look at this Murdoch influence on Americans' view of the world [including vaccines] between now and the end of the year.
We'll also provide some historical context on vaccinations, that the well-dressed, but not very curious (or incredibly lazy) broadcast knuckleheads on TV news have failed to provide to the American public. This sort of superficial TV news coverage of CoVid, is not unlike how the manner in which they covered Biden's management of the Afghanistan withdrawal. Superficiality is one of the hallmarks of TV news as you can see our report on September 7, 2021 entitled 911 / The War in Afghanistan is Over - but the War on the Truth that put us there - Continues.
A Brief History of Successful 20th Century Vaccination Policy in the United States ...
... BEFORE Rupert Murdoch Arrived, and like Voldemort of Harry Potter, Took Control of our Mass Media News Companies & Hijacked Our Ability to have a Sane National Conversation - by Disrupting, Dominating and Distorting Public Perception of Events, Issues and Facts - through Deceptive & Dishonest Narratives inserted into News Segments that Reach Tens to Hundreds of Millions of Americans Daily
More coming over the next two weeks.
---
---
---