Things To Do in NYC This Weekend
In Manhattan Tartan Day Parade, Fair, Ukrainian Benefit Concert, Art Expo, Reelabilities Film Fest, Winter Antiques & Macy's Flower Shows End Sunday; Nai Ni Chen & Bill Charlap at Flushing Town Hall in Queens; Luna Park in Coney Island, BAM, Fair & Andy Warhol exhibit in Brooklyn, Yankees Home Opener, Play, Talk & Orchid Show in the Bronx; Poetry Reading & Easter Egg Coloring on Staten Island;
April 8, 2022 / Things To Do NYC / NYC Neighborhoods / Gotham Buzz NYC.
Weather. The temperature highs will be in the 50's all weekend, descending from the highs to the lows as the weekend progresses. The temperature lows will be in the 40's following the same progression as the temperature highs. Winds will rise from 5 - 10 mph on Friday to about 5 - 15 mph for the rest of the weekend. Humidity will be in the 65% range on Friday and Saturday, falling to the 50% range on Sunday. There's a 60% chance of about a tenth of an inch of rain between 7 am and 2 pm on Saturday.
In the photo at right you see a 'Docker's' style ping pong match in Bryant Park.
Manhattan Things To Do This Weekend NYC
On Sunday, April 10 from 3 - 5 pm there's a Ukrainian Benefit Concert at Old St. Patrick's Cathedral at 261 Mott Street in Manhattan. Tickets are $20 on Eventbrite.
https://www.eventbrite.com/e/an-erben-benefit-concert-for-ukraine-tickets-304276949547
Saturday, April 9, 2022 from 10 am - 6 pm - 4th Avenue Festival - Along 4th Avenue from 9th to 14th streets in the Village neighborhood of Manhattan. Street fairs in NYC Manhattan.
This Weekend - The Reelabilities Film Festival runs through the weekend [ends April 20] including in-person events at the Museum of the Moving Image on Saturday 4/9 at 1 pm, Lincoln Centeron Saturday 4/9 at 11 am and the Marlene Myerson JCC [Jewish Cultural Community] at 344 Amsterdam Avenue at 78th Street in Manhattan throughout the week. See www.reelabilities.org/newyork/ for details.
This Weekend - Art Expo NYC is at Pier 36 at 299 South Street in Manhattan. Admission costs between $0 - $50. For details visit https://redwoodartgroup.com/artexpo-new-york/
Saturday, April 9, 2022 from 2 pm to 4 pm - the Tartan Day Parade. Along 6th Avenue at 45th Street, marching north to 55th Street in Midtown. The festivities begin the week preceding it. See www.nyctartanweek.org. Tartan Day parade in Manhattan.
Saturday, April 9, 2022 from 10 am - 6 pm - 4th Avenue Festival - Along 4th Avenue from 9th to 14th streets in the Village neighborhood of Manhattan. Street fairs in NYC Manhattan.
The Winter Antiques Show at 660 Madison at 61st Street in Manhattan ends this weekend [April 1 - 10]. See www.winterantiques.com for hours, admission and other details.

The Macy's Flower Show started Sunday, March 27th and ends this weekend on April 10th at Macy's at Herald Square in Manhattan.
---
Brooklyn Things To Do This Weekend NYC
Sunday, April 10, 2022 from 10 am to 6 pm - Court Street Brooklyn Fair. Along Court Street between 9th Street and Union Street.
Luna Park [amusement park] opened in Coney Island last weekend and remains open through the Fall.
The Brooklyn Museum at 200 Eastern Parkway has about a dozen exhibits running at present. The two featured exhibits focus on Andy Warhol's Revelation print which explores the artist's religious faith [closes June 19, 2022]. The other is one entitled A Crack in the Hourglass, An Ongoing COVID-19 Memorial which grapples with the incredible loss of life during the pandemic [closes June 26,2022]. Admission is $25 / $16 / $10 and CoVid protocols remain in effect. Details and tickets at www.brooklynmuseum.org.
In the Peter Jay Sharp Building at the Brooklyn Academy of Music aka BAM at 30 Lafayette Avenue in Brooklyn, they will be showing various films all weekend starting at 1.15 pm, with the last showtime at 9.40 pm. CoVid protocols remain in effect and tickets [$16 / $11] may be purchased online at www.bam.org
In the photo at right is a sign notifying passers-by that BAM is only a block off Flatbush Avenue on Lafayette Street in Brooklyn. Cultural programming and activities are beginning to heat up again after a long, two year CoVid pandemic hiatus / lull.
Queens Things To Do This Weekend NYC
Flushing Town Hall is hosting a performance Friday evening by the Bill Charlap Trio beginning at 8 pm - tickets are $25 / $20. And Sunday at 2 pm they're hosting a dance performance by the Nai Ni Chen Dance Company tickets are $15. See www.flushingtownhall.org for tickets.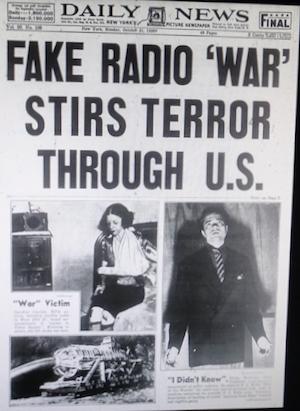 The art show entitled "Blood is Thicker than the Water that Separated U.S.," will be on exhibit at the Lewis Latimer House Museum, 34-41 137th Street in Flushing until July 3rd. Free tickets are available to the public at www.lewislatimerhouse.eventbrite.com. Also, next Saturday, April 16, from 2.30 - 4 pm there's an Easter Egg Hunt for kids 8 and under, but families are welcome.
The Museum of the Moving Image is hosting an exhibit that began December 18, 2021 and runs through May 15, 2022 entitled Deepfake: Unstable Evidence on Screen. The exhibit explores how fact becomes distorted and fictionalized via the moving image screen. At the centerpiece of it all is the distortion of the Apollo 11 moon mission. The museum is open Friday from 2 - 8 pm and Saturdays and Sundays from 12 noon - 6 pm. For details and tickets see www.movingimage.us. Admission $15 / $11 / $9.
In the graphic at right is a real image of a newspaper front page, informing New Yorkers that the October 30, 1938 radio 'live newscast' by Orson Welles', detailing an attack by space invaders was fake news. Today, we live in the 'Disinformation Age' where too many of Rupert Murdoch's mass media outlets like Fox News, the NY Post and the Wall Street Journal, seem to mimic Welles' fictional broadcasts, on a far more deceptive scale on a regular basis.
Bronx Things To Do This Weekend NYC
The Yankees Home Opening Day against the Boston Red Sox was rescheduled to today, Friday, April 8th.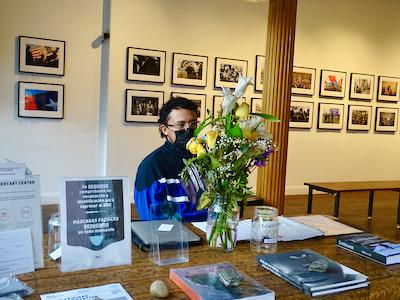 On Thursday and Friday, April 14 & 15, begining at 7 pm, the Barow Pell Mansion is hosting a new short play entitled Thread by Sharon Latimer-Mosley. The play is about two former slaves - a dress maker and a navy recruiter - who meet at the Bartow Pell Mansion after the Civil War, where they discuss their future. Also Saturday April 23, at 4 pm, and Sunday, April 24 at 2 pm. See www.bartowpellmansionmuseum.org for tickets.
*** The Easter Egg Hunt on April 9th and 16th at the Bartow Pell Mansion is SOLD OUT due to limited capacity.
On Thursday, April 14th begining at 6 pm there's a talk by photographer Peter Van Agtmael at the Bronx Doc Film Center at 614 Courtlandt Avenue in the Bronx. The work discussed is entitled 'A Look at the USA' which explores the political and social fault lines of our society, through photos of public social gatherings, speeches and events. These events are free / request a small donation. See www.bronxdoc.org for details and tickets.
The Orchid Show at the NY Botanical Garden at 2900 Southern Blvd in the Bronx began in late February and continues through May 1.
On Sunday, April 10, Bronx Clergy Against Violence Community Prayers & Speeches at 188th and Grand Concourse in the Bronx.
The photo above shows the entrance to the photo gallery of the Bronx Doc Film Center.
Staten Island Things To Do This Weekend NYC
There's a poetry reading, related to inspired photography, beginning at 1 pm at the Alice Austen House on Saturday from 12 noon - 1 pm on the lawn. Free. See www.aliceausten.org for details.
There's an Easter Egg Dyeing workshop between 1 pm - 2.30 pm at the Snug Harbor Cultural Center at 1000 Richamond Terrace in the Randall Manor neighborhood. Bring six of your own eggs to color. Details and $8 tickets at www.snug-harbor.org.
I'm just beginning to catch up to the season, which keeps expanding.
Have a good one.
---