This Weekend Things To Do NYC
Making the Transition Back Toward a Pre-Pandemic Lifestyle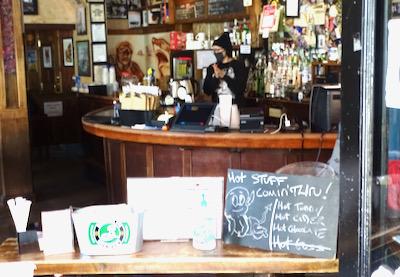 January 22, 2021 / NYC Neighborhoods / Things To Do NYC / News Analysis & Opinion / Gotham Buzz NYC.
Weather. The temperature highs will be in the low to mid 30's and the temperature lows will be in the low to mid 20's. It will be dry, with the humidity fairly stable all weekend at about 40% and no precipitation is in the forecast. The wind will range between 7 - 17 mph.
The photo at right was taken in Little Italy this week. As you know, many of the restaurants have set up outdoor dining to accommodate guests. I ventured out for dinner this week, and it's not as uncomfortable as it looks, especially if you bring along what football fans know of as a seat warmer [a pad to sit on].
CoVid Continues, as do the Vaccinations, buts ...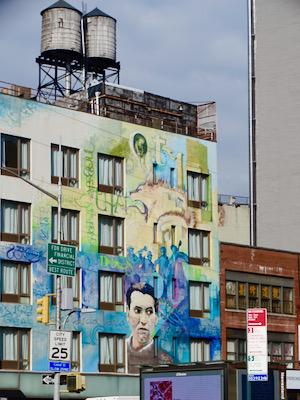 In NYC there was some good news, in that vaccinations have caught up to the supply. But the bad news is that the Trump vaccination plan didn't exist, and the federal government is unable to live up to its commitment on vaccine supplies. I guess the Donald was too busy trying to use what seemed his fraudulent stop the steal fundraising promotion to be bothered with trying to prevent the rapid rise in deaths we've seen since CoVid arrived here about a year ago.
But we now have a new president who, unlike his predecessor, is qualified for the job. And who appears to be interested in doing the job - in lieu of making headlines every day. I think things will get sorted out in the next few months and by sometime in the summer, we should be moving toward the post pandemic normal.
But that said, beware, as the British Prime Minister said that the new strain of Corona Virus - first detected in his nation - spreads 50% - 70% more easily and is somewhere between 20% - 30% more deadly.
NYS has three boroughs right now that are testing at 9% - Queens, Staten Island and the Bronx - but Brooklyn and Manhattan are testing well below that, so the NYC average is about 6% and appears to be flattening again, as the post holiday surge abates.
The photo at right was taken in Chinatown this week.
---
This Weekend Things To Do NYC
Making the Transition Back Toward a Pre-Pandemic Lifestyle
January 22, 2021 / NYC Neighborhoods / Things To Do NYC / News Analysis & Opinion / Gotham Buzz NYC. Continued.
Things To Do This Weekend in NYC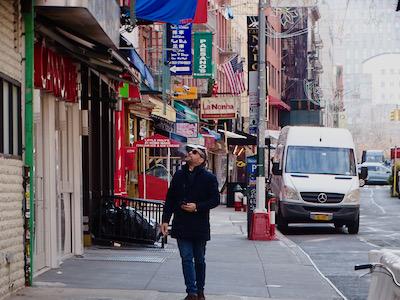 New Yorkers are chomping at the bit to return to a post pandemic normal. As shown in some of the December posts, many of the larger cultural venues have come back, albeit with abbreviated hours and at CoVid adjusted capacity, mostly requiring reservations.
But some of the smaller venues are also beginning to re-emerge. We've seen a couple of art galleries - Plaxall in Queens and another in Brooklyn - host art openings / exhibits within the past month using the same safety protocols as the larger venues.
There's also been a lot of online activity as well, as the world adjusts to bubble social infrastructure, by migrating some of their work online.
The photo at right was taken in SoHo this week.
More coming Saturday on things to do this weekend in the five boroughs of NYC.
---
---