This Weekend Things To Do NYC & News Updates
St James Theater on Broadway does Pop Up Performance, Bronx Night Market Reopened Last Saturday, Mets Win Home Opener Thursday 4/8, Luna Park Coney Island to Reopen Friday 4/9, Flux Arts Event in LIC 4/10, on SI the National Lighthouse Museum is Open, Pools & Beaches to Open This Summer, NYC Public High School Opt In Extended Until this Friday 4/9 as CoVid School Closure Rule Changed, Huge Fire in Jackson Heights, CoVid Vaccinations & New Cases Grow, Economy Seems to be Bouncing Back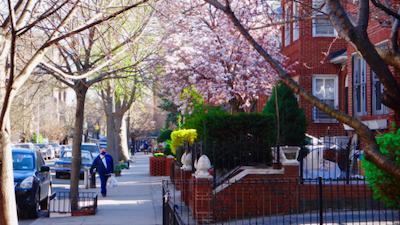 April 8, 2021 / NYC Neighborhoods / NYC Corona Virus / News Analysis & Opinion / Gotham Buzz NYC.
Weather. The temperature highs will be around 60 on Friday and Saturday, rising to about 70 on Sunday. The temperature lows will be in the low 50's all weekend. The humidity will rise to between 60% and 70% on Friday, to between 70% and 80% on Saturday and Sunday. Late Saturday there's a small chance of a small amount of rain, but on Sunday there's a good chance [75%] of about a half inch of rain. Winds will be between 5 - 10 mph all weekend.
The photo at right shows a beautiful spring day in Queens on Thursday 4/8/21.
Note About Things To Do While CoVid Pandemic Still Out There in NYC
All of the operations / events below continue to enforce CDC guidelines vis a via public health. This means masks, social distancing, hands washing and no ill people allowed. Some sites may take temperature checks.
Manhattan - The St James Theater Reopened on Broadway for 36 Minutes Last Saturday 4/3/21
A week ago the restrictions on entertainment venues was lifted, allowing theaters and other performance spaces to reopen at 33% capacity. So the St. James Theater, off 8th Avenue on West 44th Street near Times Square, did a soft open for an invitation-only guest list of less than 200 for just over a half hour of performance. Broadway closed on March 12th 2020 so this was seen as a quick trial effort.
While Broadway Theaters are closed through May 30th, 2021, pop up performances will be staged, likely centered around readings and music. As they are pop up - to avoid attrtacting large crowds - we can't advise you when they'll be. Broadway as we know it will likely return by September with fully staged plays and performances. Stay tuned.
---
This Weekend Things To Do NYC & News Updates
St James Theater on Broadway does Pop Up Performance, Bronx Night Market Reopened Last Saturday, Mets Win Home Opener Thursday 4/8, Luna Park Coney Island to Reopen Friday 4/9, Flux Arts Event in LIC 4/10, on SI the National Lighthouse Museum is Open, Pools & Beaches to Open This Summer, NYC Public High School Opt In Extended Until this Friday 4/9 as CoVid School Closure Rule Changed, Huge Fire in Jackson Heights, CoVid Vaccinations & New Cases Grow, Economy Seems to be Bouncing Back
April 8, 2021 / NYC Neighborhoods / NYC Corona Virus / News Analysis & Opinion / Gotham Buzz NYC. Continued.
Bronx Night Market Open Every Saturday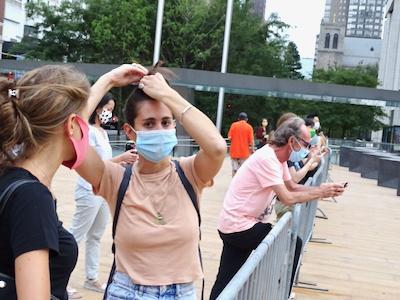 Bronx Night Market reopened last weekend on Saturday, April 3rd from 12 noon to 7 pm. The Bronx night market, which hosts between 20 and 50 different vendors, who are primarily selling food, opens every Saturday from April 3rd through November 13th this year [2021]. The Bronx Night Market is located at Fordham Plaza, which is across from the Fordham Metro North train station, at East Fordham Road & Third Avenue in the Bronx.
Brooklyn - Luna Park Coney Island Reopens Friday, 4/9/21, & BAM did Pop Up Performance on Tuesday, 4/6/21
Luna Park on Coney Island in Brooklyn will reopen on Friday, April 9th from 11.30 am - 7 pm. Luna Park will then open weekends from 11 am - 7 pm through Memorial Day, after which it will open daily through Labor Day. As capacity is limited to 33% and social distancing in effect, they encourage visitors to rsvp online at https://lunaparknyc.com/
The Brooklyn Academy of Music aka BAM did a pop up performance at a skating rink in Prospect Park Tuesday evening 4/6/21.
Queens - Mets Win Home Opener on Thursday 4/8 & Flux Factory / Threads / Gallery, Poetry & Videos
The Mets held their home opening game on Thursday 4/8/21. The Mets rallied in the 9th to win their home opener 3 - 2 against the Marlins.
The photo at right shows the CitiField parking lot, sparsely filled for a home opener on a beautiful Spring day, but during the ongoing CoVid pandemic. The cars seem socially distanced ... don't they?
The Flux Factory at 39-31 29th Street in Long Island City will be hosting an arts event in support of Asians against hate. The event is live, hence requires an rvsp through www.fluxfactory.org, and CDC CoVid guidelines remain in effect. From 1 - 5 pm is the gallery, from 5 - 7 pm are poetry readings and beginning at 7 pm video.
Staten Island - The Lighthouse Museum is Open
The National Lighthouse Museum in the St. George neighborhood of Staten Island, just a few blocks from the Staten Island Ferry Station, is open Wednesday through Sunday from 11 am - 4 pm.
Also the toll fares on the Verrazano Narrows Bridge rose on Sunday, April 11, 2021, as well as on other bridges and tunnels. Copy & paste this link to view the new fares - https://new.mta.info/document/30706
NYC Beaches and Pools to Reopen on Schedule in 2021
This week Mayor de Blasio announced that NYC beaches and public pools will reopen on schedule this Spring and Summer. This means the NYC public beaches will reopen beginning Memorial Day weekend and the NYC public outdoor pools will reopen around June 26, which is the first official day of summer vacation for NYC public schools. The NYC public indoor pools, and the NYC public outdoor pools undergoing renovations, will not be open at this time. Stay tuned.
NYC Public Schools Opt In Extended Until Friday 4/9/21
Parents can opt back in for in school learning prior to close of business this Friday, April 9th.
The Mayor announced that the school closing rule has been changed from closing an entire school if two cases are reported, to only closing a school if four or more cases are found within a single week and in more than one classroom. There are other rules in place to address a smaller number of cases discovered in a classroom or classrooms by closing the classroom for ten days. And even in the event of the four case rule, the school will only be closed for ten school days or two weeks.
An Eight Alarm Fire Breaks Out in Jackson Heights Displacing 90 Residents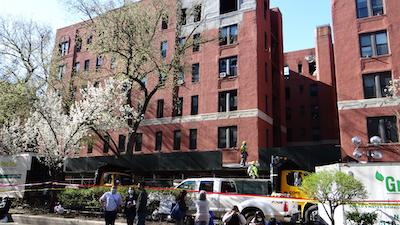 An eight alarm fire broke out around 1 pm on Tuesday, April 6th, at a building on 34th Avenue between 89th and 90th streets in Jackson Heights. The blaze affected about 33 apartments in the building, where about 90 people were displaced. About 21 people were injured, including 15 firefighters, but none with life threatening injuries. The cause of the fire is being investigated.
The photo at right shows the top two stories [5th & 6th] devastated in the fire, while the bottom floor reportedly suffered considerable water damage.
NYC Economy Bouncing Back but ... be Careful as the New Variant of CoVid is Raging
You can see the NYC economy / city coming back to life - in spite of what old man Murdoch's NY Post, WSJ and Fox News tell their audiences. Employment is rising, hours of stores and restaurants are lengthening, and entertainment venues are coming back to life - as you can see by what I've reported above. I'm also seeing it via increased activity by my own clients.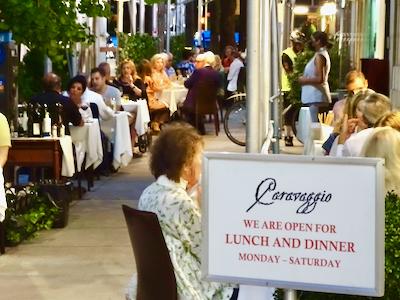 BUT the new CoVid variant is spreading fast. And new CoVid cases are rising at a double digit pace. Offsetting that is the race to vaccinate. Both NYC and NYS seem to be trending about even with over a third of each population now having received at least one shot. And about a quarter of the population is now fully vaccinated. President Biden has announced that any American who wants to get vaccinated will be eligible to do so, free, effective Monday, April 19th which is only ten days away.
NYC Weekend Well Wishes
We're close to beating this thing, if we stay disciplined, which the numbers don't support that we're doing so. So it's worth a reminder to wash your hands with soap, wear the mask when in the presence of others indoors or when nearby someone outdoors - especially for a protracted length of time - and keep social distancing. Fewer people are dying, but more young folks are getting infected, and with troubling effects in some cases.
The old saying is that "Discretion is the better part of valor" which means, that when possible, it's generally better to avoid a dangerous situation than to engage it.
Have a nice weekend.
---
---