This Weekend Things To Do
We're in the Process of Transitioning Back from Two Terrible Viruses, to the Post-Trump, Post-Pandemic Normal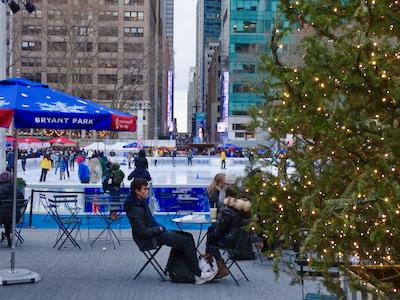 January 28, 2021 / Things To Do NYC / NYC Neighborhoods / News Analysis & Opinion / Gotham Buzz NYC.
Weather. The temperature highs will range from about 20 on Friday, rising to about 30 on Saturday and Sunday. The temperature lows will range from about zero Friday early morning to the low 20's the rest of the weekend. Winds will range from about 15 - 20 mph on Friday, down to about 10 mph on Saturday and around 5 - 10 mph on Sunday. Humidity range from 30% - 40% on Friday and Saturday, rising to 40% - 50% on Sunday. There's a forecast of one to seven inches of precipitation beginning late Sunday evening going through Monday.
The photo at right was taken earlier this month at Bryant Park in Midtown Manhattan.
Introduction to the New Post Pandemic Normal
Within the past week or so, the number of vaccinations have doubled to about 20 million nationally. Both NYC and NYS are near the front of the pack, due in part to the Mayor's and Governor's efforts to move us beyond CoVid.
President Biden seems focused on moving the nation out of the pandemic by mandating the wearing of masks in all federal buildings, and on all interstate modes of transportation. He also invoked the Defense Production Act to ensure the nation has enough PPE [Personal Protective Equipment] and vaccines including the needles, vials and people to administer them. Lastly, Biden committed to purchasing an additional 200 million doses of vaccine, for the nation to receive delivery of by, or before, the end of the summer.
This is a sea change of pandemic response from the federal government vis a vis the lackadaisical approach [and denial] of the pandemic by the Trump Administration.
The photo at right shows a couple of women photographing themselves in front of the new Moynihan Train Station near Penn Station in Midtown.
---
This Weekend Things To Do
We're in the Process of Transitioning Back from Two Terrible Viruses, to the Post-Trump, Post-Pandemic Normal
January 28, 2021 / Things To Do NYC / NYC Neighborhoods / News Analysis & Opinion / Gotham Buzz NYC. Continued.
Things To Do This Weekend - For Real
I've been updating things in order to resume publishing activities within the boroughs. Think of this weekend post as a small beginning of what to expect as we transition to the post pandemic new normal for things to do in the five boroughs of NYC.
Most Events Still Online, but that Should Begin Changing ...
QNS. Sixteen pool halls reopened this past week in NY after taking the Governor to court regarding CoVid restrictions. Amsterdam Billiards on the UWS in Manhattan was one of the participants. So was BQE Billiards in the Jackson Heights neighborhood of Queens, which I visited this weekend to see how that's going [see photo at right].
http://bqebilliards.com/
QNS. The LaGuardia College Small Business Development Center in Long Island City, Queens is ready to help small businesses gain access to government assistance to get through the rest of the pandemic. Here's a link.
https://www.sba.gov/funding-programs/loans/coronavirus-relief-options/paycheck-protection-program
If you're in another borough, they can help direct you to resources in your borough too.
BX. One Book One Bronx, has moved its programs online. They just completed a book about being a lesbian senior in Brazil. The next book is a narrative of sonnet and song entitled Olio by Tyehimba Jess about African American musicians and performers in the period from just before the Civil War to WWI. The online discussions begin Tuesday, February 2nd from 7 - 8.30 pm. Use the following link to register.
https://us02web.zoom.us/meeting/register/tZAvcu6oqDMsGtTIxfguhKTdAJNvxoXwhB_t
SI. The National Lighthouse Museum on Staten Island is open from 11 am - 4 pm Wednesday through Sunday. They have a number of exhibits at the museum and appear to be resuming special exhibits beginning in March.
http://lighthousemuseum.org/exhibits/current-exhibits/
MHTN. The Frick Museum in Manhattan is still in online mode, offering art programs and workshops which have received such a positive response, that some are fully booked [some of the free ones : )]. See the following link for more info.
https://www.frick.org/programs
MHTN. The Winter Art Show, usually held at the Park Avenue Armory on the Upper East Side of Manhattan, has gone online from January 22 - 31. To view and / or purchase the artistic and cultural works use the following link.
www.winterartshow.org.
BK. The William Vale Hotel at 111 North 12th Street in Brooklyn has an outdoor skating rink called the Vale on its rooftop on the 23rd floor that's open from 12 noon to midnight on Saturday and until 10 pm on Sunday. Tickets are $20 / $12 and an rsvp is recommended.
https://www.thewilliamvale.com/vale-rink/
---
---