NYC Coming Back to Life: Things To Do This Weekend
New York City Appears to Slowly Return to the New Normal, More Event Venues Begin Hosting Limited Capacity Rsvp Ticketed Events, Anyone Aged 16+ Can Obtain a Vaccine w/o an Appointment, Biden to Address Nation Wednesday 4/28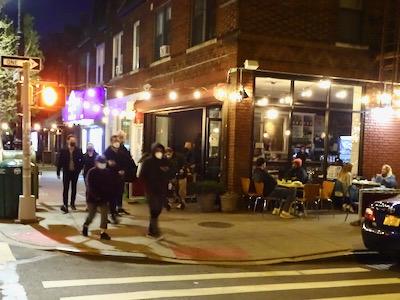 April 23, 2021 / NYC Neighborhoods / NYC Corona Virus / News Analysis & Opinion / Gotham Buzz NYC.
OLD - Weather. The temperature highs will be in the 60's all weekend, while the temperature lows will range from the mid 40's to mid 50's. There's a near certain chance of about three quarters of an inch of rain early Sunday morning [gone by noon]. Humidity will be 25% - 40% on Friday, moving up from 35% - 60% on Saturday and then maxing at 70% Sunday morning, before coming back down in the 50% range by Sunday evening. Winds will be between 10 - 15 mph all weekend.
Things To Do NYC, Manhattan, Bronx, Brooklyn, Queens & Staten Island
April 20 was National Weed Day. Possession of small amounts of recreational marijuana is now legal in NYS.
NYC is reopening curbside composting pickup registration in September for an October 2021 restart date.
On Monday, April 27th, museums can open to 50% of capacity, up from 25% capacity currently. Sports venues will be allowed to open up indoor events to 50% of capacity, up from 25%, effective May 19th, 2021.
MANHATTAN. The Perfect Crime is the first Broadway Play to reopen with live performances to indoor audiences at the Anne L. Bernstein Theater at the Theater Center at West 50th Street off Broadway in the theater district. Tickets may be purchased online at www.ticketsmarter.com for $82 - $113.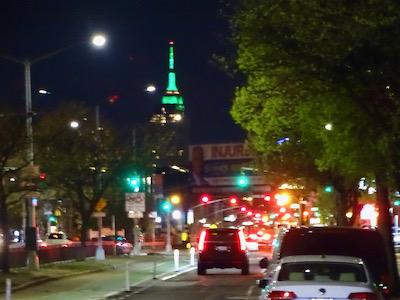 Jazz at Lincoln Center is hosting events in April - but not this weekend.
ArtontheAveNYC.com from April 15th through July 8th 2021 is vacant store fronts repurposed as art galleries for from the street viewing. It's in the West Village from the Bleeker Playground to Christopher Street and between West 4th Street and Hudson Street.
Bryant Park is hosting concerts that run from the summer through the fall, but has limited seating capacity of 200, so you are advised to rsvp now.
The Tribeca Film Festival will open with the film In the Heights in June with viewing locations in all five boroughs at destinations to be announced at a later date.
BRONX. NY Botanical is hosting contemporary art exhibit entitled 'Kusama: Cosmic Nature' opens this weekend with outdoor installations across the NY Botanical Garden [through October 31st]. Like most venues these days you have to reserve timed tickets at nybg.org.
---
NYC Coming Back to Life: Things To Do This Weekend
New York City Appears to Slowly Return to the New Normal, More Event Venues Begin Hosting Limited Capacity Rsvp Ticketed Events, Anyone Aged 16+ Can Obtain a Vaccine w/o an Appointment, Biden to Address Nation Wednesday 4/28
April 23, 2021 / NYC Neighborhoods / NYC Corona Virus / News Analysis & Opinion / Gotham Buzz NYC. Continued.
BROOKLYN. Brooklyn Botanic Gardens is hosting "Spring Weekends," a series of weekend pop-up performances from April 17 through May 9. to accommodate these weekend events the BBG is extending its hours through sunset and the added programs are included with admission. On Saturday, April 24: Masayo Ishigure, MIYABI Koto Shamisen Ensemble and Sakai & Rino, the Nobuki Takamen Trio, while on Sunday 4/25 Adam Fisher, Mia, Okai, SeeYou and Shira Kobren.
BrooklynKids.org is hosting a Holi Festival on Saturday, April 24th.
Brooklyn Ballet put on a one hour performance inside at Montague Street which could be viewed from the outside at 8 pm last Friday, April 16. Check to see if there more scheduled?
QUEENS. The Astoria Comedy Club QED is hosting the Transplants Comedy Show on Friday nights through 10/29. Most of the comedians are American immigrants [other states or counties] but some hail from other parts of the Americas like Canada and Colombia.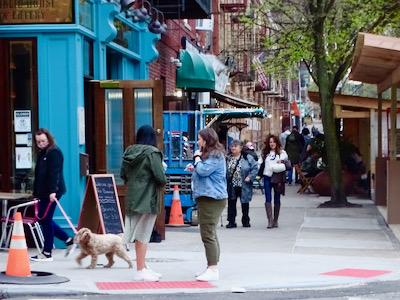 At PS1 MoMA in LIC, Niki de Saint Phalle's 'Structures for Life' opened March 11th. It includes photos of a number of large sculptures in the garden based on 22 tarot cards that is located across 14 acres in Tuscany. The structures were so massive that the artist even lived in one which has a bedroom and bath in one breast and a kitchen in the other. It's on display through September. Tickets $14 - $26.
STATEN ISLAND. Snug Harbor Cultural Center and Botanical Garden is reopening the Newhouse Center in Building G on Saturday, April 24th from 12 noon to 5 pm. Tours will be given and the gallery open to 20 folks at a time and the celebration will be hosted in Shinbone Alley. the exhibits include Jill Jichetti 'On Art & Poetics' and Zoë Tirado 'Ghoulfriends', with music from DJ Nazz Raidience and DJ Mikediexverse. Opening Day is free.
Historic Richmond Town is once again hosting Uncorked Food & Wine Festival which returns on Saturday, June 5, 2021 from 12 noon to 6 pm. The event includes 40 local restaurants, breweries and wineries. This year you'll have to rsvp at www.historicrichmondtown.org for timed tickets only.
Brief CoVid Testing & Vaccinations Update - All Eligible, Vaccination Booster Shots, J&J Vaccine Likely Back in the Mix of Options, Folks Aged 16+ Can Obtain No Appointment Walk in Vaccinations
CoVid positive tests in NYC and NYS are now under 5% and under 3% respectively. Hospitalizations are now at their lowest level since before Thanksgiving. CoVid related deaths in NYS were 45 on Wednesday.
The vaccination may provide immunity for just six months, so we all might need a booster shot every six months to maintain immunity.
President Biden announced that all adult Americans are eligible to be vaccinated effective April 19th. It has been reported that the vaccination uptake has been slowing.
It was unclear whether the slowing vaccination rate was because the J&J vaccine doses were temporarily put on hiatus, which disrupted vaccination supplies was the cause - or people's attitudes toward getting vaccinated. The J&J vaccine hiatus just ended 4/23/21, and the J&J vaccine will include a warning of a potentially bad reaction, which comes in the form of an extremely rare blood clotting problem in women. The clotting occurred in only six of more than eight million J&J doses administered. It remains unclear as to whether the administration of the J&J vaccine has a direct connection to the problem.
People aged 16 years and older can obtain unscheduled walk in vaccinations at various NYC / NYS sites around the city. This is effective today 4/23/21.
Economic News Update - Sports Betting, NYC Tourism, Employment & Retail Sales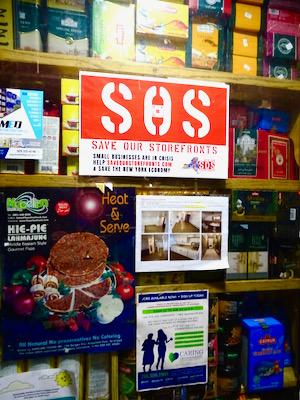 In early April [on or before the 10th] Governor Cuomo approved online sports betting in NYS. In 2013 legalized gambling was passed for licensed casinos in NYS [I believe there are four major operators]. The online sports betting was authorized - by piggybacking the online sports betting legislation onto the 2013 law which legalized betting. This was done by mandating that the servers hosting the sports betting, are to be housed at one of the licensed casinos.
NYC tourism fell from 66 million tourists in 2019 to 22 million in 2020. It is expected that it will take as long as two years for NYC tourism to return to normal. That's why about two million hospitality jobs were lost and why in the range of a million have still not yet returned.
Nationally retail sales were up.
Nationally new unemployment claims in the 500K range - I believe the lowest since pandemic began? But that said, there are still 17 million Americans who are collecting unemployment.
There was a 3.7% drop in housing sales because the housing market is short of inventory. Mortgage rates began to stabilize, fall back, after rising the past couple months. The mortgage rate is a bit above 3%.
Biden State of the Union on Wednesday, April 28th at 9 pm
President Joe Biden is set to address Congress on Wednesday, April 28th at 9 pm. You can watch it streamed by PBS by cutting and pasting the following link.
https://www.youtube.com/watch?v=sc5v0ZLwqPY
It's worth noting that Biden has a stuttering handicap, which is why he's not as prone to incessant jibber jabbering like his presidential predecessor. The intermittent silence and respite from the continuous stream of offensive, demagogic comments has been welcome.
Have a nice weekend.
---
---