Things To Do This January 2022 Weekend NYC
Mulchfest, Skating, Train Show and Ending Holiday Light Shows in Brooklyn, Bronx and Staten Island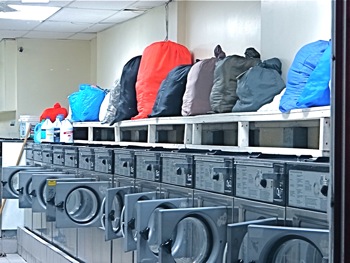 January 7, 2022 / NYC Neighborhoods / NYC Things To Do Events / Gotham Buzz NYC.
Weather. The temperature highs will be in the low 30's on Friday and Saturday, rising to about 40 on Sunday. The temperature lows will range between the low to high 20's, rising slightly through the weekend. There's a 65% chance of a slight amount (1/10th of an inch) of precipitation between 2 - 9 pm on Sunday. Winds will be running between 10 - 15 mph through the weekend. Humidity will rise from 55% on Friday to 65% on Saturday to 75% on Sunday.
Mulchfest from 10 am - 2 pm All Boros
The NYC Parks Department continues its annual Mulchfest conservation / recylcing efforts by offering New Yorkers in all five boroughs the opportunity to mulch their Christmas tree. Folks can visit one of the participating parks between 10 am and 2 pm on both Saturday and Sunday and either drop off the tree to be mulched by the Parks Department to be used by them at one of the parks, or stay and take home the mulch for their own garden. See the Parks Department map above or visit their website to find the park nearest you.
https://www.nycgovparks.org/highlights/festivals/mulchfest
---
Things to do in Manhattan in January 2022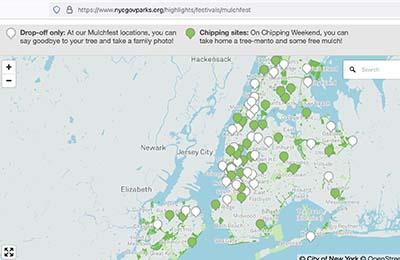 There's outdoor skating at Wollman Rink in the southeast corner of Central Park.
There's also skating in Midtown at Rockefeller Center at 5th Avenue and 48th Street and at Bryant Park off 6th Avenue at 42nd Street.
Things to do in Brooklyn in January 2022
The Brooklyn Botanical Garden Lightscape Show runs through January 9, 2022. Tickets are $18 / $34.
There's also skating in LeFrak Center at Lakeside in Prospect Park from 9a - 9p on the weekends. It's recommended that you rsvp a 90 minute skating slot on their website.
https://www.prospectpark.org/visit-the-park/places-to-go/lefrak-center-lakeside/
Things to do in Queens in January 2022
The Noguchi Museum in Astoria / Long Island City at 9-01 33rd Road in Astoria / LIC Queens is hosting a couple of exhibits, one is about the 'Common Objects' that runs through February 13th, 2022.
MoMA PS1 has an exhibit on that is called 'Greater New York' which is about and by artists living in and around NYC during the CoVid pandemic. The exhibit runs through April 18, 2022. Tickets required at www.moma.org/ps1.
Things to do in the Bronx in January 2022
NY Botanical Garden Holiday Train Show in the Belmont Neighborhood of the Bronx runs through Sunday, January 3, 2022 from 10 am to 4 pm.
Description. This 30 year old family-friendly Bronx holiday event includes a scenic train show of G-scale toy locomotives that run through 175 NYC landmarks including the Statue of Liberty and Brooklyn Bridge - all made of natural materials.
Admission. Tickets cost $15 / $28 / $30 and kids under age two are free.
Location. This Bronx holiday event is located at 2900 Southern Blvd in the Enid Haupt Conservatory in the Belmont neighborhood of the Bronx.
Contact. www.nybg.org
Bronx Zoo Holiday Lights near the Belmont & Bedford Park Neighborhoods of the Bronx thru January 9, 2022 - from 3 - 9 pm
Description. The Bronx Zoo Holiday Lights program continues thru Sunday, January 9th. The Bronx Zoo stays open until about 9 pm during the holiday lights program.
Admission. Tickets run $25 for kids / $35 seniors / $40 adults and children under age two are free.
Location. The Bronx Zoo is located at 2300 Southern Blvd in the Fordham Manor neighborhood of the Bronx.
Contact. www.bronxzoo.com
Things to do on Staten Island in January 2022
Winter Lanterns at the Snug Harbor Cultural Center & Botanical Garden runs through anuary 9, 2022 - from 4.30 pm - 9.30 pm
Description. There's a Winter Lanterns exhibit open through Sunday, January 9, 2022. There are 1,000 lanterns artistically sculpted into the Snug Harbor campus.
Tickets. Cost $25 / $17. Not shown Mondays - Thursdays.
Location. Snug Harbor Cultural Center at 1000 Richmond Terrace in the Randall Manor neighborhood on the north shore of Staten Island.
Contact. www.nycwinterlanternfestival.com / www.snug-harbor.org / Contact the Business Department for rentals via email jkelly@snug-harbor.org or by phone 718-425-3516.
Have a nice first weekend of 2022.
---
---