This Weekend Things to Do NYC
Mets Opener Queens, Taxes, Passover, Easter Bonnet Parade, NY Auto Show & Fairs Manhattan; Orchid Show in the Bronx; Luna Park in Coney Island, BAM, Andy Warhol exhibit in Brooklyn; Museums in Queens & Staten Island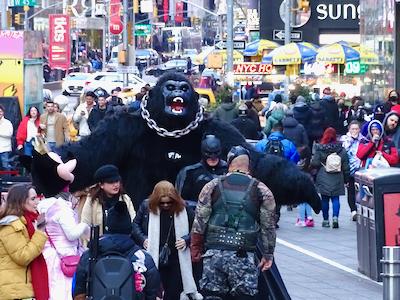 April 15, 2022 / Things To Do NYC / NYC Neighborhoods / Gotham Buzz NYC.
Weather. The temperature highs will be in the high 60's Friday and Saturday, descending to around 50 on Sunday. The temperature lows will be in the mid 50's on Friday, dropping to the low 40's on Saturday and to around 40 on Sunday. There's a high probability (70%) of about a quarter inch of rain or less between the hours of 5 pm - 10 pm Saturday, otherwise dry. Winds will be 10 - 15 mph all weekend. Humidity will be about 35% Friday, rising to 45% - 65% Saturday, and falling back to 40% - 50% on Sunday.
The photo at right was taken in Times Square ... where else would you find such a normal group of people?
Passover begins Friday.
This is also the Catholic and Protestant Easter Weekend. Next weekend is the Orthodox Christian Easter Weekend.
And remember your taxes are normally due today, but because of the Emancipation Day holiday in Washington, D.C. I understand that taxes can be filed on Monday, April 18th.
Manhattan Things To Do This Weekend NYC
NY Auto Show opened at the Javits Center on Friday, April 15th and runs through Sunday, April 24th. Tickets are $17 adult / $7 child at www.autoshowny.com.
There's the Easter Bonnet Parade beginning at 10 am on Sunday and winding down by mid afternoon. The parade takes place along 5th Avenue from 49th to 57th Streets. I have heard but not seen for myself, that it's more of a milling about in bonnets and other Easter outfits, than a real parade.
On Saturday, April 16th from 10 am - 6 pm there's the 6th Avenue Herald Square Fair along 6th Avenue from 23rd to 32nd Streets in Manhattan.
On Sunday, April 17th from 10 am - 6 pm there's the Upper West Side Broadway Fair along the East side of Broadway from 96th to 106th Streets on the east side of Broadway.
---
Queens Things To Do This Weekend NYC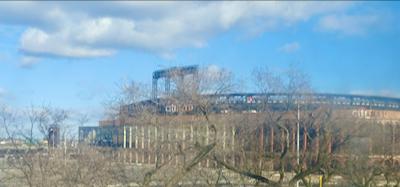 The Mets Home Opener begins Friday at 1.10 pm at CitiField. They open against the Arizona Diamondbacks.
The photo at right was taken in February at CitiField in Flushing Queens.
The art show entitled "Blood is Thicker than the Water that Separated U.S.," will be on exhibit at the Lewis Latimer House Museum, 34-41 137th Street in Flushing until July 3rd. Free tickets are available to the public at www.lewislatimerhouse.eventbrite.com. Also, next Saturday, April 16, from 2.30 - 4 pm there's an Easter Egg Hunt for kids 8 and under, but families are welcome.
The Museum of the Moving Image is hosting an exhibit that began December 18, 2021 and runs through May 15, 2022 entitled Deepfake: Unstable Evidence on Screen. The exhibit explores how fact becomes distorted and fictionalized via the moving image screen. At the centerpiece of it all is the distortion of the Apollo 11 moon mission. The museum is open Friday from 2 - 8 pm and Saturdays and Sundays from 12 noon - 6 pm. For details and tickets see www.movingimage.us. Admission $15 / $11 / $9.
Brooklyn Things To Do This Weekend NYC
Luna Park [amusement park] opened in Coney Island last weekend and remains open through the Fall.
The photo at right was taken a few weeks ago in Long Island City in Queens.
The Brooklyn Museum at 200 Eastern Parkway has about a dozen exhibits running at present. The two featured exhibits focus on Andy Warhol's Revelation print which explores the artist's religious faith [closes June 19, 2022]. The other is one entitled A Crack in the Hourglass, An Ongoing COVID-19 Memorial which grapples with the incredible loss of life during the pandemic [closes June 26,2022]. Admission is $25 / $16 / $10 and CoVid protocols remain in effect. Details and tickets at www.brooklynmuseum.org.
In the Peter Jay Sharp Building at the Brooklyn Academy of Music aka BAM at 30 Lafayette Avenue in Brooklyn, they will be showing various films all weekend starting at 1.15 pm, with the last showtime at 9.40 pm. CoVid protocols remain in effect and tickets [$16 / $11] may be purchased online at www.bam.org
Bronx Things To Do This Weekend NYC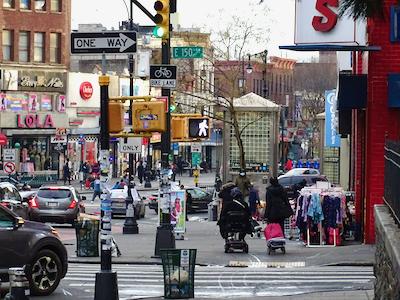 The Orchid Show at the NY Botanical Garden at 2900 Southern Blvd in the Bronx began in late February and continues through May 1.
The photo at right was taken a couple of weeks ago in the Melrose neighborhood of the Bronx.
Staten Island Things To Do This Weekend NYC
On Tuesday, April 19th, from 11 am - 2 pm there's a Beeping Easter Egg Hunt at the Snug Harbor Cultural Center. The hunt begins for toddlers at 11 am and runs until noon. Kids ages 6 - 14 go from 12 noon to 1 pm and ages 15 plus go from 1 pm - 2 pm. Free. Register at lpurrone@cityaccessny.org or 718-285-6548.
Click here for nyc farmers markets and here for nyc street fairs [coming soon].
Have a nice weekend.
---
---