nyc things to do nyc april manhattan brooklyn queens bronx staten island things to do april events nyc
Things To Do in NYC This Weekend
Very Nice Earth Day Weekend Ahead, Orthodox Easter Weekend, Passover ends Saturday, NY Auto Show ends Sunday, Persian Day Parade Sunday, Orchid Show in the Bronx; Luna Park Open at Coney Island, BAM, Andy Warhol exhibits in Brooklyn; Museums in Queens & Earth Day Celebration on Staten Island Saturday
April 22, 2022 / Things To Do NYC / NYC Neighborhoods / Gotham Buzz NYC. Report & photo by Michael Wood.

Weather NYC. The temperature highs will be in the 60's and the temperature lows will be around 50. No rain. Humidity will range from 35% - 45% on Friday, 45% - 65% on Saturday and 55% - 65% on Sunday. Winds will be 8 - 12 mph Friday, dropping to 5 - 8 mph for the rest of the weekend.
In the photo at right is a woman dressed up for the annual Bonnet Parade held last Sunday in Manhattan. The event has morphed from a genteel event, where women dressed up fancy for and after Sunday Mass, to something more of a themed costume party, where both men and women dress up in their Easter best.
NYC Things To Do - Earth Day & Greek Orthodox Holy Friday
Today is Earth Day. Early this morning some folks from Extinction Rebellion protested at the printing plant in College Point that prints the NY Post, New York Times and Wall Street Journal. Two of the three newspapers are controlled by Australian born Oligarch and climate information distortionaist and minimizer, Rupert Murdoch, who also controls Fox News and owns a large influential share of ABC News.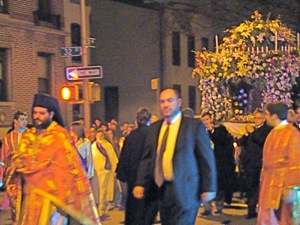 This is also Greek and Eastern European Orthodox Christian Easter Weekend. One of my favorite Greek traditions is where the Greek parishoners reenact part of the Passion of the Christ in a march through the street. A man carries the cross and a number of men carry the epitaphios, which is a flowered funerary cask. You can view this on the streets of Astoria in multiple locations, including near St. Demetrios Cathedral, in Astoria. In Manhattan you can attend a similar event at St. John the Baptist Greek Orthodox Church at 143 East 17th Street only blocks away from Gramercy Park. Generally the masses begin at 7 pm and the processions begin at 8 pm, sometimes a bit later. And then, of course, on Sunday there's an Easter mass.
The photo at right was taken in an earlier year of the Holy Friday procession with the epitaphios in Astoria.
And Passover, which celebrates the Jews freedom from slavery thousands of years ago, ends Saturday.
A number of farmers markets are already open for the season, with many others to open over the coming months. We finished updating them this past week so you can view the markets in each of the boroughs, using the link(s) included in the report below.
---
Manhattan Things To Do This Weekend NYC
On Saturday, April 23rd assembling at 11 am and kicking off at 12 noon, the Sikh Parade marches south along Madison Avenue from 39th Street down to Madison Square Park. Usually there's a festival of sorts after the parade.
On Sunday, April 24th beginning at 11 am, the Persian Day Parade kicks off along Madison Avenue from 39th Street down to Madison Square Park. Usually there's a festival of sorts after the parade.
NY Auto Show opened at the Javits Center on Friday, April 15th and runs through Sunday, April 24th. Tickets are $17 adult / $7 child at www.autoshowny.com.
There are a couple of street fairs in Manhattan.
Queens Things To Do This Weekend NYC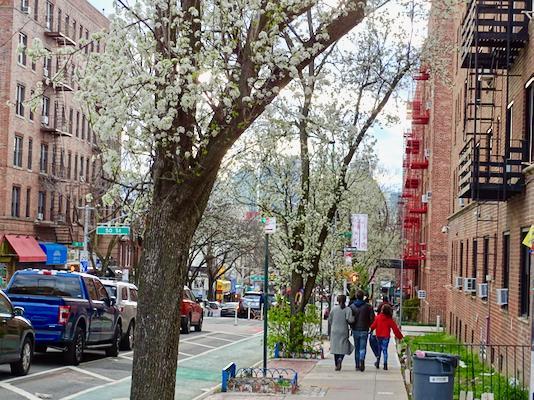 The photo at right was taken in Queens last week, where you can see the trees - all white - budding. This weekend, they've turned a bright green.
The art show entitled "Blood is Thicker than the Water that Separated U.S.," will be on exhibit at the Lewis Latimer House Museum, 34-41 137th Street in Flushing until July 3rd. Free tickets are available to the public at www.lewislatimerhouse.eventbrite.com.
The Museum of the Moving Image is hosting an exhibit that began December 18, 2021 and runs through May 15, 2022 entitled Deepfake: Unstable Evidence on Screen. The exhibit explores how fact becomes distorted and fictionalized via the moving image screen. At the centerpiece of it all is the distortion of the Apollo 11 moon mission. The museum is open Friday from 2 - 8 pm and Saturdays and Sundays from 12 noon - 6 pm. For details and tickets see www.movingimage.us. Admission $15 / $11 / $9.
There are a couple of street fairs in Queens.
Brooklyn Things To Do This Weekend NYC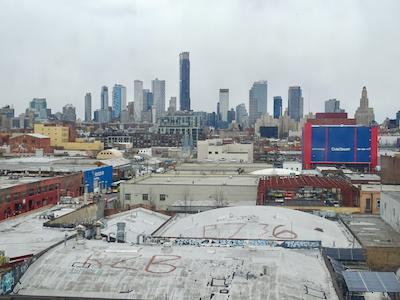 The photo at right was taken from the subway in Brooklyn, showing the downtown, where highrise buildings have been rising into the sky like weeds with each passing year.
The Brooklyn Museum at 200 Eastern Parkway has about a dozen exhibits running at present. The two featured exhibits focus on Andy Warhol's Revelation print which explores the artist's religious faith [closes June 19, 2022]. The other is one entitled A Crack in the Hourglass, An Ongoing COVID-19 Memorial which grapples with the incredible loss of life during the pandemic [closes June 26,2022]. Admission is $25 / $16 / $10 and CoVid protocols remain in effect. Details and tickets at www.brooklynmuseum.org.
Luna Park [amusement park] at Coney Island opened a few weeks ago for the season.
In the Peter Jay Sharp Building at the Brooklyn Academy of Music aka BAM at 30 Lafayette Avenue in Brooklyn, they will be showing various films all weekend starting at 1.15 pm, with the last showtime at 9.40 pm. CoVid protocols remain in effect and tickets [$16 / $11] may be purchased online at www.bam.org
Bronx Things To Do This Weekend NYC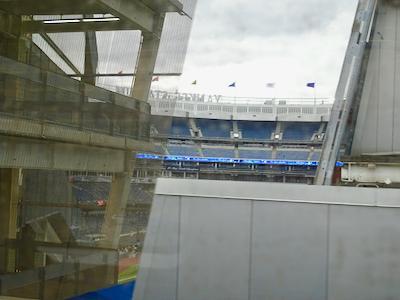 The Orchid Show at the NY Botanical Garden at 2900 Southern Blvd in the Bronx began in late February and continues through May 1.
The photo at right was taken of Yankee Stadium in the Bronx on home opening weekend. The season has begun, bringing with it, a certain rhythm to the borough. The Yankees have a 7 - 6 record and are one game out of first place, after Toronto. The Mets meanwhile are in first place with a 10 - 4 record, which is 'amazing'. As there are 162 games in the season, there's plenty of time where just about anything can happen.
Staten Island Things To Do This Weekend NYC
On Saturday there's an Earth Day celebration from 11 am - 3 pm at Fresh Kills Park at 2240 Richmond Avenue on Staten Island. There are a number of activities for both kids and adults including composting, planting, nature walks, yoga and storytimes. It's free. www.freshkillspark.org.
I may find a bit more to add as the weekend progresses, but in the meantime, have a nice weekend.
---