Things To Do in NYC in April - Weekends
Things To Do in NYC by Weekend April
April 30, 2022 / Things To Do NYC / Gotham Buzz. This section contains our Weekend Things To Do reports for the month of April 2022.
---
Things To Do in NYC This Weekend
Nice Weather Weekend for the 5 Boro Bike Ride NYC, Yankee Peddler Day at Historic Richmond Town Staten Island, Night Food Market & Orchid Show in the Bronx, May Day Festival & BAM Queer Film Weekend in Brooklyn, International Cultural Festival Queens & Dance Fest at Wolman Rink & Met Gala Monday in Manhattan ... and more ...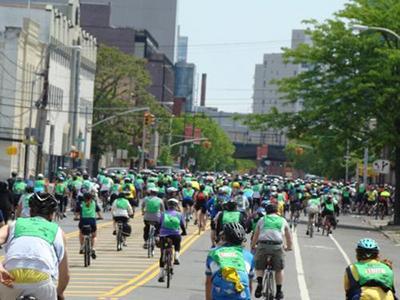 April 29, 2022 / Things To Do NYC / NYC Neighborhoods / Gotham Buzz NYC.
Weather NYC. The temperature highs will rise from the low 60's on Friday to the high 60's on Saturday and Sunday. The temperature lows will rise from the low 40's on Friday, to the high 40's on Saturday to about 50 on Sunday. The humidity will be very low on Friday, ranging from 10% to 40%, rising to 30% - 45% on Saturday and then 35% to 55% on Sunday. The wind will finally settle down to 5 - 10 mph throughout the weekend. No rain is expected this weekend.
In the photo at right are cyclists participating in the 5 Boro Bike Ride as they make their way through Queens in a prior year. The cycling event returns Sunday. See details below.
Manhattan Things To Do This Weekend NYC
There's a Coney Island Polar Bear Club event on Saturday & Sunday at Wolman Rink in Central Park from 2 pm - 10 pm. It's a charity event and tickets aren't cheap at $191 / person. See www.wolmanrinknyc.com for details.
The 5 Boro Bike Ride returns to all five boroughs of NYC on Sunday. Details in Manhattan street fairs.
The Met Gala returns to the Metropolitan Museum on Monday.
Click here for Manhattan Farmers Markets.
---
$element(bwcore,article_picker,1704-1692-1691-1690,Y,N,page_title_home,N)$
CLICK here for things to do in New York City in April - Weekends.
---
---