Things To Do in NYC in July - Weekends
Things To Do in NYC by Weekend in July
July 31, 2022 / Things To Do NYC / Gotham Buzz. This section contains our Weekend Things To Do reports for the month of July 2022.
---
Things To Do This Weekend in NYC
1) Hong Kong Dragon Boat Festival, Greek Festival, Pow Wow & Jamaica Jerk Festival in Queens, 2) Shakespeare at Bronx Music Center, Bronx Night Market, Piazza di Belmont & the Bronx Dominican Parade returns to the Bronx; 3) Gallery Players, Piper Theater Performances, Burlesque at the Beach and BRIC Concert Series continues in Brooklyn; 4) Songwriters Showcase, Ailey Moves & St. Lukes Concert, Mame Opens at the Victory Theater, Much Ado about Nothing, Final Movie / Concert at the Lighthouse Museum on Staten Island; 5) SHENYC continues, Dance Intensive, Twelfth Night & NY Asian Film Fest ending, Movies and MacBeth Begins in Manhattan, and Free Outdoor Concerts, Movies & Theater, Farmers Markets, NYC Public Outdoor Swimming Pools, Street Fairs, Public Beaches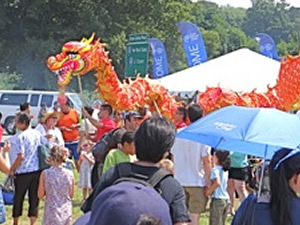 July 29, 2022 / NYC Neighborhoods / NYC Things To Do Events / Gotham Buzz NYC.
NYC Weekend Weather. The temperature highs will be in the mid to high 80's and the temperature lows will be in the low to mid 70's. Winds will be 5 - 10 mph all weekend. The humidity will fall from 50% - 70% on Friday, to 50% on Saturday, rising to 50% - 65% on Sunday. There's a chance of about a quarter inch of rain sometime between 10 pm Friday night and 4 am Saturday morning. All in all not a bad weather weekend.
The photo at right is of the dragon festival in Flushing Meadows Corona Park in Queens. The festival returns this weekend.
Things To Do This Weekend in Queens NYC
Thursday - Sunday, July 28 - July 31, 2022 - Thurs / Fri / Sat / Sun - 5 pm to 11 pm - St Irene Chrysovalantou Church - This Astoria street fair is along 23rd Avenue from 36th Street to the Amtrak trestle. Traditional Greek food, music, and folk dances every night, as well as rides for the kids and a marketplace. The feast day celebration starts with a mass on Wednesday at 7.30 pm inside and continues with various religious services through the end of the feast on Sunday.
On Friday, July 29, 2022 beginning at 7.30 pm / Hip to Hip Theater Free - Pericles - There's a performance of Shakespeare at The Voelker Orth Museum is located at 149-19 38th Avenue in Flushing.
On Sunday, July 31, 2022 from 2 - 5 pm - there's a performance by Ballet Folklorico Mexicano de Nueva York Guelaguetza Festival at Socrates Sculpture Park which is located at 32-01 Vernon Blvd at Broadway in Astoria / LIC.
Friday through Sunday, July 29 - 31, 2022 - There's a Pow Wow at the Queens County Farm at 73-50 Little Neck Parkway in Bellerose Manor / Little Neck neighborhoods of Queens. Performances run from 7 - 10 pm Friday; 12 noon - 5 pm and 7 - 10 pm Saturday; and from 12 noon - 5 pm Sunday. The Grand Entry of tribes is at 7 pm Friday, 1 pm and 7 pm Saturday and 1 pm Sunday. Gates open at 6 pm Friday, and 10 am on Saturday and Sunday. Tickets run $15 / adult and $8 / kids 12 and under [discounted rates for full weekend passes].
Saturday & Sunday, July 30 & 31, 2022 - from 9 am - 5 pm - Hong Kong Dragon Boat Festival at Meadow Lake in Flushing Meadows Corona Park. Live boat races, food, shopping and entertainment. Free admission. www.hkdbf-ny.org. Free admission.
Sunday, July 31, 2022 - Jamaica Jerk Festival - From 12 noon to 8 pm - Carribean Food Festival with music at Roy Wilkins Park 177-01 Baisley Blvd at Merrick in Jamaica. Admission $45 advance / likely more at door / Children under 10 Free. Tickets at www.jerkfestivalny.com.
Use the links below to see details about the concerts, theater and movie events above, as well as for details on the free summer concerts, theater and movies for the rest of this summer in Queens. For example next Monday free summer movies in Astoria Park, free performances of Shakespeare in Queens parks, a free movie in Rufus King Park on Friday 7/29 in Jamaica, a paid movie with workshop at the Queens Botanical Garden this Saturday 7/30, free concerts and dance performances in Athens Square Park on Tuesdays and Wednesdays in Astoria, live music and dance in Travers Park in Jackson Heights on Sunday 7/31 and a free concert in Gantry State Park in Tuesdays.
---
$element(bwcore,article_picker,1717-1716-1715-1714,Y,N,page_title_home,N)$
CLICK here for things to do in New York City in July - Weekends.
---
---