Law Enforcement & Criminal Justice in NYC, NYS & USA
This Section is Dedicated to Reporting & Researching Law Enforcement & Criminal Justice Issues in NYC, NYS & the US
November 29, 2021 / NYC Neighborhoods / Law Enforcement & Criminal Justice in NYC NYS & USA / Gotham Buzz NYC.
Scroll down to review our reports on law enforcement and criminal justice in NYC, NYS and the USA.
CLICK here for our report on law enforcement and criminal justice in NYC, NYS and the USA.
---
LAW ENFORCEMENT & CRIMINAL JUSTICE
---
1660
NYC & NYS Continue to Have Lower Murder Rates Than the Rest of the Nation
The Past Couple of Months, NYC Murders have been Below 2019 Levels, and NYC Shootings are Down Double Digits versus 2020, While Gun Arrests Have Doubled vs 2020
August 31, 2021 / NYC Neighborhoods / NYC Crime & Law Enforcement / News Analysis & Opinion / Gotham Buzz NYC.
This is news you're not likely to find in Australian born billionaire Rupert Murdoch's NY Post, Wall St. Journal nor Fox News because it doesn't fit with Murdoch's self-enriching, propagandistic narratives of blaming Democrats for the increase in violent / gun crimes. He appears to use such narratives to get the politicians who will give him tax breaks, and allow him to continue deregulating his industries, so he can make ever more money at the expense of American Democracy.
The NYPD has been working hard to rein in the out-of-control sales and trafficking of guns in the nation, because of the absence of an intelligent debate on national gun control legislation to combat the growing gun violence, and in particular the mass shootings, that started rising again during the Trump Administration and continued rising in the wake of the CoVid pandemic.
Year To Date Murders in NYC are Below the National Average & Have Begun Falling Versus 2020
So we're going to take a look at a number of the NYC crime statistics, and then follow up with an analytical look at some of the issues driving gun related violence, before closing with a look at the distorted, deceitful and destructive coverage provided by Murdoch's Fox News & Propaganda.
As you can see by the chart at right, with the exception of GLA or Grand Larceny Auto and YTD / Year To Date Shootings, all NYC crime is either in the single digits or down, versus last year. It's important to note however, that in July shootings dropped by 35% versus prior year [up 17% YTD], while gun arrests were up 134% versus the prior year [up 68% YTD], so the NYPD continues to make good progress in this regard. And murders were down 49% in July versus prior year and down 10% year to date.
The chart at right shows the NYPD Crime statistics for the month of July 2021 and Year To Date 2021. I have also included comparisons to 2019 as 2020 was an unusual year all the way around - including for NYC crime.
The Iron Pipeline - Interstate 95 - is used to Transport Guns from Primarily Red Republican States with Lax Gun Laws
The graphic at right shows what is called the 'Iron Pipeline' which is Interestate 95 which runs from New York to Florida. This interestate highway is used to transport guns / weapons across state lines from mostly red Republican controlled states with lax gun control laws to blue states that have passed stronger gun control laws.
Once the guns arrive here, they are illegally sold and are the root of the gun violence and murder problem in New York City and New York State. Thankfully, Mayor de Blasio, Commissioner Shea and the NYPD are on top of things, and have been working hard to rein in the problem, even in the absense of national legislative help.
I think President Biden should look into the possibility of using federal powers regulating interstate commerce, to curtail the transport and sale of guns into states that have tighter regulatory frameworks surrounding the sale of murder weapons. And perhaps the district attorneys in our city and state should consider naming the people who sell these guns, as accessories or even accomplices, to the crimes committed with them.
---
1644
Brief Look into NYC Crime Stats Year to Date May 2021
NYC Crime is Generally Low - Except for Gun Related Shootings & Murders and GLA
June 21, 2021 / NYC Neighborhoods / NYC Police & Law Enforcement / News Analysis & Opinion / Gotham Buzz NYC.
When I watch the nightly TV news, as their teleprompter readers / actors do a reading of the news, I find that what's lacking is any insight or thought to the words that come spewing out of my TV set. Today, I'm referring to the crime levels in NYC, and what's going on in our fair city vis a vis law enforcement.
The way the nightly TV men and women, who read the news to us, talk about crime in our city, you'd think it was the 1970's. But the reality is far from that.
Old Newsman's Adage - Consider the Source. Part of the problem is that between two and three of the six major TV stations operating in NYC are controlled or minimally, influenced by Australian born billionaire Rupert 'Goebbels' Murdoch. Herr Murdoch controls Fox 'News' Channel 5, and 'My' 9 Channel 9 [see how Murdoch embeds his propaganda in the names?], and he is one of the two largest shareholders in Disney / ABC. Since Disney / ABC completed the acquisition of Murdoch's Fox 'News' assets on March 20 of 2019, Murdoch appears to have taken a 'hands on role' in exerting an outsize influence over its CEO by influencing the personnel changes within ABC News. So remember that this in not your father's or mother's ABC News - it seems to increasingly be Rupert Murdoch's.
Propaganda for Profit? Part of the reason that Murdoch appears to be hyping crime in our city is that it plays to his favored Mayoral candidate, Eric Adams, who was endorsed by Murdoch's NY Post and who Murdoch's Wall St. Journal featured in a photo today, one day before the election. Murdoch appears never to give anything for which he won't receive something even better, in return. See our section on Rupert Murdoch and the Rise of the Propaganda Press to learn more about the corrupt influence Murdoch has exerted - not just in the U.S. - but around the world.
So let's look at the real crime statistics with an eye on understanding what's going on - rather than figuring out a way to exploit the crime statistics in order to get a potential Murdoch pol elected, which is who Eric Adams now appears to be.
NYC Crime has been Near Record Lows - Even This Year
First off, year to date May 2021 murder is up 8% or 12 deaths versus 2020. But it is up 38% or 44 deaths versus 2019. It's important to note that 2019 was a record low crime year overall for NYC and one of the near record low years for murders. In 2019 there were 318 murders, while May 2021 Year to Date there have been 161 murders. According to Wikipedia,
" ... In 2018, there were 289 homicides--the lowest number since the 1940s. Homicides in New York City surged in 2020, but still remained lower than any year between 1960 and 2011..."
---
1632 - add back foto
YEAR TO DATE CRIME STATS BY NYPD MAY 2021
Most Crime in NYC is Flat or Even Down Relative to 2019 which was a Record Low Crime Year
Except Grand Larceny Auto & Gun Related Crimes aka Shootings & Murders
A Record Number of Guns were Purchased in 2020, Many by First Time Buyers
Asking the NYPD to Rein in Crime Without Legislative Help Doesn't Make Sense
We Need to Hold Violent & Gun Offenders without Bail Until it can Be Determined that They are Not a Threat to Society
And NYS and the U.S. Need to Pass Meaningful Gun Control Legislation
June 21, 2021 / NYC Neighborhoods / NYC Crime & Policing / News Analysis & Opinion / Gotham Buzz NYC.
---
1628
NYC Crime - A Brief Look at NYPD Progress Reducing Murders and Shootings & Effort to Rein in Violent Crime by Making Gun Arrests
The Men & Women in NYPD Blue, Police Commissioner Shea & Mayor de Blasio Have Made Progress in Bringing Down the Number of the Most Violent Crimes in NYC
News Outlets Controlled by Australian Born Billionaire Propagandist, Rupert Murdoch, Generally Fail to Inform NYC & America of these Facts Because They Don't Fit into Murdoch's Manipulative Labeling of Democratic Governed Cities nor Murdoch's Deceitful Ongoing Disparagement of Mayor de Blasio
Murdoch Seems Not to Let Facts, Get in the Way of What he Wants his News Outlets to Convince the Public to Believe
April 19, 2021 / NYC Neighborhoods / NYC Corona Virus / News Analysis & Opinion / Gotham Buzz NYC.
Weather. The temperature highs will range from the mid 70's on Tuesday to the low 50's on Thursday, with the other days in the 60's. The temperature lows will range from the mid 50's on Tuesday to the the high 30's on Wednesday, with the other days somwhere in the 40's. There's a chance of about a third inch of rain on Wednesday. Winds will be between 10 - 15 mph all week. Humidity will be 50% - 60% in the beginning of the week, dropping to 40% - 50% the last two days of the week.
Mayor de Blasio, Police Commissioner Shea & the NYPD have been Making Progress in Improving Safety on NYC Streets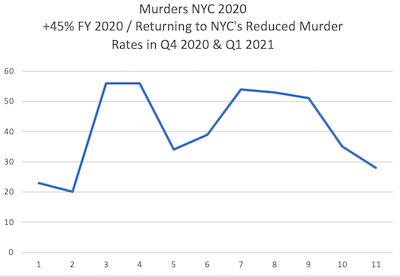 The NYPD has been working hard to bring down shootings and murders over the past year, in part by making a huge number of gun arrests. In the past four months of 2020, the NYPD made twice as many gun arrests as it had in the prior year. In the first quarter of 2021 the NYPD made 1378 gun arrests, which is a 64% increase over 2020.
As a result of the NYPD's gun arrests, murders in NYC have come back down from 1990's levels, to the more modest levels seen in the past two decades. And in 2020, in spite of the huge uptick in NYC murders [462], which was up 64% versus prior year, NYC's murder rate per thousand, is at or even under the murder rate for the United States as a whole. The count of America's murders made last year has not yet been finalized, but is reportedly about 20,000. So the murder rate per thousand for the nation is .000061, while the murder rate for NYC is about the same at .000055.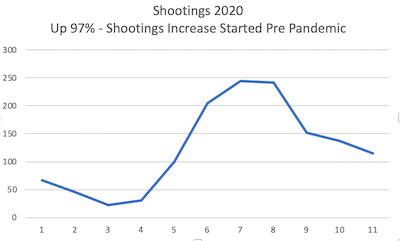 The shootings in NYC continue to be a problem, but there too the NYPD has made good progress since the spike last summer. Beginning in May 2020, shootings spiked into triple digits from the double digits of the prior year. Through the summer of 2020 we witnessed hundreds of shootings per month, although beginning in September the shootings began to fall into the hundred plus range, and thus far this year [first quarter 2021], NYC shootings have fallen to below 100 per month.
The statistics speak for themselves. But my interpretation of them is that Mayor de Blasio, Police Commissioner Shea and the NYPD have done a great job of managing violent crime back down, after a pandemic laden, socially restless, absolutely crazy 2020. But New Yorkers won't know this if they rely on miser Murdoch's mendacious NY Post, Fox News or Wall Street Journal - not because it's not true - but that it's truth that doesn't fit into how Murdoch wants his audiences to see the world ... which is through his incredibly warped, 90 year old lens, which seems to have been crafted by Nazi propaganist Joseph Goebbels himself.
---
1622
Mayor de Blasio, Police Commissioner Shea & the NYPD have Brought NYC Crime Back Down Below Pre-Pandemic Levels ... save for shootings where they have made a substantial number of gun arrests (+63% in Feb alone)
So Why Doesn't Murdoch's NY Post Want New Yorkers to Know?
March 29, 2021 / NYC Neighborhoods / NYC Corona Virus / News Analysis & Opinion / Gotham Buzz NYC.
Australian born billionaire Rupert Murdoch is remarkably predictable. His propaganda outlets, maintain the veil of legitimacy by employing enough real reporters, who do real news stories, to mask the manipulations of Murdoch's mass media.
Is Money, Mass Media Manipulator Murdoch's End Game?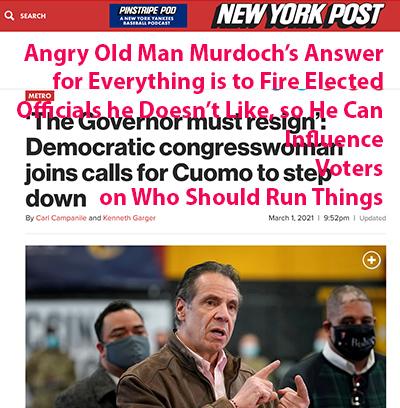 Murdoch's media outlets appear to be managed to sell papers and generate TV ratings - by hyping, amplifying and distorting the news - in order to draw attention to it. But the sick genius of Murdoch's propaganda machine, is that it appears to be designed to manipulate voter perception of people, pols and issues in order to exert a strong influence on what voters do at the ballot box.
Murdoch's media in Britain and Australia, where he has a monopolistic or oligopolistic share of traditional media, oftentimes urges those nations to "Let the People Decide" ... by relying on Murdoch's outsize share of mass media as their primary information source(s). So ultimately what he's telling the people in those nations to do, is to let Murdoch decide, just like the state controlled media in China and Russia tell their people to let dictator presidents Xi Jinping and Vladimir Putin decide.
All three dictators, as Murdoch oftentimes dictates to his audience what he wants them to do [as you will soon see], generally seem to have the same goal in mind - increase their own wealth and enhance their grip on power. The difference between what Murdoch does vis a vis what Xi Jinping and Vladimir Putin is more subtle, but just as destructive to the lives of the rest of the people in these nations, because all of them are hoarding power, profit and ultimately the national potential and ability to grow, evolve, change.
Murdoch's Anarchistic Media, Taps Moronic Mob Anger, Just Like Hitler & Goebbels did
If you start paying attention to what media outlets tell you what, you'll see that Murdoch's media appear hellbent on channeling the anger and frustrations of their audiences at those in power who seem not to give Murdoch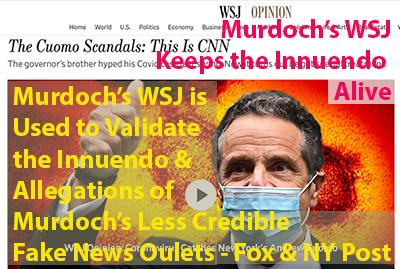 what he wants. In New York City and New York State we have two government officials, Mayor de Blasio and Governor Andrew Cuomo, who have long been targets of Murdoch's mendacious media outlets in our fair city.
Murdoch has an oligopolistic, nearing monopolistic, share of the media in New York City. He controls the Wall St Journal, which he appears to validate the trouble stirred up by some of his less reputable outlets like the NY Post and Fox News - both of which he also controls and uses to stir the ignorant masses. In addition to Fox TV on channel 5, he also control Channel 9 [these are the broadcast TV channels], and he is the largest shareholder of Disney / ABC which he appears to be making inroads into for control of that organization / news department too. And it's worth mentioning that he controls Harper Collins Publishing, one of the largest book publishers in the nation, which just purchased Houghton, Harcourt & Miflin [HMH] Books & Media this week.
Murdoch appears to use the publishing houses to promote the candidates he wants to win high offices, like Fox weather person Janice Dean, who Murdoch seems to be promoting to NYS Governor from her weather person job. Like Trump, Murdoch is capable of convincing the public to vote for near anyone, never mind that Janice Dean seems to have little professional experience that qualifies her for the job of Governor.
---
1621
Things To Do, NYC News Briefs & Weekend of Religious Holidays
While Overall CoVid Numbers Still Modest in NYC & NYS, CoVid New Cases up Significantly, as are Vaccinations; Cuomo Drops Some Restrictions 4/5 as well as Domestic Travel Quarantine on 4/1, Changes in White Collar Remote Working, CRIME STATS & NY Post Fox News 'Reporting' of them, Business & Economy Update, Passover Begins Saturday, Holi Begins Sunday, Palm Sunday is 3/28 & Open Streets Applications Began 3/25
March 26, 2021 / NYC Neighborhoods / NYC Corona Virus / News Analysis & Opinion / Gotham Buzz NYC.
Weather. On Friday, the temperature high could hit 80 degrees, falling to about 70 on Saturday and into the low 60's on Sunday when about an inch of RAIN is expected. The temperature lows will be around 50 on Friday and Saturday, falling to the low 40's on Sunday. The wind will be about 20 mph on Friday, falling to 5 - 10 mph Saturday and rising to 10 - 15 mph on Sunday. Humidity will be 40% to 70% Friday, 40% - 60% Saturday and 60% - 70% on Sunday.
Ethnic & Religious Holidays
Three holy days begin this weekend. On Saturday evening the Jewish celebration of Passover begins. Passover celebrates the Jews flight from Egypt. To Christians Sunday marks the celebration of Palm Sunday which is the first day of Holy Week, which culminates with Easter Sunday [next week]. And the Indian holiday of Holi begins Sunday evening. Holi is referred to as the festival of Spring, of Love and of Colors. I did my part by snapping the photo to your right which is certainly colorful. To all ethnic and religious groups, I wish you a safe celebration of your holidays.
---
1558
Triumph of The [Rupert's] Will: How Murdoch Manipulates Voter's Perceptions & Public Policy
Australian born Billionaire Appears to use his Media Outlets to Shape Voter's Views, Loading them with Misconceptions, So They'll Elect Compromised Fox Nation Pols, Who Upon Assuming Office, Seem to Reward Murdoch's Media Support, by Crafting Public Policy to Conform to Murdoch's Will, Favoring his Business Interests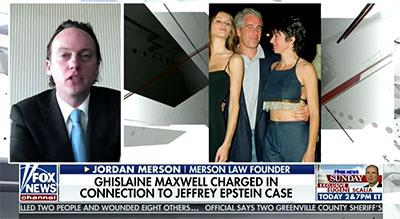 September 4, 2020 / NYC Neighborhoods / U.S. Politics / News Analysis & Opinion / Gotham Buzz NYC.
As mentioned previously, I've been doing a fairly deep dive into learning as much about the Third Reich and Nazi Germany as time permits, in order to more fully understand what's happening in present day events.
Media Manipulation for Fun & Profit
I began noticing similarities between Australian born billionaire Rupert Murdoch's manipulative use of his large share of Amerian media in 2016, to what Joseph Goebbels, the Reich Minister of Propaganda for the Nazis, did beginning in the 1920's until his end in 1945. On May 1, 1945 Goebbels poisoned his children, his wife and himself as the Allied forces neared his home. Hitler and his companions had committed suicide the day before, as Allied forces invaded Berlin. None of them had the courage to stand trial for their crimes against humanity ... although like Mussolini, they may not have made it to court.
1. Did Fox 'News' Attempt to Protect the Reputation of a Propaganda Asset via Omission?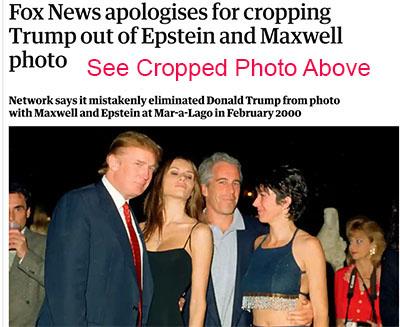 So today, we're going to look at just a few of Murdoch's media manipulations made in just the past couple of months - and I'm nearly certain that this is just the tip of the iceberg. Unfortunately, I don't have the resource to fact check what is the largest misleading news content producing organization in the nation, and possibly the free world.
Let's start with the first two photos on this page. This story broke in the Guardian on July 7, 2020.
The first photo shows Fox News 'reporting the news' regarding the sexcapades of Jeffrey Epstein and Ghislane Maxwell. In the first photo, Fox News conveniently cropped out Donald Trump. In the second photo [at right] we have the 'full picture' aka the truth.
The man who calls everyone else a 'sleezeball' is seen with Melania 'being best', and two of the people alleged to be among some of the sleeziest on the planet [Jeffrey Epstein and Ghislane Maxwell]. Do birds of a feather flock together?
So we must ask why Rupert Murdoch would crop Donald Trump out of the photo? Is it to avoid portraying the Donald in a negative light in order to keep him - a Murdoch asset - in office?
Trump appears to have been a boon to billionaire Murdoch through massive billionaire tax cuts funded by debt to be paid for by America's children and unborn? Or is because Trump's actions in the Middle East vis a visIsrael seemed to serve to legitimize Murdoch's investment in Genie Energy in the illegally occupied Syrian Golan Heights? Or was it because Trump loosened up the FCC ownership limits for mega media companies like Murdoch's thus allowing the few to control our media, which givens them the power to influence the national democratic conversation - and in Murdoch's case - it seems the power to corrupt it in order to profit from it. Or was it because Trump famously fired all U.S. Attorneys, including Preet Bharara - who was investigating Murdoch's companies for sexual harrassment and phone hacking - less than 24 hours after Sean Hannity on Fox News told him to do just that? Perhaps most importantly, Trump's Attorney General Bill Barr, greenlighted the merger of Disney / ABC, which was an inverted takeover resulting in Rupert Murdoch becoming Disney / ABC's largest shareholder.
---
1548
The Republican National Convention - Where Trump 'Reality' TV Mixes with Murdoch's Fox Fake News
The Donald's Deceit, Disrespect & Demagoguery were on Full Display
Has Trump Taken America from 'Reality' TV to Staged Fiction?
August 28, 2020 / NYC Neighborhoods / U.S. Politics / News Analysis & Opinion / Gotham Buzz NYC.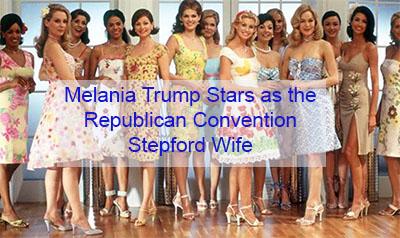 It was a garish experience, watching the Republican Convention on TV this past week. The scripted and repetitive misleading and false statements, combined with what appeared outright lies, were delivered by different genders and colors of people so as to seem like it wasn't the choreographed theatrical production that it was. This is very much like what Rupert Murdoch's Fox News seems to do every night, and what Joseph Goebbels did for over a decade as the minister of propaganda for the Third Reich.
Has Trump Taken America from 'Reality' TV to Staged Fiction?
What I found interesting about the Republican Convention, was how it showcased women and people of color, who were representing what has essentially been a nearly All White Male Administration. Of the 22 cabinet level positions, only four [18%] are filled by women [Education, Transportation, CIA & Small Business] and only one [5%] person of color [Housing].
But you'd never, ever know that by watching the Trump RNC mirage this week, as women were showcased between a third and half the time [rough estimate is 40%] and there were at least three people of color [9%] - meaning the Republican Convention didn't look anything like the reality of the Trump Administration.
Trump Republicans of the Fox Nation Share Similarities to the Nazis of Goebbels Germany
I've been researching Goebbels, Hitler and the Third Reich since 2016. While investigating how Rupert Murdoch seemed to use his 'news' outlets as one big propaganda machine, I kept stumbling across references to all of them. Eventually I quit ignoring the references that popped up, and began following those threads, which have since led me to believe that the parallels between 1933 Nazi Germany and present day America are inescapable.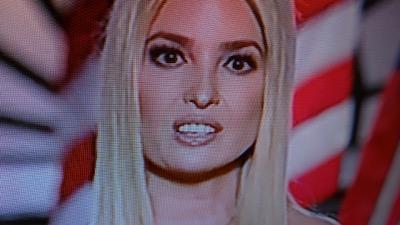 Fox News is comprised of seven hours of seemingly demagogic, even racist, propaganda programs including party line speeches and pseudo interviews by Sean Hannity, Tucker Carlson, Laura Ingraham, The Five, Fox & Friends as well as numerous Pinocchio pundits such as Jeanine Pirro, Greg Gutfield, Steve Hilton, and even Maria Bartiromo on Fox Business These 'news personalities' seem to deviate from a fair and balanced reporting of the facts far too often. Here's a link to what appears to be a distorted, even racist, report of the shooting of an African American in Georgia by Tucker Carlson.
Some of the other shows appear biased, but I haven't had the time to really tune into analyze them, as the primetime propaganda machine is already far more than I can stomach, of what seems Murdoch's continuous demagogic deceit.
To legitimate the propaganda machine, Murdoch provides an hour of real news, the Special Report with Bret Baier weekdays, as well as Fox News Sunday which is another hour of real news hosted by Chris Wallace. Murdoch reportedly fired Shep Smith after Attorney General Bob Barr was sent on a Trump campaign errand to tell Murdoch to pull Smith because Smith wasn't towing the Trump train party line. Murdoch appeared to oblige and Shepard Smith has remained silent.
I. Murdoch's Demagogic Press Manipulates People's Perceptions to Deliver Votes at the Polls - Goebbels Shaped Germans' Perceptions to Align with the Fuhrer's
Usurpation of power is the point of the propaganda machine posing as a news organization. If people know it to be a source of false information, it would be discredited and not believed. But by disguising it, by combining the propaganda with real news, Fox News is able to believably portray the world the way Rupert Murdoch wants his audience to see it.
In this manner he can deliver millions upon millions of Americans, Brits and Australians into the voting booth loaded with his propaganda machine's manipulated perceptions of events and candidates, so that his audience will vote for those pols he favors and from which he, and by virtue of payola - his propaganda pundits - will profit. Since Trump became president, multi-millionaire Sean Hannity cut a favorable multi-million dollar low interest government loan deal with HUD Secretary Ben Carson related to Hannity's $90 million property holdings.
Both Trump and Murdoch are demagogues which Merriam Webster defines as,
"... a leader who makes use of popular prejudices and false claims and promises in order to gain power ..."
Hitler and Goebbels were also demagogues and that is how they usurped and retained so much power in Nazi Germany in the 1930's and 1940's, which is why when I was doing my research, Hitler, Goebbels and the Third Reich kept showing up in my searches.
II. Trump Disrespects American Traditions & the American People by Personalizing Government Power - Hitler did the Same
The background for the Republican National Convention was a couple of taxpayer funded sites - the White House and Fort McHenry in Baltimore, Maryland. This represents yet another Trump break with American tradition of respect for the rule of law. Trump is using these taxpayer funded public sites for free, to accumulate more power. Not paying for the use of the White House lawn as a Convention site isn't the worst of it - it's the politicization of the public's property - and the seat of power that I find most disturbing.
Again, Hitler did something similar after he was elected Chancellor of Germany in 1933. He started personalizing the buildings of the German republic by adorning them with Nazi flags. That was the beginning of the personalization of power, which culminated in Hitler becoming the sole decision maker for the entire nation on everything, on whatever level he wanted. Earlier this year I identified Trump's abusive use of the Department of Homeland Security as a national police force as a disturbing parallel. Click this link a story detailing how Donald Trump has been personalizing the power of the U.S. government.
Our Founding Fathers instituted a system of checks and balances in the U.S. Constitution in order to prevent someone from personalizing power. The personalization of power, if left unchecked, leads right back to an authoritarian regime, which is exactly what the American War of Independence was all about. Kings are dictators, who have personalized all of the state power.
CLICK here to read the rest of our report on the Republican National Convention 2020 - where the Donald's deceit, disrespect and demagoguery were on display where 'reality' TV morphed into televised illusion.
---
1556
Democracy in Action: Blue Lives, Black Lives, All Lives Matter in Queens & NYC
A Blue Lives Matter Parade Met by a Black Lives Matter Protest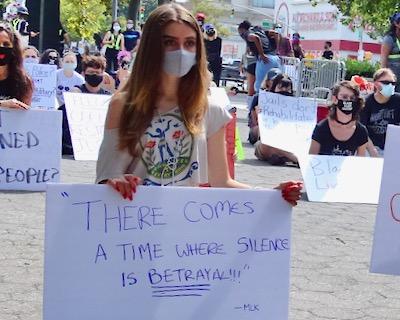 August 23, 2020 / NYC Neighborhoods / Social Issues NYC / News Analysis & Opinion / Gotham Buzz NYC.
On Saturday morning around 11 am a Blue Lives Matter parade began on Greenpoint Avenue and 39th Street in Sunnyside Queens. I arrived shortly after it began and followed it up to Joseph Sabba Park where several people were to give speeches to the parade participants and attendees.
As the parade arrived at Joseph Sabba Park they were met by a group of Black Lives Matter protesters who were kneeling on the sidewalk holding placards making Black Lives Matter statements. The Blue Lives Matter parade participants paused as they came in direct contact. As I sat there video recording the 'confrontation' I wondered whether things might take a turn for the worse and go badly.
Blue Lives Matter Parade & Speakers Queens NYC
Whoever was leading the Blue Lives Matter parade, wisely led the Blue Lives Matter parade around the Black Lives Matter protesters - rather than risking walking through them - where someone on one side or another might have escalated the tension to a higher level.
The Blue Lives Matter parade participants and attendees settled in the middle of Joseph Sabba Park and the speeches began. The first speaker, whose name I didn't catch, spoke supportively of the police and the important work they do in the community. He struck a human chord, noting that the men and women who serve in the police force are dedicated to serving the community, among whom are their own families and children. He ended saying we're all human.
The second speaker struck a more passionate Blue Lives Matter tone, remarking that the 'Diaphragm' Law hindered police from doing their jobs. The Diaphragm Law allows police officers to be subject to a misdemeanor if they constrict a person's diaphragm in the process of making an arrest.
What I recorded of both of these speeches will be shown in the video.
The signs of the Blue Lives Matter parade participants also showed a range of thoughts and emotions, ranging from striking a supportive and yet harmonious chord, while others were defiantly in support of the police - seeming to ignore the validity of the Black Lives Matter social unrest. They included Enough with the hate, respect goes both ways, to Reform is for criminals, drug addicts and sex offenders.
---
1554
Murdoch's Fox News Racism Revealed
Tucker Carlson Omits Key Facts of African American Deaths by Police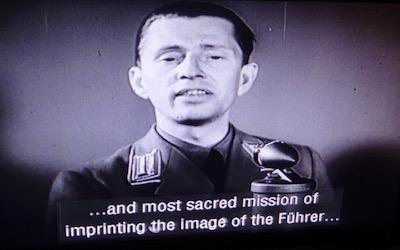 August 18, 2020 / NYC Neighborhoods / Rupert Murdoch & Fox Fake News Special Section / News Analysis & Opinion / Gotham Buzz NYC.
As far as I know, nobody has ever accused Rupert Murdoch of running an unbiased news operation. In fact, it's seems just the opposite, as countless people have found countless significant reporting errors by his mammoth news operation, which in the U.S. alone represents about half the large corporate branded news content viewed by Americans including Fox News, the Wall St Journal, the NY Post, Barron's, MarketWatch and increasingly ABC News where Murdoch is the largest shareholder.
What is most disturbing, is how the pinocchio propagandists on some Murdoch media outlets appear to omit key facts, in order to put forth narratives that are at odds with the truth, which are then imprinted on the minds of the millions upon millions of viewers who watch and believe what they see and hear on Fox News.
Manipulating what ends up in people's minds is exactly what Joseph Goebbels did as the Minister of Propaganda in Nazi Germany in the 1930's and 1940's. As in Nazi Germany, Herr Murdoch's propaganda ministry in the U.S., appears to use the media to favor some people or groups at the expense of other people and groups in its reporting. Oftentimes the groups Murdoch appears to favor break along race and economic class lines. We're going to look at how Tucker Carlson appears to have put forth a false Fascist narrative that further victimizes the African American victims of unnecessary violence at the hands of rogue policemen, whose errant behavior is defended far too often by the police unions.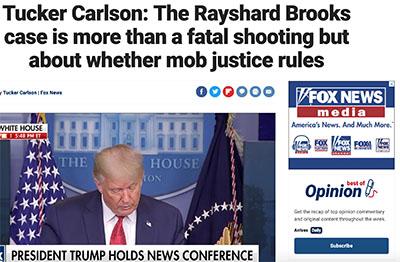 To be sure, those who fall prey to such mass media manipulation, are also responsible for their own ignorance and subsequent behaviors, including their voting.
Thomas Jefferson said,
"Ignorance of the law is no excuse in any country. If it were, the laws would lose their effect, because it can always be pretended."
We saw this pretension of ignorance and denial of responsibility by many Germans following World War II, including from those operating in influential posts with access to top levels of the Nazi high command. They pretended their ignorance, but generally the truth wills out.
I'll make my case regarding Murdoch's Fox News and Tucker Carlson's reporting of African Americans appearing to be victimized by rogue policemen on Fox News Tucker Carlson's nationally televised show. I identified a couple of shows, which were broadcast over American airwaves using a high number of FCC licenses, reaching millions upon millions of Americans who appear to have been disinformed in what seems a systematic effort by Australian born billionaire Rupert Murdoch's media to provide distorted reporting with respect to incidents of police brutality vis a vis the African American community.
Fox News & Tucker Carlson Twist the Facts to Make a Trap for Fools?
The first incident we're going to review, is Tucker Carlson's Fox News coverage of the Rayshared Brooks shooting in Atlanta on Friday, June 12th, 2020. Rayshard Brooks was a 27 year old African American and father of three who was found misparked in a Wendy's parking lot, apparently sleeping. He was found to have a blood alcohol of nearly .11 which is above the legal limit for driving of .08. Brooks was not stopped while driving, but rather after he had misparked his car in a Wendy's drive thru queue.
---
Law Enforcement, the Economy, but First Home Sweet Home?
Is Home is Where the Heart is or Where We Sleep?
July 20, 2020 / NYC Neighborhoods / NYC CoVid 19 Special Section / News Analysis & Opinion / Gotham Buzz NYC.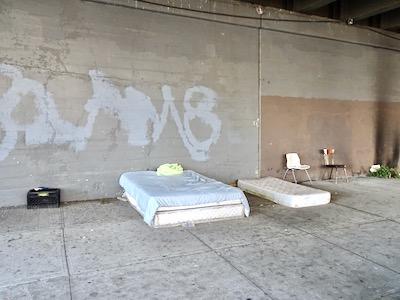 There's no doubt we're living in an unusual time. At least when compared to the times of the last hundred years or so. There's a pandemic raging across the nation, which has resulted in over 140,000 Americans' deaths, and approaching four million infections in America alone.
The economic fallout seems to be in its nascent stages, as businesses struggle to stay open, unable to adapt sufficiently and quickly enough, to keep on keepin' on. And furloughed workers, once under the assumption they would be called back into service in a few weeks or few months, are coming to the realization that the position they once held, may no longer exist.
I believe the photo at right shows the 'home' of a few people who seem to periodically return at night. When I pass by this abode, I think about their lifestyle, living by their hard work and / or wits, with little to no worldly possessions or real comforts. I started mentally writing an ad for this living space.
The ad goes something like this. This 2BR with spacious Living Rm is pre-furnished with a couple of chairs, a couple of beds, great ventilation, including plenty of space to move around. There's no kitchen, no air conditioning or heat, no security [but there's nothing to steal] - and depending on how willing you are to stretch things, either no bathroom - or at the very least - not a private one. But the limited utilities and rent are free, so this living space is workable for any budget, and there's plenty of ambient sunlight.
The ad is a humorous look at what's a very poignant situation, but then my thoughts take me further ... These people are still struggling to survive. They're making do with the little they have. They're very organized and pretty clean. And occasionally they give me a friendly wave when I pass. That is the power, strength and resilience of the human spirit.
---
1550
Law Enforcement, the Economy, but First Home Sweet Home?
Is Home is Where the Heart is or Where We Sleep?
July 20, 2020 / NYC Neighborhoods / NYC CoVid 19 Special Section / News Analysis & Opinion / Gotham Buzz NYC.
Casino Royale: Will the Donald Bankrupt America with Trillions in Spending?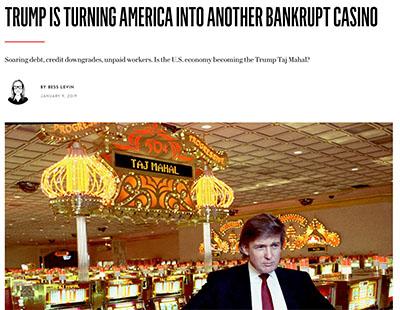 The Administration, meanwhile, seems terribly out of touch with reality. Their retarded response to the CoVid pandemic paved the way for the viral explosion. One of their greatest mistakes was that they politicized Americans' choice to defend themselves from the virus by wearing a mask, and they squandered away trillions of the public's money - with the enabling help of the Democrats - to keep businesses functioning, without obtaining much in the way of concessions from them.
If the Donald is a great negotiator, then he's negotiating away American's future, in exchange for a junkie boost to his reelection prospects, and self-enrichment [there was a $160 billion tax break given to real estate developers like Trump and his son-in-law Jared Kushner and he fired five Inspector Generals within the six weeks that the largest spending bills in American history were passed totallying $3 trillion].
In Germany, Chancellor Angela Merkel obtained an equity stake of 20% - 25% from Lufthansa, in exchange for the German government bailout of that airline. And now the Donald and Republican Senate Majority Leader Mitch McConnell are in discussions to throw away another trillion or more in added stimulus - again without obtaining any concessions from those who will receive it.
The image at right shows the headline of a January 9, 2019 report in Vanity Fair. This report was published over a year before the $3 trillion in stimulus spending done in March / April of 2020.
Bread Crumbs for the Masses & Melania's "I Don't Care Do U?"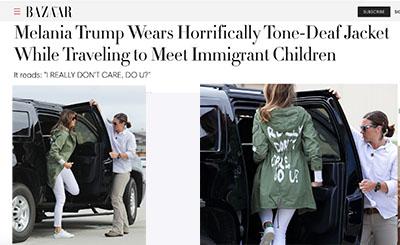 There was $3 trillion in stimulus spending bills passed in late March and early April of 2020. But the money that working class Americans [161 million people] received in the form of U.S. Treasury $1,200 checks amounts to only $193 million [161 x $1,200] of the $3 trillion stimulus spending done to date. And then there was the extra $600 per week in added stimulus payments - which paid many unemployed workers more than they had been making and reportedly cost the American taxpayer over $15 billion per week according to a July 17, 2020 CNBC report.
The CNBC report noted that 25.6 million were on this $600 per week government payout program. According to the report the reason the total pandemic relief recipients are higher than the unemployed is because the package includes people who are,
"... business owners, self-employed Americans, gig workers and independent contractors who are not typically eligible for unemployment."
So a rough estimate of the cost of this $600 per week program is 13 weeks x $600 per person per week x 26 million = $203 million. If you add the payments from these two payout programs together then the total payout to working Americans was [$203 billion plus $193 billion] was $396 billion or 13% of the stimulus spending. Thus it seems - a relatively small number of mega millionaire and billionaire real estate developers like Donald Trump, son-in-law Jared Kushner and their [industry segment] friends - collected over a third as much as what all working classs Americans collectively received in stimulus handouts.
This self dealing doesn't seem to be anything new for the Trumps. And the Trump insensitivity to those who less fortunate than they are, appears equally legendary. As you can see in the June of 2018 Bazaar report above, Melania Trump demonstrated an incredible insensitivity during a visit to the Texas border detention centers for immigrant children, when she wore a jacket that had the words "I don't care do u" on it.
---
Neighborhood Policing in Queens & NYC
The NYPD Program Helps Build Trust & Stronger Community Relationships
August 28, 2019 / Long Island City Neighborhood / Queens Community Issues / Queens Buzz NYC.
Last night I attended one of the New York Police Department Neighborhood Policing programs. It was held at the Information and Technology High School on 44th Road in LIC beginning at 7 pm. The NYPD Neighborhood Policing program began in 2015 under the leadership of NYPD Commissioner Bill Bratton and was rolled out under the leadership of NYPD Commissioner James O'Neill who replaced Bratton in 2016. The program became citywide in 2019.
In the photo at right are the two NYPD Police Officers in charge of the 108th Precinct Neighborhood Policing program - Jorge Ozuna and Andrew Ali.
The NYPD Neighborhood Policing program is designed to build trust and a robust two-way communication mechanism between the New York Police Department and the neighborhoods they serve. To that end the NYPD works to enable the same officers patrol the same neighborhoods at the same times / shifts in order to build a consistent rapport between the officers and the neighborhoods they serve. By building this two-way conversation about community safety and other policing issues, the NYPD becomes more aware of the concerns of neighborhood businesses and residents. Conversely, the folks living in a neighborhood develop a rapport and trust in the NYPD staff who patrol their communities, which enables the residents to collaborate with the police in ensuring community safety.
It makes perfect sense, which causes one to wonder why we're only getting to this place now.
In some of the police journals I scanned a few years back, one of the key concerns of police department professionals, was that generally the only contact / interaction that citizens had with police were largely negative. By this they meant that the police were doing their job of enforcing the laws by: issuing traffic tickets & parking tickets, making theft arrests, or arrests for drunk and disorderly behavior and as well as all sorts of other bad behavior. Thus there was a sort of distrustful relationship developed by many in the community toward the police - who were just doing their job. But for whom many had negative interactions, while few had positive interactions with the police force.
NYPD Neighborhood Policing Program
Enter the Neighborhood Policing program where the police are becoming familiar faces to whom you talk to about issues related to law enforcement within your community. And that is what the program this night was all about. In the photo to your right is a map of the 108th precinct coverage area.
The Neighborhood Policing program began with refreshments at the Information & Technology High School in LIC at 6.30 pm. At 7 pm the police officers in charge - Jorge Ozuna and Andrew Ali - provided a review of the issues discussed at the last meeting and progress made in addressing them. They also highlighted crime patterns the NYPD is seeing in the area, which in this case is the theft of motorcycles by folks driving vans, stopping and grabbing the bikes and taking off. They noted that this is a seasonal crime.
After the review of the notes and follow up from the last meeting, the community had an opportunity to raise issues related to law enforcement affecting them. At this particular meeting and some of the past two meetings [the meetings began in January of 2019] the issues included blocked bike lanes, double parking and abandoned vehicles. The Long Island City precinct, the 108th, is a generally low crime precinct encompassing Long Island City, Sunnyside and Woodside.
NYPD Precincts in Queens North & NYC
In the NYPD Queens North section, there are six precincts. They include the 108th described above, as well as Astoria which is the 114th, Jackson Heights which is the 115th, Corona which is the 110th, Flushing which is the 109th, and Glendale / Ridgewood which is the 104th. Jamaica falls into the NYPD Queens South section and is served by the 105th, 107th and 113th precincts. You can look up the precinct in any borough using the website below.
NYPD Neighborhood Policing Program - Build the Block Website
The two NYPD officers in charge of the meeting, Jorge Ozuna and Andrew Ali, told me that residents seem to like the interaction. They noted that while attendance to these quarterly events is fairly small - in this case just less than a dozen residents - as people become more aware of the program, attendance is likely to increase. Also, given that LIC, Sunnyside and Woodside are fairly low crime neighborhoods, there are fewer pressing issues to take up at these meetings.
The meetings are posted about a month or so in advance. You can find the meeting times and locations - which vary - on their website at www.buildtheblock.nyc. The site is a valuable resource as it also has all sorts of other information about the precinct.
---
---