---
Economic Update NYC - CoVid Vaccination Progress Aids NYC Economic Comeback MTA Ridership Theater Attendance Office Workers Returning Albeit Slowly
NYC News Round Up Mid October 2021
MTA Ridership Bouncing Above the Halfway Line, Columbus Day Weekend Travel Numbers, Movies & Theaters Attendance Update, Demographics of Office Workers Returning to Work in NYC and CoVid Vaccination Progress NYC NYS & USA
October 12, 2021 / NYC Neighborhoods / NYC Things To Do Events / Gotham Buzz NYC.
Weather. The temperature highs will range from the low to the high 70's throughout the week, while the temperature lows will be in the 60's all week. Winds will be 4 - 8 mph all week. Humidity will range from the mid 70% to mid 80% Tuesday and Wednesday, dropping to between the mid 60% - 70% range on Thursday and Friday. No rain is in the forecast until Saturday, so you can get the update in our Friday post.
The image at right was taken from the official website of the military health system in the U.S. It shows George Washington, who back in 1776 ordered his troops to get vaccinated against small pox, as the Continental Army was losing more men to disease than were being killed by the British. Here we are over two centuries later, and about a fifth to a quarter of the people in this nation, think they are being 'patriotic' by defying vaccination mandates - like Texas Governor Greg ButtHead and Florida Governor Ron De Stupido. We discuss where these people's confidence in their incredible ignorance comes from, below. The champion of American ignorance was born in Australia.
MTA Ridership Running at 45% - 65% of 2019 Volume
Both the subways and buses are running at near or over half their pre-pandemic ridership. While that may not be great news, it's encouraging, as we've been tracking the MTA's progress since the pandemic hit, and these numbers are about the best posted.
It's important to put things in context, and that is that NYC tourism contributes to MTA usage and it's still nowhere close to normal [like the MTA ridership numbers], and many white collar workers are still working remotely because many large Manhattan based corporate operations delayed their plans to return to the office in September 2021 - kicking the deadline to January 2022 because of the CoVid Delta variant surge.
The photo at right was taken a few weeks ago in Grand Central Station. Things have a come a long way from where they were a year ago.
I wish the non-vaxers would quit listening to the hypocritical pundits on Fox News, the NY Post & WSJ who are reportedly all - or mostly - vaccinated, including the Australian born billionaire and Goebbels-like owner himself, Rupert Murdoch. It was reported that about 90% of all Fox employees have been vaccinated, and for those who resist there's a very stringent testing regimen.
---
Things to do in NYC All Five Boroughs & Economic Update Spring 2021
NYC Coming Back to Life: Things To Do This Weekend
New York City Appears to Slowly Return to the New Normal, More Event Venues Begin Hosting Limited Capacity Rsvp Ticketed Events, Anyone Aged 16+ Can Obtain a Vaccine w/o an Appointment, Biden to Address Nation Wednesday 4/28
April 23, 2021 / NYC Neighborhoods / NYC Corona Virus / News Analysis & Opinion / Gotham Buzz NYC.
OLD - Weather. The temperature highs will be in the 60's all weekend, while the temperature lows will range from the mid 40's to mid 50's. There's a near certain chance of about three quarters of an inch of rain early Sunday morning [gone by noon]. Humidity will be 25% - 40% on Friday, moving up from 35% - 60% on Saturday and then maxing at 70% Sunday morning, before coming back down in the 50% range by Sunday evening. Winds will be between 10 - 15 mph all weekend.
Things To Do NYC, Manhattan, Bronx, Brooklyn, Queens & Staten Island
April 20 was National Weed Day. Possession of small amounts of recreational marijuana is now legal in NYS.
NYC is reopening curbside composting pickup registration in September for an October 2021 restart date.
On Monday, April 27th, museums can open to 50% of capacity, up from 25% capacity currently. Sports venues will be allowed to open up indoor events to 50% of capacity, up from 25%, effective May 19th, 2021.
MANHATTAN. The Perfect Crime is the first Broadway Play to reopen with live performances to indoor audiences at the Anne L. Bernstein Theater at the Theater Center at West 50th Street off Broadway in the theater district. Tickets may be purchased online at www.ticketsmarter.com for $82 - $113.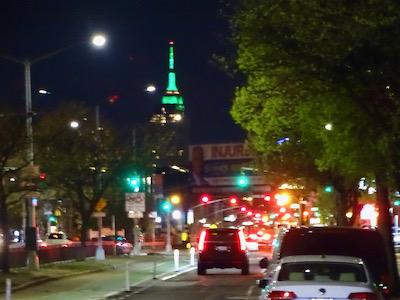 Jazz at Lincoln Center is hosting events in April - but not this weekend.
ArtontheAveNYC.com from April 15th through July 8th 2021 is vacant store fronts repurposed as art galleries for from the street viewing. It's in the West Village from the Bleeker Playground to Christopher Street and between West 4th Street and Hudson Street.
Bryant Park is hosting concerts that run from the summer through the fall, but has limited seating capacity of 200, so you are advised to rsvp now.
The Tribeca Film Festival will open with the film In the Heights in June with viewing locations in all five boroughs at destinations to be announced at a later date.
BRONX. NY Botanical is hosting contemporary art exhibit entitled 'Kusama: Cosmic Nature' opens this weekend with outdoor installations across the NY Botanical Garden [through October 31st]. Like most venues these days you have to reserve timed tickets at nybg.org.
---
MLK Day Weekend - Moynihan Train Station White Collar Teachers & Police Retirement Trends & CoVid NYC
A Few Things To Do This Weekend NYC
MLK Day Weekend, Art Opening Reception, Moynihan Station, Mass Transit Usage Steady, CoVid Rages, Vaccinations Ramp up but Snafu, Divergent Retirement Trends NYPD & Teachers, Ongoing White Collar Workplace Shift & Capitol Riot Fallout
January 15, 2021 / US Politics / NYC Neighborhoods / News Analysis & Opinion / Gotham Buzz NYC.
Weather. The temperature highs will be in the mid 40's and the temperature lows in the mid 30's except on Friday when the high and the low will both be in the mid 40's. Winds will range between 11 – 17 mph throughout the weekend. There's a forecast for about an inch of rain on Friday, most of which will fall after 7 pm. The rest of the weekend is clear. Humidity will be around 80% on Friday, in the high 60's on Saturday and in the low 60's on Sunday.
Things To Do This Weekend in NYC / Mass Transit
The Moynihan Train Station across from Penn Station / Madison Square Garden in Manhattan opened on January 1st, 2021. The roof is interesting to see, while I didn't find the rest of it so awe inspiring.
Queens Local News. There was a fire last Saturday off Main Street near 37th Avenue in Flushing, Queens where a number of retail store fronts were burned out.
In Brooklyn there's an opening art reception on Saturday between 5.30 – 8 pm at FiveMyles at 558 St Johns Place in Brooklyn. Adherence to CDC CoVid guidelines is required.
Public Mass Transit Usage. Bus ridership was down 50% - 60% this past week, while subway ridership was down 66% - 70%. I rode the rails last weekend and the cars were fuller than I've seen them since the pandemic began.
---
CoVid Vaccinations Rollout, NYC Restaurants Indoor Dining goes on Hiatus & NYC Hospitalization ICU Usage Nearing Capacity
Countdown to NYC Christmas as Hanukkah ends
Winter Solstice in Elizabeth Garden, Bike NYC Holiday Rides, Good Riddance Day Ten Days Away, Threats of 2nd 'Pause' NYS Lockdown Persist, Why [is?] Indoor Dining Shuttered Indefinitely, Some NYC Hospitals Near ICU Capacity Overload, CoVid Vaccination Devil in the Details, Trump Pardons & Epithets
December 18, 2020 / NYC Neighborhoods / News Analysis & Opinion / Gotham Buzz NYC.
NYC Weekend Weather. The temperature highs will rise from the low 30's Friday & Saturday to the high 30's on Sunday. The temperature lows will rise from the mid teens early Friday morning to the mid 20's Saturday and then the mid 30's on Sunday. No precipitation is forecast for Friday and Saturday and possibly less than 1/10th of an inch later [after 3 pm] on Sunday. Humidity will rise from the 60% range on Friday, to the 70% range Saturday and near 80% on Sunday.
Things To Do Between Now & New Years - Elizabeth Street Garden Winter Solstice, Bike NYC Holiday Rides, Good Riddance Day in Times Square
On Sunday, December 20th between 6 and 7 pm, the Elizabeth Street Garden at 209 Elizabeth Street in SoHo between Prince and Spring Streets in Manhattan is hosting a Winter Solstice celebration. It's free, but you must wear a mask even though it's outdoors, and there's limited capacity.
But on Monday, December 28th, beginnning at 12 noon, there's Good Riddance Day. This was inspired by a Latin American tradition, where bad memories of the year are stuffed in dolls which are then burned. While the Times Square event won't include fire, they say the bad memories of 2020 can be tossed, shredded and smashed.
Also on Monday, there's a Manhattan holiday lights ride that begins at Columbus Circle at 3 pm and ends at the South Street Seaport around 7 pm. It costs $10 and you can register at www.bike.nyc.
On Wednesday, December 23rd, there's a Bronx holiday lights ride that begins at Van Cortlandt Park at 242nd Street and Broadway at 3 pm and ends at the South Street Seaport around 7 pm. It costs $10 and you can register at www.bike.nyc. The Brooklyn Holiday Lights ride was on Saturday, December 12th.
Like most things this year, the New Years Eve ball drop in Times Square is going to be a virtual event.
---
The Week Before Christmas 2020 CoVid Pandemic Noreaster White Collar Telecommuters NYC Restaurants Indoor Dining goes on Hiatus
The Week & a Half Before Christmas
Noreaster on its Way? Biden Wins 2020 Election Again - Would Someone Please Tell Trump that Biden is Tired of Winning. White Collar Office Workers Return Delayed? Restaurants Indoor Dining on Hiatus Because Why? Holiday Spirit & Hanukkah ends Friday.
December 15, 2020 / NYC Neighborhoods / News Analysis & Opinion / Gotham Buzz NYC.
Weather. A big noreaster is on its way, arriving here Wednesday between 1 pm and 5 pm. About 13.5 inches of snow are forecast if the temperatures remain below freezing. The whole shebang will be over by Thursday between 10 am and 3 pm. The high temperature is expected to be 32 degrees, while the low is forecast to be 29 degrees - within a few degrees of freezing - so this could possibly end up as rain and sleet, which would greatly diminish the snow. Winds will rise to 15 - 20 mph on Wednesday and Thursday, dropping to 5 mph by Friday. The temperature begins falling Thursday down to 21 and then 17 by Friday, while the high on both Friday remains in the low 30's. So this may be our first real taste of winter if the temperatures fall as predicted.
The photo at right was taken in Manhattan less than two weeks ago. I think it's important to remember that there are many folks out there who are less fortunate than ourselves. Studies show that most folks are happier when they're living next to people who are doing a bit less well than they are. And that folks are less happy, when everyone around them seems to be faring better.
Biden Wins, Defeats Trump Numerous Times
Biden Wins a Dozen Election Recounts, Wins About 40 Lawsuits, Wins Several Trump Attempts to Steal State Delegates & Now Wins the Electoral College
Senate Majority Leader Shanghai Mitch McConnell Recognizes Biden's Win, but House Republican Minority Leader Kevin 'Knucklehead' McCarthy Still Seems to Back Trump Coup Attempt - Charlie McCarthy Insists Kevin is No Relation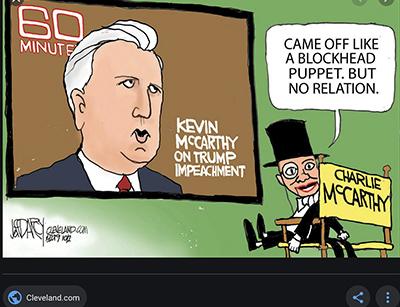 Joe Biden won the Electoral College 306 - 232 as predicted on November 7th, when the votes were tallied and the Trump election fraud began. Normally this would be no big deal, but Donald Trump appears to have as much disregard for our democracy as he does for the law.
What I don't get is how people can continue supporting a man with as long a history of self dealing - appearing to lie, cheat and essentially steal from countless contractors, employees, bankers [Trump Taj Mahal Casino], investors [Trump Airline], students [Trump University], donors [Trump Charities] and so forth. What has he done for anyone besides himself? But there are now less than 36 days left, so the end is in sight and any future effort to overturn the vote at this point is even less likely to succeed than Trump's half dozen to dozen recounts [none of which turned up any different result] and Rudy Giuliani led lawsuits [Trump and Republicans filed 41 or more lawsuits - losing all of them except maybe one].
Trump's efforts to steal the election are documented in our special reports posted on November 6th - Trump Tries to Steal the Election, November 10th - Trump using Claims of Election Fraud to Enrich or Empower himself, November 30th Trump & Election Fraud and December 11th [halfway down a Weekend Things To Do report] Trump and Corrupt Republicans Try to Steal the Election.
---
Economic Update NYC During CoVid Pandemic - November October 2020
CoVid NYC Economic Update
NYC Hotels, Restaurants & Entertainment Continue to Feel the CoVid Pain, Also Real Estate & Construction but Less so, and Things Should Gradually Improve in 2021
November 16, 2020 / NYC Neighborhoods / Business & Real Estate NYC / News Analysis & Opinion / Gotham Buzz NYC.
CoVid & Donald Continue Raging
So the CoVid pandemic is raging wildly in the nation, while the Demento in the White House is raging with reckless false claims about the 'rigged election'. The Donald also made these same false claims four years ago, when he won the electoral college contest, but failed to win the popular vote.
This time America's biggest loser lost both the electoral college vote contest and popular vote [by nearly six million], but the fraudster President has found his false claims of a stolen election, is a great way to raise funds from our nation's morons, who somehow still believe his lies. As the saying goes,
"We're all born ignorant. But you have to try really, really hard to remain so."
I consider Donald Trump losing the White House, to be the one silver lining coming out of the CoVid pandemic.
Meanwhile back in NYC, we continue to fare far better than the rest of the nation vis a vis CoVid, perhaps having learned our lessons last Spring. When I look at the CoVid map of the United States, I'm beginning to interpret it as a sort of national I.Q. test. Those places where it's raging most - almost a year since the pandora came out of the box - are states with slow learning media, slow learning government officials and slow learning populations. Otherwise, why would CoVid be raging again, after all that we have learned in the past year?
---
CoVid Pandemic NYC - Eviction Extensions, CoVid Layoffs & Unemployment, CoVid Characteristics, Restaurants, Hospitality, Arts & Culture, Census 2020
NYC News Update & a Few Things To Do
Voting Registration Online, The Census Payout, CoVid Updates, the Economy & Events
October 2, 2020 / NYC Neighborhoods / U.S. Politics / News Analysis & Opinion / Gotham Buzz NYC.
Weather. The temperature highs will be in the high 60's and lows in the low to mid 50's. There's a 10% chance of a tiny amount of rain Sunday. Humidity will be between 50% and 60%. And winds will be about 5 mph. All in all not a bad fall weekend.
Check Your Voter Registration / Or Register Online Using Link
The last day to register to vote in NYC / NYS is October 9, 2020. If you're uncertain you are registered to vote use this link to check - https://voterlookup.elections.ny.gov/
And if you find you're not registered or need to change your voter registration [for example if you recently moved] then use this link to register - https://dmv.ny.gov/more-info/electronic-voter-registration-application
I recommend voting in person if you're at all able, as nearly one in ten mail in votes are disqualified on technical grounds. If you're at risk for CoVid or can't vote in person for any other reason, then vote by mail, making sure you follow all of the guidelines to the letter including sending it in as soon as possible. There was a huge mail ballot snafu in Brooklyn, so if you live in Brooklyn and received a mail ballot with an incorrect name on either the ballot or envelope, contact the Board of Elections for a new one.
Fill in the Census: We're Lagging the Nation so We Could Lose a Lot of Federal Funding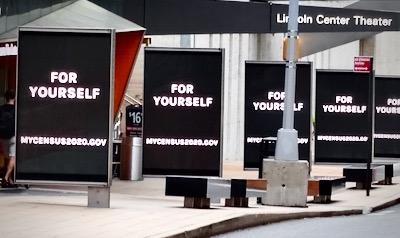 There's been a struggle over lengthening the time allowed for census takers to obtain census information. The original deadline was July 31st, which was extended to October 31st, which was shortened to September 30th, which was stayed until Sunday, October 4th. And today it was re-extended to October 31st. Given the back and forth I recommend filling it out right now, if you haven't already.
Each person counted in the census is worth about $30,000 to $40,000 per person in federal funding for schools, hospitals, mass transit, law enforcement and social services. And it only takes ten minutes, which you can do now by clicking the photo at right. It's the most amount of money you'll likely ever make for the time expended in your life, so please do it for yourself, your family and / or your community. Here's the link to the census.
https://my2020census.gov?utm_source=queensbuzz
NYC and NYC lag the rest of the nation in filling out the census, which means we won't get a proper share of funds and representation in Washington if folks don't fill out the census and quickly. Currently just under 64% of New Yorkers have filled out the census, while in the state of Utah just under 71% have filled out the census. That's a lot of cash in federal funding we're leaving on the table.
Events & Things To Do in NYC & Cancellations
The International Center of Photography opened its doors on Thursday, October 1st with a new photo exhibit about CoVid. The exhibit uses photographs collected from around the boroughs, the state, the nation and around the world. You have to rsvp a spot online at icp.org and adherence to CoVid guidelines is required.
In October a number of normally huge events have gone online including the following.
The NY Film Festival at Lincoln Center went online beginning September 17th and runs through October 11th - https://www.filmlinc.org/nyff2020/
Comic Con has gone online for the weekend of October 8th – 11th.
Swimming at indoor pools is now possible effective Wednesday, September 30th at 33% capacity and with CoVid guidelines in place.
The Rockettes Holiday kickoff and season of performances has been cancelled for this year. They will participate in some manner in the blended online / staged Macy's Thanksgiving Day Parade.
---
Things To Do NYC - Fall 2020 Event Cancellations in NYC due to CoVid Pandemic
NYC News Briefs & Things to do This Weekend
CoVid Outbreaks in Queens & Brooklyn Neighborhoods, NYCC Speaker Corey Johnson Drops Out of NYC Mayoral Race, Census Deadline is 9/30 but Challenged to Extend to 10/31, Mayor Extends Week Long Furloughs for 9,000 More Non Union City Employees, Macy's Thanksgiving Day Parade & New Years Eve Ball Drop 2021 to be Virtualized, Hotels Hurting & TSQ Hilton Closes, Yom Kippur Sunday, Metropolitan Opera Cancels Entire 20-21 Season, In Door NYC Restaurants Begins 9/30 & Outdoor Dining Permissible Year Round
September 25, 2020 / NYC Neighborhoods / Things To Do NYC / Gotham Buzz NYC.
As you can see from the headlines above, there seems little abatement in the adjustments / crises created by the CoVid pandemic - unseating the Donald as the Disrupter in Chief - for the first time in four years.
Weather. The temperature highs will be in the 70's and the lows in the high 60's. There's a 20% chance of a small amount of rain, and winds will be between 5 - 10 mph. Humidity will remain high at about 80%.
NYC News Updates for Week Ending September 25th - City Furloughs & Layoffs, Mayor's Race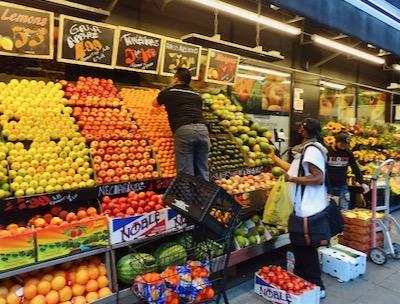 On Wednesday, September 23, NYC Mayor Bill de Blasio announced week long furloughs for an additional 9,000 NYC managerial employees who are not members of the unions. This is in addition to week long furloughs for 500 members of the Mayor's Office announced last week. Together the effort will save an estimated $22 million, which is one of numerous efforts the Mayor is making to delay the layoff of 22,000 of the 300,000 city employees.
The layoffs were originally expected to begin in early September, as New York City may not borrow money without permission of the NYS legislature, which was a deal cut between the city and state in the 1970's when NYS bailed NYC out of possible bankruptcy. There's talk of allowing NYC to borrow a couple of billion, but that also would fall short of the estimated $9 billion tax revenue shortfall expected over the next two years.
On Thursday, September 24, NY City Council Speaker Corey Johnson suspended his campaign for Mayor in 2021.
---
Rupert Murdoch - Propaganda Wall St Journal Promotes Trump Economy Smoke Mirrors Fraud?
The Mirage of the 'Trump Economy' Part II
Australian born Billionaire, Rupert Murdoch Seems to use the Wall St Journal, NY Post & Fox News to Create the Illusion that Trump has Some Sort of Economic Magic Touch, but the Truth is $6 Trillion in New Debt & $3 Trillion in Federal Reserve Bond Purchases
September 21, 2020 / NYC Neighborhoods / Things To Do NYC / News Analysis & Opinion / Gotham Buzz NYC.
Few real journalists - if any - have ever honestly accused Rupert Murdoch and most of the large media brands he controls in our nation, of being bastions of truth. In fact, it would seem, quite the opposite - including by some of the people who work for him.
When Murdoch purchased the Wall Street Journal in 2007 [fact check], there were concerns that he would turn it into another one of his propaganda rags. Shortly after the acquisition, a number of Wall Street Journal reporters fled to Bloomberg News. In fact dozens of them. Those journalists that remained at the Wall Street Journal, had to learn how to operate for an Australian born billionaire who seems to delight in misleading the masses - rather than informing them - in order to profit from the audience's ignorance, to which Murdoch media appear to contribute greatly. Murdoch is kind of like a street hustler whose propagandists do sleight of tongue [hand] tricks, while his political accomplices [puppets like Trump & McConnell] pick the pockets of the audience [Americans].
Not Your Father's Wall Street Journal - A Murdoch Propaganda Rag?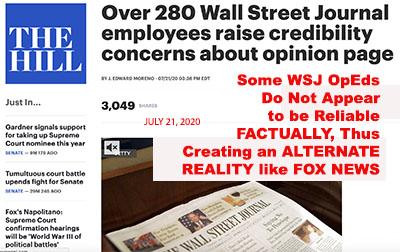 This summer over 280 journalists at the Wall Street Journal, became concerned that Herr Murdoch - like Nazi propagandist Herr Goebbels before him - was corrupting the Wall Street Journal into a propaganda outlet, in advance of the election this November. While Murdoch's distortion of the truth in the Wall Street Journal appears to have been going on for years, the event that immediately precipitated the letter, was a misleading - even deceptive - Op Ed by Vice Presidential candidate Mike Pence.
In the letter they had a few simple requests. A July 21, 2020 report in the Wall St Journal states,
"... [The WSJ's] Opinion's lack of fact-checking and transparency, and its apparent disregard for evidence, undermine our readers' trust and our ability to gain credibility with sources ..."
" ... The letter cites several examples of concern, including a recent essay by Vice President Mike Pence about coronavirus infections ... "
".. [and that] WSJ journalists should not be reprimanded for writing about errors published in Opinion ..."
"... suggests removing opinion pieces from the "Most Popular Articles" and "Recommended Videos" lists on the website, and creating a separate "Most Popular in Opinion" list..."
" ... letter highlighted was an opinion article titled "The Myth of Systemic Police Racism," which the letter's authors said was one of the paper's most read articles in June. The article argued that the "charge of systemic police bias was wrong during the Obama years and remains so today." The letter says the piece "selectively presented facts and drew an erroneous conclusion from the underlying data..."
i have reported on similar truth distortions by Rupert Murdoch's media, including Fox News, the NY Post and many other media outlets controlled by him in our section about Rupert Murdoch and the Rise of the 21st Century Propaganda Press, which you can find by clicking this link.
---
CoVid NYC Weekend Update - NYPD BLM, Mass Transit, NYC Economy, Back to School & NYC Real Estate Pandemic
Weekend Update - Happy Rosh Hashana, Back to School, Economy, Social Unrest, Real Estate, Transit & Masks
September 17, 2020 / NYC Neighborhoods / Things To Do NYC / Gotham Buzz NYC.
Rosh Hashana begins tonight at sundown and ends Sunday at sundown. Happy New Year.
EVENTS & SPORTS - U.S. Open, Virtual Boston Marathon, NJ Theaters & Restaurants & NYC Cultural Sites Reopen
U.S. Open ended and Dominic Thiem of Austria won the men's singles, while Naomi Osaka of Japan won the women's singles.
The Boston Marathon is going virtual with a starting gun, national anthem and cheers. I think there's an app to go with it as folks participate from around the globe.
Theaters opened in NJ to 25% capacity, as did indoor dining. In NYS bowling alleys at 50% capacity with some other restrictions [9/4].
The NY Aquarium in Brooklyn reopened 8/27. Think this was previously mentioned, as was MoMA free / or donation until 9/27. And the American Museum of Natural History on the Upper West Side opened on 9/9. And on September 11th, the 911 Museum reopened.
BACK TO THE SCHOOLS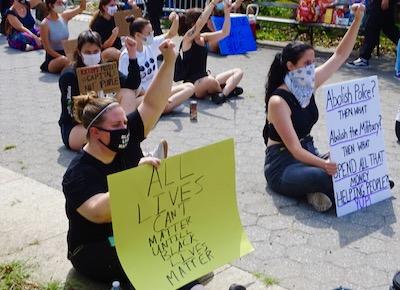 NYC began back to public school virtually on Thursday, September 17, 2020. Everyone starts virtually Monday, September 21st and the in person / in classroom part will be phased in beginning next week through early October to give the city more time to meet the NYC teachers' union demands for safety. Part of what happened is that the initial demands were done on paper, and a secondary set followed once the schools were opened operationally.
Some teachers tested positive - like 22 0f 22,000 [or so]. The testing percentage was lower than the general population rate of the city which is still below 1%.
Governor Cuomo said that swimming, field hockey and soccer sporting activity would be permissible at schools effective Monday, September 21. Football still on hold. Ice hockey and wrestling (?) open October 10 or 19 [still checking]?
LAW ENFORCEMENT / SOCIAL UNREST
Homicides in America's twenty largest cities are up 37% in.a period from May through June. An August 6, 2020 U.S. News report suggested four theories as to why the spike in violent crime. One of the reasons was that crime plummeted following the initial lockdown for the CoVid pandemic, and skyrocketed as things reopened.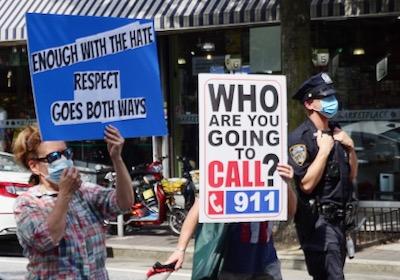 A second theory was that the police initially curtailed some policing activities because of CoVid concerns, and that morphed into anger and a continued pull back in the wake of the George Floyd protests, budget cuts and police reforms. Police reforms and / or police frustration with them are also cited as a possible cause [but not in article].
A third theory is that communities pulled back from trusting and working with the police as a reaction to the George Floyd protests, and that unemployment and healthcare issues exacerbated the situation. And the last theory, doesn't really explain the increase per se, except that homicides do tend to rise and fall with the seasons and temperatures.
The police union challenged legislation that would make complaints against the police, corrections officers and firemen public. They argued that the publication of complaints - even unverified complaints - would be unfair to the people working in these positions. The courts delayed the publication of complaint records, pending further review.
About 1189 NYPD officers have resigned or retired this year, and another 1489 are planning to do so, pending decisions on pensions et al. Police Commissioner Dermot Shea was concerned that this was a loss of some experience, but it's important to note that the NYPD police department is comprised of 55,000 employees, of which 36,000 are active duty police officers - so while departures / resignations are higher than last year - it's less than 6% turnover.
---
Was the Trump Economy a Couple of Con Men's MIrage?
Was the 'Trump Economy' a Couple of Con Men's Mirage?
Did the Donald, with the Help of Rupert Murdoch's Wall St Journal, Fox Business & NY Post, Successfully Convince Americans into Thinking that the Donald was Responsible for an Economy that has Since Disappeared?
September 8, 2020 / NYC Neighborhoods / NYC Economic News / News Analysis & Opinion / Gotham Buzz NYC.
Donald Trump is nothing, if not one of the greatest con men in the world. He allegedly - duped donors with the Trump Charity, duped enrollees of Trump University into thinking he would teach them the magic of his 'money making miracles', duped investors and bankers alike about the magic of the Trump Taj Mahal casino, duped contractors into thinking he would pay his bills, duped law enforcement vis a vis his money laundering scheme [they eventually caught him], duped Trump SoHo buyers about some of the facts related to the real estate they were buying.
But the greatest con the Donald may have ever done, wasn't getting voters to choose him in lieu of Hillary Clinton in 2016 - as Hillary need be given some of the credit for that - but was the convincing of nearly half the nation to believe that the Donald has some kind of magic touch vis a vis the 'Trump economy'. An economy which Trump then proceeded to crash by his stupefying mismanagement of the CoVid pandemic and subsequent public-pay-a-lot-and-get-nothing-back stimulus bills. What the Donald and Murdoch's Fox & Fake News seem to omit from the narrative of the magic of the 'Trump Economy' is the trillions in debt that they have dumped upon America's children. And they seem to give scant credit to the free wheeling multi-trillion dollar machinations of the Federal Reserve, which have kept interest rates low and liquidity available in an economy presided over by a seemingly corrupt man with a history of six bankruptcies.
Republican Deceit & Phony Fiscal Conservatism
I'm going to start with recent history to show how the Donald has robbed America's children by piling on public debt in order to give the super wealthy tax breaks, and subsequently doled out generous taxpayer funded stimulus checks, in order to gin up the economy to prop up his ailing reelection odds. And then I am going to work my way back to the early 1980's, so we can debunk the myth that Republicans are fiscal conservatives - because the last fifty years shows that they are not.
Republicans are talking point fiscal conservatives who scream about it as it suits their campaign convenience, and this includes their mid semester Washington, D.C. play-acting theatrics which are sometimes used to showcase their phony fiscal conservatism. Neither party seems fiscally conservative, and only one president in the past fifty years has run a federal government budget surplus [Democrat Bill Clinton in tandem with a Republican Congress]. So I'm asking you to not let them fool you, because fooling the public is the one skill at which the politicians in the Senate, House and Executive Branches of government seem most adept.
---
Things to do this Weekend & Phase IV NYC Reopening
Things To This Weekend & Phase IV NYC Reopening
Governor's Island Opened 7/15, Statue of Liberty Island Opens 7/20 while Ellis Remains Closed, Subway Series this Weekend w/ o Fans, Evolving CoVid Science Update & More Economic News
July 17, 2020 / NYC Neighborhoods / NYC CoVid 19 Special Section / News Analysis & Opinion / Gotham Buzz NYC.
Well another CoVid influenced weekend in NYC has arrived. It's the weekend before the NYS Phase IV reopening of the economy, which is happening on Monday, July 20th - but with an important modification. The important modification is that indoor cultural centers and shopping will remain on hold indefinitely.
CoVid Droplets Can Linger in Air for up to 16 Hours
The rationale is that CoVid 19 appears to be transmitted significantly - if not primarily - via the air droplets of infected people who may or may not be symptomatic. In the outdoor environment, the droplets are diffused by the planetary volume of air, while in the indoor environment they can linger for up to 16 hours. It was previously believed that the droplets could linger for up to three hours.
In the photo at right is Congresswoman Alexandria Ocasio-Cortez handing out food bags at Our Lady of Sorrows Church in Corona, Queens. The Congresswoman's campaign raised funds to put together 250 food bags for the folks in the community. Our Lady of Sorrows Church has been the locale for a number of such prior distributions by various donors, including by the Catholic Charities Built In Queens.
Things To Do NYC / Events This Weekend
Mets host Yankees at 7.10 pm Saturday at Citi Field and Yankees host Mets at 7.05 pm at Yankee Stadium Sunday. No attendees will be allowed, but the games will be shown on the Yes Network on TV and WFAN radio.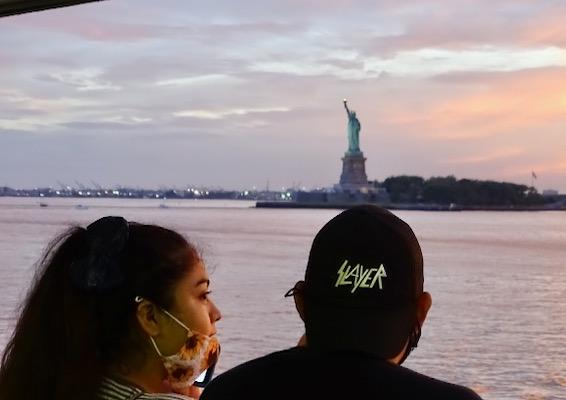 The Statue of Liberty island will open on Monday, July 20th. The statue itself will remain closed, but there will be limited souvenir and food shopping along with restrooms. The Ellis Island and the Liberty Museums will remain closed at this time. Both sites are part of the National Parks System. There are also new rules for a visit - https://www.nps.gov/stli/
St. John the Divine opened its doors to visitors from 7.30 am - 1 pm daily. No word yet on when services will resume. https://www.stjohndivine.org/
St Patrick's Cathedral reopened on June 28th for two daily services at 25% capacity on weekdays and two to three services daily on the weekend. They are suffering a $4 million revenue shortfall as a result of the Corona Virus pandemic - https://saintpatrickscathedral.org/
The piazza style dining in cordoned off streets continues on weekends beginning 5 pm Friday and at noon on Saturday and Sunday - ending at 11 pm each night. New streets and restaurants continue to be added to the original list, as clusters of restaurants apply and receive authorization for piazza style dining on their blocks / streets.
https://www1.nyc.gov/html/dot/html/pedestrians/openstreets-restaurants.shtml
The implementation of the curbside / sidewalk dining by local restaurants has been well received and appears to be a success. Thus this week the Mayor announced that it will be extended through October 31st.
Just over a week ago, on Thursday, July 9th, the Mayor extended the ban on large events requiring a city permit, through September 30th. The rationale for this extension is that states like Florida and Texas have seen surges due to large scale gatherings, where social distancing and mask norms were difficult to enforce and hence violated, leading to huge surges of the number of CoVid infections in those states. This ban extension includes NYC street fairs.
---
Phase III Reopenings NYC Layoffs, Economic Comeback Looks Slow, Mail In Vote Delays & Fraud, Tale of Two Economies Tech vs Bricks n Mortar,
Things to do This Weekend in NYC
Bit by Bit NYC Emerges from the CoVid Pandemic Shock ...
... but it's Increasingly Looking Like It Will be a Slow Recovery
July 10, 2020 / NYC Neighborhoods / NYC CoVid 19 Special Section / News Analysis & Opinion / Gotham Buzz NYC.
Weather. The temperature highs will be in the high 70's Friday, rising to about 90 degrees on both Saturday and Sunday. There's a 100% chance of inches of rain throughout the day Friday, with some rain - about an inch - in the late morning / early afternoon on Saturday, and then clear on Sunday. Humidity will be in the 90% plus range on Friday, dropping to 80% on Saturday and down to 65% on Sunday. There will be wind gusts of up to 20 - 26 mph on Friday, settling down to 5 - 10 mph on Saturday and Sunday.
We began to return to some measure of normalcy this week as NYC moved into Phase III of the reopening. Restaurants sprung back to life with sidewalk and curbside seating which seemed to fill up pretty well in the first week of opening. Rain will dampen that enthusiasm today and through mid afternoon tomorrow, but I expect seatings to resume later in the day Saturday.
Things to do in NYC This Weekend
The Mayor also announced the opening of 22 European piazza style dining streets in all five boroughs [scroll down to July 2nd post for a listing of them]. Some of these NYC 'piazzas' opened last weekend. I visited the one on Restaurant Row in Manhattan and it looked to be a success - see photo.
While things haven't returned to normal, and likely won't for some time, they are becoming more normal from week to week. And there's more to do these days, than there has been for a long while, for those who want to get out and about.
New openings this past week include:
---
July 4th Weekend & Fireworks NYC Budget Piazza Style Dining in NYC BLS Unemployment Numbers Faked Phony Fiscal Conservatives
July 4th Weekend NYC: The New Normal is About Adjustment & Simplicity
The NYC Budget, NYC Events, the Economy & CoVid Update
July 2, 2020 / NYC Neighborhoods / NYC CoVid 19 Special Section / News Analysis & Opinion / Gotham Buzz NYC.
George Floyd Protests, the NYPD and other NYC Budget Cuts
The George Floyd protests seem to have abated, over a month after his death. The new NYC budget does cut about a billion from the NYPD budget by reducing the staff from 36,000 to 34,000 employees, cancelling the most current class of new cadets, and reallocating school security to the Department of Education and homeless engagement to social services units. About 5,000 people work in the school security program and that will be transferred over a period of time to make sure it works properly. Another$160 million was allocated to summer youth programs [$115 million], as well as to address food insecurity [$33 million] and housing [$8 million].
The overnight Staten Island Ferry service was also cut for the time being. That affects about 4,250 riders per night based on 2019 statistics. Other cuts included in the NYC budget include an $800 million cut for schools, a 5% - 7% cut to all departments, some labor savings [$1 billion]. The labor savings could result in NYC layoffs in the Fall if other solutions aren't found. The cuts were due to a mix of actual and expected NYC revenue shortfall of about $8 - $9 billion. City Councilmember Helen Rosenthal of the Upper West Side tells us that about $4 billion of the shortfall will be made up by the Mayor's rainy day fund, which de Blasio had prudently set aside to address unexpected events.
The Mayor also announced that NYC public schools would be reopening in the Fall. He said he was working with the unions to implement safe plans which would include social distancing measures which would possibly take larger classes online, stagger schedules to fill the school with fewer students at any given time, implement cleaning efforts and staggered lunchtimes. The Governor noted that ultimately it's his call on school reopenings. Nonetheless, the Mayor said that NYC was working to submit a plan by late July / early August.
NYC Moving to Phase III Monday but Indoor Dining on Hold
Because of the upturn in CoVid infections in other states as noted below, the Governor and Mayor have put indoor dining in NYC on hold. Nonetheless, the rest of Phase III will continue as planned on Monday, July 6th. Phase III also includes the opening of personal care businesses such as tanning, waxing & nail salons and spas.
Piazza Style Dining to come to 22 Streets in all Five Boroughs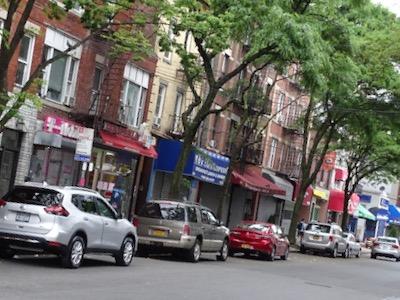 The Mayor announced efforts to mitigate the impact of the delay of the opening of restaurants indoor areas by further opening the streets to restaurateurs over the weekends beginning Friday evenings - in what was described as piazza style dining. Expanded dining areas are planned for 22 streets around all five boroughs in the city including Restaurant Row in the Hell's Kitchen neighborhood of Manhattan, Mulberry Street in the Little Italy neighborhood of Manhattan, and streets in Chinatown at Doyers Street, the East Village at Broome and Orchard Street, Harlem at 101st Street and Lexington, Gansevoort & 13th in the West Village, Broadway and 25th in the Flatiron District.
In the outer boroughs there's Arthur Avenue in the Little Italy / Belmont neighborhood of Bronx [7/10], New Dorp at Hylan Blvd in the New Dorp neighborhood of Staten Island, Bell Blvd in the Bayside neighborhood of Queens, and in Brooklyn a number of streets in DUMBO between the Brooklyn and Manhattan Bridge near the water in Brooklyn, 5th Avenue in the Park Slope neighborhood of Brooklyn, at Reed Street and Van Brunt near the Fairway in the Red Hook neighborhood of Brooklyn. And speaking of Fairway - they're planning to close three stores as a result of the pandemic including the one in Red Hook, another in Harlem and one on Long Island.
In Phase II NYC had started to clear the way for restaurants to occupy the curbside parking spaces in front of their dining / drinking establishments to allow the serving patrons outdoors. This appears to have worked well, with - thus far - no attendant substantive increase in CoVid cases. This is even though many to most of the folks I see dining and drinking outside aren't wearing masks. This is understandable as it's hard to eat and drink with a mask on, as I tried it a week ago and didn't like it.
But for the people who are most susceptible to severe illness - and even death - due to CoVid, they are advised to continue to exercise caution, even in the outdoor dining and drinking setting, as the consequences for them are too severe to take the risk.
---
NYC Phase II Reopening Fathers Day Junetteenth NYS Primary Election NYC
NYC Life: Juneteenth, Summer Begins, Fathers Day, NYC Phase II, Atlanta Shooting & Election
The NYC Boroughs Showing Increasing Signs of Economic Life, but ...
June 19, 2020 / NYC Neighborhoods / News Analysis & Opinion / Gotham Buzz NYC.
The Mayor announced we're moving to Phase II of the economic reopening beginning Monday. According to a missive by Councilmember Van Bramer, Phase II means that restaurants can resume serving people on sidewalks, at curbside, in opens streets and plazas and in backyard seating - but they need permits which may be obtained at nyc.gov and he notes that restaurateurs do not need to apply separately for the liquor permit.
Retailers can now serve people in their shops by limiting capacity, while following mask, [barrier?] and cleaning protocols. The same is true for hair salons and barber shops. And realtors and auto dealers can resume working with clients, as can commercial building operations and offices on a case by case basis.
The photo at right was taken near Borough Hall in Brooklyn earlier this month.
On June 19, 1865 the Last Texas Slaves Were Freed
Juneteenth Celebrates the End of Slavery in the U.S.
Juneteenth is the date when the Union Army arrived in Galveston, Texas and informed all of the slaves there, that they were free. Abraham Lincoln had issued the Emancipation Proclamation in January 1, 1863 - but rumor has it that word didn't reach Texas slaves until two and a half years later.
On Wednesday, June 17th, Governor Cuomo signed an Executive Order making today a holiday for NYS employees. There are also a number of marches and rallies to celebrate Juneteenth in all five boroughs, most beginning between 12 noon and 4 pm, which you can find by doing a search for 'juneteenth nyc'.
---
Trump Tax Plan - Super Rich Bilk Billions from America's Babies
Trump Tax Plan: A Morally Bankrupt President's Gift?
Are Billionaires Trump & Murdoch Bilking America's Unborn Babies?
Updated 12/26/17 _ December 19, 2017 / New York City Neighborhoods / New York City Business / News Analysis & Opinion / Gotham Buzz NYC.
Like many of you, I have been watching the Trump Tax plan make its way through Congress. While Trump and his cohorts were whipping together the tax package, I was doing research on the possible implications of some of their tax policy proposals.
According to an October 20, 2017 PolitiFact report [based on the plan at that time, which has since been modified],
"... in the first year of changes, the top 1 percent are projected to draw a little over half the tax savings. The threshold of 80 percent going to the top 1 percent is projected for the tenth year."
While directionally this statement is likely to hold [meaning the plan is biased toward the rich], the exact numbers as to how biased the Trump Tax Plan will be for the wealthy - based on the final bill - remains to be calculated.
In this report we look at a number of tax cuts included in the final bill including repatriation of overseas profits, reduction of the estate tax, reduction of the corporate tax and the blue vs red state tax increase. We include a review questioning why the Trump Administration is pushing this deficit expanding / debt increasing fiscal stimulus package - when we're in a full employment economy with rising wages. We also include how the Trump Tax Cut Plan has been treated propagandistically by Rupert Murdoch's media outlets, as he appears to personally and corporately benefit immensely from the tax cuts.
But before we begin, we take you on a quick review at some key characteristics and prior dealings of the man behind the plan - Donald J. Trump.
I. Character & The Art of the Deal - Or Steal?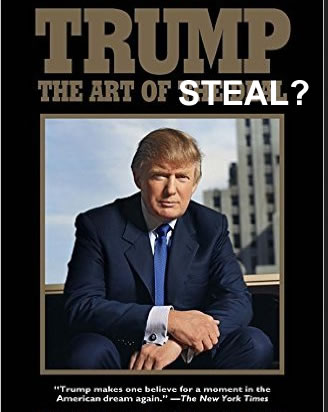 In Donald Trump's book The Art of the Deal, he says,
"You can't con people, at least not for long. You can create excitement, you can do wonderful promotion and get all kinds of press, and you can throw in a little hyperbole. But if you don't deliver the goods, people will eventually catch on ..."
Is the Trump Tax Plan a Tax Boondoggle for Billionaires?
Based on recent polls regarding the Trump Tax Plan, it appears the American people are of the opinion that this a very bad deal for them and their children. Perhaps this is why the Donald appears to be rushing through what appears to be one of the greatest tax billionaire boondoggles in modern history, while telling the public that this tax plan isn't good for him ... or his super rich family and friends.
Always Pay Attention to a Person's Integrity or Lack Thereof
To listen to the Donald, you'd think he has always been a champion, if not a living martyr, of the middle and working classes of America. But the facts don't always square with the Donald's narratives. And the Donald, seems never to admit blame. That's why he has continually lashed out at the media who inform the public about him - calling all, but Rupert Murdoch's vast mass manipulation media [Fox News, Wall Street Journal & NY Post], Fake News. Trump and Murdoch live in the Bizarro World, where so much of what they say appears to be the truth turned upside down.
In the graphic at right, I modified Rupert Murdoch's Fox News website front page celebrating the passage of Trump Tax Plan - in which it appears that the bulk of the breaks will go to the super-rich, including the multi-billionaire Murdoch, who is a global propagandist and powerful Trump supporter. I call this Murdoch's propaganda payout and it appears to be HUGE.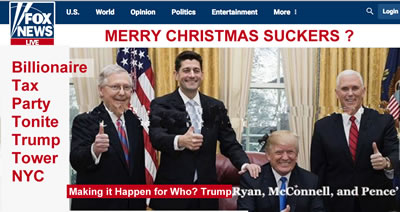 Law and Crime, a web magazine funded in part by A & E Network, states in a February 16, 2016 report that Trump was named in at least 169 Federal Lawsuits. They went on to say that,
"The federal lawsuits that we reviewed date back to 1983 and involve everything from business disputes, antitrust claims and, more recently, accusations that Trump's campaign statements are discriminatory against minorities. Some of the cases have been resolved, some were dismissed as frivolous, and others were privately settled. He's been sued by celebrities, personal assistants, prisoners, people in mental hospitals, unions, and wealthy businessmen. Of course, Donald Trump has also done his fair share of suing as well."
Slippery Donald - A Sales Promoter Who Must be Watched Carefully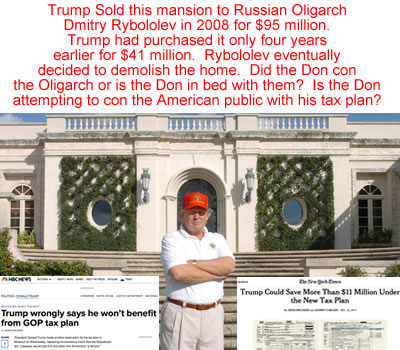 Watching Trump promote and sell his tax plan to the American public reminded me of a report about how the Donald sold a Palm Beach mansion - Maison de L'Amitie at 515 North Country Road - to Russian Oligarch Dmitry Rybolovlev in 2009. In a July 28, 2016 story in Politico, reporter Jose Lambiet says of the deal,
"This is what he [Trump] does with everything. He puts a little veneer on things and he doubles the price, and people buy it," ... "He's [Trump] all smoke and mirrors--and that house was the proof."
Dmitry, the Russian Oligarch, paid $95 million for what Trump had paid only $41 million just four years earlier. Dmitry is now reportedly planning to demolish the mansion.
The question is whether the Donald snuck one by the Russian Oligarch, or whether the Donald is in cahoots with the Russian Oligarchs, and this was an indication of such?
The graphic / photo at right shows Trump standing in front of the Maison de L'Amitie. In the lower left I added his claim that he wouldn't benefit from the Trump Tax Plan as reported by NBC News on November 29, 2017; while in the lower right is a December 22, 2017 New York Times analysis indicating that the Trump Tax Cuts might enable him to take advantage of $11 million in tax breaks.
II. Trump & The Russian Oligarchs
Are These Birds of a Feather Flocking Together?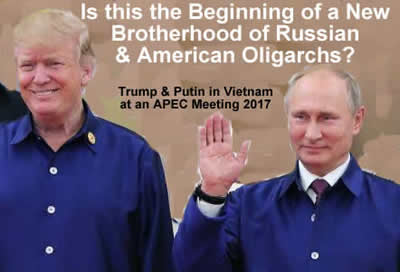 A July 13, 2017 report by the New Republic informs us that,
"In 2015, the Taj Mahal [controlled by Donald J. Trump] was fined $10 million--the highest penalty ever levied by the feds against a casino [in years] - and [they] admitted to having "willfully violated" anti-money-laundering regulations."
The report references the book, Red Mafiya, about the rise of the Russian mob in America, by investigative reporter Robert I. Friedman. It appears that the laundered money came from the Russian mob, and further in the story we learn a bit more about what appear to be the Donald's shadowy business dealings with Russia.
"In April 2013, a little more than two years before Trump rode the escalator to the ground floor of Trump Tower to kick off his presidential campaign, police burst into Unit 63A of the high-rise and rounded up 29 suspects in two gambling rings. The operation, which prosecutors called "the world's largest sports book," was run out of condos in TrumpTower--including the entire fifty-first floor of the building. In addition, unit 63A--acondo directly below one owned by Trump--served as the headquarters for a "sophisticated money-laundering scheme" that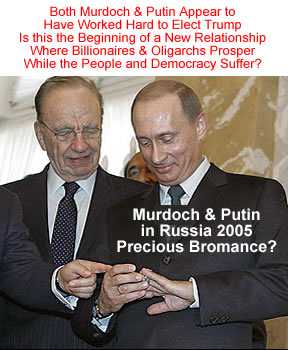 moved an estimated $100 million outof the former Soviet Union, through shell companies in Cyprus, and into investments in the United States. The entire operation, prosecutors say, was working under the protection of Alimzhan Tokhtakhounov, whom the FBI identified as a top Russian vor closely allied with Semion Mogilevich. In a single two-month stretch, according to the federal indictment, the money launderers paid Tokhtakhounov $10 million.
Tokhtakhounov, who had been indicted a decade earlier for conspiring to fix the ice-skating competition at the 2002 Winter Olympics, was the only suspect to elude arrest. For the next seven months, the Russian crime boss fell off the radar of Interpol, which had issued a red alert. Then, in November 2013, he suddenly appeared live on international television--sitting in the audience at the Miss Universe pageant in Moscow. Tokhtakhounov was in the VIP section, just a few seats away from the pageant owner, Donald Trump.
After the pageant, Trump bragged about all the powerful Russians who had turned out that night, just to see him. "Almost all of the oligarchs were in the room," he told Real Estate Weekly."
A Tax Plan for the new American Oligarchs?
The U.S. has a Full Employment Economy & Wages are Rising
So Why is Trump Promoting Fiscal Stimulus in a Full Employment Economy?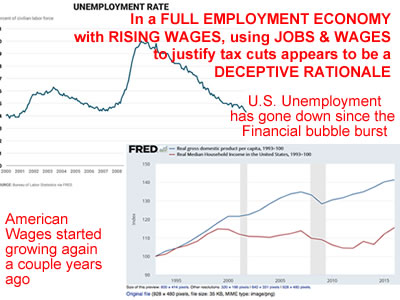 Over the past few years the economy has been steadily adding new jobs, and wages have been rising. The unemployment rate is 4.1%, which means the U.S. is operating in a full employment economy. A full employment economy is defined as one where everyone who wants a job, has one, except those who are in transition. Normal transitioning is generally estimated at 5% of those who are employed. These transitioning unemployed workers are those workers who are making the change from school to jobs or vice versa, switching jobs or careers, moving from one locale to another, or making other relevant job or life changes such as illnesses etc..
So given we're in a full employment economy where wages are rising, why are we incurring over $1 trillion in new debt to give the richest people in the nation / world tax breaks? The new jobs, higher wages argument seems deceptive as it just doesn't seem to apply here.
Former NYC Mayor Bloomberg Says "This Tax Bill is a Trillion Dollar Blunder"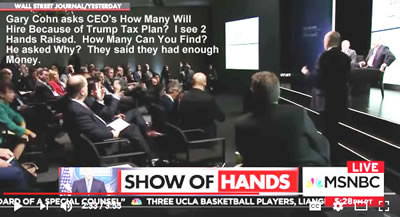 Former Republican Mayor Michael Bloomberg wrote an editorial dated December 15, 2017 on Bloomberg.com entitled "This Tax Bill is a Trillion Dollar Blunder".
In the editorial Bloomberg cites his rationale, including an anecdotal poll taken by Trump Economic Adviser Gary Cohn who on November 14, 2017 asked CEO's to raise their hands if they planned any additional hiring. In the video of the event I saw only two hands raised, and the moderator goes on to ask, 'Why weren't more hands raised?'. Go to YouTube.com and type in the search 'gary cohn asks ceos to raise hands' to see the video for yourself. The answer is that the top CEO's are sitting on trillions in cash, so a tax break isn't going to change the investment landscape for them with respect to adding jobs.
Bloomberg concluded his editorial with the following statement.
"The tax bill is an economically indefensible blunder that will harm our future."
It's also important to note that since the lows following the Great Recession of 2008 - 2009, wages have been going up between two and four percent, as measured on a quarterly basis.
---
Trump Budget: Is Extravagant U.S. Defense Spending Hurting America's Economic Future?
You Decide: President to Address Nation
Proposing $54 Billion Defense Budget Increase - Why?
February 28, 2017 / NYC Government / NYC Business / News Analysis & Opinion / Gotham Buzz NYC.
Tonight President Trump will address the nation regarding his plans for the U.S. One of the notable previews given by sources within the Administration is that Trump plans to increase Defense spending by $54 billion. I decided to take a quick look at some of the economic statistics to see if that appears warranted, especially vis a vis other priorities.
U.S. Government Deficits
The first chart [Congressional Budget Office] shows that the U.S. government has been spending more than it has been taking in. The gap widened in the wake of the September 2008 near financial meltdown, as tax receipts fell and fiscal stimulus [government spending] was needed to keep the economy going.
The higher levels of debt continued through the first term of the Obama Administration and then fell sharply back to Bush II era levels during the second term of the Obama Administration.
The net result is that near financial meltdown resulted in higher government deficits, which added to the overall U.S. government debt.
U.S. Government Debt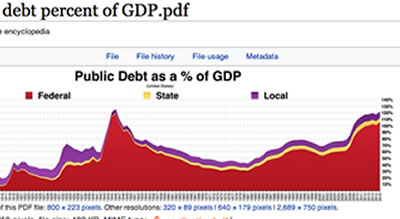 The second chart [Wikipedia] shows U.S. government debt relative to U.S. GDP. GDP is the acronym for Gross Domestic Product, which is a measure of the nation's economic output in goods and services.
The chart shows that the overall U.S. government debt relative to GDP rose significantly in the wake of the 2008 near financial meltdown. Currently the U.S. debt level is equal to about an entire year of U.S. economic output.
Many economists think that the U.S. has an unhealthy level of debt as it doesn't provide much slack for unforseen circumstances, like the 2008 near financial meltdown or prolonged involvement addressing international crises.
U.S. Defense Spending One Third of Global Total
About Equal to the Next 8 Nations Combined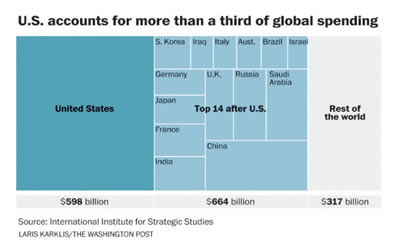 Currently the U.S. appears to overspend on military operations vis a vis the rest of the world. The U.S. military accounts for one third of defense spending in the world and its budget is roughly equal to the military budgets of the next EIGHT leading defense spenders in the world.
You can see this in the chart at right which was created by the Institute for Strategic Studies and published in the Washington Post.
Click here to read the rest of our report on how out of balance U.S. Defense Spending in America is compromising the nation's economic future.
---
New York City Economy - 2016 Outlook NYC
New York City Economy - 2016 Outlook NYC
Currently Full Employment, Low Interest Rates, Low Inflation But Possible International Shocks
January 4, 2016 / NYC Neighborhoods / NYC Business & Banking/ Gotham Buzz NYC.
We took a look into the crystal ball over the holiday break to see what may lie ahead for the NYC economy in the coming year. We studied the stats and facts put out by many of the national data producers at the Bureau of Labor Statistics, the Federal Reserve, the Treasury Department and the AIE. What follows is a brief summary of some of the statistics we gathered on the global, national and New York City economy including unemployment statistics by borough for 2015.
U.S. & NYC Economy Near / At Full Employment
Currently Queens and Manhattan are doing the best with respect to employment, with unemployment rates below 5%, which economists consider to be full employment as the 5% unemployed are viewed as normal 'friction' in the economy, accounting for people coming into, leaving and changing jobs within the labor force.
In 2009 - 2010, during the first two years of the Great Recession, the nation's unemployment rate hit 9.4%, while the unemployment rate for New York City hit 10.4%. The employment picture for the nation and the five boroughs of New York City has slowly but steadily improved since then, with unemployment trending lower, reaching full employment this year at 5% for the nation and 4.8% for New York City this fall.
Employment Impact / Relationship to Inflation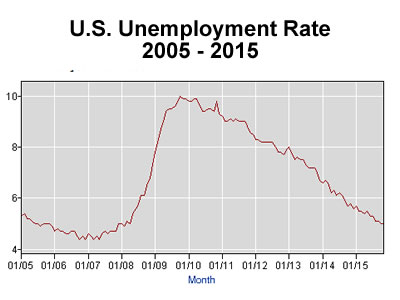 Employment affects inflation, as when everyone is fully employed, recruiting firms bid up the price of labor and workers feel secure enough to spend aggressively, bidding up the price of goods. The Federal Reserve attempts to reign in inflation - because it creates economic instability - by raising interest rates which increases the cost of capital needed to expand operations or make large purchases more expensive. On December 16, 2015, the Federal Reserve raised its key short-term interest rate by 25 basis points (0.25%) to begin to get ahead of potentially inflationary issues that may lie ahead. We'll look into a few of these later in this report.
Economists in one of the banking reports I received believe that there is still slack in the labor market that is not reflected in the numbers as many people have part-time jobs, while they would like full time jobs. Also the labor force participation rate fell during the Great Recession and it became more difficult to find work. Now with a full employment economy it is believed that some of those folks who gave up looking will try to re-enter the workforce. An example of the decline in participation rate might be a spouse who helped supplement household income but couldn't find the right work, and now starts looking again.
Click here to continue reading our report about the New York City NYC Economy Outlook 2016 which delves into full employment impact on inflation, interest rates, consumer debt levels, oil & commodity prices, domestic and international currencies & economic growth, the financial markets and how all of this may impact the different sectors of the Queens & New York City economy.
---
New York Boat Show @ Javits Center
Full Steam Ahead For Boat & Yacht Dealers & Manufacturers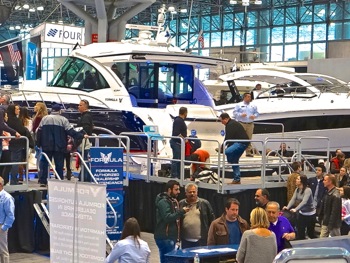 January 25, 2015 / Midtown West NYC / Manhattan Business / Gotham Buzz NYC _ D.
For the price of a small apartment in Manhattan you can buy yourself a floating power palace with about the same amount of space, and water views on all sides.
It was my first venture into the New York Boat Show on Sunday at the Jacob Javits Center in Midtown West. There were about 400 boats and yachts on display [364 was the unoffical count] for those looking to buy, trade or just look at the state of the art in boating technology and comfort.
Again unofficially - using one of the dealer's gate count numbers - it seems attendance was up a bit this year versus last year. They surmised that the lower gas prices, the better economy and apparently a few folks were looking to replace what had been damaged or that they'd lost to Hurricane Sandy. And so it was ... show on.
Later this week I'll post a photo slide show of the event and take you onto a few of the boats and yachts so you can see what owning or riding on one of these floating palaces would look like. Ship Ahoy.
---
NYC Real Estate Loans - NYC Mortgage Market Conditions
Real Estate Loans - Manhattan Mortgage Market Condition
Expo Highlights Opportunities, Risks & Other Considerations
May 28, 2014 / Manhattan / NYC Real Estate NYC / Gotham Buzz.
I attended the 2014 NYC Finance Expo at the Roosevelt Hotel on May 14th. The expo was well attended by Manhattan real estate professionals and financiers of Manhattan real estate including banks and other lenders.
The organizers had three or more seminars running simultaneously throughout the morning, with most sessions running between 20 minutes and an hour. About every 15 minutes a new session started, so there were plenty of ways to spend one's time productively.
The topics of the seminars covered a cross section of interests of those in the Manhattan real estate financial industry, from social marketing to real estate finance to real estate planning. I sat through a couple of sessions where I listened to Manhattan real estate and financial executives talk about where we are in the current cycle in the Manhattan real estate market, with an eye toward Manhattan real esate prices and valuations from a lender's point of view.
Billionaire businessman John Catsimatidis is shown in the photo at right at the NYC Finance Expo in Manhattan.
Click here to read the rest of our story about NYC real estate mortgage market conditions & the NYC Finance Expo.
---
NYC Real Estate - Apartments, Condos & Office Rentals & Sales NYC
LIC Real Estate: New Face of a Changing Borough
LIC Real Estate Development Continues - Just Across From Midtown
October 1, 2013 / NYC Real Estate / Gotham Buzz NYC.
I, like many in the borough, have been watching in near amazement at the rapid pace of real estate development in Long Island City. On September 18th of 2013, I attended the Grand Opening of 4545 Center Blvd, the fifth of the six TF Cornerstone buildings to go up along the Long Island City waterfront.
As you will see from the photos in the slide show at the end of the story, the apartments are beautiful. The new high rise is an airy, modern building with amenities, and apartments that have breathtaking views of the Manhattan skyline and the Queensboro Bridge. I saw a studio and corner two-bedroom apartment, which rent for about $2,300 and $5,500 per month respectively – so it's not only the views that are breathtaking, but the rents as well. Five of the six TF Cornerstone buildings along Center Blvd in LIC are rentals, and only the condominiums in The View [the only building TF Cornerstone named] were for sale.
Click here for a story about apts for sale / apartments for rent near Midtown Manhattan NYC, including a bit of the history of TF Cornerstone, Rockrose Real Estate and real estate development in the LIC neighborhood of Queens.
---
---
How The Other Half Lives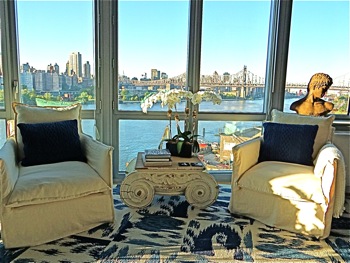 September 23, 2013 / Long Island City Neighborhood / NYC Real Estate / Gotham Buzz NYC _ DA.
I attended a reception hosted by TF Cornerstone in late September to celebrate the official opening of their fifth property. The building had been completed earlier this year and the first tenants had moved in sometime in May. I understand they've rented about 70% of the units, so they've been moving briskly.
I visited a couple of the units for rent, including a studio that started at about $2,300 per month and a two bedroom corner that likely rented for something like $5,000 per month [give or take several hundred]. To those of us who live in Queens, these are expensive units, but to those who live in Manhattan - given the views and amenities - these are good value. Like the headline says : )
---
---
Federal Reserve & NYC Economic Outlook
NY Federal Reserve In Queens
Current Business Economic Conditions In Queens 2011
March 11, 2011 / Flushing Neighborhood / Queens Business / Gotham Buzz NYC.
I attended a presentation by the New York Federal Reserve president and CEO William C. Dudley. His purpose was to supplement the research done at the Federal New York Reserve with visits into 'the field' to see what's going on economically. A visit following his speech by a vice president of his staff to Crystal Window & Door Systems was a part of that effort [use the search function to find related stories].
Dudley first talked about the role of the Federal Reserve, which is to manage the nation's money supply. The Fed pursues a 'dual mandate' which is to purse the highest level of employment consistent with price stability. Dudley talked about the importance of the NY Federal Reserve in overseeing Wall Street and in helping the Federal Reserve execute monetary policy. Then he turned his remarks to the current state of the U.S., NYC and Queens economy.
Click here to read more about the Federal Reserve discussion about the economy and business climate - NYC .
---
NYC Small Business Loans New York City
NYC Small Business Loans - Credit In NYC
Business Loans In NYC - Banking In New York City NYS
Updated Spring 2014 / First reported Spring 2011 / NYC Banks & Loans NYC / Gotham Buzz NYC.
I had occasion to attend a NYC Credit Fair at the Bulova Corporate Center in Jackson Heights. The credit fair was sponsored by the New York City Council, the New York Bankers Association [NYBA], the New York Business Development Corporation [NYBDC] and NYC Small Business Services.
And while I missed most of the credit fair, the literature I picked up on my visit was excellent. The fair occurred the morning of January 26, 2011 which was the morning of one of the numerous snowstorms we had this winter and it likely negatively impacted attendance.
This report contains information about how to obtain financial and technical assistance to: 1) make your business creditworthy, 2) make a successful loan application, and 3) find alternative sources of credit / loans for small businesses in Queens.
Click here to learn more about how to obtain small business loans in NYC.
---
NYC Real Estate Commercial & Home Loans & Mortgages - New York City
NYC Real Estate Commercial & Home Loans and Mortgages
Chinese American Real Estate Association Talks Loans & Mortgages in NYC
Updated Summer 2016 / Original Report May 22, 2010 / Mortgages & Loans NYC / Gotham Buzz NYC.
There was a Real Estate Expo event hosted by the Chinese American Real Estate Association [CAREA] in Flushing. This expo is an evolution of the Home Buyers Expo, which was an event they had hosted last year with a private sponsor. The Home Buyer Expo had focused on issues such as how to find a house, how to take the house into contract and how to close on the house. Last year there were ten vendors at the expo offering financial, real estate and legal services.
Real Estate Lending & Home Buying In Manhattan & NYC
We visited the expo in search of information about the state of mortgage lending in Manhattan & Queens. Given the Asians seem to be America's financiers, we thought this expo might be a good place to research this question.
In 2010 the CAREA event scope was expanded and it attracted about 40 - 50 vendors. The expo focus changed from buying a home, to buying and managing a home. Hence vendors included tax services, energy services, remodeling services as well as vendors offering financial, real estate and legal services.
Click here to read our full report about real estate finance and mortgage lending in NYC.
---
---
Finance - Banks & Loans In Manhattan Related Info
Click this link for promotions, discounts and coupons in Manhattan.
---
Site Search Tips. 1) For best results, when typing in more than one word, use quotation marks - eg "Midtown Neighborhood". 2) Also try either singular or plural words when searching for a specific item such as "gym" or "gyms".
Click this link to the Gotham Buzz front page.
---
Click the log in link below to create an ID and post an opinion. Or send this story to a friend by filling in the appropriate box below.
---
---
---
Click the log in link below to create an ID and post an opinion.
Or send this story to a friend by filling in the appropriate box below.
---
---
NYC Related Links
Click for New Years Parties & Restaurants NYC
Click for Manhattan Farmers Markets NYC
---