Spring Has Arrived
The Trees are Blooming and Warmer Weather is on its Way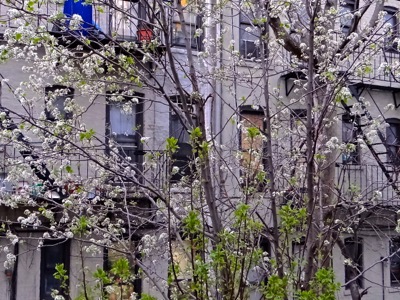 April 17, 2018 / NYC Neighborhoods / Gotham Buzz NYC.
This weeks our deciduous trees have begun budding and flowering. We can see the bright pea green buds and the white tree blossoms popping out everywhere. This unique period of springtime lasts only a week or two, so enjoy the majestic beauty while it lasts.
The photo to your right shows what is a very ordinary view of a back wall of apartment windows in NYC, as it comes alive with nature's beauty. The budding trees add oxygen during the day and carbon during the night to our atmosphere. And provide shelter from the hot sun during the summer and some privacy between neighbors as well.
So enjoy these magical week(s) as nature blossoms and our deciduous trees awake from their wintry slumber.
---
The Past Comes Alive: Historic Richmond Town
Historic Richmond Town on Staten Island Preserves a Bit of America's Colonial & 19th Century Past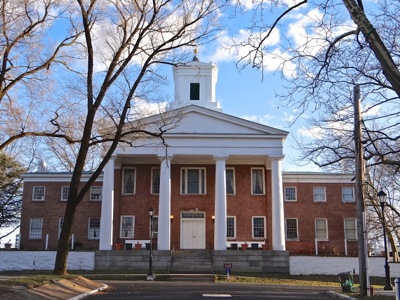 March 2018 / Historic Richmond Town Neighborhood / Staten Island Culture & History / Gothm Buzz NYC.
Earlier this month I visited Historic Richmond Town on Staten Island. I got off the train at Oakwood Heights and along with a visiting South Korean visitor, ubered the half to one mile inland to visit historic Richmond Town.
We were dropped off in a large parking lot adjacent to the main building, which turned out to be the rear of the site, and walked in. It was less than two hours before closing time and on this cold March day, things were pretty quiet.
In the museum gift shop we Lou Maira who manages it. The visiting South Korean took off on his own, while I struck up a conversation with Lou. He told me that we were in the Court House, which was the County Seat for Staten Island in 1837. The Court House also served as the prison. He told me that this late in the day, on the off season, wasn't really the optimal time to see the place, but he accommodated my unscheduled inquisitiveness anyhow.
Historic Richmond Town on Staten Island lies on 100 Acres of Colonial & 19th Century History
Lou told me that there were 15 buildings in Historic Richmond Town. He informed me that tours are given regularly by knowledgeable guides and that they take about an hour and fifteen minutes. The whole town lies on about one hundred acres. At some point in the conversation, one of the tour guides whose name I apparently didn't write down [please send it to me if you read this], joined us, and we continued conversing about Historic Richmond Town. In the photo at right is one of the tour guides of Historic Richmond Town on Staten Island.
Guyon Tavern in Historic Richmond Town
One of the buildings is Guyon Tavern, which may be found about a block and a half away on Richmond Road. The Court House lies at the top of a small hill where Center Street and Court Place meet. Guyon Tavern hosts tavern nights in March and April, where a thirsty 19th century American could and still can get a bottle of ale.
Historic Richmond Town - Things To Do on Staten Island
Historic Richmond Town also hosts other events. In the May / June timeframe there's a program entitled On Court, which I was told is a fairly large festival that includes live entertainment, beer and wine and food. And in September there's a pretty huge festival, it's Historic Richmond Town's signature event, called the County Fair.
The houses in Historic Richmond Town range in dates from the 1600's, 1700's and into the 1800's. The houses built in the 1700's date back to the time of the American Revolutionary War.
I'll add more to this, including more photos, at a later date. But suffice it to say it's worth at least one visit and likely many more. You can find out more about it and their events at http://www.historicrichmondtown.org
---
Jeff Klein's IDC: Republicans Running as Dems?
The Independent Democratic Caucus Aligns with Republicans thus Enabling Republicans to Control the NYS Senate
March 21, 2018 / Bronx Neighborhoods & Bronx News / Bronx Politics / News Analysis & Opinion / Bronx Buzz NYC.
There's an NYS State and Federal election this year. The primaries will be held on Thursday, September 13th; instead of on Tuesday, September 11th, in recognition of 911. And the general election will be held on Tuesday, November 6th.
As in any year, the elections are important, but perhaps made more so this year, by what appears to be the anarchistic destruction and disrespect, for our government institutions and processes, by Republican President Donald Trump.
Trump Republicans: Debt Bomb Deficits Levied on America's Children to Enrich the Richest?
The Donald passed a stimulus tax bill that is expected to increases the deficit by $1.5 trillion over the next ten years, and there are some pundits who put the figure higher. He and the Republicans passed this budget busting stimulus tax bill, while the economy was operating at levels considered above a full employment economy [5% unemployment is considered standard / normal] and at a time when wages were rising over 2%.
Inflation above 2% is considered to be detrimental to economic stability by the Federal Reserve, so stimulating the economy while it's at full employment with rising wages is about the opposite of what makes sense, especially when you consider the funding for it is coming from America's children and most of the benefits for it are going to the wealthiest people on the planet. We posted a report analyzing the Trump Tax Reform Bill slightly before it was finalized, which includes a lot of facts and figures to help provide context to better understand what was in the bill they passed.
The Independent Democratic Caucus Aligns with NYS Senate Republicans & Gives Them Control
In 2010 / 2011 NYS Senator Jeffrey Klein broke away from the Democratic Party and formed the Independent Democratic Caucus which aligns with the Republican Party, thereby giving them control of the NYS Senate. The effect of this is that bills passed by the Democratic controlled NYS Assembly are indefinitely tabled, or in lay man's terms pretty much killed, in the Republican-controlled NYS Senate. The Republicans control the NYS Senate, because eight NYS senators who run as Democrats [IDC Independent Democratic Caucus], either vote with or kill bills with the Republicans.
Democratic NYS Assembly Bills Effectively Killed by IDC
According to the Democratic Senate Conference, the Republican controlled NYS Senate - with the help of their Republicans running as Democrats allies - have effectively killed one education bill providing full day kindergarten funding, three wage / leave bills, four voting rights bills including the allowance of early voting, four immigration bills including one related to the DREAM Act, four housing bills including several pertaining to NYC rent laws that help renters, three criminal justice bills including creation of correctional ombudsman and sealing of marijuana possession records [as marijuana is rapidly being legalized in states across the country], one related to LGBTQ issues, and six regarding healthcare, several of which pertain to women's reproductive rights.
The IDC Deception: Republicans Running as Democrats?
The net effect of this is that Democrats are, in a sense, cheated or tricked out of their majority by what appears to be Republicans running as Democrats. The Independent Democratic Caucus or IDC includes Jeffrey Klein of the Bronx, who founded the IDC, David Valesky of Oneida and Madison Counties in upstate New York, David Carlucci of Rockland and Westchester Counties, Diane Savino of Staten Island / Brooklyn, Tony Avella of Queens, Jose Peralta of Queens, Jesse Hamilton of Brooklyn, and Marisol Alcantera of Washington Heights / Manhattan. Simcha Felder of Brooklyn also runs as a Democrat and caucuses with the Republicans.
NOIDCNY Backs Democrats Running as Democrats
While these eight Republicans running as Democrats will more than likely be on the ballot this fall, most of them will not go unchallenged. I spoke with Susan Kang who is a John Jay College Political Science professor in metropolitan NYC, and one of the founders of NO IDC NY. She told me that she had always been a consumer of political news, but not really an activist per se.
Trump Declares Immigrant Ban as NYS Senator Jose Peralta Aligns with Republicans
But on the same day that President Donald Trump put forth his immigration ban on January 25th, 2017, the NYS Senator representing Kang's district, Jose Peralta, declared his alignment with the Republican-aligned IDC. Kang told me that if someone representing a large, multi-ethnic, community of immigrants like Queens - won't stand up to the Republicans - and in fact aligns with them - then something was surely wrong.
Susan said that she knew that she couldn't rely on government officials to do something about this problem unless they were pressured by voters - or pressured by those with campaign money like the wealthy and big companies. And since she and the other half dozen or so NOIDCNY co-founders weren't millionaires, they decided to get involved in order to involve other voters.
The 'others' she was referring to are the "We The People". You know, the "We The People" that are the first three words uttered in the Constitution of the United States of America.
"We The People" is All About Grassroots Involvement
As I sat listening to professor Susan Kang, I was reminded of a Jefferson quote saying that a people who think they can be ignorant and free, is something that never was and never will be. America's Founding Fathers knew that a government by the people and for the people, doesn't just happen, and that it cannot and will not operate properly on its own.
A government will only be FOR THE PEOPLE if it's also a government BY THE PEOPLE - meaning that just like the American Revolutionaries of 1776, Americans have to get involved and stay involved in the democratic governing process, or this whole American Experiment - of enabling people to govern themselves - will eventually be so totally hacked and chipped away at, by the especially selfish interests, that it won't look like anything resembling what it was, and what it was intended to be.
Does Ineffective Democratic Leadership Make the IDC Possible?
It seems to me that the politicians who run as Democrats really should caucus with Democrats, which leads me to question the effectiveness of the Democratic Party leadership in Brooklyn, Bronx, Manhattan and Queens. I don't include Staten Island because Staten Island is largely Republican. FYI - The Bronx Democratic Party website, bronxdems.org, was down - so perhaps that provides one clue to understanding how capable the Democratic leadership is.
I couldn't help but think back to the 2016 election, where following the inevitability of a Hillary Clinton / Donald Trump race, an NBC News | SurveyMonkey Election Tracking Poll conducted online from May 16 through May 22, 2016 showed that around 60% of voters disapproved of both major party candidates. The candidates that the major parties and their leadership nominated and supported, were distasteful to majorities in both political parties, which shows just how disconnected and out of touch these pols / government officials really are ... and indicative of why the American electorate is so damned frustrated with politics as usual.
NOIDCNY: Supporting Democrats Running as Democrats
The No IDC NY doesn't yet appear to be endorsing candidates, but I reckon that's not out of the question. What they're doing is supporting candidates who challenge the incumbent IDC candidates who are enabling Republican control of the NYS Senate.
The following is a list of challengers which I obtained off the NoIDCNY.org website.
Jessica Ramos is challenging Jose Peralta in District 13 in Queens.
Zellnor Myrie is challenging Jesse Hamilton in District 20 in Brooklyn.
Robert Jackson is challenging Marisol Alcantera in District 31 in Washington Heights / Inwood / Manhattan.
Alessandra Biaggi is challenging Jeff Klein in District 34 in the Bronx.
Rachel May is challenging David Valesky in District 53 in upstate New York.
As mentioned above, every year is an important year, because we're electing people who have a considerable amount of influence and control over our society and how we function. I believe we, as Americans, have lost a considerable amount of ground over the past forty years, under both Republican and Democratic leaders. If we don't demand that they shape up and start representing us - and not the especially selfish interests - why should they?
The primary is September 13th, and I expect to post more about some of these races as the year progresses.
---
Mayor de Blasio Delivers State of the City Address 2018
NYC Mayor de Blasio's Theme for Second Term – Fairness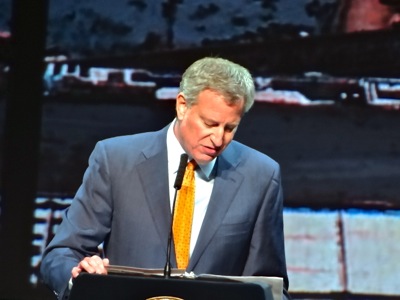 February 26, 2018 / Flatbush Neighborhood Brooklyn / NYC Neighborhoods / NYC Politics & Government / News Analysis & Opinion / Gotham Buzz NYC.
On Tuesday evening, February 13th, I made my way south toward the Kings Theater in the Flatbush neighborhood of Brooklyn. It was an unseasonably warm February, with temperatures descending into the 40's. I disembarked from the G subway at Church Avenue and headed east toward Flatbush Avenue, taking the opportunity to walk through the Prospect Park South neighborhood.
Kings Theatre – Historic 1920's Theater in Flatbush Brooklyn
When I arrived at Kings Theatre I found a number of people engaged in the exercise of their free speech rights, chanting for an accelerated pace of the reform initiated by Mayor de Blasio four years ago.
Once inside the theater I paused for a few minutes to take in the dazzling beauty of the 1929 theater built by Loews as a movie theater. The soaring arches and the ceiling had been restored in a renovation that was completed in 2015, at which time the Kings Theatre reopened. I walked up the stairs to look down into the lobby from the balcony to fully take in the architectural and artistic statement of an earlier time.
According to Wikipedia the Kings Theatre had been closed since 1977, named to the National Register of Historic Places in 2012, following the initiation of its restoration by the City in 2010.
Brooklyn Continues to Preserve its History & Queens does What?
It's nice to see this kind of preservation being done in Brooklyn – it's unfortunate that the government officials in Queens don't take the same sort of initiative to preserve more of the history of that borough. In 2017 a similar, although admittedly less expansive theater on 82nd Street in the Jackson Heights neighborhood of Queens, was demolished.
And in 2010 the landmarked mansion owned by the Steinways of Steinway & Sons Piano - built of granite in the 1850's, sitting atop about two and a half acres of land, and in very good condition - came on the market with an asking price of $2.5 million. The house was only blocks away from the piano factory where handmade pianos are still produced to this day and was the residence of one of the most influential, historically and culturally significant people in NYC and Queens of the latter half of the 19th century.
In an unbelievable failure of leadership in the borough of Queens – the Steinway mansion was not purchased by the government - nor was any meaningful attempt made to preserve it for the public - even though the mansion remained on the market until it was acquired by a developer in early 2014 [they had nearly four years to buy it]. The real estate developer subsequently built on the adjacent acreage – making back significantly more than he paid for the entire mansion, while still leaving him with ownership of the mansion. The future of the mansion itself remains unclear, as it is still in private hands, but because it has been landmarked, the outside of the mansion must be preserved. Click here to read our report about the Steinway Mansion and the travesty of the broken preservation process in Queens … but I digress.
NYC Mayor de Blasio's State of the City Address 2018
Inside the theater, a Rabbi was making a speech. He was preceded by a priest, and followed by a minister, a transgender person, and the mayor's wife, Chirlaine McCray.
We were shown a film, which talked about education, housing and law enforcement – the three main challenges faced by the Mayor during his first term. And while the Mayor has made some solid progress in addressing these issues, they are likely to remain with us for many years to come.
New York City / The Tale of Two Cities: 2013 - 2017
Four years ago, the Mayor campaigned on a platform designed to address the tale of two cities. Last year he campaigned on his record of achievement in addressing the causes of the economic disparities implicit in his metaphor of the tale of two cities – but he didn't really tell us what to expect the next four years. Tonight, in his State of the City Address, the Mayor outlined what he hoped to achieve in the coming four years.
New York City / The Fairest Big City in America: 2018 - 2022
The Mayor, at his core is a bit of a policy wonk, and thus he began by outlining his plan to make New York City the Fairest Big City in America. I know that policy sounds boring - but in an age of political pugnaciousness and thoughtless theatrics – I actually find it refreshing to see an administration engaged in the process of trying to solve our social problems by using the data, analytic tools and most current social science / academic research.
1. NYC Mayor de Blasio's First Term Accomplishments
The Mayor started by touting his accomplishments which include on track to build a record number of affordable housing units, improving academic performance in the public education system [initiation Pre-K and 3-K] and continuing improvements in community safety, even while stop 'n frisk has declined over 90% [because the Mayor added thousands of police[wo]men to the force]. He noted that all of these accomplishments help make the city more fair than it was just four years ago.
Continued / Rest of this coming March 2018.
2. Neighborhood Policing & Body Cameras
3. 3-K for All
4. Affordable Housing
Put w/ his engagement plan.

Thomas Jefferson told us that a nation that expects to be ignorant and free, expects something that never was – and never will be. A government for the people by the people won't function properly if the people don't become engaged and remain engaged – as I witnessed on my way into the theater tonight.
---
Has The Pulitzer Prize Committee - Like the Corporate Media - Lost its Way?
Updated February 21, 2018 / NYC Neighborhoods / NYC Government & Politics / News Analysis & Opinion / Gotham Buzz NYC.
The following is an open letter that I sent to the Pultizer Prize Committee on January 25th, 2018 along with a journalistic series I had written in 2017 and sent to them in 2018 entitled Rupert Murdoch and the Rise of the 21st Century Propaganda Press. The series, which you can view by clicking the link, tells the story about how multi-billionaire Rupert Murdoch appears to use his media outlets as propaganda machines in order to promote pols who will grant him favorable tax legislation, favorable executive rulings and favorable industry regulatory legislation.
Murdoch also appears to be able to manipulate the course of governments and public policy. He appears to have done exactly this in the case of the Iraq War, whereby Murdoch appears to have sent three English-speaking democracies to war - not only for oil - but for his cable network TV ratings too. In Britain in 2016, regarding the Brexit referendum, Murdoch appears to have hijacked public policy in his favor - not the nation's - by pushing through a seismic policy change that enables Murdoch to have greater autonomy over how he conducts his multi-national media business - free from any meaningful government interference - and the Brexit referendum vote also gave Murdoch a huge purchase price discount, because of a devalued British currency.
While the Corporate Media obsesses over the Russian Collusion Investigation - they are distracted from putting in the spotlight what appears to be the REAL 2016 PRESIDENTIAL ELECTION STORY - which is Rupert Murdoch's election meddling to further empower and enrich himself at the expense of the republic and its institutions.
In Trump's first year, Murdoch was the recipient of numerous tax breaks, and breath-taking deregulatory actions in Murdoch's industry via FCC Rulings and telecommunications legislative changes. All of this has received scant news coverage, as the Pulitzer Prize Award winning corporate media, were too busy covering Donald Trump's Tweet distractions. By giving preferential treatment to Trump's tweets, which the American public is able to directly access on their own, the corporate media has failed the American public by regurgitating and hence amplifying the President's shock jock statements - instead of doing their job of providing the American public with context-based news reports about the important issues of the day.
To: The Pulitzer Prize Committee
I am making what I expect will be my final submission to this committee for consideration of an award. What follows explains why I will likely discontinue making submissions to this committee - which I think should be mandatory reading for all committee members now, and perhaps for some good measure of time into the future.
I no longer see the Pulitzer Prize Committee as a part of the solution to the disintegration of journalism in America, but rather I am increasingly beginning to view the Pulitzer Prize Committee as part of a systemic problem. The problem is that those who should be among the keepers and protectors of our nation's First Amendment rights are either flailing or failing to do their jobs. And some, in what has become something out of a Superman comic book, have become the leaders of a 'bizarro' press movement, where everything gets turned upside down. The fake news becomes the real news, and the real news becomes the fake news.
Good Governance Begins with an Honest Look in the Mirror
Let's start with holding up a mirror to the Pulitzer Prize Committee, which is comprised of about a third of people who live and work in the academic world, nearly a quarter of whom work for the billionaire / millionaire owned or supported press, and over a quarter of whom work for the branded print press – two [10%] of which originate in Texas.
Composition of the Pulitzer Committee is not Representative
My point here is that the Pulitzer Committee Board is comprised of people who are by definition living in an ivory tower world [academia], or in a patronage world [wealthy-owned or sponsored organizations], or in a world of the past [print]. Here we are two decades into the 21st century, and only one member of the committee is associated with a pure online information company, and it [Pro Publica] is funded with millions annually by a billionaire. There is not even ONE person on the Pulitzer Prize Committee who has any idea what it's like to work in the burgeoning, economically challenged, pure online news world, which suffered two major casualties this past year – the closure of DNA Info and the Gothamist [owned by the same billionaire].
Demographically the committee has checked the boxes of ensuring women and minorities are represented on the committee, but they fail miserably in geographic representation as there is a huge East Coast urban bias, which parallels the mainstream / corporate media - which is why they got the 2016 presidential race so wrong. And the committee does even worse when it comes to socio-economic representation, as the committee members appear to be middle / upper middle class people, or as they say in France – petite bourgeoisie.
Yes the Pulitzer Committee is ethnically and gender correct - but in the 21st century modern day world where socio-economic class has become one of the fault lines and at least as important a lens through which to see the world – the composition of the Pulitzer Committee is oh, so demographically out of touch.
In fact the committee and its corporate alumni friends are so disconnected from the American masses, that I'm not sure they even really realize it.
Pulitzers: Rigged System & Trump-Style, Self-Congratulatory News Awards?
The result of a skewed representation on the Pulitzer Committee, is that over half of the Pulitzer Awards this past year [about 60% of the awards - 8 of 14] went to news organizations that were represented on the Committee by one of their alumni. I can't help but see parallels to Donald Trump's awards to himself. Are they really any better?
I. Corrupt Use of the Media: NY Daily News & the Queens Library
In 2015, I submitted for consideration a series of reports I published regarding how it appeared the Billionaire Real Estate Developer and Publisher of the NY Daily News was abusing the power the press, in tandem with two local NYC pols, to oust the President and Board of the non-profit Queens Library. Based on circumstantial evidence, it appeared to be an attempt to take control of the non-profit organization [which they did] and it appeared to be an attempt to start monetizing the prime real estate upon which the Queens Library branches stood … as the Brooklyn Library was in the process of doing.
In the Fall of 2016 the Queens Library President won an out of court settlement sum of $7 million [reportedly] and was not found guilty of any of the allegations made by the pols and NY Daily News, following investigations by the FBI, the NYC Department of Investigations, and an intensive year-long audit by NYC Comptroller Scott Stringer's Office [he was one of the pols and Queens Borough President Melinda Katz was the other].
I was not recognized by the Pulitzer Committee for carving out an independent narrative which captured how Mortimer Zuckerman appeared to be misusing the power of the press, perhaps because at the time I submitted the story, it was unclear whether the President and Board were actually innocent of the allegations and innuendo put forth by the NY Daily News. Prior to doing this series, which I considered Pulitzer-worthy journalism [even the NY Times got it wrong by essentially blessing the NY Daily News narrative], I had never considered competing for a Pulitzer Prize. Until three years ago, for the most part a Pulitzer Prize meant nothing to me.
II. Corrupt Use of the Media by Rupert Murdoch: Attacking Mayor de Blasio & the 2016 Presidential Campaign
Rupert Murdoch's Fox News, Wall St Journal and NY Post replaced Mortimer Zuckerman's NY Daily News as the central figures of the second series I began in 2016 that I submitted for consideration to the Pulitzer Committee last year [2017]. In this series I took an unprecedented deep dive into four decades of Rupert Murdoch's past, digging up material from around the globe [primarily Australia and Britain] and here at home, where I unearthed a whole cesspool of circumstantial and hard evidence demonstrating that Murdoch uses his media outlets to promote pols, who then appear to favor him with executive rulings and legislative changes, while attacking and undermining those pols who do not.
As in my 2015 awards submission, I was reporting a narrative that ran ahead of the public's awareness, as writing about Murdoch's use of his media properties as propaganda outlets in 2016 [submitted in early 2017] may have seemed a bit harsh.
The Corporate / Mainstream Media is Finally Catching On
But here we are one year later and today calling Fox News, the Wall Street Journal or the NY Post Murdoch propaganda outlets doesn't seem harsh at all. In fact the Washington Post, New York Times and late night comedy shows [which have become, in part, political satire] are doing the same. So why the change?
No doubt in part because Trump is now president and Murdoch's 'news' outlets have reached a new level of shrill in defending him. But also in part because I published a decades-long database of information cataloguing what seems to be Murdoch's abuses and uses of his outlets as propaganda machines. This abuse of the power of the press appears to have greatly enriched him with tax breaks, favorable government rulings and legislative changes.
In my reports I cite reliable and verifiable sources, which the other media outlets can use to verify my narrative, and thus it enables them to get legal clearance within their own corporate organizations, and perhaps most importantly giving them the confidence to know they are telling the truth about individual events that fit into a lifelong pattern.
Last year I showed how nearly every major news organization was surfing on my sites. Since I began these stories just over a year and a half ago, over 15,000 visitors have clicked into them, and likely over (a) hundred(s) of thousands have been exposed to the story introductions which I post when the stories break on my four sites. For what one colleague of mine called stories with a narrow appeal, these stories have received an enormous level of public interest. Part of that interest was likely generated by the graphics I include, which I call the tabloidization or sensationalism of the truth.
My Regard for the Pulitzer Prize has Diminished Significantly
This year I decided to take a closer look at the Pulitzer Prize Committee and their work. What I found led me to question whether the Pulitzer Prize Awards have any meaning anymore – or whether they have devolved into some sort of pseudo news awards process.
The Committee's choices as exemplified by the two examples below, have to be in part why the Pulitzer Prizes get so little public press, in spite of the fact that the Pulitzers are media awards. I have come to the conclusion that they get little press because they don't actually DO anything – because the committee recognizes corporate sycophants publishing dribble about nothing meaningful - while failing to bring recognition to journalists who are NOT members of Pulitzer Prize Committee alumni organizations and the nationally branded media - who put in the hard work, make the economic sacrifices, and go to great lengths to inform the public about some of the most important issues of the day.
A. Pulitzer Prize for Political Press Releases Published as Editorials goes to Peggy Noonan of the WSJ
The committee's award to Peggy Noonan, Reagan's former Speech Writer and currently a paid contributor on Rupert Murdoch's Wall Street Journal, made me gag. Her Pulitzer Prize winning pieces were the dribble of a corporate press release, fashioned as an editorial series.
Yet on the Pulitzer Prize website you tell the world, that Peggy rose,
"… to the moment with beautifully rendered columns that connected readers to the shared virtues of Americans during one of the nation's most divisive political campaigns …"
And yet a year later the headline in a November 1, 2017 Vanity Fair story reads,
"A Different Level of Crazy": Is Civil War Breaking out in the Wall Street Journal over the Editorial Board's Coverage of Mueller?"
Yes, Peggy's work was so meaningless, that it didn't even have an impact on the people working in the offices next to hers. If the committee were stock pickers, not story pickers, they'd be out of a job by now.
It's worth noting that Peggy Noonan works for Rupert Murdoch's Wall Street Journal, as it has been controlled by Rupert Murdoch since it was acquired in 2007.
B. Pulitzer Prize for Ideological Rationalization goes to WSJ Paul Gigot
The Committee awarded Paul Gigot of the Wall St. Journal with a Pulitzer in 2000 for his editorials surrounding the presidential campaign of that year. In Paul's Pulitzer Prize winning editorials he advised Republicans to wait to coronate George W. Bush until after he won the primaries. Again I found this series to consist of meaningless dribble that one could easily pick up at one of the local watering holes. But today this is what the Pulitizer Committee recognizes as Pulitzer worthy work – neither persuasive nor insightful.
Since Paul's Pulitzer Prize win, he has gone on to become the current Wall St Journal Editorial Page Editor where he's been accused of leading a 'fatwa' against Mitt Romney's 2012 presidential bid, failing to make important disclosures in the Op Ed section regarding Karl Rove's ties to Republican fundraisers, and most disturbing of all - of suppressing a story about Trump's mob ties shortly before the November 2016 presidential election. A December 20, 2017 Vanity Fair story is headlined,
"Wall Street Journal Killed Editorial on Trump's Mob Ties"
I have to congratulate the Pulitzer Committee - you really know how to pick 'em. Incidentally, Paul was a senior reporter, while I was the junior editor, of the Abbott Pennings Lance in DePere, Wisconsin back in the early 1970's. If I recall correctly he was a rabid Nixon backer [this was around the time of the Watergate scandal] and it appears he hasn't changed a bit.
Pulitzer Prize Awards: Is The New Key Criteria Who You Know, Not What You Know?
Thus it appears that to win a Pulitzer Prize, it's more important to be associated with a large branded media outlet, and especially a Pulitzer Committee member alumni company, than it is to devote yourself to truly outstanding journalism.
Pulitzer Prize Awards: Out with the Old Criteria?
Have the days of Peter Dunne's mantra for journalists to,
"comfort the afflicted [and to] afflict the comfortable"
ended at the Pulitzer Prize Committee?
The committee needs to know that they are part of the problem. And for the most part, that is why I am likely making this my last submission – because I want the committee to know what they really look like to anyone who bothers to do their homework.
Modern Day Journalism: What You Reap Is What You Sow
So, where we are today in American journalism? Few of the reporters seem to do anything bordering on serious study of the important issues confronting the nation. They look like a pack of poodle weenies nipping at the heels of the Great Dane [Trump] as he kicks them away when they become too much of a nuisance, or barks loudly to scare them away when they truly annoy him.
What You've Sewn Are a Bunch of Empty Suits
Why have media companies and journalists descended in the eyes of the public? Because modern day reporters represent a socio-demographic group very much like the committee. They appear risk averse in their reporting, appear to have attended the same types of schools, and regardless of ethnicity and gender - they appear to be largely from the same socio-economic class - a class that is increasingly disconnected from the working, middle and lower classes. As mentioned before that's why literally ALL of the corporate media outlets missed the election of 2016. Only one California pollster and filmmaker Michael Moore did not.
What makes the Pulitzer Prize Committee's performance even more pathetic is that the committee evaluates stories and journalists AFTER the year has ended.
American News Organizations are Regurgitating Gossip NOT providing REAL NEWS
The corporate media and journalists that the committee patronizes with their awards have lost their way. They spend far more time regurgitating and discussing Trump tweets, than they do anything else.
Journalists are known to be lazy and few of them have done the research required to publish reports on important issues of the day, even though so much of the information lies at their fingertips.
Here's a Small Sample of the Real News Largely NOT REPORTED this Past Year.
With all of the Trump publicized deregulation this past year, how many stories have you seen that describes, details or analyzes the impact?
Trump's tweet storms attacking Kim Jong-un have been most thoroughly covered. But what there hasn't been much coverage of has been China expanding its sphere of influence in the South China Sea.
Where are the stories regarding Trump's missteps with the Koreas, which have the U.S. left out of a potential Korean peninsula relations warming?
Trump campaigned as a fiscal Conservative, yet pushed through a tax cut that increases America's national debt by over $1 trillion, at a time when the nation's economy is adding jobs and increasing wages.
Trump's Tax Cut was the part of the beginning of a new American Oligarchy that steals wealth from America's children. The Trump Tax Cut funding comes from debt shifted onto future generations and the immediate wealth benefits skew greatly to the richest of us all.
I could go on, but please consider one last issue which has received less press than any single major Trump tweet storm this past year. Why hasn't anyone in the media publicized the First Amendment atrocities going on at the FCC under Ajit Pai [whose name is pronounced 'a shit pie' by detractors]? The entire nation's online privacy rights were rescinded, Net Neutrality was overturned, and there's been a huge rollback of ownership limits, and likely new permissiveness in media mergers.

The public has traded stories about these important issues in exchange for increasing our knowledge about Trump's love of cheeseburgers, NFL kneeling, Trump's bedtime, the revolving door at the White House, Ivanka's weird relationship with her father, Melania's hand slapping and so forth.
Repercussions of the Ongoing Degradation of the Fourth Estate
The consolidation of the American media [six companies control 80% plus versus 50 companies controlling the same amount in the 1980's] is collapsing our nation's ability to entertain real diversity and an honest discussion of the important issues and elected leaders that we need as a nation. And this shrinking of media ownership is like Orwell's Newsspeak, a collapse of our ability to understand phenomena, learn new things and evolve as a society. It debases the conversation, enabling only a few – like Rupert Murdoch and Mortimer Zuckerman – to be heard.
Having a First Amendment right is meaningless if only a few people own the mass media.
This critical transition into darkness is going on right now, in front of our very eyes. And you – the Pulitzer Committee – are one of the primary contributors to the problem because you are awarding prizes to rats in the media factories for their meaningless mental masturbations.
Edmund Burke, a 17th century Irish English Parliamentarian said,
"All that evil needs to succeed is for enough good [wo]men to do nothing."
So go ahead. Do nothing.
I am trying to do something, which is why – if you don't help me make this narrative known this year - I won't be submitting any more of my work for your review ever again.
Go ahead. Laugh. But it's not funny.
Sincerely,
Michael Wood
Author - Rupert Murdoch and the Rise of the 21st Century Propaganda Press
---
The Road Ahead 2018
A Few Axioms To Keep In Mind Throughout The New Year
January 2, 2018 / New York City Neighborhoods / New York City Holidays / Gotham Buzz NYC.
For many of us, yesterday started the beginning of the new year.
I used to make new years resolutions that generally lasted a few days or few weeks. Over time I've given that up and have focused on a few guiding principles that I work toward throughout the year, every year.
1. The first guidepost is to keep things as simple as possible by letting things go, so I can change and evolve who I am. Over time it's important to learn to let go of the past which includes letting many of the people, projects and things - that were once so meaningful and relevant - fade away with time. This process involves discarding much of what one collects, in order to open up life to make room for new possibilities.
2. The second guidepost is to take care of the vessel that carries one's being - meaning taking care of the body because it's the only one we'll ever get, and it has to last an entire lifetime. This means consuming the foods that will enable the body to function properly and ward off disease, while recognizing that satisfying the mind is important too, as it's a part of the body. There are three elements to this guideline.
a _ Try to maximize consumption of natural foods while managing / minimalizing consumption of the delicious processed foods that come in packages. Read package container nutrition labels which indicate the amount of fat, sugar, sodium and cholesterol consumed per serving. The balance of natural and processed foods will shift depending on what's going on in life.
b _ Reduce consumption of toxins by first paying attention to the quantities consumed of them, and then by substituting the toxins with healthier choices. For example dilute a soft drink with seltzer water [cuts sugar], or swap in a lemonade for a beer [cuts alcohol], or swap in pretzels for potato chips [cuts salt and fat]. Over the years these little substitutions can add up to some fair measure of weight loss, and can aid in maintaining generally good health. But it's also important not to deprive oneself, too much, of some of the simple pleasures in life that keep one going - because my experience has been that whenever I'm too draconian, there's a subconscious rebellion, and the program doesn't work.
c _ The third element of this guidepost is to try to walk and bike whenever possible. It's a good way to kill two birds with one stone as it enables getting somewhere, while also getting some exercise. And be sure to carve out enough time each night, for a proper rest.
3. The third guidepost is to try to move your life in the direction of your interests. This will likely take a great many years, as well as needing to make a good number of economic and other trade offs. But if successful, one can then spend most of their time doing the things that totally engage them. It's said that "when someone is doing something they truly love, they'll never have to work another day in their life."
4. And the fourth guidepost is to keep on learning, because "luck is when preparation meets opportunity". So the more you learn, and the more experience you get, the better prepared you'll be ... come what may.
May your new year be filled with promise and possibilities. Best wishes for a happy and successful 2018.
---
Trump Tax Plan - Super Rich Bilk Billions from America's Babies
Trump Tax Plan: A Morally Bankrupt President's Gift?
Are Billionaires Trump & Murdoch Bilking America's Unborn Babies?
Updated 12/26/17 _ December 19, 2017 / New York City Neighborhoods / New York City Business / News Analysis & Opinion / Gotham Buzz NYC.
Like many of you, I have been watching the Trump Tax plan make its way through Congress. While Trump and his cohorts were whipping together the tax package, I was doing research on the possible implications of some of their tax policy proposals.
According to an October 20, 2017 PolitiFact report [based on the plan at that time, which has since been modified],
"... in the first year of changes, the top 1 percent are projected to draw a little over half the tax savings. The threshold of 80 percent going to the top 1 percent is projected for the tenth year."
While directionally this statement is likely to hold [meaning the plan is biased toward the rich], the exact numbers as to how biased the Trump Tax Plan will be for the wealthy - based on the final bill - remains to be calculated.
In this report we look at a number of tax cuts included in the final bill including repatriation of overseas profits, reduction of the estate tax, reduction of the corporate tax and the blue vs red state tax increase. We include a review questioning why the Trump Administration is pushing this deficit expanding / debt increasing fiscal stimulus package - when we're in a full employment economy with rising wages. We also include how the Trump Tax Cut Plan has been treated propagandistically by Rupert Murdoch's media outlets, as he appears to personally and corporately benefit immensely from the tax cuts.
But before we begin, we take you on a quick review at some key characteristics and prior dealings of the man behind the plan – Donald J. Trump.
I. Character & The Art of the Deal - Or Steal?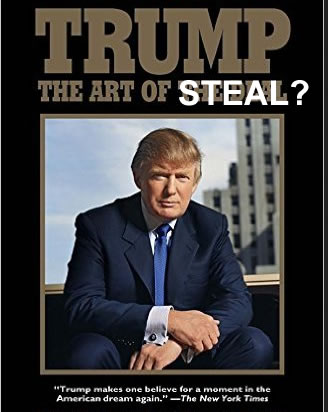 In Donald Trump's book The Art of the Deal, he says,
"You can't con people, at least not for long. You can create excitement, you can do wonderful promotion and get all kinds of press, and you can throw in a little hyperbole. But if you don't deliver the goods, people will eventually catch on …"
Is the Trump Tax Plan a Tax Boondoggle for Billionaires?
Based on recent polls regarding the Trump Tax Plan, it appears the American people are of the opinion that this a very bad deal for them and their children. Perhaps this is why the Donald appears to be rushing through what appears to be one of the greatest tax billionaire boondoggles in modern history, while telling the public that this tax plan isn't good for him ... or his super rich family and friends.
Always Pay Attention to a Person's Integrity or Lack Thereof
To listen to the Donald, you'd think he has always been a champion, if not a living martyr, of the middle and working classes of America. But the facts don't always square with the Donald's narratives. And the Donald, seems never to admit blame. That's why he has continually lashed out at the media who inform the public about him – calling all, but Rupert Murdoch's vast mass manipulation media [Fox News, Wall Street Journal & NY Post], Fake News. Trump and Murdoch live in the Bizarro World, where so much of what they say appears to be the truth turned upside down.
In the graphic at right, I modified Rupert Murdoch's Fox News website front page celebrating the passage of Trump Tax Plan - in which it appears that the bulk of the breaks will go to the super-rich, including the multi-billionaire Murdoch, who is a global propagandist and powerful Trump supporter. I call this Murdoch's propaganda payout and it appears to be HUGE.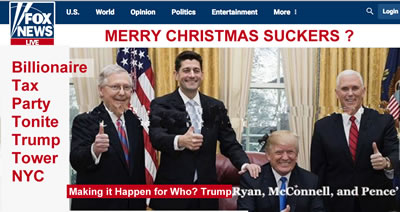 Law and Crime, a web magazine funded in part by A & E Network, states in a February 16, 2016 report that Trump was named in at least 169 Federal Lawsuits. They went on to say that,
"The federal lawsuits that we reviewed date back to 1983 and involve everything from business disputes, antitrust claims and, more recently, accusations that Trump's campaign statements are discriminatory against minorities. Some of the cases have been resolved, some were dismissed as frivolous, and others were privately settled. He's been sued by celebrities, personal assistants, prisoners, people in mental hospitals, unions, and wealthy businessmen. Of course, Donald Trump has also done his fair share of suing as well."
Slippery Donald – A Sales Promoter Who Must be Watched Carefully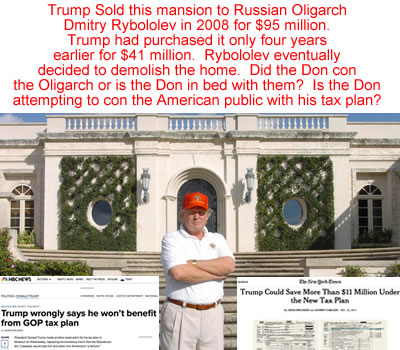 Watching Trump promote and sell his tax plan to the American public reminded me of a report about how the Donald sold a Palm Beach mansion - Maison de L'Amitie at 515 North Country Road - to Russian Oligarch Dmitry Rybolovlev in 2009. In a July 28, 2016 story in Politico, reporter Jose Lambiet says of the deal,
"This is what he [Trump] does with everything. He puts a little veneer on things and he doubles the price, and people buy it," … "He's [Trump] all smoke and mirrors—and that house was the proof."
Dmitry, the Russian Oligarch, paid $95 million for what Trump had paid only $41 million just four years earlier. Dmitry is now reportedly planning to demolish the mansion.
The question is whether the Donald snuck one by the Russian Oligarch, or whether the Donald is in cahoots with the Russian Oligarchs, and this was an indication of such?
The graphic / photo at right shows Trump standing in front of the Maison de L'Amitie. In the lower left I added his claim that he wouldn't benefit from the Trump Tax Plan as reported by NBC News on November 29, 2017; while in the lower right is a December 22, 2017 New York Times analysis indicating that the Trump Tax Cuts might enable him to take advantage of $11 million in tax breaks.
II. Trump & The Russian Oligarchs
Are These Birds of a Feather Flocking Together?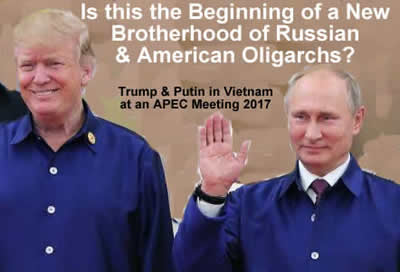 A July 13, 2017 report by the New Republic informs us that,
"In 2015, the Taj Mahal [controlled by Donald J. Trump] was fined $10 million—the highest penalty ever levied by the feds against a casino [in years] - and [they] admitted to having "willfully violated" anti-money-laundering regulations."
The report references the book, Red Mafiya, about the rise of the Russian mob in America, by investigative reporter Robert I. Friedman. It appears that the laundered money came from the Russian mob, and further in the story we learn a bit more about what appear to be the Donald's shadowy business dealings with Russia.
"In April 2013, a little more than two years before Trump rode the escalator to the ground floor of Trump Tower to kick off his presidential campaign, police burst into Unit 63A of the high-rise and rounded up 29 suspects in two gambling rings. The operation, which prosecutors called "the world's largest sports book," was run out of condos in TrumpTower—including the entire fifty-first floor of the building. In addition, unit 63A—acondo directly below one owned by Trump—served as the headquarters for a "sophisticated money-laundering scheme" that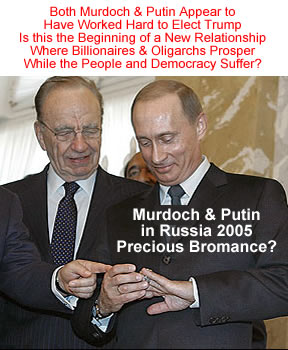 moved an estimated $100 million outof the former Soviet Union, through shell companies in Cyprus, and into investments in the United States. The entire operation, prosecutors say, was working under the protection of Alimzhan Tokhtakhounov, whom the FBI identified as a top Russian vor closely allied with Semion Mogilevich. In a single two-month stretch, according to the federal indictment, the money launderers paid Tokhtakhounov $10 million.
Tokhtakhounov, who had been indicted a decade earlier for conspiring to fix the ice-skating competition at the 2002 Winter Olympics, was the only suspect to elude arrest. For the next seven months, the Russian crime boss fell off the radar of Interpol, which had issued a red alert. Then, in November 2013, he suddenly appeared live on international television—sitting in the audience at the Miss Universe pageant in Moscow. Tokhtakhounov was in the VIP section, just a few seats away from the pageant owner, Donald Trump.
After the pageant, Trump bragged about all the powerful Russians who had turned out that night, just to see him. "Almost all of the oligarchs were in the room," he told Real Estate Weekly."
A Tax Plan for the new American Oligarchs?
The U.S. has a Full Employment Economy & Wages are Rising
So Why is Trump Promoting Fiscal Stimulus in a Full Employment Economy?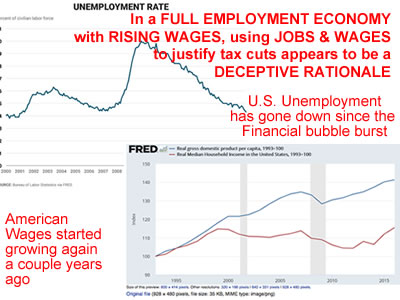 Over the past few years the economy has been steadily adding new jobs, and wages have been rising. The unemployment rate is 4.1%, which means the U.S. is operating in a full employment economy. A full employment economy is defined as one where everyone who wants a job, has one, except those who are in transition. Normal transitioning is generally estimated at 5% of those who are employed. These transitioning unemployed workers are those workers who are making the change from school to jobs or vice versa, switching jobs or careers, moving from one locale to another, or making other relevant job or life changes such as illnesses etc..
So given we're in a full employment economy where wages are rising, why are we incurring over $1 trillion in new debt to give the richest people in the nation / world tax breaks? The new jobs, higher wages argument seems deceptive as it just doesn't seem to apply here.
Former NYC Mayor Bloomberg Says "This Tax Bill is a Trillion Dollar Blunder"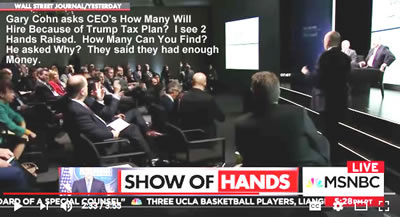 Former Republican Mayor Michael Bloomberg wrote an editorial dated December 15, 2017 on Bloomberg.com entitled "This Tax Bill is a Trillion Dollar Blunder".
In the editorial Bloomberg cites his rationale, including an anecdotal poll taken by Trump Economic Adviser Gary Cohn who on November 14, 2017 asked CEO's to raise their hands if they planned any additional hiring. In the video of the event I saw only two hands raised, and the moderator goes on to ask, 'Why weren't more hands raised?'. Go to YouTube.com and type in the search 'gary cohn asks ceos to raise hands' to see the video for yourself. The answer is that the top CEO's are sitting on trillions in cash, so a tax break isn't going to change the investment landscape for them with respect to adding jobs.
Bloomberg concluded his editorial with the following statement.
"The tax bill is an economically indefensible blunder that will harm our future."
It's also important to note that since the lows following the Great Recession of 2008 – 2009, wages have been going up between two and four percent, as measured on a quarterly basis.
---
De Blasio Wins 2nd Term by Landslide
Nationally Democrats Pick up New Jersey & Hold onto Virginia
November 8, 2017 / NYC Neighborhoods / NYC Politics / Gotham Buzz NYC.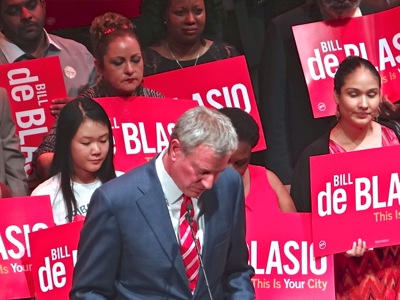 City-wide & Borough-wide Offices. Mayor de Blasio won a decisive victory against Republican challenger, Assemblywoman Nicole Malliotakis, on Tuesday by winning nearly 67% of the vote.
In fact it was a landslide for nearly all incumbent Democrats who won by comparably wide margins, including Letitia James for Public Advocate (74%), Scott Stringer for NYC Comptroller (77%), and all five Borough Presidents including Gale Brewer (Manhattan - 83%), Eric Adams (Brooklyn - 83%), Ruben Diaz (Bronx - 88%), Melinda Katz (Queens - 78%) and James Oddo (Staten Island - 75%).
Mayoral Election Results by Borough. De Blasio won four of the five boroughs by wide margins including roughly 5:1 in the Bronx, 3:1 in Manhattan and Brooklyn and approaching 2:1 in Queens. Malliotakis won her home borough of Staten Island approaching 3:1. Staten Island has a significantly smaller population than the other four boroughs as it has only between 20% and 30% the population of any of the other boroughs.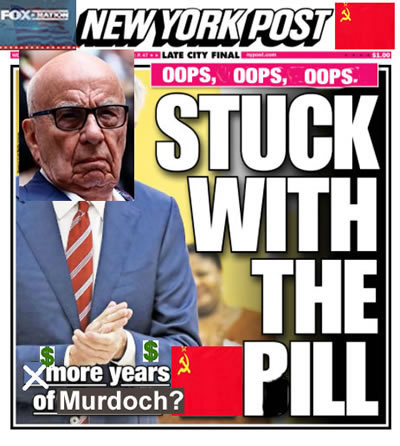 Trump Referendum & Job Performance Approval. Several pundits speculated that in a city where Democrats outnumber Republicans six to one - this was an NYC referendum on the Trump presidency. This may be so, but some mention should also be given to how well NYC is performing vis a vis other cities in terms of jobs creation, improving performance in the public schools, fiscal management and low crime rate.
Results for the Three NYS Proposals on Ballot. The first Proposal - to change the NYS Constitution - lost overwhelmingly with 83% voting NO. The second Proposal - to take away pensions of some government employees found guilty of some crimes - won overwhelmingly with 73% voting YES. And the third Proposal - to allow some 'development' in public parks won in a close vote - 52% vote YES while 48% voted NO.
New Jersey Governor Race. On the national front, newcomer Phil Murphy (D) beat Lieutenant Governor Kim Quadagno (R) in the governor race in New Jersey. Murphy received 55% of the vote while Quadagno received 43% of the vote. Murphy will replace Chris Christie (R) who has an approval rating of 19%. In exit polls, 11% said they cast their votes in support of Trump, while 32% said they cast their votes in opposition to Trump.
Virginia Governor Race. In Virginia, the latest polls were once again off significantly, predicting a tight race that wasn't. Democrat Lieutenant Governor Ralph Northam won 54% of the vote while Republican Ed Gillespie who was the former Chair of the Republican National Committee won 43% of the vote. Gillespie won the rural parts of the state, while Northam won the urban areas. Gillespie was reported to be using Trump-style campaign tactics to win the race, but from Japan, Trump distanced himself from Gillespie's loss.
We Elect Pols but Not Publishers. In the graphic at right, you can see the pill face of the unhappy Billionaire which I superimposed over the face of the Mayor. The power-hungry, media mogul's outlet had published the headline 'Stuck with the Bill' - which he published in defiance of the two-thirds of the NYC voters who came out to re-elect the Mayor. He appears to be working toward conquering the U.S. so he can make us a 'Fox Nation', like he did Australia.
We don't get to elect publishers, but every time you purchase one of his papers, or click into his TV stations or websites, you are indirectly supporting him [NY Post, Fox News, WWOR Ch9, WNYW Fox Ch5 and the WSJ]. Some of the people in his organizations do good work, but many of those he puts front and center, appear to be highly paid propagandist mouthpieces who push what appears to be his greedy, deceitful, power-grabbing agenda. The story below provides more detail.
---
Keith Rupert Murdoch &
The Rise of the 21st Century Propaganda Press
NY Post Propaganda, Fox News Distortions & NYC Elections
Will Murdoch's Propaganda Outlets Impact NYC Municipal Elections & the NYS Ballot Referendums of 2017?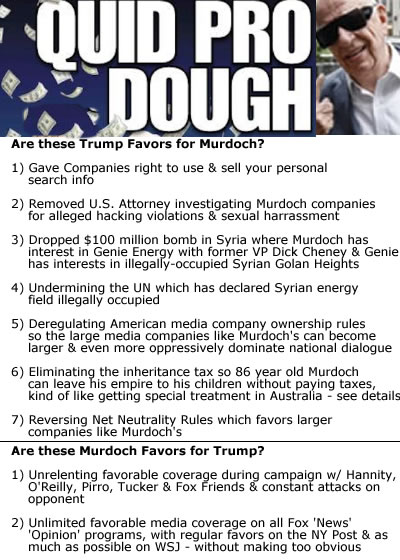 November 5, 2017 / NYC Neighborhoods / NYC Politics / News Analysis & Opinion / Gotham Buzz NYC.
How Reliable are the Polls?
On Tuesday November 7, 2017 New Yorkers have an opportunity to assert their will at the ballot box. While the polls indicate Mayor de Blasio will win re-election, it's important to recall that only a year ago, all but one of the polls forecast that Hillary Clinton would win the presidency.
Having reliable information sources is important to making good choices.
In the 2016 presidential election we saw a corruption of a lot of information that was published and videocast about the candidates, which was used in an attempt to manipulate voters' view of them - aka propaganda.
The following provides a look at the dominant NYC news information provider with an eye to how fair and accurate they have been in their reporting of NYC news. The report contains links to additional information related to this report, as well as additional information about the impending NYC Mayoral election.
Billionaire Murdoch's NY Post & Fox News Appear to have Spent the Past Couple Years Distorting NYC News
One billionaire, Keith Rupert Murdoch, controls a guesstimated 40% of the branded, local, major media outlets in New York City - including the
NY Post
Fox News Network
WWOR TV Channel 9
The Wall Street Journal
WNYW TV Channel 5
Murdoch appears to use his media outlets as one giant propaganda machine, pouring out billions of impressions around the world into unaware voters / consumers minds. The Murdoch media oftentimes appears to contain misleading, out-of-context narratives that seem intended to manipulate audiences into believing / feeling positively or negatively about politicians / government officials based on distorted reporting of allegations, sensationalizing nits and sometimes outright fictions fabricated or amplified by contributors of the Fox Fake News Factory. These impressions often enough appear to further Murdoch's insatiable appetite for money and power, by removing or promoting pols into positions where they can be used to advance Murdoch's profit-seeking interests.
---
---
Murdoch also controls a number of national publications he's acquired over the past decade or so, such as Barrons and National Geographic. Oftentimes, if not always, it appears that Murdoch changes editorial staff and reporting standards soon after Murdoch acquisitions have been completed. Generally those changes appear to change what was once a respected news organization into what seems to be a Murdoch propaganda machine. We've been reporting on what appears to be Rupert Murdoch's nefarious use and abuse of his media outlets in a series we've entitled Murdoch Media Madness / Fox Fake News / NY Post propaganda.
---
NYC Politics & Government
NYC Mayoral Debates Fall 2017
Dietl Effervesces, Malliotakis Attacks & de Blasio Defends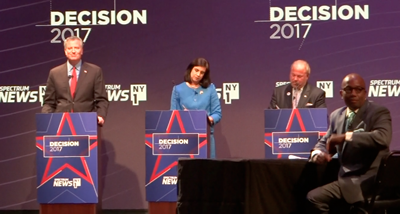 October 15, 2017 / Upper West Side Neighborhood UWS / Queens Politics NYC / News Analysis & Opinion / Gotham Buzz NYC.
I attended the Mayoral Debate at Symphony Space on Tuesday, October 10th, where former NYC Detective [1970 – 1985] and security firm businessman Bo Dietl [Independent], New York State Assemblywoman Nicole Malliotakis [Republican Staten Island] and Mayor Bill de Blasio [Democrat] squared off for one of two general election debates. The debates are sponsored by the New York Campaign Finance Board and are a requirement for those candidates who receive matching funds.
NYC Mayoral Debates - Opening Statements
Each candidate came out and made opening statements. Bo Dietl talked about his time working the streets as a policeman in the 1970's and 1980's and how since then he has run a successful security firm that also employs minorities. He described his two opponents as Column A and Column B candidates.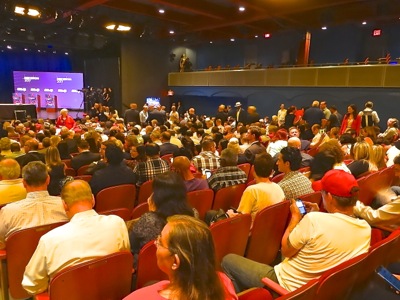 Nicole Malliotakis told us how she is the first member of her family to obtain a college degree and a Masters of Business Administration and that she is the 'American Dream'. She went on to say she would fix our schools, transit system and homelessness.
Bill de Blasio said that his two opponents were both right wing Republicans and that he was the only one that would stand up to Trump. He went on to say that crime is down, test scores at NYC public schools are up, but that there's more to do and he needs New Yorkers' help to continue making progress.
There was a small, but very boisterous minority of rude and disruptive people in the audience, who began their noisy tirades with the opening statements. It wasn't until near the end of the program – that one of [several of] the loudest shouters and screamers was finally escorted out.
Click here for a fairly full recount of the NYC Mayoral Debates with Malliotakis, Dietl & de Blasio.
---
Table of Silence Transcends 911
Lincoln Center Dance Commemoration Transcends Hate through Love
September 11, 2017 / Upper West Side Neighborhood / Modern Dance Manhattan / Manhattan Buzz NYC.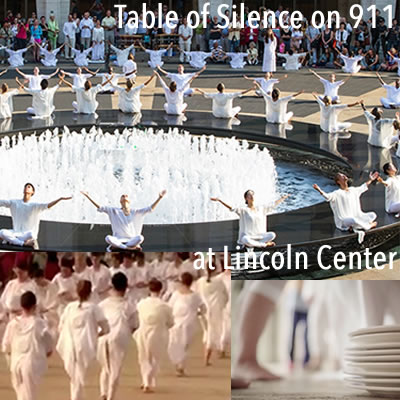 This morning at 8.15 am over one hundred dancers began a spiritual commemoration of the events of 911 with a modern dance performance in the main plaza at Lincoln Center on the Upper West Side. This was the seventh year of the performance, and its meaning seems to grow - rather than diminish - with time. It's about the classic and timeless struggle, between giving into hate, or striving to love.
The dancers were all dressed in white, and they created a resplendent symmetry mimicking nature's own. The performance was accompanied by a bit of minimalist music - originating from a beating drum, the air passing through a conch shell, and the human vocal cords.
The dancers transformed the plaza at Lincoln Center into a table, with the bountiful water fountain in the middle. Plates appeared, signifying the sharing of a feast ... a spiritual feast ... a prayer for all humanity.
We feel a heavenly sharing of being together, in a single place, at a single time. It's a solemn place, a sagely peace, a peace with each other, a peace within, and a peace with all the world ... even as the world continues to swirl around us, as does the NYC traffic ... but we remain centered ... as one.
At exactly 8.46 am the performance stops. All is still in Lincoln Center Plaza as we observe a minute of silence together. It's a silence within, as we are surrounded by the ambient noise of the city during rush hour. Sixteen years ago at 8.46 am the second of two planes struck the World Trade Center wreaking havoc. Taking lives. Creating chaos.
Cleansed of hate and vengeance - we depart to go on with our days. We have defeated the terrorists, by not giving into their desire for an endless cycle of violence and hate.
---
NYC Arts & Culture
Comic Con at Javits Center
12th Annual Comic Con Attracts Record Attendance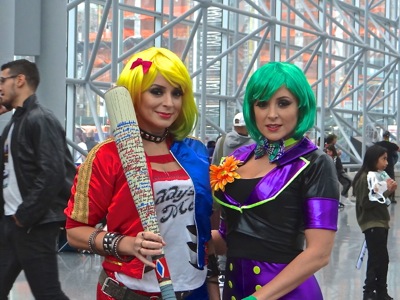 October 7, 2017 / NYC Neighborhoods & Boroughs / Holidays in NYC / Gotham Buzz NYC.
I attended the twelfth annual Comic Con Javits Center in Midtown Manhattan on Sunday. The weekend long event starts Thursday and celebrates the fictional comic characters primarily created in the U.S.
Comic Con has become a sort of pre-Halloween celebration, wherein families with kids and adults who continue to nurture the creative child inside, come out in full bloom as you can see in the photo at right depicting a couple of super heroines.
Tickets generally sell out before the event, so you should start looking in late August or early September. The show is generally the first weekend in October at the Javits Center. In 2017 185,000 people reportedly attended the show.
---
NYC Parks & Health
The Solar Eclipse of 2017 in NYC
The Solar Eclipse: A Shared American Communal Experience
August 21, 2017 / Queens Neighborhoods / Manhattan Neighborhoods / Gotham Buzz NYC.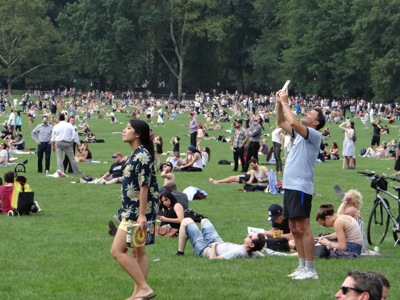 I set about to experience the solar eclipse of 2017, departing for Manhattan at about 1.30 – a bit after the eclipse was to begin. As I made my way to the subway, I met a woman who was heading to Hunters Point South Park to do the same. She offered me the use of her eclipse glasses, which I examined but it was far to early to really use.
The eclipse glasses were opaque and I couldn't see through them. Apparently they only work when you're looking at the sun. The glasses this woman had were sponsored by Cisco Systems through a science camp in Rochester, NY. Consumers were advised to be careful about which eclipse glasses to use, as apparently some would not filter out the harmful, eye-damaging rays of the sun. One eclipse audience member told me that the glasses were being sold online – ten for $100. I'll have more about the protective glasses a bit later as I used the glasses to take what I would call 'meaningful' photos.
There were many reports published about how one can damage their eyes by looking directly at the sun. The Washington Post noted that the damage can begin in as little as one and a half minutes, and that looking at the sun in a sequence of little peaks at a time, may not prevent you from doing real damage. It's worth noting that one can also damage their camera by pointing it directly at the sun for a long period of time. The New York Times noted that the longest the full eclipse will last, is less than three minutes, and that in many places in America it will last less than a minute.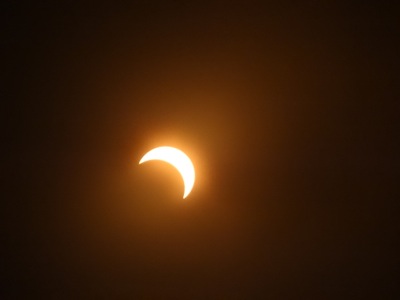 Historically, it's worth noting that the moon eclipsing the sun happens every 18 months, but most eclipses happen over the oceans which cover about two thirds of the planet earth surface. According to the New York Times, the last time America experienced a full solar eclipse was in 1918, a full 99 years ago, so few if any who are old enough to experience the eclipse this time, are likely to see it again.
The eclipse began along the west coast in Oregon at about 1.15 pm, the peak was at about 2.45 pm and the final was at about 4 pm. I'll note a few of my times as we run through the rest of this report.
Anyhow, I arrived at Lexington and 77th Street about 2 pm, about 45 minutes before the peak of the eclipse. A few folks were standing in the street looking up, so I shot a photo of the sun at that time, but it didn't look like much at the blinding rays of light blocked any real photo clarity.
Rest of story with plenty more photos coming later Tuesday 8/22.
---
NYC Real Estate & Transportation
Update: LaGuardia Airport Development Project
First Phase Moving Along with Second & Third Phases About to Begin
April 24, 2017 / Astoria Neighborhood / Queens Real Estate / Gotham Buzz NYC.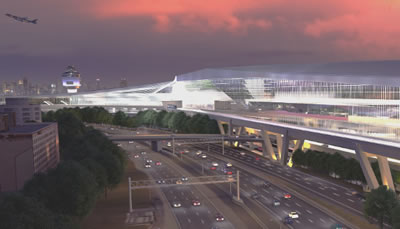 I attended a Community Board One meeting at the Astoria World Manor on Wednesday, April 19th. People representing the LaGuardia Airport development project were scheduled to provide the community with an update regarding several of the multi-billion dollar renovation projects associated with LaGuardia Airport, that are either currently in the works or nearing the end of the planning process.
The presentation was split into three parts: 1) LaGuardia Airport development project construction updates, 2) traffic mitigation efforts and 3) community outreach including job opportunities related to the projects.
Click here to read our report on the LaGuardia Airport development project & expansion, related job opportunities, its possible impact on travel times to the airport and the public hearing details on May 3rd, 2017 in Flushing. We have also included a small bit of history about the airport and the fight over the property and development in Flushing Meadows Corona Park. The graphic at right was created as part of the LaGuardia Airport development project.
---
NYC Business & Finance
You Decide: President to Address Nation
Proposing $54 Billion Defense Budget Increase - Why?
February 28, 2017 / NYC Government / NYC Business / News Analysis & Opinion / Gotham Buzz NYC.
Tonight President Trump will address the nation regarding his plans for the U.S. One of the notable previews given by sources within the Administration is that Trump plans to increase Defense spending by $54 billion. I decided to take a quick look at some of the economic statistics to see if that appears warranted, especially vis a vis other priorities.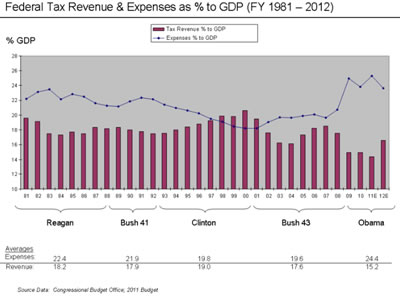 U.S. Government Deficits
The first chart [Congressional Budget Office] shows that the U.S. government has been spending more than it has been taking in. The gap widened in the wake of the September 2008 near financial meltdown, as tax receipts fell and fiscal stimulus [government spending] was needed to keep the economy going.
The higher levels of debt continued through the first term of the Obama Administration and then fell sharply back to Bush II era levels during the second term of the Obama Administration.
The net result is that near financial meltdown resulted in higher government deficits, which added to the overall U.S. government debt.
U.S. Government Debt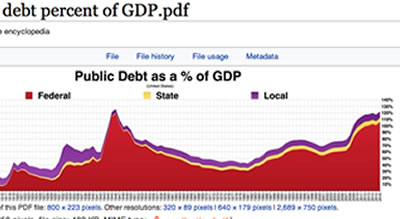 The second chart [Wikipedia] shows U.S. government debt relative to U.S. GDP. GDP is the acronym for Gross Domestic Product, which is a measure of the nation's economic output in goods and services.
The chart shows that the overall U.S. government debt relative to GDP rose significantly in the wake of the 2008 near financial meltdown. Currently the U.S. debt level is equal to about an entire year of U.S. economic output.
Many economists think that the U.S. has an unhealthy level of debt as it doesn't provide much slack for unforseen circumstances, like the 2008 near financial meltdown or prolonged involvement addressing international crises.
U.S. Defense Spending One Third of Global Total
About Equal to the Next 8 Nations Combined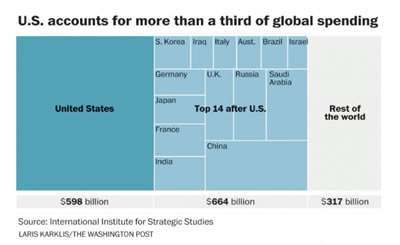 Currently the U.S. appears to overspend on military operations vis a vis the rest of the world. The U.S. military accounts for one third of defense spending in the world and its budget is roughly equal to the military budgets of the next EIGHT leading defense spenders in the world.
You can see this in the chart at right which was created by the Institute for Strategic Studies and published in the Washington Post.
Click here to read the rest of our report on how out of balance U.S. Defense Spending in America is compromising the nation's economic future.
---
NYC Neighborhoods or Issues
NYC Crime Continues To Drop, Breaking Records
Mayor de Blasio & NYPD Discuss City Safety & Ongoing Improvements
February 7, 2017 / NYC Neighborhoods / NYC Government / Gotham Buzz NYC.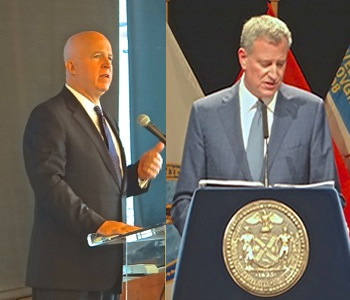 This just came in on the heels of our coverage of the Public Safety discussion below. Mayor de Blasio and NY Police Commissioner O'Neill spoke in the Bronx regarding ongoing efforts and results in improving safety in the city. The following are some of the crime statistics noted in their meeting taken directly out of a press release sent by them.
 
Chief of Crime Control Strategies Dermot Shea, NYPD: Thank you, Mr. Mayor. Good afternoon, everyone. As you've heard, we have begun a strong start to 2017 in terms of overall crime reduction. Strategies that have been put in place to address repeat offenders, illegal gun possession and gangs are having the desired effect. We're building on the momentum of the last few years.
So, some of the highlights for crime statistics from this January – overall index crime is down 0.2 percent for the month of January. When you carry it over to this morning, we are now down 2.7 percent in overall index crime in New York City.
To note – with the overall index crime, January marks the tenth consecutive month of reduced index crime. That's the momentum we've been talking about. Currently, four out of five boroughs in New York City – all but Queens – are down to start the year.
Homicides – we recorded 20 homicides in January. That's down two from 22. That 20, as the Mayor alluded to, is the lowest January that we have ever recorded going back a minimum into the 1960s.
Shooting incidents – down 1.7 percent in January. Last January we hit the modern mark with 59 shooting incidents. We came in with 58 this January.
Talking about momentum again – nine of the last 13 months we've had a reduction in shooting incidents. Nine of the last 13.
Three months in a row we've had a reduction in shooting incidents in New York City. We have now, when you look at New York City as a whole, we now have 24-hour periods where we do not record a shooting incident in New York City. That kind of thinking was impossible in the not too distant past.
This is the new normal. We want to build on it and we feel that we will build on it but there's still plenty of work to do.
Stabbings and slashings for January – down 7.2 percent.
Robberies – down 7.5 percent. Lowest January robbery number we've seen.
Felony assaults in New York City – down 5.4 percent.
Burglaries tied the lowest mark set last year.
Transit crime – down 1.4 percent.
And housing crime – not to be outdone – down 1.9 percent.
Clearly, a wide breath of crime across New York City – property and violent crime, down.
 
But there is, I alluded to, there is still work to do – three categories we saw increases in January.
Grand larceny, specifically, credit card related skimming and forging of checks – those two drove grand larcenies. And grand larceny was up for the month of January 4.7 percent.
And lastly, rounding out the crime totals – stolen vehicles which we have seen drop to unprecedented lows saw an increase of ten cars for January. So, that's 480 versus 470 – a two percent increase.
Commissioner O'Neill: Okay, thanks, Dermot. We'll take your questions.
 
Question: Do you think it's possible, really to keep driving crime down further at this point? And how could you achieve that?
O'Neill's response was yes, with some added context.
---
Hundreds of Thousands March in NYC
Women's March Appears to Approach 21st Century NYC Protest Record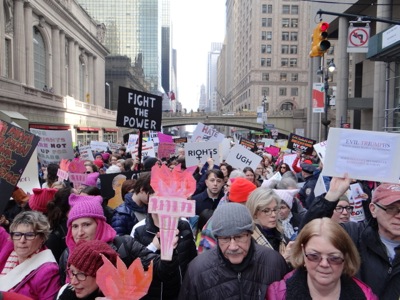 January 21, 2017 / Midtown Manhattan Neighborhoods / Manhattan Government & Politics / Manhattan Buzz NYC.
I headed into Manhattan around noon on Saturday. The #7 subway line was packed, even more than during rush hour on a weekday morning. There were protesters wearing pussy hats, bearing protest signs and placards, and generally in pretty good cheer as they headed into Manhattan for the Women's March in NYC.
I got off the subway at Grand Central Station along with the crowds of protesters, and made my way up to the 42nd Street exit. Out on the street there was a moving mass of marchers making their way down to Fifth Avenue where they would turn north to march up to Trump Tower along Fifth Avenue at 57th Street.
I have to admit I was surprised by the massive turnout. One person told me that over 50,000 people had signed up for the event on Eventbrite. But it would become obvious to me as the day wore on that the crowd had easily exceeded that number.
The event was planned to begin at 11 am in Dag Hammarskjold Plaza at Second Avenue and 47th Street. There would be a few speeches, followed by a march down Second Avenue to 42nd Street, then west to Fifth Avenue and then north up Fifth Avenue ending at Trump Tower at 57th Street. It was scheduled to end at 4 pm and waves of protesters had been choreographed to leave Dag Hammarskjold Plaza in 15 minute intervals.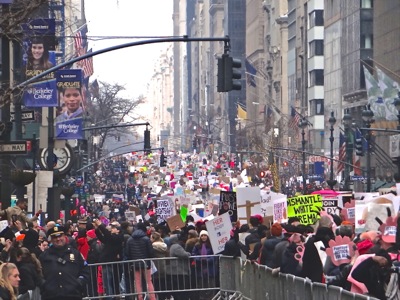 I had listened to Donald Trump's Inauguration speech the day before [Friday] and there didn't seem to be anything in there that struck me as very objectionable if one didn't read anything into it. So I kind of thought the march might be a bit premature given he'd just assumed office and hadn't really done anything yet.
I asked one woman if I had missed anything in Trump's speech, that she / others found objectionable. She told me no, he hadn't said anything objectionable, but she went on to say that she didn't believe anything he said. I asked another woman why she'd come out to protest today. She told me that she wanted to stand with other women in making a statement to Trump that they weren't going to passively stand by and allow him or the Republican Party to roll back their hard fought equal rights.
There was a festive mood throughout the day. I occasionally asked policemen keeping the peace how things were going. Many smiled and said it was going well and that they hoped it would continue that way.
I'll have more on this, including some details of how the protest morphed throughout the day, as well as a photo slide show and some video, sometime in the next week.
---
NYC Food & Restaurants
Oktoberfest on the East River
Zum Schneider Oktoberfest is a Fun, Colorful, Character Celebration
October 4, 2016 / Gramercy Park Neighborhood / Manhattan Dining & Culture / Gotham Buzz NYC.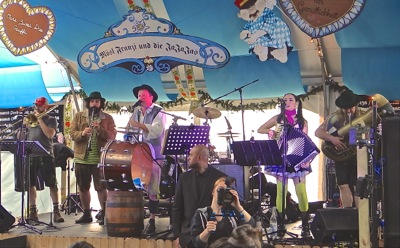 I attended the third annual Zum Schneider Oktoberfest on the East River on Sunday. The Oktoberfest celebration ended having been in operation beginning the prior weekend.
I met Sylvester, Founder of the event, who I found to be quite an interesting character. He's a musician, a restaurateur and one helluva showman based on what I saw on Sunday.
Oktoberfest began in the 19th century as a wedding celebration which was so successful, that the Bavarians made the celebration an annual event.
Between 7,000 and 8,000 people attend the event during it's ten day long stay. They are treated to a series of musical performances including some with Sylvester, sing-a-longs and dances. The food was a hearty but delicious assortment of bratwurst, chicken and pork - all of which I sampled and they were well chosen pieces of meat that had been cooked by someone who knew how to handle the meats as they were flavorful and moist.
I'll have more at a later date, including photos and maybe some video.
---
Queens Library 'Scandal' - Where was the Beef?
Galante Seeks to Clear his Name as well as the Reputations of the Queens Library & Former Sacked Trustees
How Did Katz's, Stringer's & NY Daily News' Full Year of Accusations & Innuendo Fall So Far Short in Court?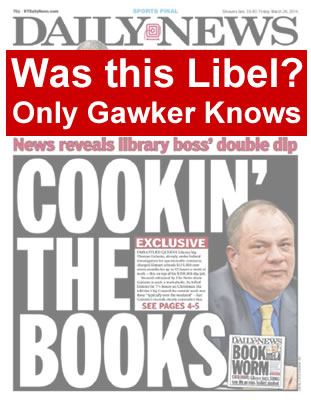 September 6, 2016 / Queens Neighborhoods / Queens Politics & Media / News Analysis & Opinion / Gotham Buzz NYC _ D.
Throughout 2014, we witnessed Billionaire Mortimer Zuckerman's NY Daily News, NYC Comptroller Scott Stringer and Queens Borough President Melinda Katz publicly attack President Thomas Galante and the Board of Trustees of the Queens Library. They appeared to individually and collectively insinuate that there was unforgivable malfeasance going on at the Queens Library.
In late January of 2014, only a day after Juan Gonzales published an EXCLUSIVE muckraking story about the Queens Library President's renovations to his office, in Mortimer Zuckerman's NY Daily News, NYC Comptroller Scott Stringer announced an audit of the Queens Library.
Juan Gonzales included in the story what I believe was leaked CONFIDENTIAL INFORMATION of the Queens Library, such as the Queens Library President's salary and other confidential employment agreements. Former trustee(s) told me they believed that this information was leaked by Queens Borough President Melinda Katz's ex-Officio Board of Trustees representative on the board, in violation of their fiduciary obligation to the Queens Library [to date this is an unproven allegation].
Katz, Stringer & Zuckerman's NY Daily News Accusations - Appear to Damage Queens Library Reputation - with a Year Long Barrage of, as yet Unproven, Allegations
Queens Borough President Melinda Katz, NYC Comptroller Scott Stringer and Mortimer Zuckerman's NY Daily News then regaled us for the rest of the year [2014] with all kinds of incredible detail about alleged wrongdoing at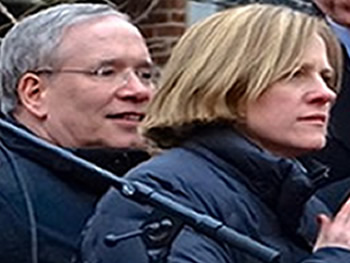 the Queens Library. Mortimer Zuckerman's NY Daily News published several editorials during the course of the year rousing Queens residents into a frenzy against Galante and the Queens Library trustees, while encouraging these two politicians / government officials to unleash their fury against the Queens Library President and Board of Trustees.
Queens Borough President Melinda Katz obliged by initiating legislation to change a state covenant with the library drafted by Andrew Carnegie over a century ago. Andrew Carnegie founded the library as part of his great philanthropic works. And NYC Comptroller Scott Stringer filed a lawsuit seeking complete access to the records of the private non-profit segment of the library, because he must not have found what he was looking for in the public portion representing 85% of the organizational budget. They appear to have done such a good job of damaging the reputation of the Queens Library, that in the following year [2015/ 2016] donations to the non-profit library fell by almost 40% or nearly $2 million.
Did NYC Comptroller Scott Stringer Break the Law & Slander Thomas Galante & the Former Queens Library Trustees?
NYC Comptroller Scott Stringer made a number of harsh statements during the course of the audit of the Queens Library alleging lies and theft. In a May 22, 2014 story published by the Queens Tribune, Stringer said,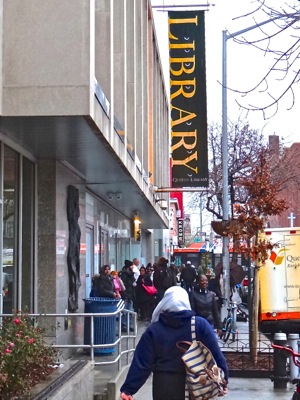 "For them [Queens Library Board of Trustees] to mislead the public and tell the public that they are, in fact, cooperating, is nothing more than a bold-faced lie."
In a July 8, 2015 story published in Newsday, Stringer charged Queens Library executives with using public funds as their
"personal piggy bank" ...
And later in the same story NYC Comptroller Scott Stringer says,
"As they were scaling back access to books, the Internet and vital programs and services, they were lining their own pockets."
These statements, if untrue, might constitute slander, particularly given the fact that many of the people NYC Comptroller Scott Stringer attacked are private citizens - not public officials like himself.
The title of his final audit report seems to negate his previously made assertions, as the title of the final NYC Comptroller's report is,
"REPORT OF THE COMPTROLLER'S INVESTIGATION INTO POSSIBLE MISCONDUCT REVEALED BY THE AUDIT OF THE QUEENS BOROUGH PUBLIC LIBRARY"
The operative word is possible and this is after likely one of the most intense, year and a half long audits, of any library in the city, ever.
NYC Comptroller Scott Stringer referred his findings to the IRS and other legal entities for follow up. This is following an investigation by the FBI, the NYC Department of Investigations, Scott Stringer's own office of the NYC Comptroller, and following the initiation of legislation by Queens Borough President Melinda Katz to change a 118 year old covenant between the Queens Library and the State of New York.
Lots of Smoke, but Still No Fire
As of this writing, nearly three years later, the allegations of wrongdoing by Thomas Galante have been all smoke and no fire.
So far, we've still heard nothing more than allegations and innuendo and possibly libelous and slanderous accusations by public officials and a billionaire NYC real estate developer's paper.
Under Galante the Queens Library was a Top Rated Library in the Nation with an Unblemished Financial Record
Each of the accusers rarely, if ever, mentioned that the Queens Library was considered by its peers to be one of the finest libraries in the nation. That the Queens Library had won national awards which confirmed the library's national standing. And the accusers never mentioned that in all the years that Thomas Galante had been President of the jeweled Queens Library, that it had been run fiscally responsibly with a balanced budget and never a hint of scandal ... until they came along, in their newly elected positions, ALLEGING one.
The accusers accounts did not jibe with what I personally knew about the Queens Library, so I set about drafting an alternative narrative to what appeared to be biased accounts provided by Juan Gonzales and other writers of Mortimer Zuckerman's NY Daily News.
Court Rules Against Accusers Katz & Stringer - but You'd Never Know it by Reading Mortimer Zuckerman's NY Daily News
On August 31, 2016, in the ruling of United States District Judge Allyne R. Ross, Thomas Galante got a first taste of what seemed to be a fair hearing. Judge Ross' ruling requires the Queens Library to pay Thomas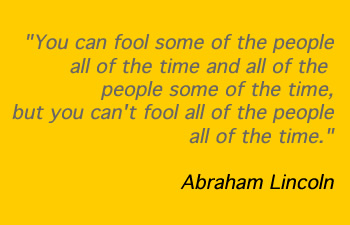 Galante's legal fees to defend himself against accusations by the Queens Library regarding his stewardship of the non-profit.
The newly reconstituted Queens Library Board of Trustees had filed a suit against Galante after he had filed a wrongful termination lawsuit against the library. One might interpret this as an intimidation tactic by the newly reconstituted Queens Library, as legal fees are very expensive and it will cost Galante hundreds of thousands (if not more) to enforce his rights. Galante will have to reimburse the Queens Library if the Queens Library's assertions against him hold up in court.
I wonder if the current members of the Queens Library Board of Trustees have to meet the same standard, in order to have the library pay for their legal fees.
It's worth mentioning that Mortimer Zuckerman's NY Daily News took the lead in most or all of the stories to date about the Queens Library - crafting the storyline narrative about Queens Library 'corruption'. And yet, when I did a search for award-winning journalist Juan Gonzales' & Mortimer Zuckerman's NY Daily News follow on story announcing Thomas Galante's recent court victory against Katz's & Stringer's Queens Library - there was none to be found. This sort of information omission / biased reporting by one of NYC's three daily newspapers is more akin to self-serving propaganda than American journalism.
If Galante Succeeds He Will Clear Not Only His Own Name, but also the Queens Library's & its Former Trustees'
If Galante succeeds in clearing his own name, he will also succeed in restoring the stellar reputation of the Queens Library and the reputations of the former trustees sacked by current Queens Borough President Melinda Katz.
Did the Queens Library Reform Act Enable Pols to Morph the Queens Library into a Political Patronage Parking Lot?
It's also worth mentioning that a couple of years ago interested observers expressed concern that the Queens Library would be morphed into a Political Patronage Parking Palace for under-employed or unemployed party apparatchiks. It's been just over two years since Governor Andrew Cuomo signed the Katz-inspired legislation, entitled the Queens Library Reform Act, and it appears that this may already be happening.
Earlier this year, Queens Borough President Melinda Katz's newly reconstituted Board of Trustees appointed former NYC Schools Chancellor, Dennis Walcott, as the Queens Library President. Based on my research into Dennis Walcott's background, it appears that he has no formal higher education in library science, nor does he have any professional experience in it.
Quelle suprise.
Click here to view our complete coverage of the Queens Library 'corruption & scandals' accusing Thomas Galante of wrongdoing.
---
NYC Transportation
Which Manhattan 'Democratic' Pols Support $8 Tolls To Cross 60th Street & East River Bridges?
Borough President Brewer, NYS Assemblyman Rodriguez, Cuomo's Deputy of Legislative Affairs Weprin & Many Manhattan CCM's Support $8 Tolls to Raise Capital for the MTA
NYS Governor Cuomo Supported Congestion Traffic Pricing in the Past & Cuomo's Deputy of Legislative Affairs Mark Weprin Is Supporting It
August 2016 / NYC Neighborhoods / NYC Politics / News Analysis & Opinion / Gotham Buzz NYC _ D.
The new Congestion Traffic Pricing Plan has been making its way into the legislative process over the past year. Just last week NYS Assemblyman Robert Rodriguez, a Democrat from Manhattan introduced the bill on March 23, 2016. The Move NY Congestion Traffic Pricing Plan is being sold into the legislature as a means to raise revenue to fund MTA Capital projects.
Manhattan Borough President Gale Brewer, NYS Assemblyman Robert Rodriguez, Cuomo's Deputy of Legislative Affairs Mark Weprin, CCM's Ydanis Rodriguez, Margaret Chin, Mark Levine & Corey Johnson support installing $8 tolls on 60th Street & East River bridges to raise capital for the MTA.
Governor Cuomo's Words Are ...
Governor Andrew Cuomo supported the Congestion Pricing Plan put forth years ago, which wasn't popular with many of the voters in Brooklyn & Queens. The two boroughs have a combined population which rounds to 5 million or 25% of the 20 million people who live in New York State.
Cuomo was quoted as making the following statement by the Observer in an article published a year ago on March 15, 2015,
"It's not, 'Can I support it?' Will the people support it? Can you get it done? Can you get a congestion plan passed and we've gone through this a couple of times and it was an overwhelming 'no' and I haven't seen anything happen that would change my opinion,"

The Governor has essentially been repeating this position publicly ever since.

Inconsistent with Governor Cuomo's Staff Actions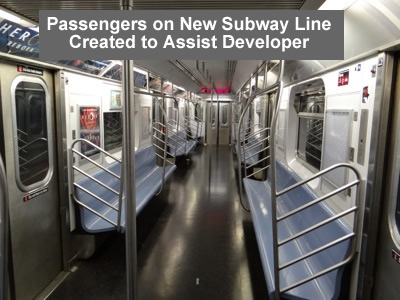 But while the Governor is publicly distancing himself from the measure which is unpopular in Queens and Brooklyn, former NY City Councilmember Mark Weprin, who is now Cuomo's Deputy of Legislative Affairs, has supported the Move NY Congestion Traffic Pricing Plan.
Weprin vehemently oppposed Congestion Traffic Pricing in 2008 when he was a NY City Councilmember, but in 2015 Weprin began publicly supporting the revised Congestion Traffic Pricing Plan as he transitioned from NY City Councilmember to becoming Cuomo's Deputy of Legislative Affairs. NYS Assemblyman David Weprin, Mark's brother, continues to publicly oppose the plan.
It's worth mentioning that the Weprins and the Cuomos have had close family political ties spanning two generations.
Move NY's 'New & Improved' Congestion Traffic Pricing Plan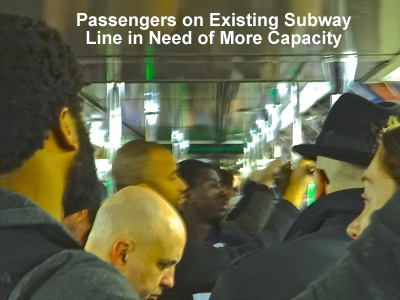 We studied the Move NY Traffic Congestion Pricing proposal by first taking a closer look at what groups are pushing the plan [follow the money]. Gridlock Sam Schwartz Consulting LLC is one of the primary promoters of the plan, and the consulting company is owned in part by a large, multi-national, transit infrastructure contractor. We also evaluated the assumptions they used to create the estimates provided in the plan, which we found to be inconsistent with fairly recent independent studies by respectable institutions, and we also looked at what happened in one of the other cities around the world that implemented the plan.
In essence the plan retrofits [re-prices] the fossil fuel infrastructure, by making a significant investment to install and operate tolling around the center of Manhattan. The remaining proceeds would then go to fund other MTA capital projects [in London this was about half the proceeds]. The pricing would require those who can't afford the $8 tolls [each way] to either use mass transit [recent NYC metro studies have shown this switching doesn't happen] or to cross the bridge at other times at which time the tolls would cost less. The proponents say this would enable those who can afford the tolls to cross the East River bridges and 60th Street more quickly and move around mid Manhattan more easily [less traffic congestion with the rest of the community priced out of their way]. How 'democratic' is this?
Previously MTA Invests Billion$ in New Subways Appearing to Accommodate Billionaire Manhattan Developer(s) & Now Pols Want Metro Residents & Employees to Fund a System to Toll Tax Them to Fund MTA Capital Budget
The MTA during the Bloomberg (Republican) Administration made approximately $8 billion in MTA capital investments for about 30 to 40 blocks of Manhattan subway lines. One line travels from Times Square to the Javits Center [$2.4 billion mostly paid by city] and the other, which was strongly supported by NYC Comptroller Scott Stringer, is expected to travel along Second Avenue from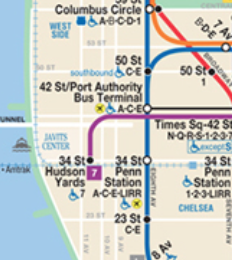 about East 60th Street to about East 86th Street when it is completed [ran way past budget and time estimates - currently about $5.2 billion].
The latter subway line has been called the 'subway to nowhere', while the other isn't much different - as it terminates at the Javits Center and billionaire real estate developer Steven Ross' & Related Companies' new Hudson Yards development - without any other subway connections. Pundits have opined that one [new #7 Hudson Yards station] and possibly both of these multi-billion dollar investments were made to accommodate Manhattan real estate developers [such as Ross], more than to facilitate transit for commuters and residents of New York City.
When I confronted an MTA spokesperson with this perspective, they told me that the Q line extension would alleviate a considerable amount of the congestion on the north / south east side Manhattan subway line, but made no comment regarding the Hudson Yards station.
The photos above show no passengers on the Javits subway [at an admittedly random time and not long after it was installed], while the second photo shows the #6 subway along the Upper East Side, also at a random time. The map to your right shows the new #7 subway line extension ending as an unconnected spur.
Perhaps if the MTA and the government officals who oversee MTA capital project spending were more judicious in their selection of multi-billion dollar projects and allocation of funds, they wouldn't need to make a huge investment of the public's money in the creation and operation of an expensive new tolling system which they plan to use to charge taxpayers $8 tolls to cross 60th Street and the East River Bridges.
This plan essentially aids the wealthy by making their lives easier, while economically discriminating against those with less wherewithal, by making their lives harder. This doesn't strike me as a solution that's 'democratic' at all. There must be less costly, more fair ways to raise additional revenue for transit that NYC commuters - not Manhattan real estate developers - really need.
CLICK HERE TO SCAN / READ THE FULL REPORT on the Move NY Congestion Traffic Pricing Plan.
---
NYC Issues
United Nations: Cultural Influences on Gender Roles
Women's Groups Discuss Cultural Influences on Gender Equality
April 4, 2016 / Midtown East Neighborhood / NYC Social Issues / Gotham Buzz NYC _ D.
On March 17th I attended a series of lectures entitled, The Role of Culture in Women's Empowerment: Possibilities and Challenges. The lectures were given to a standing room only audience in Conference Room 7 on the lower level.
The five member speaker panel was comprised of women from Liberia, Nigeria and Thailand. And each speaker came from a different walk of life including law, government, education and social work.
The program was organized by the United Nations Mission from Gambia in collaboration with a number of other groups. The intent of the program was to disseminate information to help those in attendance understand the role in culture in defining gender roles, and how to go about dealing with embedded cultural biases.
We'll have more at a later date. The photo at right was taken in the United Nations lobby.
---
CHECK THESE ELEMENTS
---
nyc restaurants
---
---
nyc shops - Click here for Brooklyn tile stores.
---
nyc real estate -
---
NYC Banks & Finance
Manhattan Economy - 2016 Outlook NYC
Currently Full Employment, Low Interest Rates, Low Inflation But Possible International Shocks
January 4, 2016 / NYC Neighborhoods / NYC Business / Gotham Buzz NYC _ D.
We took a look into the crystal ball over the holiday break to see what may lie ahead for the NYC economy in the coming year. We studied the stats and facts put out by many of the national data producers at the Bureau of Labor Statistics, the Federal Reserve, the Treasury Department and the AIE. What follows is a brief summary of some of the statistics we gathered on the global, national and New York City economy including unemployment statistics by borough for 2015.
U.S. & NYC Economy Near / At Full Employment
Currently Queens and Manhattan are doing the best with respect to employment, with unemployment rates below 5%, which economists consider to be full employment as the 5% unemployed are viewed as normal 'friction' in the economy, accounting for people coming into, leaving and changing jobs within the labor force.
In 2009 - 2010, during the first two years of the Great Recession, the nation's unemployment rate hit 9.4%, while the unemployment rate for New York City hit 10.4%. The employment picture for the nation and the five boroughs of New York City has slowly but steadily improved since then, with unemployment trending lower, reaching full employment this year at 5% for the nation and 4.8% for New York City this fall.
Employment Impact / Relationship to Inflation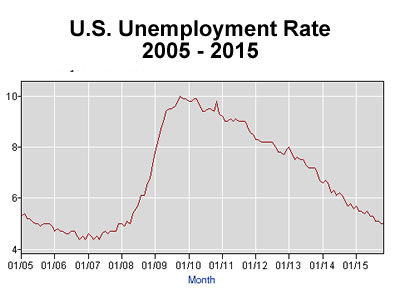 Employment affects inflation, as when everyone is fully employed, recruiting firms bid up the price of labor and workers feel secure enough to spend aggressively, bidding up the price of goods. The Federal Reserve attempts to reign in inflation - because it creates economic instability - by raising interest rates which increases the cost of capital needed to expand operations or make large purchases more expensive. On December 16, 2015, the Federal Reserve raised its key short-term interest rate by 25 basis points (0.25%) to begin to get ahead of potentially inflationary issues that may lie ahead. We'll look into a few of these later in this report.
Economists in one of the banking reports I received believe that there is still slack in the labor market that is not reflected in the numbers as many people have part-time jobs, while they would like full time jobs. Also the labor force participation rate fell during the Great Recession and it became more difficult to find work. Now with a full employment economy it is believed that some of those folks who gave up looking will try to re-enter the workforce. An example of the decline in participation rate might be a spouse who helped supplement household income but couldn't find the right work, and now starts looking again.
Click here to continue reading our report about the New York City NYC Economy Outlook 2016 which delves into full employment impact on inflation, interest rates, consumer debt levels, oil & commodity prices, domestic and international currencies & economic growth, the financial markets and how all of this may impact the different sectors of the Queens & New York City economy.
---
nyc holidays, parades & hotels
---
Gotham Buzz Voluntary Subscriptions
We work very hard to help keep you informed by providing you with independent news coverage, as well as

information about events in the arts, culture and business in the borough.
You can help us continue to provide you with independent, first-person, fact-based, contextural reporting by purchasing an annual subscription. As it's voluntary, there are a variety of price options, one of which should fit within your budget.
Thanks for your encouragement & support.
---
Back To Top