NYC Mayoral Debates Fall 2017
Dietl Effervesces, Malliotakis Attacks & de Blasio Defends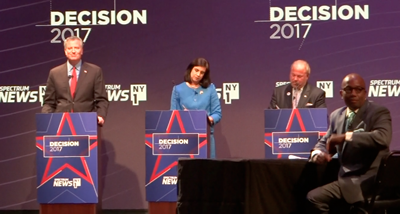 October 15, 2017 / Upper West Side Neighborhood UWS / Queens Politics NYC / News Analysis & Opinion / Gotham Buzz NYC.
I attended the Mayoral Debate at Symphony Space on Tuesday, October 10th, where former NYC Detective [1970 – 1985] and security firm businessman Bo Dietl [Independent], New York State Assemblywoman Nicole Malliotakis [Republican Staten Island] and Mayor Bill de Blasio [Democrat] squared off for one of two general election debates. The debates are sponsored by the New York Campaign Finance Board and are a requirement for those candidates who receive matching funds.
NYC Mayoral Debates - Opening Statements
Each candidate came out and made opening statements. Bo Dietl talked about his time working the streets as a policeman in the 1970's and 1980's and how since then he has run a successful security firm that also employs minorities. He described his two opponents as Column A and Column B candidates.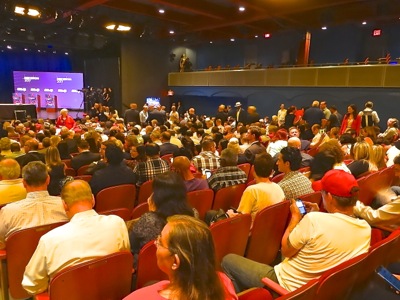 Nicole Malliotakis told us how she is the first member of her family to obtain a college degree and a Masters of Business Administration and that she is the 'American Dream'. She went on to say she would fix our schools, transit system and homelessness.
Bill de Blasio said that his two opponents were both right wing Republicans and that he was the only one that would stand up to Trump. He went on to say that crime is down, test scores at NYC public schools are up, but that there's more to do and he needs New Yorkers' help to continue making progress.
There was a small, but very boisterous minority of rude and disruptive people in the audience, who began their noisy tirades with the opening statements. It wasn't until near the end of the program – that one of [several of] the loudest shouters and screamers was finally escorted out.
Click here for a fairly full recount of the NYC Mayoral Debates with Malliotakis, Dietl & de Blasio.
---
Table of Silence Transcends 911
Lincoln Center Dance Commemoration Transcends Hate through Love
September 11, 2017 / Upper West Side Neighborhood / Modern Dance Manhattan / Manhattan Buzz NYC.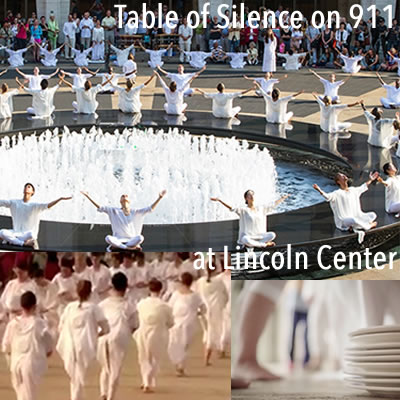 This morning at 8.15 am over one hundred dancers began a spiritual commemoration of the events of 911 with a modern dance performance in the main plaza at Lincoln Center on the Upper West Side. This was the seventh year of the performance, and its meaning seems to grow - rather than diminish - with time. It's about the classic and timeless struggle, between giving into hate, or striving to love.
The dancers were all dressed in white, and they created a resplendent symmetry mimicking nature's own. The performance was accompanied by a bit of minimalist music - originating from a beating drum, the air passing through a conch shell, and the human vocal cords.
The dancers transformed the plaza at Lincoln Center into a table, with the bountiful water fountain in the middle. Plates appeared, signifying the sharing of a feast ... a spiritual feast ... a prayer for all humanity.
We feel a heavenly sharing of being together, in a single place, at a single time. It's a solemn place, a sagely peace, a peace with each other, a peace within, and a peace with all the world ... even as the world continues to swirl around us, as does the NYC traffic ... but we remain centered ... as one.
At exactly 8.46 am the performance stops. All is still in Lincoln Center Plaza as we observe a minute of silence together. It's a silence within, as we are surrounded by the ambient noise of the city during rush hour. Sixteen years ago at 8.46 am the second of two planes struck the World Trade Center wreaking havoc. Taking lives. Creating chaos.
Cleansed of hate and vengeance - we depart to go on with our days. We have defeated the terrorists, by not giving into their desire for an endless cycle of violence and hate.
---
Election 2017 Tuesday 9/12 - Please Vote
September 11, 2017 / Queens Neighborhoods / Queens Politics & Government / Queens Buzz.
The New York City primary election is tomorrow, Tuesday September 12th.
The polling booths will be open from 6 am to 9 pm Tuesday.
To find your poll location click on the graphic at right.
Once on the website, input your address, and then click the small icon to the right of it to get the results of the search. I hope the NYS Board of Elections does better cyber security than they do web design, as the tiny arrow is easily overlooked.
If there is a runoff to this election, it will be held on Tuesday, September 26th and the general election is Tuesday, November 7th, 2017.
---
NYC Mayoral Debates: De Blasio & Albanese
Democratic Candidates Discuss Issues Facing NYC
September 4, 2017 / Upper West Side Neighborhood / NYC Politics & Government Manhattan / Gotham Buzz NYC.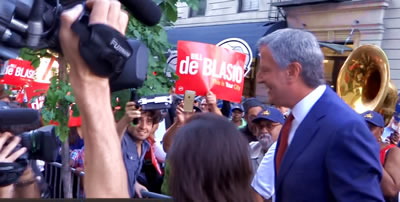 On Wednesday evening, August 23, I made my way to Symphony Space on the Upper West Side to watch the two Democratic candidates for mayor of New York City debate the issues.
Sal Albanese Democratic Challenger
Sal Albanese is the Democratic challenger, who raised just enough money to qualify for the NYC Campaign Finance Board qualification, which mandates debates between candidates who receive matching funds.
Albanese hails from Brooklyn and served as a member of the NYC City Council from 1983 to 1998. In the twenty years since he left public office, Sal has run for mayor on two previous occasions as a reformer. Since leaving office, Albanese spent ten years working in financial services and the rest of the time as an attorney, doing related work. Based on his political career efforts, Albanese appears to support many of the same progressive causes as Mayor de Blasio.
Conservative Commentator Sliwa Backs Albanese Bid
I ran into conservative talk show commentator Curtis Sliwa of the Guardian Angels who told me he was there to support liberal reformer Sal Albanese. I found this to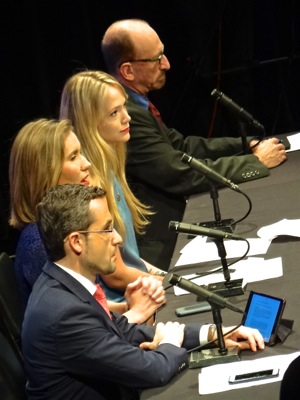 be ironic - given that Sliwa is a conservative Republican commentator who a couple years ago publicly announced that he was going to run as a Republican for Queens Borough President, challenging Democrat Melinda Katz. When I asked him if he still planned to run as a Republican against Democrat Katz, he replied no, and said he was here tonight supporting Sal Albanese and the Reform Party.
NYC Mayoral Debates 2017
What follows is probably less a summary, than a full accounting of the debate.
As I came out of the subway, I saw people gathered in front of Symphony Space. Some were supporters of the Mayor and some supporters for Goodwin, a challenger to the Upper West Side NYC City Councilwoman, Helen Rosenthal.
Inside I found that the free tickets had been fully subscribed, and while the auditorium was generally filled - it was not full - as not everyone used the tickets they booked.
Errol Louis of NY1 was the debate moderator and the debate panelists included: Brian Lehrer of WNYC, Laura Nahmias of Politico, Grace Rauh of NY1 and Juan Manuel Benitez of Noticias on NY1.
Each candidate opened with brief statements.
Albanese: Cites The Issues Facing NYC & America
Albanese started by talking about many of the major issues facing not just New York, but in many respects, all of America. He mentioned class warfare, pay to play politics, public transit investment, empty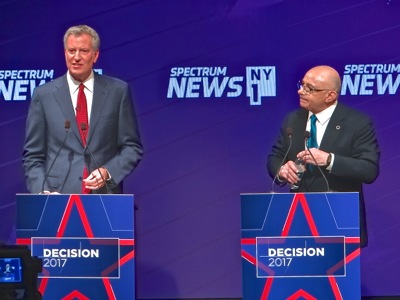 storefronts, lawless developers, and the negative impact of gentrification on communities, public space and tenants.
De Blasio: Cites Administration Accomplishments
De Blasio started by talking about the accomplishments of his administration over the past three and a half years. He noted that his administration is in the process of building affordable housing for 500,000 tenants and is on time and on budget. That Stop N Frisk is down 93% while the NYC crime rate has continued to fall, so that NYC is now one of the safest big cities in America. And that 78,000 children are now attending pre-school. He said while his Administration has achieved a lot, there's a lot more to do.
Later this week I'll post the rest of the report about the Mayoral Debate between Sal Albanese and Mayor Bill de Blasio.
---
James Murdoch's Propaganda Donation to the ADL?
How Duplicitous was James Murdoch's Donation?
Like Father Like Son: Is Rupert's Son also a Talented Deceiver?
Does Murdoch's Fox News RACIAL - ize to SENSATIONALIZE?
Updated September 3 / August 28, 2017 / NYC Neighborhoods / NYC Government & Politics / News Analysis & Opinion / Gotham Buzz NYC.
On Thursday, August 17th, 2017 a huge amount of publicity went out to the people of the United States and the world, that James Murdoch, the CEO of 21st Century Fox and Chairman of British Sky PLC, gave a $1 million donation to the Anti Defamation League.
The Anti-Defamation League [ADL] is a worthy cause, as according to the ADL website,
"The mission of ADL is to stop the defamation of the Jewish people and to secure justice and fair treatment to all."
James Murdoch and Fox News probably couldn't have come even close to securing this kind of positive publicity by spending ten times that amount of money on advertisements.
Murdoch's the Name & Mass Media Manipulation is the Game
Given the recent human tragedy of the Charlottesville terrorist attack, and in a time where Neo Nazis and the KKK are back on the march, the donating to the Anti-Defamation League certainly seems like a timely and good cause.
But the public relations aspect of James' donation is only where the story begins - as James Murdoch is the Chief Executive Officer of 21st Century Fox - a position he appears to have secured by virtue of his Royal Birthright. James is the son and one of the heirs to the media empire of multi-billionaire global propagandist Keith Rupert Murdoch - who coincidentally is the Chairman of 21st Century Fox. According to Rupert Murdoch's own words he is also a "good friend" of Donald Trump.
How Racist the Sly Fox (News)?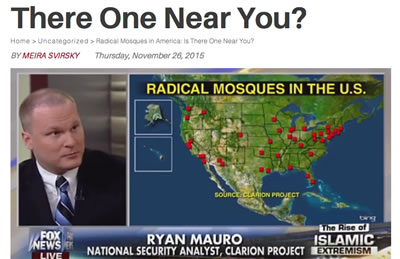 So while Fox CEO James Murdoch made a $1 million donation to fight discrimination, one could make the case that one of the more significant (indirect) contributing factors in the rise in anti-Muslim, anti-Semitism and / or racism in America is what appears to be the distorted RACIAL - izing reporting done by Murdoch controlled 'news' outlets - the most notable of which is Fox News.
I'm going to give you three examples of what appears to be Fox News implicit nod to racism by skewed presentations of the facts - including significant omissions, out-of-context distortions and fictionalizations. I encourage you to look for other appearances of this by Murdoch media outlets, whenever you're getting your news from them. The Murdochs control literally hundreds of different media outlets around the globe.
In NYC alone the Murdodchs control the Fox TV Network, NY Post, Wall St Journal and two local TV stations WWOR-TV [Channel 9] and Fox [Channel 5].
And it's worth mentioning that there is a pending lawsuit against the Murdoch's Fox News regarding employment discrimination. I won't delve into the allegations of illegal sexism at the organization as this has already been widely reported. An April 25, 2017 report in the NYT noted,
"Eleven current and former Fox News employees filed a class-action lawsuit in New York against the network, accusing it of "abhorrent, intolerable, unlawful and hostile racial discrimination."
Fox News Appears to RACIAL -ize a Rape to SENSATIONALIZE it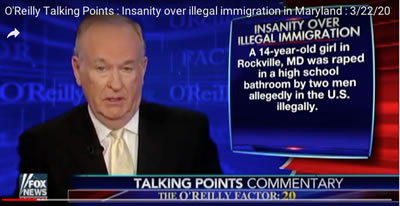 On March 22, 2017 the Murdochs' Fox News had Bill O'Reilly do a report about the rape of a high school girl allegedly by two illegal immigrants. The thrust of Bill O'Reilly's distorted commentary appeared to be the implication that illegal immigrants are rapists.
Murdochs' Fox News report went on to bash the other media which Murdoch's Fox News has called dishonest, propagandist, fake, elitest, liberal and left wing for not reporting the rape.
What O'Reilly doesn't tell you is that,
"... according to the United States Department of Justice document Criminal Victimization in the United States, there were overall 173,610 victims of rape or sexual assault, or 0.1% of the US population 12 or older in 2013 [source Wikipedia]."
O'Reilly Fails to Acknowledge his own Allegedly Sexist Past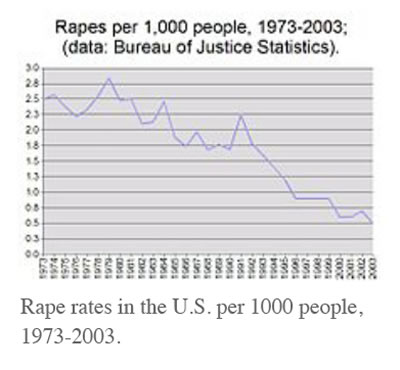 What alleged sexist Bill O'Reilly didn't tell his audience in his immigrant rapists report - less than two weeks before the story broke - was that,
"Bill O'Reilly, Fox News pay $13M to settle sexual harrasment suits from five women" [NY Daily News headline on April 2, 2017]
Is Bill O'Reilly a hypocrite who wants to have things both ways?
Murdochs' Fox News and Bill O'Reilly would have to do broadcasts about rape 482 times per day to report all of the rape / sexual assault crimes in this nation.
Why was this particular rape the one to report out of hundreds of thousands committed in the United States? One might conjecture it was reported because James & Rupert Murdoch's Fox News could win ratings with Bill O'Reilly RACIAL - izing the story in order to SENSATIONALIZE the story. A practice which, like Murdoch's Fox News alleged sexism, and what seems the Murdochs' organization penchant for illegally hacking people, appears to be a part of the Murdoch organization ethos or corporate culture.
The silver lining of the rape landscape in America is that the number of rapes per thousand people in the USA has been declining fairly steadily for decades. See graph posted in Wikipedia above.
So if James Murdoch REALLY wanted to make a statement against racism and Nazis - it seems he could have done far more good by terminating this sort of racial-ized reporting on the Murdochs' own news outlets - than by making a highly publicized donation using the Main Stream Media to tell the world that the Murdochs don't embrace racism.
Based on how the Murdochs' organization reports things, it seems James - like his father - wants people to believe he's one way, while he profits from doing things another way.
Is Racist Reporting done on Fox News?
Fox Fiction Factory: O'Reilly's Fictional Swedish Security Expert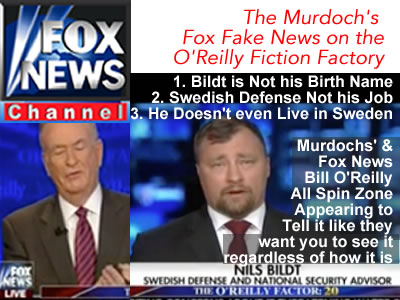 The first example was a piece by former Fox News commentator Bill O'Reilly in February of this year.
The O'Reilly Factor on Murdoch's Fox News presented Nils Bildt, whose birthname is Nils Tolling, as a Swedish security expert. Tolling / Bildt was asked to comment as an 'expert witness' about the current security problem that Sweden was (allegedly) having with immigrants.
O'Reilly used a Wall Street Journal report [the Wall St Journal is also controlled by the Murdochs] for his story. Murdoch's Wall Street Journal had published a report about Swedish immigration problems which failed to include important facts [I couldn't find the story so they must have pulled it down, but it's mentioned in the broadcast].
Apparently the WSJ article reported that about of third of women in Sweden feared for their safety. The WSJ failed to note that it was a third of the IMMIGRANT women who were fearful for their safety in Sweden, leaving Murdoch's Wall St Journal audience with the erroneous impression that it was the Swedish women who were fearful.
Nils Tolling aka Nils Bildt turned out to be something of an imposter as he used a second name - not his birthname, and O'Reilly / Fox claimed for him a title and position he never held, and Fox / O'Reilly appeared to give us impression that he was living in Sweden, when in fact he lives in Montana. O'Reilly seemed 'to lead his expert witness' Tolling / Bildt, who told O'Reilly viewers that Sweden was experiencing significant immigration problems. O'Reilly's other guest, Anne-Sofie Naslund, was correctly billed as a Swedish reporter who told O'Reilly's audience that what he was reporting was not true.
Fox News Fake News: Is Murdochs' Fox News a Racist Fiction Factory?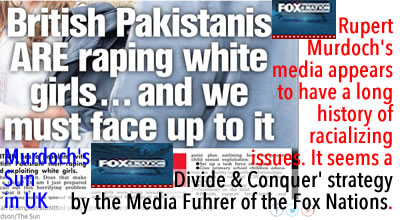 Murdoch's Fox News O'Reilly, a 42 year news / propaganda veteran, was confronted with the torrent of fictions included in his broadcast. O'Reilly responded by admitting he and Fox News had made errors - but told the reporter that the rest of the story was true. Click here for a more detailed accounting of Bill O'Reilly interview with Nils Bildt or Nils Tolling.
In the graphic at right, The Sun, a Murdoch-controlled British newspaper seems to play the Murdoch organization's racist card against Pakistani immigrants in Britain. While one can be against immigration without being racist - implying that immigrants are lawbreakers and rapists at a higher level than the general population is Fox fake news. As a point in fact, based on studies done in the U.S., immigrants appear to commit crimes at lower levels than the general population.
Click here to CONTINUE - Is Fox News Sensationalizing by Racial - izing?
Click here to continue and read more about James Murdoch's donation to the ADL - Anti-Defamation League & how it appears that Murdoch's organizations sensationalize by racial - izing issues.
---
The Solar Eclipse of 2017 in NYC
The Solar Eclipse: A Shared American Communal Experience
August 21, 2017 / Queens Neighborhoods / Manhattan Neighborhoods / Gotham Buzz NYC.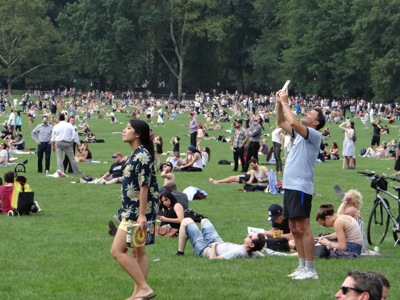 I set about to experience the solar eclipse of 2017, departing for Manhattan at about 1.30 – a bit after the eclipse was to begin. As I made my way to the subway, I met a woman who was heading to Hunters Point South Park to do the same. She offered me the use of her eclipse glasses, which I examined but it was far to early to really use.
The eclipse glasses were opaque and I couldn't see through them. Apparently they only work when you're looking at the sun. The glasses this woman had were sponsored by Cisco Systems through a science camp in Rochester, NY. Consumers were advised to be careful about which eclipse glasses to use, as apparently some would not filter out the harmful, eye-damaging rays of the sun. One eclipse audience member told me that the glasses were being sold online – ten for $100. I'll have more about the protective glasses a bit later as I used the glasses to take what I would call 'meaningful' photos.
There were many reports published about how one can damage their eyes by looking directly at the sun. The Washington Post noted that the damage can begin in as little as one and a half minutes, and that looking at the sun in a sequence of little peaks at a time, may not prevent you from doing real damage. It's worth noting that one can also damage their camera by pointing it directly at the sun for a long period of time. The New York Times noted that the longest the full eclipse will last, is less than three minutes, and that in many places in America it will last less than a minute.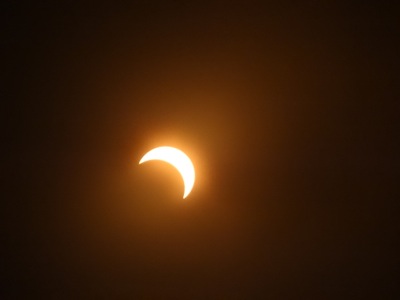 Historically, it's worth noting that the moon eclipsing the sun happens every 18 months, but most eclipses happen over the oceans which cover about two thirds of the planet earth surface. According to the New York Times, the last time America experienced a full solar eclipse was in 1918, a full 99 years ago, so few if any who are old enough to experience the eclipse this time, are likely to see it again.
The eclipse began along the west coast in Oregon at about 1.15 pm, the peak was at about 2.45 pm and the final was at about 4 pm. I'll note a few of my times as we run through the rest of this report.
Anyhow, I arrived at Lexington and 77th Street about 2 pm, about 45 minutes before the peak of the eclipse. A few folks were standing in the street looking up, so I shot a photo of the sun at that time, but it didn't look like much at the blinding rays of light blocked any real photo clarity.
Rest of story with plenty more photos coming later Tuesday 8/22.
---
Update: LaGuardia Airport Development Project
First Phase Moving Along with Second & Third Phases About to Begin
April 24, 2017 / Astoria Neighborhood / Queens Real Estate / Gotham Buzz NYC.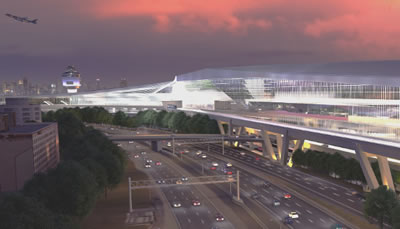 I attended a Community Board One meeting at the Astoria World Manor on Wednesday, April 19th. People representing the LaGuardia Airport development project were scheduled to provide the community with an update regarding several of the multi-billion dollar renovation projects associated with LaGuardia Airport, that are either currently in the works or nearing the end of the planning process.
The presentation was split into three parts: 1) LaGuardia Airport development project construction updates, 2) traffic mitigation efforts and 3) community outreach including job opportunities related to the projects.
Click here to read our report on the LaGuardia Airport development project & expansion, related job opportunities, its possible impact on travel times to the airport and the public hearing details on May 3rd, 2017 in Flushing. We have also included a small bit of history about the airport and the fight over the property and development in Flushing Meadows Corona Park. The graphic at right was created as part of the LaGuardia Airport development project.
---
Orwell's 1984 in 2017: Newspeak or NewsCorp?
Rupert Murdoch's Orwellian NewsCorp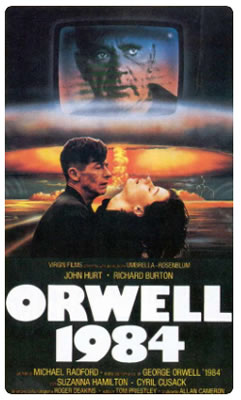 April 4, 2017 / NYC Neighborhoods / NYC Film / News Analysis & Opinion / Gotham Buzz.
On April 4th several New York City arts organizations provided their audiences with the opportunity to watch the film, Ninteen Eighty-Four, based on George Orwell's book by the same name. Orwell published the book in 1949 - just a few short years after the fall of Adolph Hitler and his Nazi regime. The significance of the April 4th date is that that is the date first inscribed in the diary of Winston Smith, the central character and protagonist in the book / film.
Orwell [born Eric Arthur Blair in 1903] was a journalist and novelist who covered the Spanish Civil War in 1936 - 1937, during which the Communists fought the Nationalists for control of Spain. In 1938 Orwell wrote the book Homage to Catalonia about the war, and one of the notable quotes penned in that book was,
"One of the most horrible features of war is that all the war-propaganda, the screaming and lies and hatred, comes invariably from people who are not fighting."
When World War II broke out, Orwell [who had tuberculosis] was declared "unfit for any kind of military service" by the British Medical Board. Nonetheless, Orwell spent two years [1941 - 1943] as a broadcaster for the BBC's Eastern Service. Around the time he left the BBC, Orwell began work on a book entitled Animal Farm which he finished and published around the end of the war in 1945. The book talked about how a democracy of pigs was eventually corrupted by those at the top, who fashioned the governance to serve themselves, while exploiting the other members of the farm. One of Orwell's notable quotes penned in that novel was,
"All animals are equal but some animals are more equal than others."
Between the end of the war through to the end of his life [died 1950], Orwell kept on writing - finishing and publishing his last novel, Nineteen Eighty-Four- in 1949. In the film 1984, Newspeak is the party language and is characterized by a diminishing vocabulary which is designed to limit thoughts of opposition to the party and leadership, in order to maximize party influence and control.
NewsCorp Newspeak: Rupert Murdoch's NY Post & Fox 'News'
I've been watching Rupert Murdoch's Newscorp and 21st Century Fox media outlets for about a year now.
The Mayor is Innocent but Murdoch's NY Post 'Fake News' Headlines & Stories Fuel a Perception of Corruption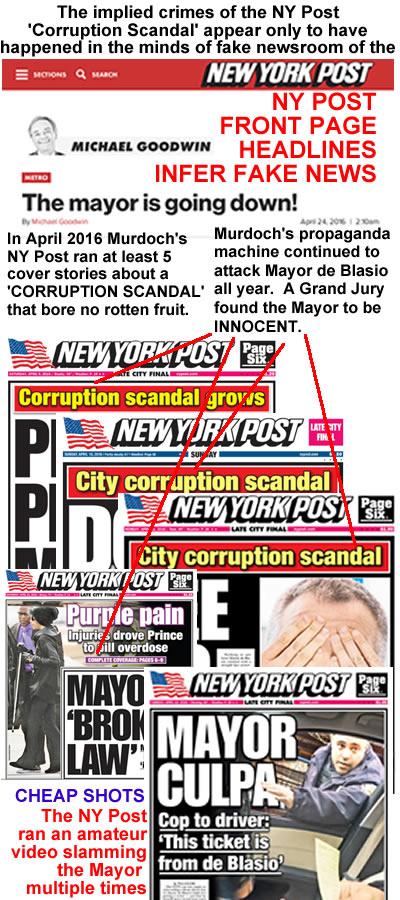 I started tracking them because I found the NY Post coverage of the allegations [the investigation was closed in March 2017] surrounding Mayor de Blasio's fundraising - to be propagandistic. For nearly a year the NY Post appeared to publish out-of-context, one-sided, significant distortions of the events surrounding the Mayor. The unrelenting NY Post propagandistic accounts appeared to fall well outside of the guiding principles of American journalism.
Given Murdoch's prior history of election meddling around the globe [see Murdoch corruption or Fox propaganda], one might easily surmise that Murdoch's propagandist attacks on Mayor de Blasio are an attempt to discredit the Mayor in advance of the 2017 election. Thus, since April 2016, I started watching Fox News and their team of commentators - several of whom appear to be unabashed propagandists.
Sean Hannity, Bill O'Reilly and Janine Pirro top the list - but in Murdoch's media empire, these top performing masters of media distortion, are far from alone.
Fox & Hannity's Newspeak: Appears to Tell their Audience to Believe What they Say Now, & to Forget Everything they Said Previously
Fox 'News' Hannity is a good example of a Newspeaker, because he appears to conveniently forget or omit things that don't fit into many of his narratives, including things he himself has previously said.
Hannity appears to believe in the old adage that one should,
"never let the facts get in the way of a good story".
In Orwell's 1984 novel / film the rulers teach the people to forget the past, so that the people will believe anything that is told to them. To help this forgetting process along, the rulers change the narratives or prior reports of people and nations in the past.
The simplest example of removing subjects' memories in the film - removing statements of truth so-to-speak - was getting the subjects to believe that 2 + 2 = 5. If the ruling class says it's 5, then it's five - not four.
On Fox 'News' Hannity we see some striking parallels of such flip flops on 'truths'. In 2010 Hannity was calling for hacker Julian Assange to be imprisoned. But in January 2017, Hannity appeared to mostly forget that Assange hacked and stole government information. In 2017 Hannity even provided a public platform for Assange, interviewing the allegedly treasonous hacker; and by some accounts, treating Assange who is wanted for allged sex crimes in Sweden, with kid gloves.
What changed? Perhaps Rupert Murdoch's Fox News talking points on the Assange narrative, which in 2017 appears to be promoting the notion that Donald Trump did not collude with the Russians to win the 2016 presidential election. The Fox propaganda network doesn't seem to want to wait for the law enforcement officials to complete their work, before pronouncing Trump innocent.
Is this a modern day Orwellian 1984, where we are asked to forget Fox 'News' and Hannity's prior narrative, and believe what they are telling us now?
Mega Multi-Millionaire Hannity Appears to be a War Promoter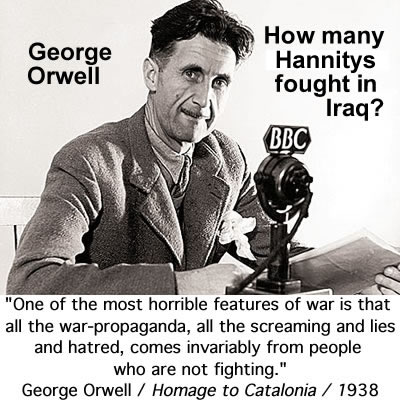 I've been watching Hannity shows for about a half year now, and I find his hypocrisy nearly legendary. Hannity portrays himself as a working class guy, while he rakes in about $30 million per year and owns multiple multi-million dollar mansions / homes and flies around the country on private jets.
Oliver North and Sean Hannity founded a charity, Freedom Alliance [Concerts], for the families of veterans of the Iraq War - a war which Hannity and his Boss Murdoch promoted using the 'fake news' that Iraq had weapons of mass destruction [WMD].
Murdoch's Fox 'News' and Hannity's ongoing rhetoric calling for a war in Iraq appeared to enhance Fox ratings and revenue, seeming to benefit Hannity, O'Reilly and other members of the Murdoch propaganda network, while destroying the lives of hundreds of thousands of others [I'm including the Iraqi civilians too].
Hannity's Freedom Concerts: A Self Promotion Venue?
Hannity has a Charity for Iraq Veterans' Children - some Believe it's Self Serving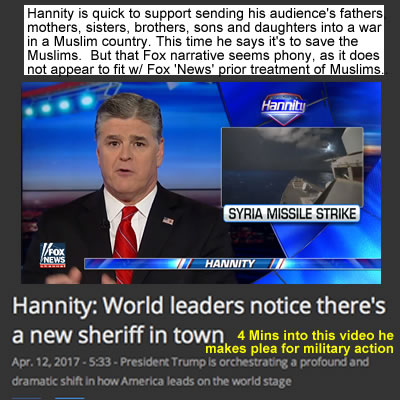 According to Conservative blogger Debbie Schlussel and other reports, I began to get the impression that Hannity's charity is as much a funding source to promote and pay for Sean Hannity public relations efforts, as it is a vehicle to help the children of Iraq War veterans.
In a March 19, 2010 post, Schlussel reports that she received the following information from a contact at Fox.
"Hannity's Freedom Concerts [fund his] use of a Gulfstream 5 plane to fly [him around], a fleet of either Cadillac or Lincoln SUVs ... and several suites at really expensive hotels ..."
Schlussel goes on to question how much of the funds raised, actually go to the children of Iraq veterans.
More than Half the Proceeds go to the Programs
An April 2, 2010 Mother Jones report notes that the non-profit Charity Navigator downgraded the Freedom Alliance [concerts] to two stars following a complaint by Citizens for Responsibility and Ethics in Washington[CREW]. The CREW complaint said that it was unclear how much money actually made it to veterans' children.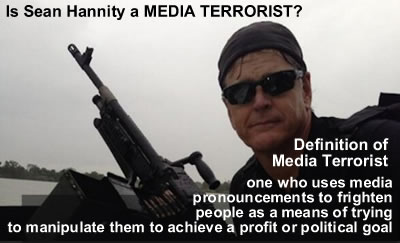 In a March 22, 2010 report by CNS News, a conservative site, reported Hannity's response to the above allegations as:
"The statement posted by the Freedom Alliance is 100% truthful and accurate. I have NOT taken a single penny from the Freedom Alliance or from concert sales EVER! I pay all the travel costs for my staff, family and me, and I have personally donated hundreds of thousands of dollars to the FA and military charities."
In Charity Navigator's most recent rating dated March 1, 2017 for the fiscal year of 2015, the Freedom Alliance received a 78 rating and reports that about 57% of the charity proceeds go to the programs they deliver.
Orwell's message to us seems relevant to this conversation as in Homage to Catalonia, Orwell tells us that,
"One of the most horrible features of war is that all the war-propaganda, all the screaming and lies and hatred, comes invariably from people who are not fighting."
Click here to continue our exploration of Hannity & Murdoch's Fox 'News' propaganda using the warning signs lef to us in George Orwell's books, 1984 and Animal Farm.
We'll take a look into one of Murdoch's huge Australian tax breaks, one of Murdoch's fabulous Australian homes, Ted Koppel's claim that Murdoch's Fox 'News' Hannity is bad for America, how deregulation benefits the Murdochs versus the American working class, and how Murdoch's propaganda machine support for Trump - less than 100 days into the new Administration - already appears to be providing Murdoch and Fox 'News' with handsome returns.
---
U.S. Taxes & Budget: Trump is Whose Voice?
Stock Market adds Trillions & Working Middle Class Gets What?
March 6, 2017 / NYC Neighborhoods / NYC Business & Politics / News Analysis & Opinion / Gotham Buzz NYC.
Has Rupert Murdoch's Fox News mouthpiece, Sean Hannity, been pushing hard for tax reform because the Trump tax plan will be good for the working class people - one of which he appears to pretend to be? Or because the Trump Tax Plan will be good for mega multi-millionaires like Sean Hannity and mega multi-billionaires like Hannity's boss, Rupert Murdoch?
How Much a Phony is Fox News Sean Hannity?
Does he Pretend to be Working Class Guy ...
- So he can Dupe Fox News Viewers into Supporting a Tax Plan that Favors NOT them -
... but Mega-Millionaires like Him?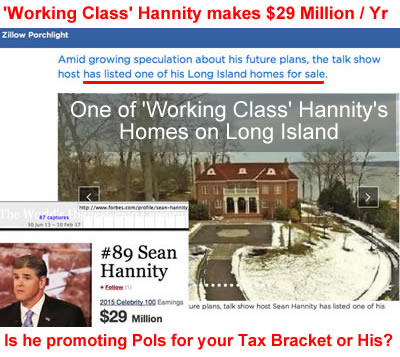 Hannity hasn't been a working class guy for in the neighborhod of two decades. In fact, according to Forbes in a 2015 survey Hannity is a very rich man. According to Zillow Hannity owns a palacial home on Long Island worth millions [see Zillow photo at right] and a second home located in a wealthy enclave in Naples, Florida.
Forbes published that Sean Hannity's earnings in 2015 were $29 million [see graphic at right]. So it's not implausible to guess that Hannity may have purchased the second home in Florida, so he could claim residency there in order to avoid NYS taxes, which Hannity has been publicly complaining about for years.
Which tax candidates and priorities do you think Sean Hannity is supporting - yours - or his own and Boss Murdochs?
Televangelist Hannity Preaches Gospel According to Murdoch
Fox News & Hannity Dictate Orders to Republicans ... Implied Threat is Suffer the Wrath of Murdoch's Propaganda Machine?
Hypocrisy & Half Truths on Hannity on Fox News Tonight?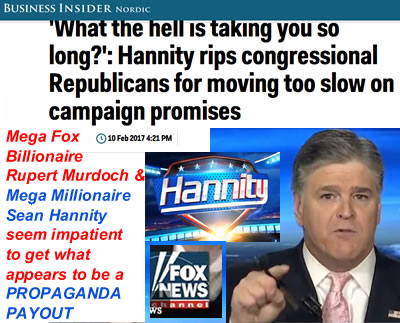 I'm using Fox News propagandist Sean Hannity as an example of what appears to be the incredible hypocrisy and misleading information regarding Trump and the Trump tax plan, being provided by Murdoch's Fox News, one of America's largest TV networks.
It appears Hannity lures unwitting viewers into believing he's a working class guy - when he isn't - so his viewers will take his advice when he labels political candidates and public issues in childly simplistic terms of 'US' vs 'THEM' and 'GOOD' vs 'BAD'. Hannity seems to use small words and incessantly repeats himself, instructing his viewers like they are a bunch of five year-old kids who don't have the contextual experience nor even the infantile analytical skills required to think for themselves.
Fox and Hannity oftentimes appear to make no attempt to find and disseminate the truth on issues or government officials, but instead appear to propagandistically promote or punish those who do not bend to their will, as exemplified in the Business Insider headline to your right. The implicit message to Republicans appears to be obey us - or suffer the consequences of losing your elected government post - because our audience believes us and will do what we tell them to do.
Fox News Hannity's pugnacious rhetoric sounds kind of Nazi-like. This seems to be an indication that the FCC has granted and entrusted these people with way too much power - and that they appear to be corrupting it to serve their own selfish interests.
Click here to continue reading this report about Fox News propaganda & Hannity, O'Reilly propagandists on Fox News which is a lead into a report about how it appears they will profit handsomely from their propaganda services.
---
You Decide: President to Address Nation
Proposing $54 Billion Defense Budget Increase - Why?
February 28, 2017 / NYC Government / NYC Business / News Analysis & Opinion / Gotham Buzz NYC.
Tonight President Trump will address the nation regarding his plans for the U.S. One of the notable previews given by sources within the Administration is that Trump plans to increase Defense spending by $54 billion. I decided to take a quick look at some of the economic statistics to see if that appears warranted, especially vis a vis other priorities.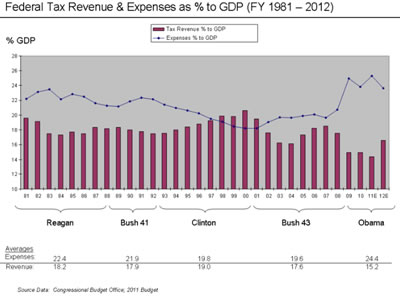 U.S. Government Deficits
The first chart [Congressional Budget Office] shows that the U.S. government has been spending more than it has been taking in. The gap widened in the wake of the September 2008 near financial meltdown, as tax receipts fell and fiscal stimulus [government spending] was needed to keep the economy going.
The higher levels of debt continued through the first term of the Obama Administration and then fell sharply back to Bush II era levels during the second term of the Obama Administration.
The net result is that near financial meltdown resulted in higher government deficits, which added to the overall U.S. government debt.
U.S. Government Debt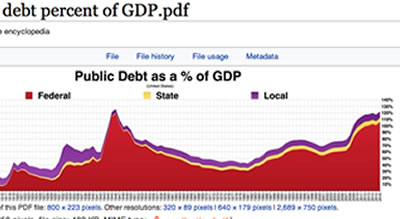 The second chart [Wikipedia] shows U.S. government debt relative to U.S. GDP. GDP is the acronym for Gross Domestic Product, which is a measure of the nation's economic output in goods and services.
The chart shows that the overall U.S. government debt relative to GDP rose significantly in the wake of the 2008 near financial meltdown. Currently the U.S. debt level is equal to about an entire year of U.S. economic output.
Many economists think that the U.S. has an unhealthy level of debt as it doesn't provide much slack for unforseen circumstances, like the 2008 near financial meltdown or prolonged involvement addressing international crises.
U.S. Defense Spending One Third of Global Total
About Equal to the Next 8 Nations Combined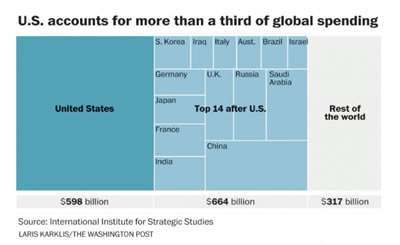 Currently the U.S. appears to overspend on military operations vis a vis the rest of the world. The U.S. military accounts for one third of defense spending in the world and its budget is roughly equal to the military budgets of the next EIGHT leading defense spenders in the world.
You can see this in the chart at right which was created by the Institute for Strategic Studies and published in the Washington Post.
Click here to read the rest of our report on how out of balance U.S. Defense Spending in America is compromising the nation's economic future.
---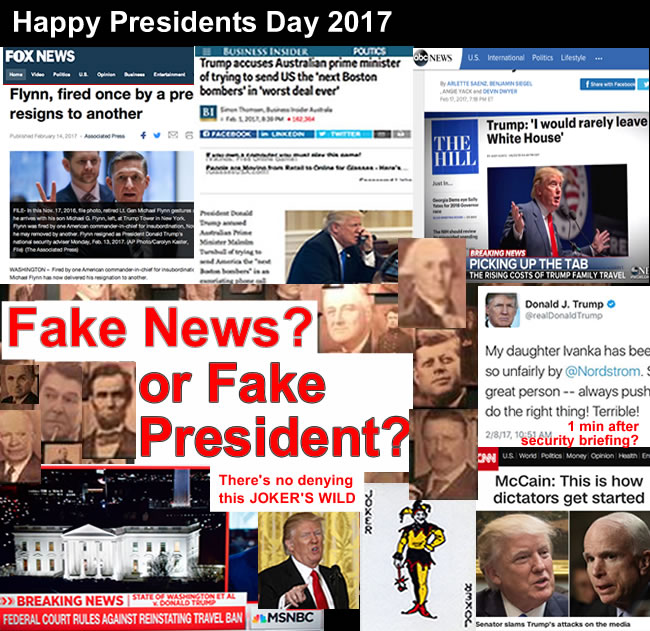 ---
The Trump Train
Fake News or Fake President?
February 19, 2017 / NYC Neighborhoods / NYC Politics & Media / News Analysis & Opinion / Gotham Buzz NYC.
I know a lot of people have found watching the news both addictive and frustrating lately.
They're tired of hearing the president make unsupported false statements every week, and listening to the media rebroadcast or reprint or repeat these false statements before they go onto correct him.
Hitler Said Repeat a Lie Often Enough and it Will Be Believed
Why does the media give these statements life in the first place - by repeating them at all?
It just gives these untruths some sort of strange validation, especially to those voters who make their decisions based on the noise level of soundbytes, instead of doing the research needed to understand the serious issues of the day, and the candidates' positions on them.
Jefferson said that those who believe they can be ignorant and free - believe in something that never was and never will be.
It seems to me that all of us need to start refocusing our attention from the petty distractions of what appears to be a Celebrity Apprentice President all-too-real TV show, to the serious business of addressing the issues facing the nation.
The president seems to be setting the tone for this chaos with his outrageous statements and theatrics. And the media - as during the 2016 campaign - seem to be knee-jerk reacting to almost everything he says.
They are enabling the president to suck up all the news oxygen out of the nation because all we hear about is Trump, Trump, Trump. They cover his antics - like he's media crack.
Enough already.
Special Request of the American Press: Separate the News from the Mockery
If the only thing the Trump Administration offers at its press conferences is of entertainment value, then I recommend that the news organizations treat it as such and forward the video outtakes of the 'fake president's fake press conferences' - which make a mockery of the office - to the 'fake news' outlets - meaning the late night comedy shows.
Folks who don't stay up late to watch these shows, can now catch these fictitious news shows on Youtube. Stephen Colbert of the Late Show, Seth Meyer of Late Night, and Saturday Night Live all seem to be on a tear. It's funny - but then again - it's sad.
As for the news organizations, if you can't get anything of real substance out of the White House / Administration press briefings - then get out of your comfort zones and begin wandering the Capitol in search of the legislators, staffers, policy experts and industry experts who understand the issues and are working to address them. Put them front and center on the front page of your newspapers, websites and news shows, instead of the Trump Train.
By taking away the open mic you've been giving Trump since he began campaigning for the presidency, you will either influence him to start engaging in the issues and start acting like a real president - or begin marginalizing him - thus giving visibility to the people with the education, experience and knowledge to guide the nation in the right direction ... whatever that may be.
Special Request of the American People: Start Engaging in the Democratic Process
But we, the audience, are also part of the problem. Could it be that both Trump and the media are giving the audience 'what they (appear to) want' based on our behavorial response in watching, reading and clicking into the Trump Train News?
Perhaps it's time for us to tune out this show which parodies our system of government, while mocking us as a society. And maybe it's time to start listening to the advice of Mahatma Ghandi who said, "Live the change you want to see."
Instead of helplessly standing by, perhaps it's time for us to get involved at the grass roots level of the causes or issues we care about - on either side of the ideological spectrum. And maybe now is the time for us to get out from behind our computer screens so that we can infuse new energy into our own real lives. Spring is a good time for new initiatives.
Of course, then again, we could keep watching the Trump Train - if we want to keep this unreal TV show on the air - by continuing to contribute to its ratings success.
And even though our role in the process may sometimes feel insignificant, collectively we are each, one of the many deciders.
Special Presidents Day Request for Donald J. Trump
I have a special Presidents Day request to make of Donald J. Trump - and that is that you quit acting like a rich, spoiled brat and start acting like the president of the United States of America.
This request includes NOT encouraging the people who work for you (like Steve Bannon) telling the press to shut up, NOT ignoring 'tough' questions you don't like posed by members of the press who in some measure are asking the questions that many of us have, and most certainly NOT tweeting that the press is the enemy of the American people.
The First Amendment of the United States Constitution guarantees the right to freedom of expression / free speech / freedom of the press.
These sorts of statements made by you and your Administration, since you've taken office, might be expected of your good friends from less free countries, like RUSSIA - but NOT by the Leader of the Free World - which likie it or not - you are.
Either grow up quickly and quit embarrassing us - or please resign and let Mike Pence become the 46th President of the United States of America.
Have a Happy Presidents Day.
---
De Blasio Delivers State of the City Address
Mayor Takes Humanist, Social Science Approach to Solving NYC Problems
NYC Crime Down, Stop N' Frisk Down 97%, NYC Public School Graduation Rate Up, H.S. Drop Out Rate Down, College Bound Graduates Up, 70,000 Children Enrolled in Universal Pre-K, Financing Initiated on 62,000 Units of Affordable Housing, NYC Budget Surplus
See Related Analysis of Reporting by Multi-Billionaire Owned NY Post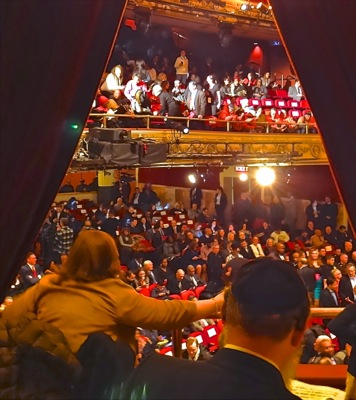 February 14, 2017 / Harlem Neighborhood / NYC Government & Politics / News Analysis & Opinion / Gotham Buzz NYC.
I attended Mayor de Blasio's third State of the City Address at the Apollo Theater in Harlem on Monday. The beautiful old theater, built in 1904, didn't admit African Americans until thirty years later. And it was in 1934 that the historic theater began earning the fame it has today, by becoming the showcase for African American musical and theatrical legends.
In the photo at right is the Apollo Theater as seen from one of the balcony booths prior to the beginning of Mayor de Blasio's 2017 State of the City Address.
Fighting Tyranny & Thomas Paine: These are the Times that Try Men's Souls
There were a number of performances and speeches leading up to the Mayor's address, including a performance by the Dorothy Maynor Choir of Harlem and an operatic delivery of the Star Spangled National Anthem by FDNY's Regina Wilson. Recently deceased Detective Steven McDonald's son, Conor, gave a speech, as did NYC First Lady Chirlane McRay, the Reverend David Ramos, Rabbi Arthur Schneier and Imam Souleimane Konate.
The Pledge of Allegiance was delivered by Jian 'John' Yuan Lin, Chyna Huertas and Eva Lin. And the Reverend Michael Walrond, of the First Corinthian Baptist Church, gave a fiery, inspirational speech talking comparing the national state of affairs today to the American colonists fighting to shake off the shackles of tyranny. He cited the words of American Revolutionary Thomas Paine, who in 1776 said,
"These are the times that try men's souls."
Just before the Mayor came on stage was a video highlighting the de Blasio Administration accomplishments.
Mayor de Blasio Standing Big & Tall for All New Yorkers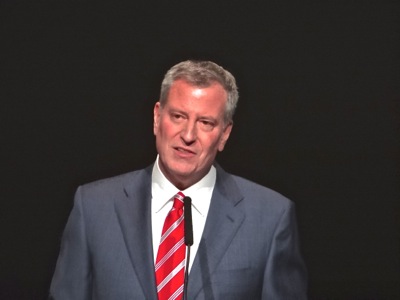 The Mayor came onto the stage, beginning by thanking the various people and departments that helped make his Administration's accomplishments possible. His thanks always include his wife, Chirlane McCray, who has been evolving in her role as NYC's First Lady.
Here's a sampling of the de Blasio's efforts to make New York a better place for all New Yorkers. Some of the information came from the video presentation referenced above, which I have augmented with some additional research and information obtained in prior reporting efforts.
In the photo at right stands a weary, but determined, Mayor Bill de Blasio at his 2017 State of the City Address at the Apollo Theater in Harlem.
I. De Blasio Administration NYC Public School Achievements
A. Social Science & Humanist Approach to Education
• Universal Pre-K Enrollment 70,000
• Advanced Placement For All
• Drop Out Rates Down
• Graduation Rates Up
• College Bound Graduates Up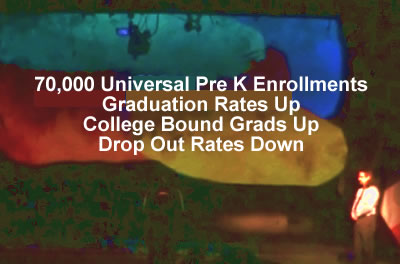 The slide at right shows some of the gains made by the de Blasio Administration with the NYC public school system over the past three plus years.
1. Stop the Bleeding – Stop the 'CORPORATE' run Charter Schools from Maximizing Profit at the Expense of Maximizing Human Potential
Editor's Note: There is a BIG DIFFERENCE between the NON-PROFIT CHARTER SCHOOLS and FOR-PROFIT CHARTER SCHOOL CORPORATIONS. Non profit charters are generally older organizations, designed as an alternative in response to failing public schools decades ago, and whose focus is on improving education - not improving profits.
By contrast the FOR-PROFIT CHARTER SCHOOL CORPORATIONS generally arose in the 21st century, and this group appears to be pillaging the public school system by recruiting and siphoning off the good [low cost / high performing] students so they can maximize profits – not enhance public education.
The despicable consequence of this for-profit charter school strategy is that they are simultaneously robbing the most vulnerable, disadvantaged children of anything resembling an opportunity in life as promised in the founding documents of this nation.
Family background continues to be the highest determinant [have the highest correlation] of a student's academic achievement.
So the de Blasio Administration has significantly slowed the corporate charter school assault on the public education system.
Corporate Charter School Business Strategy Comparable to Old Health Insurance 'Gaming the System'
Recruit the Academic Achievers, 'the Healthy Ones', Because They're Most Profitable & Shun the Rest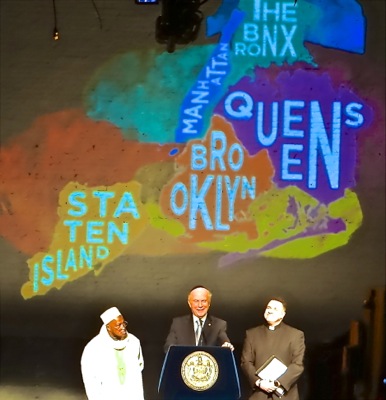 It appears the charter school corporations have employed a strategy designed to recruit and retain the best students to their schools, while leaving the rest behind. They appear to recruit the kids who are already performing well, because the performing children cost the least to educate, thus providing the highest return to the hedge fund profiteers because the funding is allocated on a per capital / per student basis. High performing student enrollments also enable corporate charter schools to claim they are 'performing well' because they've recruited the highest scoring students.
The recruitment and retention strategy referenced above resembles the old health insurance strategy of recruiting the healthy people to buy health insurance as they are the most profitable, while denying those who aren't blessed with good health because they cost the most to keep healthy. This was a systemic inequity Obamacare attempted to eradicate.
In the photo at right stand an Imam [Islam], a Rabbi [Jewish] and a Reverend [Christian] all sharing the same podium with a message of love, peace, respect and understanding.
2. Help the Youngsters & Maximize Human Potential – Not Profits
The De Blasio Administration pushed through universal Pre-K, which has enrolled 70,000 students since its inception in the Fall of 2014.
When this first came out I, and a number of people I know, didn't really grasp the importance of this effort. As family support is the highest determinant in a child's success, many youngsters were entering the public school system at a significant disadvantage vis a vis their better parented peers.
By accessing these kids while they are younger, and providing access to the guidance and resources of the public school system earlier, the NYC Public School system now has a greater chance of motivating these kids, which will inevitabley empowering them, raising their self esteem, and give them a chance at a far more engaged and productive life.
I now get it. And this seems like it can only be a good thing for all of society, as it will reduce societal costs of failing these people early on.
MAXIMIZE HUMAN POTENTIAL - Good Public Policy Costs Less in Long Haul & Enormously Benefits Society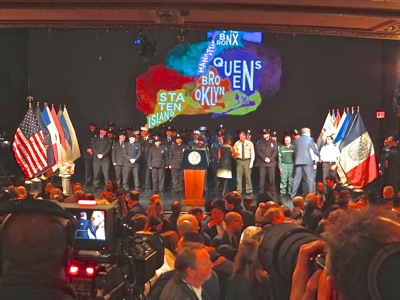 This approach to education enables us as a society to maximize our human potential, which will benefit all the community - and in some small way - all mankind. Not only is this a more humanistic approach to engaging these children, but it's more cost effective in the long haul, as those left behind will inevitably cost society more through lost opportunities, lost productivity, and increased spending on health, human services and criminal justice programs.
In the photo at right is the Mayor on stage at the Apollo Theater with all of the people working for the city that he honored that night including policemen, firefighters, sanitation workers and educators. The Mayor appears to be one who is very much in touch with the middle & working class rank and file of New York City.
Click here for our report about Mayor Bill de Blasio's State of the City Address 2017 including an update on crime, the affordable housing crisis, the city's finances, sanitation and social activism.
---
NYC Crime Continues To Drop, Breaking Records
Mayor de Blasio & NYPD Discuss City Safety & Ongoing Improvements
February 7, 2017 / NYC Neighborhoods / NYC Government / Gotham Buzz NYC.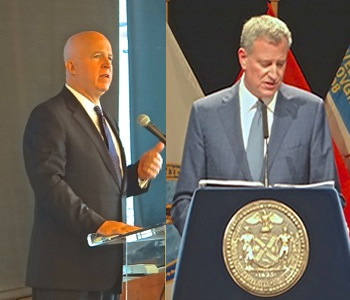 This just came in on the heels of our coverage of the Public Safety discussion below. Mayor de Blasio and NY Police Commissioner O'Neill spoke in the Bronx regarding ongoing efforts and results in improving safety in the city. The following are some of the crime statistics noted in their meeting taken directly out of a press release sent by them.
 
Chief of Crime Control Strategies Dermot Shea, NYPD: Thank you, Mr. Mayor. Good afternoon, everyone. As you've heard, we have begun a strong start to 2017 in terms of overall crime reduction. Strategies that have been put in place to address repeat offenders, illegal gun possession and gangs are having the desired effect. We're building on the momentum of the last few years.
So, some of the highlights for crime statistics from this January – overall index crime is down 0.2 percent for the month of January. When you carry it over to this morning, we are now down 2.7 percent in overall index crime in New York City.
To note – with the overall index crime, January marks the tenth consecutive month of reduced index crime. That's the momentum we've been talking about. Currently, four out of five boroughs in New York City – all but Queens – are down to start the year.
Homicides – we recorded 20 homicides in January. That's down two from 22. That 20, as the Mayor alluded to, is the lowest January that we have ever recorded going back a minimum into the 1960s.
Shooting incidents – down 1.7 percent in January. Last January we hit the modern mark with 59 shooting incidents. We came in with 58 this January.
Talking about momentum again – nine of the last 13 months we've had a reduction in shooting incidents. Nine of the last 13.
Three months in a row we've had a reduction in shooting incidents in New York City. We have now, when you look at New York City as a whole, we now have 24-hour periods where we do not record a shooting incident in New York City. That kind of thinking was impossible in the not too distant past.
This is the new normal. We want to build on it and we feel that we will build on it but there's still plenty of work to do.
Stabbings and slashings for January – down 7.2 percent.
Robberies – down 7.5 percent. Lowest January robbery number we've seen.
Felony assaults in New York City – down 5.4 percent.
Burglaries tied the lowest mark set last year.
Transit crime – down 1.4 percent.
And housing crime – not to be outdone – down 1.9 percent.
Clearly, a wide breath of crime across New York City – property and violent crime, down.
 
But there is, I alluded to, there is still work to do – three categories we saw increases in January.
Grand larceny, specifically, credit card related skimming and forging of checks – those two drove grand larcenies. And grand larceny was up for the month of January 4.7 percent.
And lastly, rounding out the crime totals – stolen vehicles which we have seen drop to unprecedented lows saw an increase of ten cars for January. So, that's 480 versus 470 – a two percent increase.
Commissioner O'Neill: Okay, thanks, Dermot. We'll take your questions.
 
Question: Do you think it's possible, really to keep driving crime down further at this point? And how could you achieve that?
O'Neill's response was yes, with some added context.
---
NYPD Commissioner O'Neill on Safety & Cybercrime
City & State Organizes Informative Program About Public Safety in NYC & Cybercrime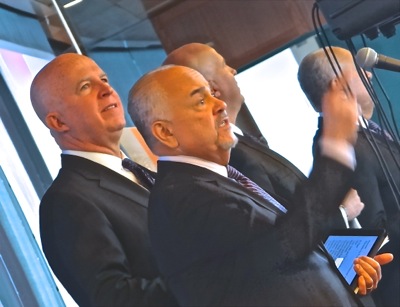 February 6, 2017 / Battery Park NYC / Crime & Safety in NYC / Gotham Buzz NYC.
I attended a City & State program dedicated to exploring the many facets of community safety in New York City. The program started with a half hour speech by the new Police Commissioner, James O'Neill. He discussed his background which includes a long line of successive promotions in law enforcement, starting with the transit police in Brooklyn in 1983.
Background: NYPD Commissioner James O'Neill
O'Neill has held many positions, including taking charge as the commanding officer of the Vice, Narcotics and Fugitive Enforcement Divisions - each for a period of time. His most recent position was as Police Chief, during which time he oversaw the management of the neighborhood policing program. The neighborhood policing program was implemented in 2014, during Mayor de Blasio's first term, with the intent to build relations and trust between the police and the communities they serve. The concept is that if the community works with the police to ferret out and penalize the perpetrators, crime will continue to stay at all time lows.
Neighborhood Policing: Intelligent Approach to Safety That Works?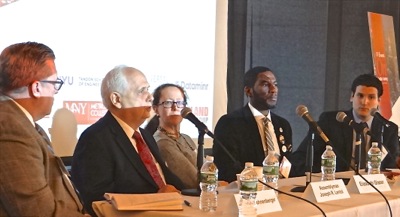 Part of the problem with past police / community relations is that most of those interactions with the police came with a negative connotation to them, for example as when being ticketed, or picked up for bad behavior.
The idea with neighborhood policing is to develop positive interactions by facilitating interactions between individual officers and individual members of the community, so that if and when the time comes, there's enough trust between the officer and community member to work collaboratively to round up and penalize law breakers.
O'Neill's speech was followed by a forum of four experts who have had some involvement in the governance of law enforcement in NYC. The panel included NYC Councilman Jumaane D. Williams of Brooklyn who is the Chairman of the Committee on Housing & Buildings, Elizabeth Glazer who is the Director of the NYC Mayor's Office of Criminal Justice, and NYS Assemblyman Joseph R. Lentol who is the Chairman of the NYS Assembly Committee on [criminal] Codes. The panel was moderated by City & State Features & Opinions Editor, Nick Powell, who has been covering crime in New York for many years.
Stop 'N Frisk - The Facts vs the NY Tabloid Hype?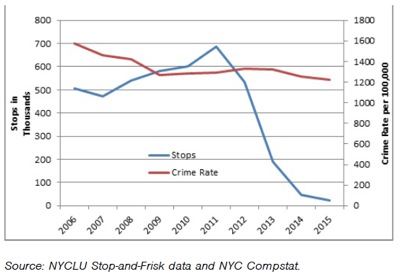 The panel explored numerous aspects of public safety in NYC, including a number of the successes NYC has been having with neighborhood policing, which is why the police / community clashes you see on the news are coming from other parts of the country - not NYC.
Needless to say, the job of the police force is never done, and challenges remain, but generally the forum had an upbeat tone due to the progress being made under Mayor de Blasio and Police Commissioners Bratton & O'Neill. One of the changes that's been helpful in community relations has been the drastic reduction in stop 'n frisk, which in spite of what the NYC tabloids purport, hasn't resulted in a spike in crime [see charts to right].
I did a bit of research, and found a couple of charts published in an April 11, 2016 report by the Brennan Center for Justice. The Brennan Center is a non-partisan, non profit research center at the NYU Law School. The two charts shown here graph the significant reduction in stop 'n frisk, while also showing no attendant spike in crime. In fact it is believed that over the long haul the reduction in unwarranted stop 'n frisk searches will have a positive impact on law enforcement community relations, as vast swaths of the populace that were searched with no result, will no longer feel that their privacy has been unnecessarily violated.
Cybercrime - Anonymous, Stealthy, Cross-Jurisdictional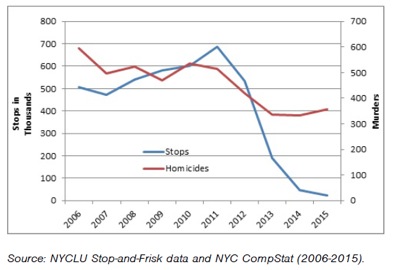 The second segment of the forum discussed some of the challenges facing the FBI with regard to reigning in cybercrime. The panel included Joel Stashenko who is the Albany Bureau Chief of the New York Law Journal, Nasir Memon who is a Professor of Computer Science & Engineering at NYU, Timothy Howard who is the Assistant U.S. Attorney and Cybercrime Coordinator for the NYS Southern District Office, and Prashanth Mekala who is the Supervisory Special Agent of the NY Field Office of the FBI.
The challenges facing law enforcement regarding cyber crime are different than most other criminal activity. For example cyber crime is generally anonymous, more insidious and hence more difficult to detect. And oftentimes the break-ins come through multiple legal jurisdictions which makes gaining access for tracking and prosecuting more challenging.
Budapest Convention of 2001 on Cybercrime Helping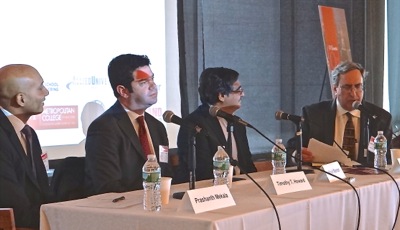 But progress is being made. There was a Budapest Convention on Cybercrime which was passed in 2001 and became effective in 2004. More nations are signing on, as the accords enable law enforcement to move more quickly in multiple jurisdictions in response to cybercrime events.
As in community policing, establishing trust between the victims and law enforcement is critical in enabling governments to catch the criminals. Oftentimes companies victimized by cybercrime are concerned the access they provide to law enforcement may be used against them in other regulatory and civil proceedings. One of the panelists told us that the information they seek is soley for the purposes of catching the criminals, not to share with other regulatory agencies or people. And that the less time between the breach of a system, and obtaining access to analyze it, the greater likelihood that law enforcement can track them down, because in cybercrime the 'digital fingerprints' oftentimes disappear.
Speed of Response Helps Law Enforcement Respond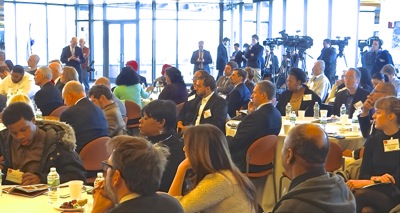 What's happened recently is that company security has increasingly been delegated to the legal department of a firm, because the company is then protected from disclosures because of attorney client privilege.
But what then happens, because the lawyers seek to mitigate legal risk / blame, is that there's a slow response by the company to enabling law enforcement to do their jobs in track down the criminals. One panelist noted that oftentimes what companies are trying to keep secret [their blame / culpability] comes out in the wash anyhow.
One of the panelists noted that oftentimes the biggest threats come from within an organization. Someone is turned to the dark side, or is careless - resulting in the breach of security. Currently the NSA [National Security Agency], the CIA [Central Intelligence Agency], the DOD [Department of Defense] and the FBI [Federal Bureau of Investigation] are all working to mitigate the risks associated with cybercrime.
They had a third panel about mitigating disaster risk, like from terrorism or cataclysmic events such as hurricanes, but I didn't stay.
Organized by City & State Magazine, Website & Events
Many thanks to City & State, which is an informative magazine publisher and events organizer. Their work seems to be predominantly in the area of government, politics and social issues. You can visit their website at www.cityandstateny.com.
---
Brexit: Betrayal of Britain by a Billionaire Press Lord?
Is Murdoch's Fox in the British Chicken Coop & About to Eat its Prey?
January 30, 2017 / New York City / Murdoch Media Madness / News Analysis & Opinion / Gotham Buzz NYC.
I stumbled across a news item over the weekend, that led me back down the dirty trail of billionaire media mogul and global propagandist, Keith Rupert Murdoch.
Murdoch NYC Media - NY Post, Fox News, WSJ, WNYW TV & WWOR TV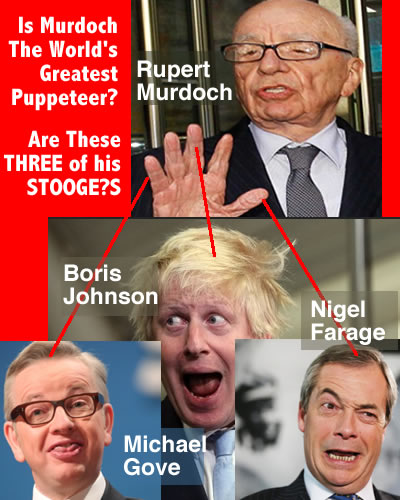 I believe this is an important issue that is, or eventually will be, of great concern to our readers. The reason New Yorkers should be concerned is because City Keith Rupert Murdoch controls the following NYC media: Fox TV Network, two local NYC TV stations – WNYW Channel 5 and WWOR Channel 9 - the Wall Street Journal and the NY Post.
Hence Murdoch has a dominant share of local NYC media and oftentimes appears to use it propagandistically to pick politicians who will help him enhance his corporate profits - oftentimes at the expense of the public.
Murdoch also controls some other American media properties including the National Geographic and book publisher, Harper Collins - but for the purposes of this report, these media outlets are less material.
Murdoch & Corruption? NY Post & Fox appear to be used as Propaganda Outlets
I began taking notice of Rupert Murdoch's manipulative media methods in April 2016 when his NY Post started relentlessly slamming Mayor de Blasio on what at the time appeared to be based purely allegations and innuendo. Murdoch's Fox News seemed to add to some of the media thrashing. In doing the first story where I recanted some of as Murdoch's propagandistic methods, I found all sorts of other information that indicated that Media Mogul Murdoch might possibly be more corrupt than many of the politicians skewered by his tabloid print and broadcast outlets.
Was Brexit Used to Replace Cameron to Renew Sky TV Bid?
Around this same time as the NY Post was hazing Mayor de Blasio, the British referendum on whether to stay or exit the European Union [aka Brexit] was coming to a head. I couldn't resist watching Murdoch's manipulative media operations swing into action to sway that vote – as I hypothesized at the time – that he was using the referendum to discredit and replace British Prime Minister David Cameron, so Murdoch could resume his aborted effort to acquire the rest of the British Sky TV satellite network that he didn't already own.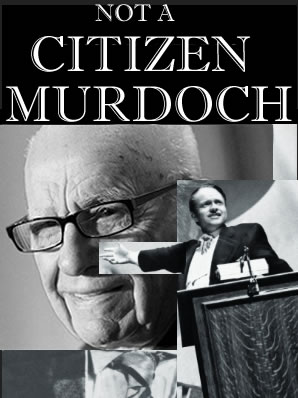 The British Sky TV merger was aborted in July 2011 because Murdoch's organization was caught illegally hacking thousands of people's phones in Britain, in order to publicize their private lives, in the interest of macabre headlines and gossipy broadcasts.
Cameron's Press Secretary, Coulson, a former Murdoch employee, was one of the people accused in the hacking scandal. And the office of the person appointed to oversee the Murdoch B Sky B merger, Jeremy Hunt, was found to have broken protocol by surreptitiously communicating with Murdoch's organization through an intermediary during the regulatory oversight hearings.
Murdoch periodically publicly asserts that his political press patronage is not related to all the goodies he appears to collect shortly after his candidates win. But quite frankly, having done quite a lot of research, I find that close to impossible to believe after sifting through a four decades long pattern of highly beneficial circumtances that ended in Murdoch's favor - click here to read our report on possible Murdoch corruption - featuring Newscorp, 20th Century Fox, Fox News, the NY Post and the Sun.
Murdoch, NOT A BRITISH CITIZEN, Controls Largest Concentration of Media in Britain
Keith Rupert Murdoch is NOT A BRITISH CITIZEN, and yet he controls two of Britain's largest daily newspapers - the [London] Times and the Sun; and two of its largest weekend papers – the Sunday Times and the Sun on Sunday. Murdoch's organization also holds a 39% share in Sky TV, which is Britain's largest pay satellite TV provider, and has substantial mobile phone and internet service shares of the British market.
Today, nearly a year after the whole Brexit drama began, British Prime Minister David Cameron lost the Brexit vote and his job. And less than six months after the new Prime Minister, Theresa May, has taken office; Murdoch's 21st Century Fox has come back to fetch the rest of its prey. Murdoch re-opened the bid for the rest of Sky Broadcasting in early December of 2016.
Global Deceptions - Propaganda for Profit & the Bigger Billionaire Picture
I see Murdoch's role in the Brexit vote and current bid to acquire the rest of Sky to be very much related. What follows is a timeline along with some commentary to provide insights into what appear to be possible motives and the driving force behind the Brexit referendum. I hope this will help readers become more aware of the bigger picture - a global media billionaire, invisibly directing and stage managing events on a national and international scale, to get what he wants, regardless of the price the public must pay for it. I know this sounds harsh, but that is exactly what Hitler did and everyone - even his supporters - paid dearly for it.
Murdoch appears to be using his media outlets as propaganda-for-profit money machines. And he appears to hide in plain sight, behind his branded media curtains, while manipulating a kaleidoscope of menacing politicians and pathetic public policies, in order to further enrich and empower himself.
The laws of physics state that energy and matter are never lost, only transformed, and for every action there is an opposite and equal reaction. These are laws that cannot be rewritten by Mr. Murdoch.
So with that happy thought, click here to read the rest of our report entitled - Was Brexit a Betrayal of Britain by a Billionaire Press Lord?
---
Hundreds of Thousands March in NYC
Women's March Appears to Approach 21st Century NYC Protest Record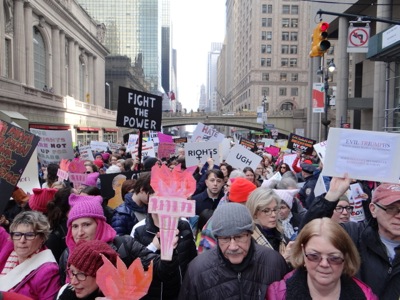 January 21, 2017 / Midtown Manhattan Neighborhoods / Manhattan Government & Politics / Manhattan Buzz NYC.
I headed into Manhattan around noon on Saturday. The #7 subway line was packed, even more than during rush hour on a weekday morning. There were protesters wearing pussy hats, bearing protest signs and placards, and generally in pretty good cheer as they headed into Manhattan for the Women's March in NYC.
I got off the subway at Grand Central Station along with the crowds of protesters, and made my way up to the 42nd Street exit. Out on the street there was a moving mass of marchers making their way down to Fifth Avenue where they would turn north to march up to Trump Tower along Fifth Avenue at 57th Street.
I have to admit I was surprised by the massive turnout. One person told me that over 50,000 people had signed up for the event on Eventbrite. But it would become obvious to me as the day wore on that the crowd had easily exceeded that number.
The event was planned to begin at 11 am in Dag Hammarskjold Plaza at Second Avenue and 47th Street. There would be a few speeches, followed by a march down Second Avenue to 42nd Street, then west to Fifth Avenue and then north up Fifth Avenue ending at Trump Tower at 57th Street. It was scheduled to end at 4 pm and waves of protesters had been choreographed to leave Dag Hammarskjold Plaza in 15 minute intervals.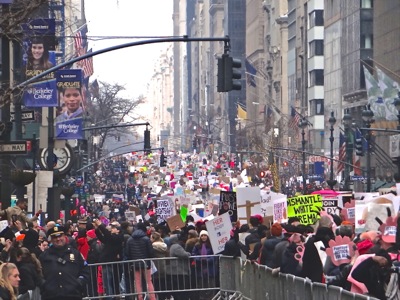 I had listened to Donald Trump's Inauguration speech the day before [Friday] and there didn't seem to be anything in there that struck me as very objectionable if one didn't read anything into it. So I kind of thought the march might be a bit premature given he'd just assumed office and hadn't really done anything yet.
I asked one woman if I had missed anything in Trump's speech, that she / others found objectionable. She told me no, he hadn't said anything objectionable, but she went on to say that she didn't believe anything he said. I asked another woman why she'd come out to protest today. She told me that she wanted to stand with other women in making a statement to Trump that they weren't going to passively stand by and allow him or the Republican Party to roll back their hard fought equal rights.
There was a festive mood throughout the day. I occasionally asked policemen keeping the peace how things were going. Many smiled and said it was going well and that they hoped it would continue that way.
I'll have more on this, including some details of how the protest morphed throughout the day, as well as a photo slide show and some video, sometime in the next week.
---
The Road Ahead 2017
A Few Axioms To Keep In Mind Throughout The New Year
January 1, 2017 / Gotham Buzz NYC. For many of us, today starts the beginning of the new year.
I used to make new years resolutions that generally lasted a few days or few weeks. Over time I've given that up and have focused on a few guiding principles that I work toward throughout the year, every year.
The first guidepost is to keep things as simple as possible by letting things go, so you can change and evolve who you are. Over time it's important to learn to let go of the past which includes letting many of the people, projects and things - that were once so meaningful and relevant - fade away with time. This process involves discarding many of the things one collects, in order to open up life to make room for new possibilities.
The second guidepost is to take care of the vessel that carries one's being - meaning taking care of the body because it's the only one we'll ever get and it has to last an entire lifetime. This means consuming the foods that will enable the body to function properly and ward off disease, while recognizing that satisfying the mind is important too, as it's a part of the body. There are three elements to this guideline.
Try to maximize consumption of natural foods while managing consumption of the delicious processed foods that come in packages. Read the container nutrition labels which indicate the amount of fat, sugar, sodium and cholesterol consumed per serving. The balance of natural and processed foods will shift depending on what's going on in life.
Reduce consumption of toxins by first paying attention to the quantities consumed of them, and then by substituting the toxins with healthier options. For example dilute a soft drink with seltzer water [cuts sugar], or swap in a lemonade for a beer [cuts alcohol], or swap in pretzels for potato chips [cuts salt and fat]. Over the years these little substitutions can add up to some small measure of weight loss and can aid in maintaining generally good health. But also don't deprive yourself too much of some of the simple pleasures in life that keep one going - because when that's done, there's rebellion, and the program won't work.
The third element of this guidepost is to try to walk and bike whenever possible. It's a way to kill two birds with one stone by enabling you to get somewhere while also getting some exercise. And be sure to carve out the time each night, required for a proper rest.
The third guidepost is to try to move your life in the direction of your interests. This will likely take a great many years, as well as economic and other trade offs. But if successful, one can then spend most of their time doing the things that totally engage them. It's said that "when one is doing something they love, they'll never have to work another day in their life."
And the fourth guidepost is to keep on learning, because "luck is when preparation meets opportunity".
May your new year be filled with promise and possibilities.
---
Santa vs Trump: Who's the Better Businessman?
SPECIAL REPORT: Santa in Astoria in Queens
December 21, 2016 / Astoria Neighborhood / Fiction / Queens Buzz _ Q. The following video report continues our investigation to continued sitings of Santa in Astoria in Queens. This report looks into the business practices of Santa in six categories and compares them to those of billionaire businessman and president-elect Donald Trump. At the end of the video we announce the winner.
If you have an older browser you may need to click refresh to see the video box
Santa vs Trump: Who's the Better Businessman? from Queens Buzz on Vimeo.
---
Trump Election Victory Protests Continue
The Democratic Way to let off Steam, While Coming to Grips with an Unexpected Outcome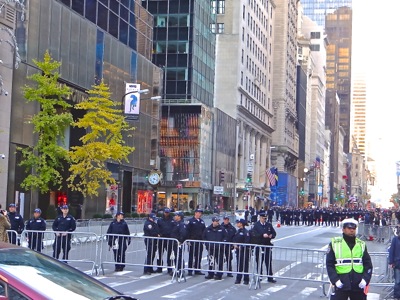 November 13, 2016 / Upper West Side Neighborhood UWS / Manhattan Politics / News Analysis & Opinion / Manhattan Buzz NYC _ M.
Like most folks, I had seen and heard the protests that sprung up around the city and country in defiance of the Trump election victory. On Saturday I received an email about the one of the upcoming protests from a number of small, civic-minded non-profit groups that wanted to make a statement in favor of respecting women and minorities, and immigrant rights. The protest was being held on Sunday at 2 pm at the Trump International Hotel on Columbus Circle near the Upper West Side, so I decided to attend it to get a closer look as to what was going on.
I came up from the subway in Midtown Manhattan and began making my way toward the Trump Hotel at 57th and 5th Avenue. At the Tiffany's corner there were marchers and protesters chanting and singing, while waving signs with slogans, and encouraging passing pedestrians to join in the effort.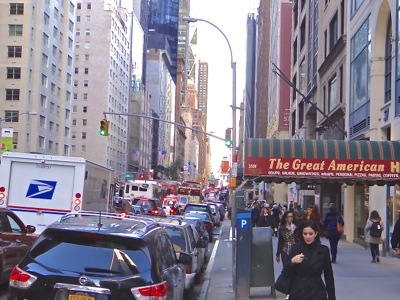 The NYPD seemed to have everything under control. They had their hands full with gnarly traffic and gated walkways, which herded holiday visitors and New Yorkers alike through snake-like pedestrian paths in Midtown. I asked one officer how things were going and he said they were going well enough. I asked him how long things had been this tied up and he said since Tuesday, the night of the election. I asked him how long he thought this would continue and he said until the protesters had let off enough steam.
On election night I had visited both the Trump campaign at the Hilton Hotel Ballroom in Midtown, and the Clinton campaign at the Javits Center. Trump appeared fully prepared for defeat, given the space he booked only accommodates about 1,000 or more guests; while Clinton appeared to be counting her chickens before they had hatched given she'd booked the Javits Convention Center where thousands had gathered in anticipation of seeing her announce to the world that females had finally broken through the ultimate glass ceiling. Clinton's expectations were dashed and Trump's were never came to pass, as he is now destined to become the 45th President of the United States of America.
Trump Defeats Clinton - a Brief Explanation of What Happened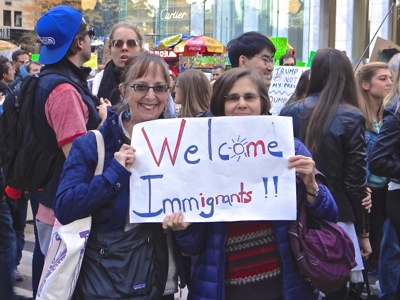 While plenty of pundits have weighed in on what happened, I'll give you a short snapshot from a man on the street. While more people voted AGAINST Trump than Clinton, it was by only a very narrow margin. And enough of those voters were from the more sparsely populated white rural and manufacturing states, which is what enabled Trump to claim the electoral college win and the presidency.
On my way out of the Javits Center election night, I spoke with a young man who was dumbfounded that Clinton had lost. He could not imagine what those who voted for Trump were thinking. I suggested he take a look at Michael Moore's video piece, created early this year, predicting a Trump win. In the piece Moore comments on the huge jobs losses and the general disenfranchisement felt by large swaths of the middle class. These were sentiments that both the Clintons and the national broadcast & print media, had largely ignored.
Click here to view more photos of the protests in NYC of the Trump election victory, as well as snippets from several conversations I had with people on the street.
---
Comic Con at Javits Center
7th Annual Comic Con Attracts Record Attendance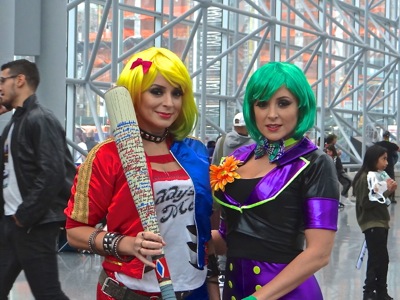 October 9, 2016 / NYC Neighborhoods & Boroughs / Holidays in NYC / Gotham Buzz NYC.
I attended the seventh annual Javits Center on Sunday. The weekend long event, celebrates the fictional comic characters primarily created in the U.S.
Comic Con has become a sort of pre-Halloween celebration, wherein families with kids and adults who continue to nurture the creative child inside, come out in full bloom as you can see in the photo at right depicting a couple of super heroines.
---
Oktoberfest on the East River
Zum Schneider Oktoberfest is a Fun, Colorful, Character Celebration
October 4, 2016 / Gramercy Park Neighborhood / Manhattan Dining & Culture / Gotham Buzz NYC.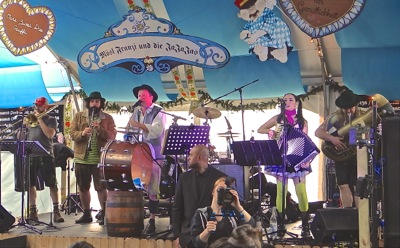 I attended the third annual Zum Schneider Oktoberfest on the East River on Sunday. The Oktoberfest celebration ended having been in operation beginning the prior weekend.
I met Sylvester, Founder of the event, who I found to be quite an interesting character. He's a musician, a restaurateur and one helluva showman based on what I saw on Sunday.
Oktoberfest began in the 19th century as a wedding celebration which was so successful, that the Bavarians made the celebration an annual event.
Between 7,000 and 8,000 people attend the event during it's ten day long stay. They are treated to a series of musical performances including some with Sylvester, sing-a-longs and dances. The food was a hearty but delicious assortment of bratwurst, chicken and pork - all of which I sampled and they were well chosen pieces of meat that had been cooked by someone who knew how to handle the meats as they were flavorful and moist.
I'll have more at a later date, including photos and maybe some video.
---
Floating Peace Lanterns
Harbor LAB Organizes Floating Peace Lantern Event on East River to Celebrate UN International Day of Peace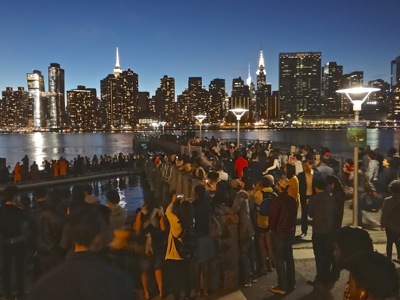 September 25, 2016 / LIC Neighborhood / Queens Social Events / Queens Buzz _ Q.
Last Sunday evening I made my way down to the East River waterfront in Gantry Park to observe a celebration of the UN International Day of Peace.
Harbor LAB [Learning / Adventure / Boating], an environmental educations non-profit whose activities center around East River & Newtown Creek kyaking and canoeing, had organized the event.
The celebration started in the afternoon along the East River waterfront at Gantry Park and lasted well into the evening. Activities began at 2.30 pm with public paddling of kyaks and canoes, while simultaneously there were meditations, yoga exercises and the preparing of the peace lanterns.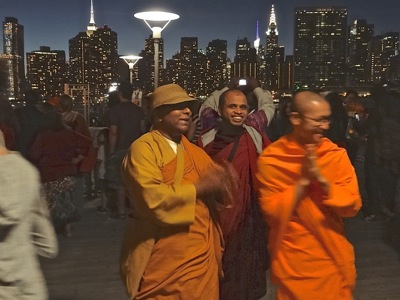 By sundown several speakers for interfaith and peace addressed the crowd before beginning the floating peace lanterns ceremony. The keynote speaker was Ambassador Anwarul K. Chowdhury High Representative for the United Nations, Retired UN Under-Secretary General.
The peace lantern event began with a drum beating by about a half dozen Buddhist monks dressed in traditional bright orange garb. Several hundreds lined up along the shoreline to observe the solemn ceremony and enjoy sunset along the East River.
The first such event was organized by Harbor Lab Founder Erik Bard in 2002. This year Harbor LAB organized the event in conjunction with the Buddhist Council of New York, and the Interfaith Center of New York, Global Movement for the Culture of Peace, and New York Office of Parks, Recreation and Historic Preservation.
---
Queens Library 'Scandal' - Where was the Beef?
Galante Seeks to Clear his Name as well as the Reputations of the Queens Library & Former Sacked Trustees
How Did Katz's, Stringer's & NY Daily News' Full Year of Accusations & Innuendo Fall So Far Short in Court?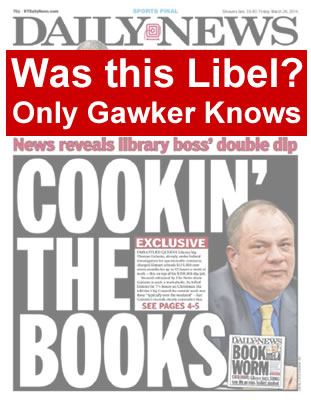 September 6, 2016 / Queens Neighborhoods / Queens Politics & Media / News Analysis & Opinion / Gotham Buzz NYC _ D.
Throughout 2014, we witnessed Billionaire Mortimer Zuckerman's NY Daily News, NYC Comptroller Scott Stringer and Queens Borough President Melinda Katz publicly attack President Thomas Galante and the Board of Trustees of the Queens Library. They appeared to individually and collectively insinuate that there was unforgivable malfeasance going on at the Queens Library.
In late January of 2014, only a day after Juan Gonzales published an EXCLUSIVE muckraking story about the Queens Library President's renovations to his office, in Mortimer Zuckerman's NY Daily News, NYC Comptroller Scott Stringer announced an audit of the Queens Library.
Juan Gonzales included in the story what I believe was leaked CONFIDENTIAL INFORMATION of the Queens Library, such as the Queens Library President's salary and other confidential employment agreements. Former trustee(s) told me they believed that this information was leaked by Queens Borough President Melinda Katz's ex-Officio Board of Trustees representative on the board, in violation of their fiduciary obligation to the Queens Library [to date this is an unproven allegation].
Katz, Stringer & Zuckerman's NY Daily News Accusations - Appear to Damage Queens Library Reputation - with a Year Long Barrage of, as yet Unproven, Allegations
Queens Borough President Melinda Katz, NYC Comptroller Scott Stringer and Mortimer Zuckerman's NY Daily News then regaled us for the rest of the year [2014] with all kinds of incredible detail about alleged wrongdoing at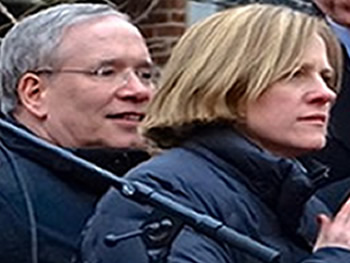 the Queens Library. Mortimer Zuckerman's NY Daily News published several editorials during the course of the year rousing Queens residents into a frenzy against Galante and the Queens Library trustees, while encouraging these two politicians / government officials to unleash their fury against the Queens Library President and Board of Trustees.
Queens Borough President Melinda Katz obliged by initiating legislation to change a state covenant with the library drafted by Andrew Carnegie over a century ago. Andrew Carnegie founded the library as part of his great philanthropic works. And NYC Comptroller Scott Stringer filed a lawsuit seeking complete access to the records of the private non-profit segment of the library, because he must not have found what he was looking for in the public portion representing 85% of the organizational budget. They appear to have done such a good job of damaging the reputation of the Queens Library, that in the following year [2015/ 2016] donations to the non-profit library fell by almost 40% or nearly $2 million.
Did NYC Comptroller Scott Stringer Break the Law & Slander Thomas Galante & the Former Queens Library Trustees?
NYC Comptroller Scott Stringer made a number of harsh statements during the course of the audit of the Queens Library alleging lies and theft. In a May 22, 2014 story published by the Queens Tribune, Stringer said,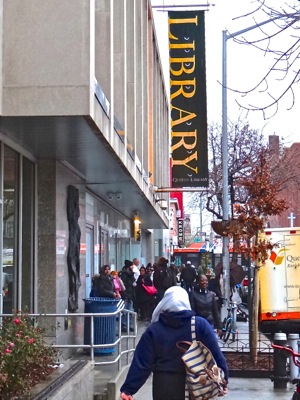 "For them [Queens Library Board of Trustees] to mislead the public and tell the public that they are, in fact, cooperating, is nothing more than a bold-faced lie."
In a July 8, 2015 story published in Newsday, Stringer charged Queens Library executives with using public funds as their
"personal piggy bank" ...
And later in the same story NYC Comptroller Scott Stringer says,
"As they were scaling back access to books, the Internet and vital programs and services, they were lining their own pockets."
These statements, if untrue, might constitute slander, particularly given the fact that many of the people NYC Comptroller Scott Stringer attacked are private citizens - not public officials like himself.
The title of his final audit report seems to negate his previously made assertions, as the title of the final NYC Comptroller's report is,
"REPORT OF THE COMPTROLLER'S INVESTIGATION INTO POSSIBLE MISCONDUCT REVEALED BY THE AUDIT OF THE QUEENS BOROUGH PUBLIC LIBRARY"
The operative word is possible and this is after likely one of the most intense, year and a half long audits, of any library in the city, ever.
NYC Comptroller Scott Stringer referred his findings to the IRS and other legal entities for follow up. This is following an investigation by the FBI, the NYC Department of Investigations, Scott Stringer's own office of the NYC Comptroller, and following the initiation of legislation by Queens Borough President Melinda Katz to change a 118 year old covenant between the Queens Library and the State of New York.
Lots of Smoke, but Still No Fire
As of this writing, nearly three years later, the allegations of wrongdoing by Thomas Galante have been all smoke and no fire.
So far, we've still heard nothing more than allegations and innuendo and possibly libelous and slanderous accusations by public officials and a billionaire NYC real estate developer's paper.
Under Galante the Queens Library was a Top Rated Library in the Nation with an Unblemished Financial Record
Each of the accusers rarely, if ever, mentioned that the Queens Library was considered by its peers to be one of the finest libraries in the nation. That the Queens Library had won national awards which confirmed the library's national standing. And the accusers never mentioned that in all the years that Thomas Galante had been President of the jeweled Queens Library, that it had been run fiscally responsibly with a balanced budget and never a hint of scandal ... until they came along, in their newly elected positions, ALLEGING one.
The accusers accounts did not jibe with what I personally knew about the Queens Library, so I set about drafting an alternative narrative to what appeared to be biased accounts provided by Juan Gonzales and other writers of Mortimer Zuckerman's NY Daily News.
Court Rules Against Accusers Katz & Stringer - but You'd Never Know it by Reading Mortimer Zuckerman's NY Daily News
On August 31, 2016, in the ruling of United States District Judge Allyne R. Ross, Thomas Galante got a first taste of what seemed to be a fair hearing. Judge Ross' ruling requires the Queens Library to pay Thomas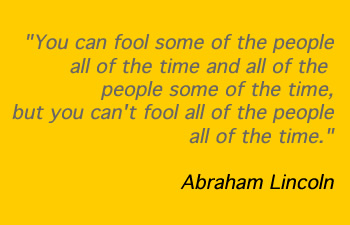 Galante's legal fees to defend himself against accusations by the Queens Library regarding his stewardship of the non-profit.
The newly reconstituted Queens Library Board of Trustees had filed a suit against Galante after he had filed a wrongful termination lawsuit against the library. One might interpret this as an intimidation tactic by the newly reconstituted Queens Library, as legal fees are very expensive and it will cost Galante hundreds of thousands (if not more) to enforce his rights. Galante will have to reimburse the Queens Library if the Queens Library's assertions against him hold up in court.
I wonder if the current members of the Queens Library Board of Trustees have to meet the same standard, in order to have the library pay for their legal fees.
It's worth mentioning that Mortimer Zuckerman's NY Daily News took the lead in most or all of the stories to date about the Queens Library - crafting the storyline narrative about Queens Library 'corruption'. And yet, when I did a search for award-winning journalist Juan Gonzales' & Mortimer Zuckerman's NY Daily News follow on story announcing Thomas Galante's recent court victory against Katz's & Stringer's Queens Library - there was none to be found. This sort of information omission / biased reporting by one of NYC's three daily newspapers is more akin to self-serving propaganda than American journalism.
If Galante Succeeds He Will Clear Not Only His Own Name, but also the Queens Library's & its Former Trustees'
If Galante succeeds in clearing his own name, he will also succeed in restoring the stellar reputation of the Queens Library and the reputations of the former trustees sacked by current Queens Borough President Melinda Katz.
Did the Queens Library Reform Act Enable Pols to Morph the Queens Library into a Political Patronage Parking Lot?
It's also worth mentioning that a couple of years ago interested observers expressed concern that the Queens Library would be morphed into a Political Patronage Parking Palace for under-employed or unemployed party apparatchiks. It's been just over two years since Governor Andrew Cuomo signed the Katz-inspired legislation, entitled the Queens Library Reform Act, and it appears that this may already be happening.
Earlier this year, Queens Borough President Melinda Katz's newly reconstituted Board of Trustees appointed former NYC Schools Chancellor, Dennis Walcott, as the Queens Library President. Based on my research into Dennis Walcott's background, it appears that he has no formal higher education in library science, nor does he have any professional experience in it.
Quelle suprise.
Click here to view our complete coverage of the Queens Library 'corruption & scandals' accusing Thomas Galante of wrongdoing.
---
Which Manhattan 'Democratic' Pols Support $8 Tolls To Cross 60th Street & East River Bridges?
Borough President Brewer, NYS Assemblyman Rodriguez, Cuomo's Deputy of Legislative Affairs Weprin & Many Manhattan CCM's Support $8 Tolls to Raise Capital for the MTA
NYS Governor Cuomo Supported Congestion Traffic Pricing in the Past & Cuomo's Deputy of Legislative Affairs Mark Weprin Is Supporting It
August 2016 / NYC Neighborhoods / NYC Politics / News Analysis & Opinion / Gotham Buzz NYC _ D.
The new Congestion Traffic Pricing Plan has been making its way into the legislative process over the past year. Just last week NYS Assemblyman Robert Rodriguez, a Democrat from Manhattan introduced the bill on March 23, 2016. The Move NY Congestion Traffic Pricing Plan is being sold into the legislature as a means to raise revenue to fund MTA Capital projects.
Manhattan Borough President Gale Brewer, NYS Assemblyman Robert Rodriguez, Cuomo's Deputy of Legislative Affairs Mark Weprin, CCM's Ydanis Rodriguez, Margaret Chin, Mark Levine & Corey Johnson support installing $8 tolls on 60th Street & East River bridges to raise capital for the MTA.
Governor Cuomo's Words Are ...
Governor Andrew Cuomo supported the Congestion Pricing Plan put forth years ago, which wasn't popular with many of the voters in Brooklyn & Queens. The two boroughs have a combined population which rounds to 5 million or 25% of the 20 million people who live in New York State.
Cuomo was quoted as making the following statement by the Observer in an article published a year ago on March 15, 2015,
"It's not, 'Can I support it?' Will the people support it? Can you get it done? Can you get a congestion plan passed and we've gone through this a couple of times and it was an overwhelming 'no' and I haven't seen anything happen that would change my opinion,"

The Governor has essentially been repeating this position publicly ever since.

Inconsistent with Governor Cuomo's Staff Actions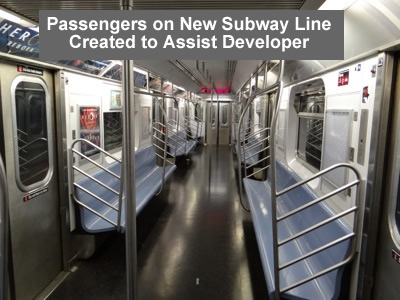 But while the Governor is publicly distancing himself from the measure which is unpopular in Queens and Brooklyn, former NY City Councilmember Mark Weprin, who is now Cuomo's Deputy of Legislative Affairs, has supported the Move NY Congestion Traffic Pricing Plan.
Weprin vehemently oppposed Congestion Traffic Pricing in 2008 when he was a NY City Councilmember, but in 2015 Weprin began publicly supporting the revised Congestion Traffic Pricing Plan as he transitioned from NY City Councilmember to becoming Cuomo's Deputy of Legislative Affairs. NYS Assemblyman David Weprin, Mark's brother, continues to publicly oppose the plan.
It's worth mentioning that the Weprins and the Cuomos have had close family political ties spanning two generations.
Move NY's 'New & Improved' Congestion Traffic Pricing Plan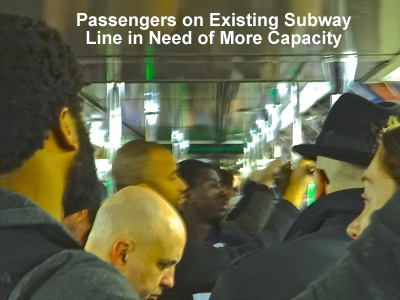 We studied the Move NY Traffic Congestion Pricing proposal by first taking a closer look at what groups are pushing the plan [follow the money]. Gridlock Sam Schwartz Consulting LLC is one of the primary promoters of the plan, and the consulting company is owned in part by a large, multi-national, transit infrastructure contractor. We also evaluated the assumptions they used to create the estimates provided in the plan, which we found to be inconsistent with fairly recent independent studies by respectable institutions, and we also looked at what happened in one of the other cities around the world that implemented the plan.
In essence the plan retrofits [re-prices] the fossil fuel infrastructure, by making a significant investment to install and operate tolling around the center of Manhattan. The remaining proceeds would then go to fund other MTA capital projects [in London this was about half the proceeds]. The pricing would require those who can't afford the $8 tolls [each way] to either use mass transit [recent NYC metro studies have shown this switching doesn't happen] or to cross the bridge at other times at which time the tolls would cost less. The proponents say this would enable those who can afford the tolls to cross the East River bridges and 60th Street more quickly and move around mid Manhattan more easily [less traffic congestion with the rest of the community priced out of their way]. How 'democratic' is this?
Previously MTA Invests Billion$ in New Subways Appearing to Accommodate Billionaire Manhattan Developer(s) & Now Pols Want Metro Residents & Employees to Fund a System to Toll Tax Them to Fund MTA Capital Budget
The MTA during the Bloomberg (Republican) Administration made approximately $8 billion in MTA capital investments for about 30 to 40 blocks of Manhattan subway lines. One line travels from Times Square to the Javits Center [$2.4 billion mostly paid by city] and the other, which was strongly supported by NYC Comptroller Scott Stringer, is expected to travel along Second Avenue from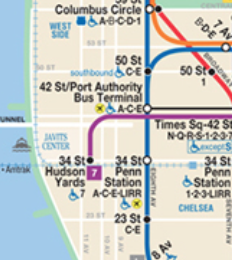 about East 60th Street to about East 86th Street when it is completed [ran way past budget and time estimates - currently about $5.2 billion].
The latter subway line has been called the 'subway to nowhere', while the other isn't much different - as it terminates at the Javits Center and billionaire real estate developer Steven Ross' & Related Companies' new Hudson Yards development - without any other subway connections. Pundits have opined that one [new #7 Hudson Yards station] and possibly both of these multi-billion dollar investments were made to accommodate Manhattan real estate developers [such as Ross], more than to facilitate transit for commuters and residents of New York City.
When I confronted an MTA spokesperson with this perspective, they told me that the Q line extension would alleviate a considerable amount of the congestion on the north / south east side Manhattan subway line, but made no comment regarding the Hudson Yards station.
The photos above show no passengers on the Javits subway [at an admittedly random time and not long after it was installed], while the second photo shows the #6 subway along the Upper East Side, also at a random time. The map to your right shows the new #7 subway line extension ending as an unconnected spur.
Perhaps if the MTA and the government officals who oversee MTA capital project spending were more judicious in their selection of multi-billion dollar projects and allocation of funds, they wouldn't need to make a huge investment of the public's money in the creation and operation of an expensive new tolling system which they plan to use to charge taxpayers $8 tolls to cross 60th Street and the East River Bridges.
This plan essentially aids the wealthy by making their lives easier, while economically discriminating against those with less wherewithal, by making their lives harder. This doesn't strike me as a solution that's 'democratic' at all. There must be less costly, more fair ways to raise additional revenue for transit that NYC commuters - not Manhattan real estate developers - really need.
CLICK HERE TO SCAN / READ THE FULL REPORT on the Move NY Congestion Traffic Pricing Plan.
---
Clinton Defeats Sanders, Trump Defeats Rivals
Clinton 58% vs Sanders 42%; Trump 60% vs Kasich 24% & Cruz 15%
April 20, 2016 / NYC Neighborhoods / NYC Elections / Gotham Buzz NYC _ D.
Bernie Sanders has been campaigning in New York the past week, drawing large crowds ranging from thousands to tens of thousands, as if he were a rock star. But on Tuesday, the voters weighed in and handed Hillary Clinton a convincing victory, helping her widen her delegate lead, and likely put her on the path to the Democratic Party nomination.
Democratic Delegate Count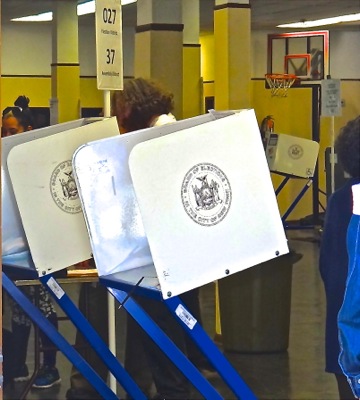 To win the Democratic Party nomination, a candidate needs 2383 delegates of 4763 total. Within that total there are 712 super delegates, who can align themselves / vote for whomever they want but there's pressure to vote in favor of the direction that the state voted. The remaining 4051 delegates are won via the voting process and are called pledged delegates.
According to the Associated Press estimate, following the NY State win, Hillary Clinton now has 1428 pledged delegates and 469 super delegates, while Bernie Sanders has 1151 pledged delegates and 31 super delegates. There are 1472 pledged delegates remaining, so to win a majority of pledged delegates, Hillary has to win 598 or 41% of the remaining pledged delegates, while Bernie has to win 874 or 59% of them. Clinton has already received commitments from more than half of the 'super delegates'.
Given Sanders is generally still behind in the polls in some of the larger remaining states [behind 16% in Pennsylvania and behind 8% in California], that seems a tall order. While the polls were dead wrong in Michigan, they were spot on in New York. The Sanders campaign told a news outlet Tuesday evening that they will see how they do in the contests this coming week and then evaluate their chances going forward. The Democratic Convention has been scheduled from July 25 - 28, 2016 in Philadelphia.
Republican Delegate Count
Meanwhile on the Republican side there wasn't much news. Trump won handily defeating Kasich and Cruz. The Republicans have 2473 total delegates and 1237 are needed to win. According to the Associated Press estimate, following the NY State win, Trump has 845 delegates, while Cruz has 559 and Kasich has 147.
Trump needs 392 more delegates [about 40%] to go uncontested to the Republican Convention. There are 992 delegates remaining, but according to CBS only 674 delegates are available in the remaining voting contests prior to the Convention. So Trump may have to win 60% of the remaining unpledged delegates to go to the Convention uncontested. The Republican Convention is scheduled for July 18 - 21, 2016 in Cleveland.
The voting contests next week include Pennsylvania, Connecticut, Maryland and Delaware.
The fat lady hasn't yet sung, but it is beginning to look like a Clinton / Trump race to the White House.
---
On the Campaign Trail & 'Feeling the Bern'
Sanders Introduces Democratic Socialism to the American People
Updated April 19, 2016 from 4/15/16 / Village Neighborhood / NYC Politics / News Analysis & Opinion / Gotham Buzz NYC _ D.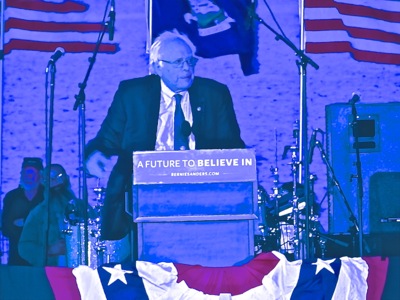 If nothing else, this has been an interesting presidential election cycle. It's not 'reality TV', its televised reality.
Making America Great ... again?
The Republicans attracted most of the attention early on, thanks mostly to Donald J. Trump's shock jock presidential candidacy. A candidacy that turned presidential debates about public policy into name calling, discussions of poll numbers & penis size, and relentless barrages of vituperative insults.
The Donald has, in his campaign, essentially told us to forgeddabout the ballooning government deficit, a dated and at times crumbling infrastructure, fixing our public education system, helping the shrinking middle class and addressing global climate change.
The Donald has distracted us from an intelligent discussion about these 'loser' subjects, and told us that he's going to rip 12 million people [the equivalent of about 5% of the nation's population] away from their families by deporting them, punishing women for getting abortions, and erecting a wall along the border with Mexico which he tells us the Mexicans are going to pay for.
Does Trump really think this is how to 'make America great ... again'?
Trump Candidacy Increases Ratings Which Translates to Profits
Trump may not make America great again, but he's been good for corporate-owned, network television ratings. The Hollywood Reporter quotes CBS Chairman, Leslie Moonves telling a Morgan Stanley conference in San Francisco on February 29th, 2016 that,
"The money's rolling in and this is fun ... this going to be a very good year for us. Sorry. It's a terrible thing to say. But, bring it on, Donald. Keep going."
While Sanders Delivers Substance & Expands Public Debate
So while Donald Trump has been filling the pockets of corporate-owned mass media, Bernie Sanders - the man with the real story - has largely been ignored. Ignored by the mass media, but embraced by the social media and a signficant and growing segment of the American populace. In fact Sanders, during the past week of campaigning in New York, attracted crowds of tens of thousands, while the other candidates on both sides of the ticket did not.
Click here to see photos of the Bernie Sanders rally in LIC Queens, as well as a story about the contest between Sanders and Clinton.
---
United Nations: Cultural Influences on Gender Roles
Women's Groups Discuss Cultural Influences on Gender Equality
April 4, 2016 / Midtown East Neighborhood / NYC Social Issues / Gotham Buzz NYC _ D.
On March 17th I attended a series of lectures entitled, The Role of Culture in Women's Empowerment: Possibilities and Challenges. The lectures were given to a standing room only audience in Conference Room 7 on the lower level.
The five member speaker panel was comprised of women from Liberia, Nigeria and Thailand. And each speaker came from a different walk of life including law, government, education and social work.
The program was organized by the United Nations Mission from Gambia in collaboration with a number of other groups. The intent of the program was to disseminate information to help those in attendance understand the role in culture in defining gender roles, and how to go about dealing with embedded cultural biases.
We'll have more at a later date. The photo at right was taken in the United Nations lobby.
---
Architectural Digest Design Show
Provides Vignettes of Living Lovely at Piers 92 & 94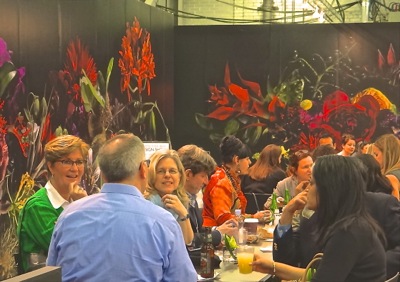 March 21, 2016 / Midtown West Neighborhood / Upper West Side Neighborhood / Fashion & Film NYC / Gotham Buzz NYC _ D.
I attended the Architectural Digest Design Show on Piers 92 & 94 on Thursday afternoon. The show ran through last weekend, providing the public with an opportunity to see the latest and greatest in urban living design and technology.
The show spanned both Piers and included sections dedicated to kitchen, bath, living and dining areas of the home and with a little imagination, possibly the office as well.
The show was well attended by designers, manufacturers, the media, salespeople, buyers and browsers. And the mood seemed buoyant.
Click here to read the rest of our report on the Architectural Digest Design Show incuding the DIFFA on Pier 92.
---
Columbia School of Journalism - Man in Profile: Joseph Mitchell of The New Yorker
Man in Profile: Joseph Mitchell of The New Yorker
Columbia School of Journalism Dean Coll Moderates Conversation with Authors Gay Talese & Thomas Kunkel
January 18, 2016 / Upper West Side Neighborhood / Manhattan History / News Analysis & Opinion / Gotham Buzz.
I received an invitation to attend a conversation at the Columbia School of Journalism about a new book covering the professional life of one of the most prominent writers of The New Yorker magazine. The Columbia University School of Journalism is easily one of the most prestigious journalism schools in the nation; and Columbia also hosts the judging for the Pulitzer Prize, which is considered one of the highest awards a journalist or author can receive.
It was a fairly warm October evening as I made my way north on the subway along the Upper West Side. I got off at 116th Street and walked east through the main campus to the Faculty House. The Faculty House sits atop the Morningside Heights ridge overlooking Harlem, the Upper West Side and the rest of Manhattan.
The entrance into the Faculty House was from an interior courtyard where Columbia University students were hanging around in casual conversations. Once inside, I was directed to an upper floor where the event was being held.
Seated at the head of the room was Gay Talese, a Pulitzer Prize winner and author of numerous books including The Kingdom & The Power. He was in the company of the Dean of the Columbia School of Journalism, Steve Coll, who is also a Pulitzer Prize-winning author having penned several tomes about issues in Asia, most notably the Middle East. And of course, there was the guest author of the evening, Thomas Kunkel, who is the President of St. Norbert College in Wisconsin and who had penned the book being discussed this evening entitled Man in Profile: Joseph Mitchell of The New Yorker.
Click here to read the rest of our report regarding a conversation about the recently published book Man in Profile: Joseph Mitchell of The New Yorker at the Columbia School of Journalism.
---
Midtown International Theater Festival & Short Play Lab 2016
Two Off Off Broadway Theater Festivals Open in Manhattan
March 7, 2016 / Manhattan NYC / Off Broadway Theater NYC / Gotham Buzz NYC _ D.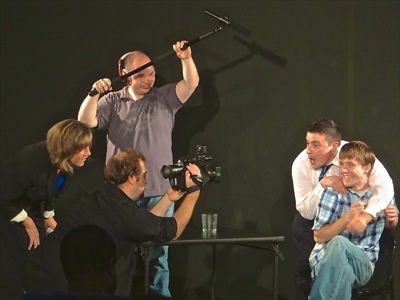 The Midtown International Theater Festival begins this week and the Short Play Lab begin this weekend. These two incubator theater festivals are the brainchild of John Chatterton, former Publisher of Off Off Broadway World magazine.
Off Off Broadway World magazine was started by Chatterton in 1993, and was published for a number of years in the 1990's, but ultimately didn't survive. Founder, John Chatterton did survive, and he went on to pursue his passion for theater by founding the Midtown International Theater Festival and the Short Play Lab series.
The two theatrical incubators provide a venue for participants to create and produce minimalist performance productions and perform them in front of live audiences, which are oftentimes comprised of many of their fellow participants and peers, as well as those interested in original theatrical works. The Midtown International Theater Festival and Short Play Lab series are both an opportunity to try one's hand at producing and performing an original work in front of a live audience, as well as a good networking venue to meet others aspiring to find their places in the theater business.
I attended a Short Play Lab previously and here's what I found ...
Click here for the full story about the Midtown International Theater Festival & Short Play Lab series both of which begins this week and weekend, respectively.
---
Midoma – Where Hollywood Has Its Hair Done
Fashion, Fine Art, Fotos & Fun at European Style Hair Salon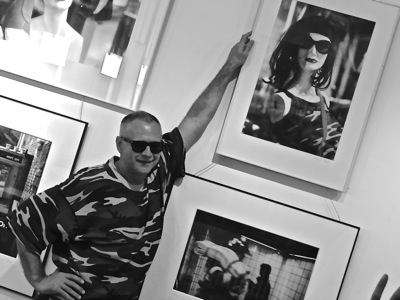 February, 2016 / Midtown Manhattan / NYC Shopping / Fashion Facts N' Fun Fiction / Gotham Buzz NYC _ D.
It's not often that one gets to view fine art, have their hair done by a talented European hair stylist, pick up a few fashion tips and walk out feeling like they've just returned from Europe. And that is precisely why Midoma is increasingly becoming a not-so-well-kept-secret.
And so it was, one evening late last August, that I journeyed southwest of Times Square into the northern perimter of the Fashion District to view the works of photographer Greg Stowell at the Midoma Hair Salon in Midtown West.
Photographer Stowell's disarming demeanor – "awe, shucks, you're not talking about me are you" - reminded me of Chauncey Gardener's quiet ascent into the nation's rarified political circles, through disarming humility and simplicty, in the movie 'Being There'.
More to come at a later date. That's photographer Greg Stowell, standing next to his empty-headed ex.
---
Designing for Quality Retail & Community Use
Design Trust Unveils 'Laying the Groundwork' at the Center for Architecture
March 1, 2016 / Village NYC / NYC Building Design Issues / Gotham Buzz NYC _ D.
I had an opportunity to attend the introductory presentation of 'Laying the Groundwork', which was heralded as a seminal document put together under the auspices of the Design Trust in Manhattan. The event was held at the Center for Architecture at 536 LaGuardia Place, just south of Washington Square Park.
The Design Trust was founded in 1995 by Andrea Woodner, the daughter of Ian Woodner who founded the Jonathan Woodner Company, which Ian named after his son Jonathan – Andrea's brother. The company was renamed Woodner and is a diversified real estate management [2,500 units] and development company in the Washington, D.C. and New York metro markets.
Andrea was first and foremost a sculptor. She later obtained a Masters Degree in Architecture from Columbia University and then went on to found the Design Trust with the intent to fuse the expertise of designers with the use of public space. She defined public space as "anywhere you don't need a key to get into". Andrea stepped down earlier this year as the Board President of Design Trust and was replaced by Eric Rothman, President of HR & A Advisors, a consulting firm.
The thrust of Design Trust has been to marry private design work with the development of public space to create win / win situations. The following is a summary of some of their most significant achievements since the organization was founded.
We'll post more at a later date.
---
---
nyc restaurants
---
---
nyc shops - Click here for Brooklyn tile stores.
---
nyc real estate -
---
Manhattan Economy - 2016 Outlook NYC
Currently Full Employment, Low Interest Rates, Low Inflation But Possible International Shocks
January 4, 2016 / NYC Neighborhoods / NYC Business / Gotham Buzz NYC _ D.
We took a look into the crystal ball over the holiday break to see what may lie ahead for the NYC economy in the coming year. We studied the stats and facts put out by many of the national data producers at the Bureau of Labor Statistics, the Federal Reserve, the Treasury Department and the AIE. What follows is a brief summary of some of the statistics we gathered on the global, national and New York City economy including unemployment statistics by borough for 2015.
U.S. & NYC Economy Near / At Full Employment
Currently Queens and Manhattan are doing the best with respect to employment, with unemployment rates below 5%, which economists consider to be full employment as the 5% unemployed are viewed as normal 'friction' in the economy, accounting for people coming into, leaving and changing jobs within the labor force.
In 2009 - 2010, during the first two years of the Great Recession, the nation's unemployment rate hit 9.4%, while the unemployment rate for New York City hit 10.4%. The employment picture for the nation and the five boroughs of New York City has slowly but steadily improved since then, with unemployment trending lower, reaching full employment this year at 5% for the nation and 4.8% for New York City this fall.
Employment Impact / Relationship to Inflation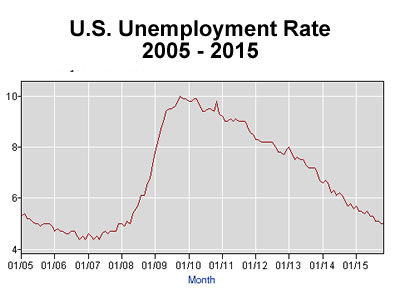 Employment affects inflation, as when everyone is fully employed, recruiting firms bid up the price of labor and workers feel secure enough to spend aggressively, bidding up the price of goods. The Federal Reserve attempts to reign in inflation - because it creates economic instability - by raising interest rates which increases the cost of capital needed to expand operations or make large purchases more expensive. On December 16, 2015, the Federal Reserve raised its key short-term interest rate by 25 basis points (0.25%) to begin to get ahead of potentially inflationary issues that may lie ahead. We'll look into a few of these later in this report.
Economists in one of the banking reports I received believe that there is still slack in the labor market that is not reflected in the numbers as many people have part-time jobs, while they would like full time jobs. Also the labor force participation rate fell during the Great Recession and it became more difficult to find work. Now with a full employment economy it is believed that some of those folks who gave up looking will try to re-enter the workforce. An example of the decline in participation rate might be a spouse who helped supplement household income but couldn't find the right work, and now starts looking again.
Click here to continue reading our report about the New York City NYC Economy Outlook 2016 which delves into full employment impact on inflation, interest rates, consumer debt levels, oil & commodity prices, domestic and international currencies & economic growth, the financial markets and how all of this may impact the different sectors of the Queens & New York City economy.
---
nyc holidays, parades & hotels
---
Manhattan: Chinese New Year of the Monkey
Chinese New Year Parade & Brief NYC Chinatown History
February 15, 2016 / Chinatown Manhattan NYC / Things To Do NYC / Gotham Buzz NYC _ D.
Ancient Chinese Calendar Based on Chinese Zodiac & Study of Planets
This past week Manhattan celebrated the Chinese New Year of the Monkey. The Monkey is fun-loving, curious, clever and mischievous. Those born this year, or five Chinese calendar cycles ago in 1944, are born under the influence of the Fire element. There are five elements, and each influences a 12 year / Chinese calendar cycle. We are currently in a Chinese calendrical cycle that is influenced by the Fire sign. It is believed the 12 years corresponds to the 11.86 years it takes Jupiter to revolve around the sun.
Chinese Five Elements Influence 12 Years of the Calendar Cycle
Every calendar cycle is influenced by one of the five elements: metal, water, wood, fire and earth. And each of these natural elements signifies something. The five elements are associated with the five planets nearest to earth which are: Mercury [water], Mars [fire], Venus [metal], Saturn [earth] and Jupiter [wood]. The five elements are all natural and have transformative influences on each other. For instance water can extinguish a fire, a fire can be created with wood, and fire can melt metal. If you study these transformations you will see that they are all connected, like nature itself, a part of a whole. Thus an entire cycle encompasses the five elements times each calendrical [or zodiac] sign for a total of 60 years.
Click here for a brief history of NYC Chinatown in Manhattan and the NYC Chinese New Year Parade in Manhattan.
---
Gotham Buzz Voluntary Subscriptions
We work very hard to help keep you informed by providing you with independent news coverage, as well as

information about events in the arts, culture and business in the borough.
You can help us continue to provide you with independent, first-person, fact-based, contextural reporting by purchasing an annual subscription. As it's voluntary, there are a variety of price options, one of which should fit within your budget.
Thanks for your encouragement & support.
---
Back To Top