---
The American Presidency & Dysfunctional Donald Trump
This Section is Dedicated to Informing the American Public about the Democracy Destroying Donald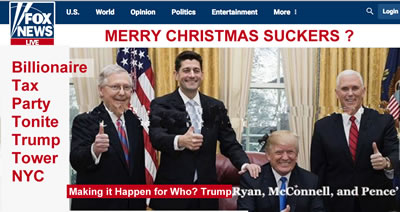 Updated May 5, 2021 from 1/24/21, 9/16/20 and 11/13/19 / NYC Neighborhoods / NYC Politics / News Analysis, Opinion & Satire / Gotham Buzz.
Beginning in late 2016 I began to start paying attention to some of the crazy stories floating around about Donald Trump. At first the stories seemed almost unbelievable tales of someone competing to become president of the United States, but the more I dug, the more I found, and eventually the evidence of who this man was and is, almost frightened me when pausing to consider that he had and still has control of the most powerful government apparatus in the world.
Empires and civilizations come and go because those who worked hard to build them are not the same people who inherit them. And the people who inherit them are oftentimes unappreciative of the hard work and thought that went before them.
We're too close, to my way of thinking, of squandering the gifts that were left to us by our forbears because we have not paid attention to all of the malfeasance and corruption that today is so much a part of government and the media we rely on to inform us. I've began running a series on what I view as the most egregious threat coming from the media in the series on Rupert Murdoch and the Rise of the Propaganda Press, which I had at first titled Murdoch Media Madness.
This series is a compendium of reports I've published on the presidency of the dysfunctional Donald. The graphic above showing Rupert Murdoch's Fox Fake News celebrating the billionaire tax cut of December 2017 includes my take on things in red.
---
Dysfunctional Donald & the American Presidency
This Section is Dedicated to Informing the American Public about the Democracy Destroying Donald
Updated May 5, 2021 from 1/24/21, 9/16/20 and 11/13/19 / NYC Neighborhoods / NYC Politics / News Analysis & Opinion / Gotham Buzz. Continued.
2021 _ The Donald, the Con Men & the Insurrection of 2021
2020 _ The Donald's Inexperience & Incompetence Laid Bare by CoVid Pandemic
2019 _ Dysfunctional Donald and the American Presidency
2018 _ Donald the Democracy Destroyer
2017 _ Is The Donald - The Greatest Con Man in the World?
---
Dishonest Donald and Miser Murdoch Inciting Another Insurrection of a Different Sort - the Boycotting of Major League Baseball for Exercising the Powe
Phony 'Free Speechers' Trump & Murdoch's Fox 'News' Appear to Urge a Boycott of America's National Pastime
The Phony Patriotism of These Two Men Becomes Increasingly Obvious
After Assaulting the Institutions of our Democracy, Culminating in the January 6th Insurrection, they're Urging Americans to Boycott our National Pastime
This Must be a Proud Putin Pleaser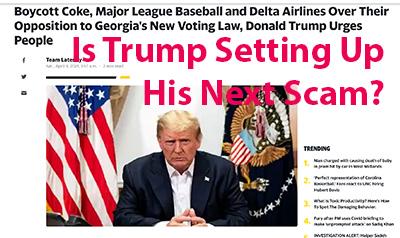 April 5, 2021 / NYC Neighborhoods / NYC Corona Virus / News Analysis & Opinion / Gotham Buzz NYC.
As you know, Georgia passed a sweeping election reform bill on March 25, 2021. It has been characterized as designed to limit voting participation of Democrats, a party in which far more women and ethnic minorities are represented, than in the Republican party. The Governor and both bodies of the legislature in Georgia are all currently dominated by Republicans.
Biden Calls the New Georgia Laws a Return to Jim Crow
President Biden called it a return to Jim Crow. Jim Crow is the name given to state and local laws passed by white southerners following the Civil War to maintain racial segregation, and white supremacy in the south.
A Summary of Most of the Salient Points of the Law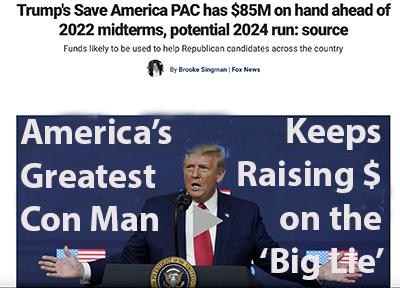 The following is mostly a paraphrasing / summary of an April 2, 2021 report in the NYT on the law. But I left a couple of things out, and added in a small bit of commentary.
The law, in a nutshell, requires photo ID's to be used in tandem with mail and absentee ballots. This includes following the instructions to a "T" or risk having your absentee or mailed vote disqualified. Election officials are not allowed to mail out absentee or mail ballot applications to anyone unless specifically requested by the voter or an authorized designee. This past year applications were mailed in an effort to encourage people to vote / participate. Drop boxes have been limited to one for every 100,000 voters. This is a significant reduction, especially in densely populated areas. According to PBS in heavily Democratic Fulton County that means the number of drops boxes falls from 38 to 8.
Mobile voting polling stations are banned. The early voting hours have been limited on the weekends to between 9 am and 5 pm but those hours may extended to between 7 am and 7 pm, if the site complies with certain guidelines. Nobody may hand out food or water to voters standing in line within 150 feet of the polling place. This is now a misdemeanor crime. Provisional ballots, which are ballots filled out at a polling site where the voter is not currently registered, is subject to restrictions that go well beyond validating the voter is eligible to cast a vote to be counted. Polling hours can only be extended for a set period of time by a judge, if problems prevent voters from casting their ballots during the regular poll site hours. This is a common occurrence in hotly contested elections. New restrictions on tabulation of results will likely delay the reporting of them, which in the past election enabled Trump & Co to spread falsehoods about the election in the absent of concrete results. The Republican dominated General Assembly will select the Chairperson of the State Election Board. The Republican dominated legislature is empowered to remove up to four county election officials. The time period for runoff elections will be significantly shortened.
Biden says it looks like Jim Crow. I'd add to that that it also smells like Jim Crow. Murdoch's Fox says Georgia's new voting laws are not racist, but Murdoch's Fox says a lot of things that are more dishonest than true - and this is no exception.
---
Guns on the NYC Streets, the NRA, Russia & Trump; and the CoVid Vaccination Rollout in NYC & NYS
Things To Do & News Updates NYC
Movie Theaters, Taxi Drivers, Gun Arrests, the NRA Russia & Trump, Central Park & Bronx Golf Course Concessions Bidding Deadline March 19, 2021, CoVid Testing, Vaccination Stats & Daylight Savings Time Two Weeks Away
February 26, 2021 / NYC Neighborhoods / Things To Do NYC / News Analysis & Opinion / Gotham Buzz NYC.
Weather. Friday won't see any rain, but on Saturday there's nearly a 100% chance of a small amount [a quarter inch] of rain in the morning. Saturday afternoon should be clear. On Sunday there's also a high probabilty of a half inch of rain, most likely to fall around midday, with a lingering probability lasting the rest of the day [40% - 60%]. Temperature highs will be in the mid 40's to low 50's throughout the weekend and the temperature lows will be in the mid 30's on Friday and hovering around 40 the rest of the weekend. Humidity will rise from the 40% range to near the 70% range on Friday and then stay between the 70% - 80% range the rest of the weekend. Winds will be 50 - 10 mph all weekend.
Things To Do, News Briefs & Updates
- NYC Movie Theaters Can Reopen March 5, 2021
Governor Cuomo announced that movie theaters will be able to reopen at 25% capacity March 5th, 2021.
-Taxi Driver Blockade Brooklyn Bridge in Support of Medallion Debt Restructuring
One story that seemed to receive little attention was a taxi driver blockade of the Brooklyn Bridge on Wednesday afternoon on February 10th. They were making a statement, following a City Council hearing on loan forgiveness / restructuring for taxi driver medallion debt, earlier in the day. The 25,000 member taxi driver union was supportive of the action. NYC government officials are trying to find a way to help taxi drivers, but are constrained by the current fiscal challenges arising from the CoVid crisis.
- January Gun Arrests Up 75% & Full Year 2020 were Up 29%
At the end of January, NYC Police Commissioner Demot Shea said that 417 gun arrests had been made that month, up 75% versus a year ago. He also noted that last year gun arrests were up 29% versus 2018. He rhetorically asked the question, "what's changed that there are so many guns making their way into NYC?"
- The NRA, Guns, Russian Cash & the Trump Money Laundromat
According to an April 2, 2018 report in Rolling Stone, the NRA President, David Keene, was an honored guest in Moscow at a 2013 event hosted by The Right to Bear Arms group. Prior to and during the 2016 presidential campaign, Russia courted the NRA, including hosting members at all expense paid events.
According to the report, the Russian group was deceitfully presented as 'grassroots' organization, led in part by Maria Butina, seeking comraderie with like minded gun enthusiasts. The reality appears to be that they were working under the influence of the Russian government, in an effort to infiltrate politically conservative groups in the U.S., to become what was alleged to be money laundering conduits for campaign cash to the Trump and other Republican political campaigns.
The NRA was founded in 1871 in New York and recently moved its headquarters to Texas. In February 2019 NYS Attorney General Tisch James filed a lawsuit against the NRA seeking to dissolve it because, the brief contended, it had become so corrupt and self serving and had failed to comply with numerous laws.
In August 2019 the two Republican members of the Federal Election Commission [Caroline Hunter & Matthew Petersen] blocked an investigation into whether Russia had used the NRA as a money laundering machine to funnel [$30 million] cash to Trump and Republicans in the 2016 election. In the 2016 election NRA donations spiked $35 million which was believed to have come from Russian government influenced agents, like the Russian oligarchs. According to an August 20, 2019 report,
" ... The [FEC] split 2-2 vote fell along partisan lines, with the FEC's two Republicans voting against any further inquiry into whether Alexander Torshin, a sanctioned Russian official, and Maria Butina, a convicted Russian agent, grew close to the NRA in order to help direct the group's 2016 political donations...."
See earlier reports we did on Mitch McConnell which identify Russian oligarch funding he, Lindsey Graham, Marco Rubio and other top Republicans received from the Russian oligarchs in 2016 as reported by Open Secrets which is a non-profit group that 'follows the money' of election campaign contributions.
---
Trump Impeachment Trial Context - Mobster Ties, Money Laundering, Hedonism, Racism, Proclivity Toward Violence & Traitor?
As Trump's Impeachment Trial Looms, It's Important to Put Things in Context ...
Trump's Russian Mobster Ties, Trump's Taj Casino Violation of Money Laundering Laws & Russian Interference in Favor of Donald Trump in the 2016 Election
Did Trump's Apparent Hedonism & Amoral Proclivity Toward Racism & Violence and Financial Mismanagement, Attract Russia to Using Him to Sow Social & Political Discord in America?
February 2, 2021 / US Politics / NYC Neighborhoods / News Analysis & Opinion / Gotham Buzz NYC.
The photo at right shows the headline title and photo of a Politico story about Trump's first trip to Russia in 1987, where all expense were paid and he was a guest of the Russian government.
According to Wikipedia's report on Russian Interference in the 2016 Presidential Election,
" ... According to the special counsel investigation's Mueller Report (officially named "Report on the Investigation into Russian Interference in the 2016 Presidential Election"), the first method of Russian interference used the Internet Research Agency (IRA), a Kremlin-linked troll farm, to wage "a social media campaign that favored presidential candidate Donald J. Trump and disparaged presidential candidate Hillary Clinton". The Internet Research Agency also sought to "provoke and amplify political and social discord in the United States" ..."
Mobster Don? A Russian Mobster Con? A Russian Asset?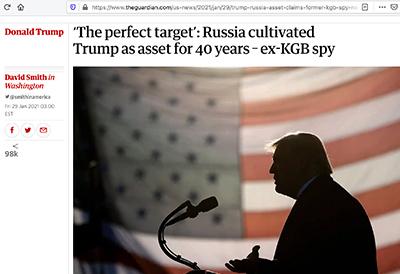 Russia's aiding of Donald Trump's 2016 campaign was certainly successful in amplifying political and social discord in the United States.
The photo at right is from a Guardian story on January 29, 2021 about how Trump appears to have been long cultivated as a Russian asset to incite social and political unrest in the United States of America. Russia has used race and ethnicity in its efforts to stir social unrest in the U.S., as well as discredit the United States abroad, since the Cold War began in the 1950's.
And one has to wonder if Russia is still not holding the Donald's feet to the fire, as Putin is believed to operate an Assassination Bureau, using the Russian mob, through which Trump had done business with via Felix Slater. The Wikipedia report on Slater describes him as,
" ... is a Russian-American mobster, convicted felon, real estate developer and former managing director of Bayrock Group LLC, a real estate conglomerate based out of New York City. ... In 1998, Sater pleaded guilty to his involvement in a $40 million stock fraud scheme orchestrated by the Russian Mafia, and became an informant for the Federal Bureau of Investigation (FBI) ... During Donald Trump's 2016 presidential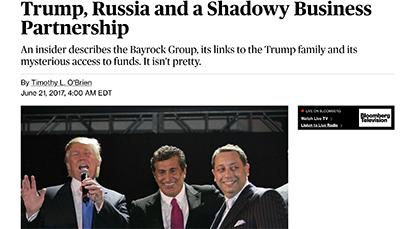 campaign, Sater worked with Michael Cohen, former attorney for The Trump Organization, to broker a deal to build a Trump Tower Moscow, asserting to Cohen that he could boost Trump's election prospects through his Russian contacts. ... On July 9, 2019, Sater appeared before the House Intelligence Committee, but repeatedly withheld testimony and documents concerning the details of a false joint defense agreement and thus remains under subpoena..."
The photo at right shows real estate developer Donald Trump with Felix Slater and one of the principals of Bayrock, a real estate development firm. Bayrock has offices in Trump Tower and Slater was convicted of stock fraud and is believed to have been a Russian mobster. The photo was taken in the first decade of 2000.
CLICK here to read the rest of our report about the Trump Impeachment Trial context including information about his Italian and Russian Mobster Ties, Money Laundering, Hedonism, Racism, Proclivity Toward Violence & possible role as an American Traitor?
---
The Accomplishments of Donald Trump While President
Donald Trump Accomplishments / Failures
What did Trump Really do While President? Was the Slogan - Make America Great Again - Just Another Big Lie?
January 25, 2021 / US Politics / NYC Neighborhoods / News Analysis & Opinion / Gotham Buzz NYC.
There's an old saying from about a century ago, that goes something like this,
"Good government doesn't make good headlines."
After watching the Trump Administration, I've come to believe there's an apt corollary, which goes something like this,
"Bad government makes great headlines."
Did Bad Government Make Great Headlines & Drive Murdoch's Fox TV Ratings and Profit?
And Australian born billionaire and propagandist media mogul Rupert Murdoch - the silent hand who pulls the strings on the people and the pols on three continents - should know. Because he appears to have been profiting by exploiting that knowledge and the truth for decades.
But we've entered a new era since Trump won the presidency in 2016 because both men were born rich and behave as if the rules don't apply to them. And unfortunately, they mostly don't.
Above the Law?
Billionaires Murdoch & Trump Seem to Pummel Those Who Stand up to Them, Sharing Similarities to What Hitler & Goebbels did in Germany in the Early 1930's, at the Dawn of the Rise of the Nazis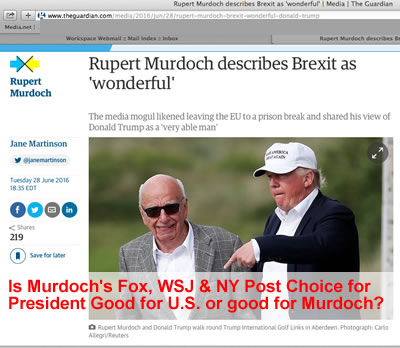 Trump has reportedly financially screwed numerous small contractors, employees, investors and lenders – not to mention the American people - as during his Administration the federal government took on an additional $6 trillion in debt to provide fiscal stimulus and tax breaks to billionaires like Murdoch and himself, as well as to mega millionaires like Sean Hannity of Murdoch's Fox News propaganda outlet.
Murdoch, in a similar fashion, has publicly abused hundreds, thousands and possibly millions of people by famously hacking their phones for headlines in Britain through his Newscorp, indirectly yanking Britain out of the EU through his Brexit campaign, and indirectly sending troops from his native Australia, as well as Britain and the U.S., to Iraq - by virtue of his media influence in those nations and by cajoling his current business partner, former Vice President Dick Cheney, and one time friend, former British Prime Minister Tony Blair.
---
Was Trump's Administration Defined by Racism & Violence?
Was Trump's Administration Defined by Racism & Violence?
Trump Reportedly Committed a Violent Act at an Early Age & Appears to have Embraced Racism & Incited Violence Numerous Times Since ...
January 19, 2021 / US Politics / NYC Neighborhoods / News Analysis & Opinion / Gotham Buzz NYC.
Trump Condemns Violence - The Empty Words of a Spiteful Man?
A full week after there was a riot at the Capitol - that Donald Trump helped promote, spoke at along with his small coterie of family and friends, and then departed to watch on TV - he made the following statement, as he was being impeached for the second time by Congress.
"I unequivocally condemn the violence that we saw last week ... Mob violence goes against everything I believe in and everything our movement stands for. No true supporter of mine could ever endorse political violence."
One thing we know for certain is that Donald Trump is one of the world's most prolific liars, and so it was that on January 13th, 2021 - just a week before his presidency was to end - he told one of his most unbelieveable lies - that he's against violence. The hollow ring in his words was heard round the world.
It's a well known adage that it's best to measure a man by his deeds - not his words. And with Donald Trump that advice is especially relevant. Donald Trump's life is a scatter book of a bit of violence he committed himself, but mostly which he appears to have incited others to do.
---
The Capitol Riots: Is Trump a Real Made-For-TV Loser?
Capitol Riot Fallout: Is Donald Trump a Real Made-for-TV Loser?
Following Voters' Firing of Trump [Unemployed], he goes on a Rampage which Culminates in Supporters' Violence [Criminals], he is Subsequently Banned from Social Media [Loser] & will be Tossed from his Residence [Eviction] within the Week
January 15, 2021 / US Politics / NYC Neighborhoods / News Analysis & Opinion / Gotham Buzz NYC.
After being fired from his job by the American people in November, Trump's rampage resulted in a riot at the Capitol last week, where five people - including two in law enforcement and one ex-military gone wild - lost their lives. Yesterday Trump put out a video where he said he didn't condone violence, but that doesn't fit into the reality of all of the things he's been saying these past five years. So like shock jock Alex Jones similar phony act of contrition, Trump's statement had a hollow ring to it, as did wife Melania's public statement, where she doesn't acknowledge the Donald's role in inciting the riot. And neither of them acknowledged President-elect Biden's win.
So, it's time for the White House staff to take out the white trash. Only five more days of the disastrous presidential hoax, that Trump would 'Make America Great Again'. He may have been a terrible president, but he's sure seems like a super con man.
Trump Loses Social Media Platforms to Spew his Venom
Due to the Capitol Riot violence, Donald Trump's Twitter and Facebook and YouTube accounts were closed. The Twitter account is closed permanently, after Trump had tweeted 57,000 times. They posted a public explanation for the decision which you can read by copying and pasting this link.
https://blog.twitter.com/en_us/topics/company/2020/suspension.html
---
How the President, a Former NYC Mayor and Murdoch's Fox News Seemed to Incite the Capitol Insurrectionists
How the President, a Former NYC Mayor and Murdoch's Fox News Seemed to Incite the Capitol Insurrectionists
Rudy Giuliani, Nicknamed America's Mayor by Murdoch's Fox News, Appears to have Helped Incite the Band of Simpleminded Trumpsters to Insurrection
Updated January 11, 2021 from 1.8.21 / US Politics / NYC Neighborhoods / News Analysis & Opinion / Gotham Buzz NYC.
Rising Film Star [Barat2] and Former NYC Mayor, Rudy Giuliani, appears to have devolved into something of a national freak show or farce over the past five years. Perhaps longer. But in the past few months, he's become something of a national disgrace.
Fox News seems to use nicknames for their propaganda assets, like referring to British Prime Minister Margaret Thatcher as the 'Iron Lady' and President Ronald Reagan as the 'Gipper'. Rudy Giuliani seems to be yet another Fox propaganda asset and, as such, is oftentimes referred to as America's Mayor by Fox pundits.
This is not unlike how Murdoch's Fox News nicknames themselves America's Newsroom. This was a trick used by Hitler and Goebbels, using words and images to create the illusion that they, the Nazi Party [in this cae the Fox Nation with red, white and blue colors] was the same as the state - and thus represented all that was right and just. But remember - just because Murdoch's Fox News says it's so - doesn't make it so [like they used to call themselves 'Fair & Balanced' before they started fearing a lawsuit for false advertising]. But, the Australian born billionaire's overwhelming control and / or ownership of America's television media [see our special section on Murdoch and the 21st Propaganda Press on Gotham Buzz] does give him a leg up in attaching and making both good and bad labels stick to people, places and things.
On Wednesday, January 6, 2021, Rudy Giuliani joined Donald Trump and Donny junior at a Trump rally in Washington, D.C. near the White House. The Donald had promoted this gathering as something 'wild' and related to his seemingly phony stop the steal / election fraud fundraising claims. At the rally Trump told his supporters, numbering about 5,000 [per the park permit] to march down to the Capitol and that he'd be there with them.
I think it's safe to say that the Trump supporters who came to this event came prepared to continue to be misinformed and misled by the con men standing on the stage in front of them. After the speeches the audience mindlessly did as Trump had instructed them, and began marching toward the Capitol - but without their fearful leader [bonespurs acting up again?]. The Trumps and Giuliani were not to be found when the group arrived at the Capitol. What a surprise!
When the Trumpsters reached the barricades in front of the Capitol, the police in charge of protecting it, seemed to give way. What exactly transpired at this juncture we'll find out eventually, but one thing we do know for certain is that Trump didn't deploy as many of the National Guardsmen as he did for his tear gassing photo op with the Bible last summer. So Vice President Mike Pence had to step in to call up more National Guardsmen who eventually secured the Capitol - but not until after it had been ransacked [including one report of defecation].
---
Senators Ted Cruz & Josh Hawley Appear to Use Deceitful Claims of Election Fraud to Fundraise off Ignorant Trump Supporters
Honestly, Just How Simple-minded are Trump Republicans?
Donald J. Trump Raises $200 Million in one Month Based on Unsubstantiated Election Fraud Claims
So Senators Ted Cruz & Josh Hawley - Not Wanting to be Kept out of What Seems a Great Scam - Are Fundraising Based on Their Bid for an Unnecessary Election Audit
January 5, 2021 / US Politics / NYC Neighborhoods / News Analysis & Opinion / Gotham Buzz NYC.
Classic con men like Donald J. Trump, Ted Cruz and Josh Hawley appeal to certain kinds of people. Too many of them appear to be complete rubes, right out of the old W.C. Fields films ["never give a sucker an even break"].
Most of Trump's, Hawley's and Cruz's 'stop the steal' supporters seem as likely to be sincere in their 'patriotic' Trump / Cruz / Fox News media manipulated intentions, as they are likely to be just plain stupid.
This may help explain why Missouri Senator Josh Hawley and Texas Senator Ted Cruz were so quick to take up the seemingly fraudulent torch of Trump's 'Stop the Steal' campaign. They appear to be staging a phony 'patriotic' effort by objecting to one or more of the contested swing states list of electoral college delegates. The Cruz / Hawley motivation appears to be to put on a show of political theater for an unneeded election audit, in order to fill the Cruz / Hawley campaign coffers with the money of incredibly naive full grown American white men and miscellaneous other Trump Republican donors.
---
Republicans Abandon Traditional American Conservative Values for Which They Once Stood
Republicans Abandon the Traditional American Conservative Values for which they Once Stood
Have the New Republicans Become a Party of Treasury Plundering, Pussy Grabbing & Self-Serving Seditionist Sycophants?
January 4, 2021 / US Politics / NYC Neighborhoods / News Analysis & Opinion / Gotham Buzz NYC.
My experience and interactions with Republicans during my childhood and up until sometime between the late 1980's and mid 1990's was generally positive. I was actually a card-carrying Republican for a few years, as was one of my grandfathers, and I share many of what once were Republican values. But the Republicans of today, particularly the Trump Republicans, appear to have abandoned nearly all the values for which they once stood. Let's take a quick look.
What Republicans Once Stood For & How They Lost Their Way
I. States' Rights. Republicans once stood for values that I still believe in. They stood for states' rights, which were originally embedded in the U.S. Constitution as a means of providing checks and balances in the system. And I believe in the wisdom of the checks and balances.
Republican Distortion of States' Rights – Enabling Ongoing Legalized Racism. But states' rights morphed into a racist rallying cry, in the wake of the Civil War, as the southern states were embittered by the loss of the Civil War. States' rights were a means of obstructing the northern states from imposing the U.S. Constitutional value of treating all humans with respect on the former slave states. when the federal government imposed its will upon the southern states vis a vis ending slavery of African Americans
II. Smaller Government, Fiscal Conservatism & Less Taxes. An implication of the claim to states' rights implied a smaller, less intrusive federal government. This mantra of smaller government also gained some of its impetus, again particularly in the south after the Civil War, as a means to limiting federal government oversight.
Smaller government also implied some measure of fiscal conservatism – or at the least – fiscal responsibility. Out of this came lower taxes, a move which was generally done by lowering government spending – until Ronald Reagan came along.
Republican Distortion of Smaller Government, Fiscal Conservatism & Less Taxes – Borrow & Spend. That's when Republicans started lowering taxes by adding debt to the federal government balance sheet in order to further enrich the rich. I'm all for lower taxes, when it can be done responsibly, but I'm not for lower taxes when most of the proceeds go to some of the wealthiest people on the planet, while the children and the unborn are burdened with the nation's debt.
Adding about $6 trillion to the nation's debt, while building nothing, is one of Republican president Donald J. Trump's greatest legacies.
---
Guesses at Trump Pardons - Giuliani Wilbur Ross Betsy DeVos Brother Ivanka Jared Kushner Elaine Chao
Trump Pardons & the Celebrity Penitentiary Choo Choo?
December 18, 2020 / NYC Neighborhoods / News Analysis & Opinion / Gotham Buzz NYC.
Donald Trump is reportedly scheming how to pardon all of his seemingly criminal-like cronies and family members. He appears to want to do that without it appearing to be so, by hiding them in a massive pardon that includes innocents.
This is not unlike the approach taken in the film entitled Jack Reacher, where a criminal executes a half dozen people in a Pittsburgh park, in order to hide the motive for assassinating the intended target, so that authorities wouldn't dig deeper into the case to find out what was really going on. But Jack Reacher, a former army investigator, is not so easily fooled.
In a similar manner Trump - ever the deceitful con man - will try to hide his self serving use of America's presidential pardons to get his seemingly criminal-like cronies - including many family members and friends - off the hook for crimes they may possibly [likely?] committed.
My early and incomplete GUESSES for pardons for possibly committing federal crimes include:
1) Commerce Secretary Wilbur Ross, who is a decades long Trump crony, for god-knows-what, as he's been quiet the whole four years. But it's worth noting that Ross's department was one of the first named in the hack attack by the Russians after Trump fired DHS Security guru Krebs, and Ross has had a long history of relations with Russian Oligarchs, which include suspicion of possible money laundering efforts. Lastly Ross was adept at finagling Trump out of complex financial messes [aka bankruptcies] for decades - which Ross is rumored to have done using Russian Oligarch money.
According to a January 30, 2019 NJ.com report,
"... U.S. Secretary of Commerce Wilbur Ross['s] ... labyrinth of Russian bank ties may have paid off Trump's five bankruptcies when no U.S. bank would..."
2) Ivanka Trump & Jared Kushner & Wendi Deng [who is the ex-wife of Rupert Murdoch of Fox News] for possibly being intermediaries in the 2016 election between Trump and Putin [click for story that includes other names] and Kushner was the liaison for a possibly illegal campaign collusion with Kanye West, and Kushner is reported to have set up an LLC where about $700 million of Trump campaign money went [was laundered?].
3) Rudy Giuliani for allegedly using his relationship to Trump to enrich himself [influence peddling] and using the State Department to obtain dirt or allegations of dirt on Biden.
---
Supreme Court Blocks What Appears Trump's Attempt to Try to Overturn America's Democracy as Republicans Stand by
Trump Bid to Destroy U.S. Democracy Blocked by Supreme Court
But his Deceit of Ignorant Trumpsters & Republicans Continues
December 11, 2020 / NYC Neighborhoods / Things To Do NYC / News Analysis & Opinion / Gotham Buzz NYC.
This just in. The Supreme Court again denied Trump his bid to overturn our democracy and transform it into a racist, Nazi-like dictatorship where he has all the power and 'We The People' have none. The way things used to be ... again.
The Seemingly Corrupt Texas Attorney General Who Filed the Trump Brief is Rumored to be Angling for a Presidential Pardon
The Texas Attorney General, Ken Paxton, who has been under indictment since 2015 for securities fraud, and who in October 2020 was accused of corruption, including - bribery, abuse of office and other crimes - by a number of his subordinates took the lead in the lawsuit.
Paxton is believed to have done this last ditch bid for Trump in exchange for a presidential pardon. But, while I'm not a lawyer, I believe some of Paxton's alleged crimes cannot be pardoned by Trump. This is yet another example of how rotten and corrupt the Republican party has become. Criminals and con men aiding and abetting each other, while lying and deceiving millions of incredibly ignorant Americans, who are the New Republican Red Rubes.
Mitch McConnell Remains Silent as Trump Nominates his Wife for Another Plum Government Paid Position, After Failure vis a vis the Chinese Navy While Transportation Secretary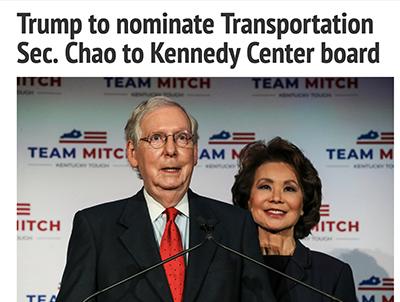 Senate Republican Mouse Majority Leader Mitch McConnell also aided and abetted Trump in what seems a fundraising scam [see November 2020 story]. It seems McConnell will be rewarded by Trump's appointment of McConnell's wife, Taiwanese born Elaine Chao - who was the Transportation Secretary as the U.S. fell behind China in the number of naval battleships [in 2019].
McConnell's wife's father is a rich businessman who is well connected to the top members of the Chinese Communist party. And what a surprise, he runs a large shipping company, whose ships the Chinese help fund and build [see our October 2020 report on what appears McConnell corruption].
Australian born billionaire Rupert Murdoch has been using Fox News, the NY Post and the Wall Street Journal to attack a U.S. Congressman for something to do with the Chinese, while failing to identify Senate Majority Leader Mitch McConnell and his wife for what seems their very cozy ties to the top echelons of the Chinese Communist Party.
Why does Murdoch leave McConnell out of the story? Because like Trump, McConnell appears to be a Murdoch propaganda machine asset, and he's working with Trump to set up roadblocks to Biden overseeing the FCC which makes all the difference to a lot of Murdoch's net worth. Prior to Chao's appointment to Transportation Secretary, Murdoch had appointed Chao to the 20th Century Fox [News] Board. See November 30, 2020 story for details.
---
Donald Trump Tries to Steal the Election with Help from Fox News Maria Bartiromo
You're Looking at the Real Election Fraud ... Straight in the Eyes
November 30, 2020 / NYC Neighborhoods / NYC Politics / News Analysis & Opinion / Gotham Buzz NYC.
Four years ago Donald Trump achieved one of his dreams and became the President of the United States. Now, four years later, we're witnesses to the Donald failing at his ultimate dream - becoming Dictator of the United States - like his buddies Kim Jong Un is in North Korea, Vladimir Putin is in Russia, and his nemesis Xi Jin Ping is in China.
But it hasn't been for lack of trying.
Trump Uses Federal Government Apparatus Like a Dictator, NOT an American President
Trump appeared to use the federal government bureaucracy in its most corrupt rendition since the birth of the republic 230 years ago - to lie, cheat and steal his way to victory.
trump tries to steal the election even though AG bill barr & DHS Krebs says it was a fair electionTrump called on Bill Barr's Department of Justice to 'investigate voter fraud' when there was none. On December 1, 2020 - a full four weeks after the election Barr finally spoke the truth - that there wasn't any widespread fraud.
Trump seemed to use Chad Wolfe's Department of Homeland Security to fund and operate campaign style food giveaways which included promotional style letters with his name on it, even though it was a federal operation using the American taxpayers' money.
He seemed on numerous occasions to try to bend Republicans in local and state government positions and the courts to go along with his fictional voter fraud claims. As of this writing 27 of the 41 lawsuits filed by Trump / Republicans were either dismissed or lost.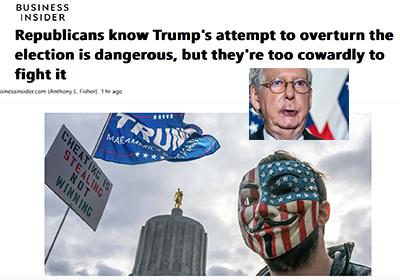 Trump appeared to have one of his lackeys, Louis DeJoy, gerry rig the U.S. Post Office, so the postal organization would be challenged to fulfill its role in delivering mail and absentee ballots to the Boards of Elections. This was identified in August and Congress halted it.
He seemed to use Mike Pompeo's State Department as a campaign promotional tool with part real and part fictional peace deals, as well as using the State Department as a dirt digging operation - again using taxpayers' money - to extort dirt or allegations of dirt, on rival Joe Biden. In late 2019 Trump was impeached for using the government as a campaign tool.
Trump seemed to try to use Chad Wolfe's Department of Homeland Security to foment violence in American cities this summer, so he could run as the 'law and order president'. There was an uproar in Congress about this misuse of the DHS and it was halted.
And Trump even called up the U.S. Military to provide air support for a photo op, where he held up a Bible he had never read, as a symbol of his phoniness.
See below for other enablers in the Senate and Congress, like Mitch McConnell.
---
Is Donald Trump Using the Federal Government to Scam his Supporters for Money to Pay his Debts?
Is Trump Using the Federal Government to Enable a Scam?
Secretary of State Mike Pompeo, Attorney General William Barr, Press Secretary Kayleigh MacEnany & Republican Senate Majority Leader McConnell Appear to Enable a Trump Fundraising Scam - using False Claims of Election Fraud - to Motivate Donations he can use to Pay off his Debts
Emoluments Clause: Using False Claims of Voter Fraud & Government Offices to Raise Money to Pay off Trump Debts?
November 10, 2020 / NYC Neighborhoods / U.S. Politics / News Analysis & Opinion / Gotham Buzz NYC.
I'm relieved that the Donald lost the election. I'm not relieved, knowing that there are 71 million people who voted for him. They obviously don't know what a super slick con man looks, talks and walks like.
A Presidential Con Man to the End
The Art of the Con should have been the name of Trump's book. And it appears, with only two months left to his presidency, that he's using the Executive branch of government and all the president's lackeys to commit one last Trump scam.
Secretary of State Pompeo Uses Office to Support What Seems a Trump's Scam of Republican Donors
In the photo at right, Secretary of State Mike Pompeo, appears to enable what seems like a scam by Donald Trump to bilk his supporters of millions of dollars in donations by seemingly supporting Trump's claims that there was election fraud - a claim which appears unfounded according to both Democratic and Republican state government officials.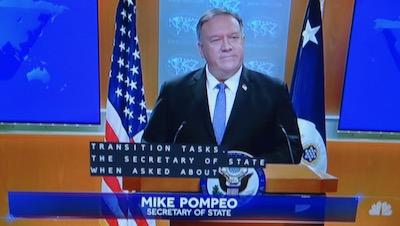 According to CNBC, on November 10, 2020 Pompeo said that there would be
"... a smooth transition to a second Trump Administration ... "
That statement, by a cabinet level member of the Executive branch of the U.S. government, appears more like a propagandistic statement of an authoritarian's sycophant. This corruption of the Office of the Secretary of State was done previously, during the RNC Convention, when Pompeo was videocast from Israel while on taxpayer funded official business.
Are Taxpayers Paying a Trump Campaign Propagandist to Facilitate a Fundraising Scam on Ignorant Trump Republicans?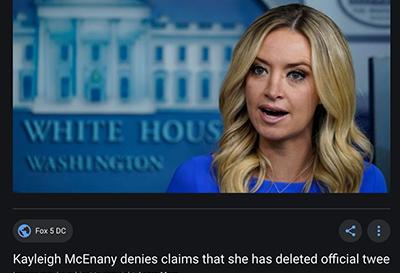 So Kayleigh Mc Inaney [it's not her real name, but a play on it], who is supposed to be the White House Spokesperson - not a Trump campaign PR person - said on November 3, 2020 that a "Landslide is afoot". Yesterday, November 9, 2020, even the Fox propaganda channel couldn't bear to allow McEnany to continue spewing it's Nazi-like propaganda of voter fraud, so they cut away from her.
Is McEnany, a federal government employee, enabling the Donald's efforts to raise [scam?] millions from his supporters under seemingly false pretenses to pay off some of his debts?
Why are the American people paying the salary of a Trump campaign propagandist? This is one of many such personalizations of power - aka corrupt use of government resources for private purposes - done by the corrupt 'Drain the Swamp' Trump Administration. McEnany is allegedly 'cleaning up' her Twitter feed instead, which is also a record of the corrupt Trump Administration lies put forth by the inane McEnany.
---
2020 Election Results for President the Senate & the House
Election 2020: When Will it be Over?
The Presidential Polls Were Mostly Right - The Race was Not Too Tight - the Donald Shows no Grace so the End is not Yet in Sight - Progressives & Moderates Need Learn how to Cooperate - Not Fight, Write?
November 9, 2020 / NYC Neighborhoods / U.S. Politics / News Analysis & Opinion / Gotham Buzz NYC.
This past Saturday I went into Manhattan following the announcement that Joe Biden had won the presidency, wresting it away from a very handsy, clutching Donald Trump. I had seen and heard of partying in the city that afternoon, as folks celebrated the end of the Trump presidency.
But when I arrived in the evening, it seems things had calmed down, and it was a mostly low key Saturday evening, at least on the Upper West Side and north Midtown. More people were out than I had seen in a while, and many folks seemed somewhat cheerful, but since the pandemic began, I've yet to see any sort of real frothiness.
In the photo at right I met a couple out on election night in front of Rockefeller Center. She's from Italy and he's from Philadephia ... Story?
The Presidential Polls Were Mostly Correct - Biden Won & He Won Most of the Swing States They Predicted He Would
Following the election, as early results came in, many news outlets proclaimed that the pollsters got it wrong. But over the weekend I checked the Real Clear Poll of Polls and found that mostly what they had predicted, came true, especially when you factor in the margin of error.
Biden won the presidency, winning a popular vote of over 75 million, to Trump's 71 million. And Biden won the swing states the polls forecast he would, including Wisconsin, Michigan, Pennsylvania, Arizona, Nevada, Minnesota, Maine, New Mexico, Colorado, Virginia, New Hampshire and Maine. Trump won Florida, North Carolina, Ohio, Iowa and Texas - also in line with the poll of polls forecasts. Only Georgia didn't end up as the polls forecast it would and I'm going to call that the Stacey Abrams effect.
---
The Many Ways Donald Trump Tried to Steal the Election of 2020
Rigged Election: Who's Trying to Steal it?
Trump is Battling the Election Results Like He's Battled CoVid, his Trump-Sized Budget Deficit & Climate Change - Ignore the Facts & Change the Perception
November 6, 2020 / NYC Neighborhoods / U.S. Politics / News Analysis & Opinion / Gotham Buzz NYC.
A Sore Loser, Poor Sport & a Rich Old Man's Tantrum?
Donald Trump has never comported himself with any dignity or decency befitting the presidency - so why would anyone expect his presidency to end with it?
Except the low information, no information and disinformation voters who cling to him like he's some sort of savior.
We saw this same sort of phenomena occur in the 1930's and 1940's in Germany. That was a story that didn't end well for that nation - and it would have been far, far worse - were it not for the decency and generosity of the American people.
By all accounts, Biden is the likely victor of the 2020 presidential race. He leads in electoral college votes and it appears he needs to close only one or two more states to finish the race, which in most remaining states and by most accounts, seem to be trending in his favor.
America's Top Fixer, Rudy Schmooliani, Fresh Out of Improv Role in Borat2, Returns to Star Role in the TV Presidency of DJT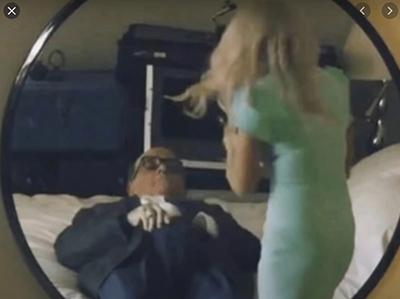 The Trump Campaign began pulling out all stops to halt the fair part of the American electoral process, by summoning America's Fixer, Rudy Giuliani, to lead the litigation publicity program.
Schmooliani had just finished filming his cameo role in Borat 2, but wasted no time in zipping up his pants again, before departing for Philadelphia to make an important stage appearance in the Epilogue segment of the TV Presidency of DJT.
In the photo at right, a still shot taken from the film Borat 2, shows Rudy Giuliani making 'an adjustment to his microphone'. I do hope Rudy washed his hands after tampering with his 'microphone', as these days one can never be sure of what kind of bacterial or viral germs one might be exposed to by touching things.
---
Election Day 2020 - A Hearty Farewell to the Donald & his Ignorance
Election Day 2020
In Spite of Record Early Voting, There Were Long Lines at Polls on Election Day. Dare I Say This Seems ... to Point to a Biden Landslide ... or Not?
November 3, 2020 / NYC Neighborhoods / U.S. Politics / News Analysis & Opinion / Gotham Buzz NYC.
Forecasting anything is always, at best, a precarious endeavor, so the above headline is not a forecast - but rather an honest question.
The ballots referred to in the prior report, which were either lying on folks' tables at home or stuck in the mail - may have ultimately been lying on folks' tables at home.
But we won't know until late tonight or later this week or even later than that.
I'm no fan of the Donald. I think he's disrespectful to women, disrespectful to minorities and pretty much disrespectful to everyone else too. I think his parents did about as lousy a job of raising him, as any parents possibly could - especially given they were so rich. He's dishonest, and he's not just selfish - but unbelievably so. He's uneducated, even though he managed to fanagle a degree from a respectable college. He's uncouth, a liar, a cheat and an alleged thief by numerous contractors.
---
Did Donald Trump Try to Steal the Election by having Louis DeJoy Sabotage the U.S. Postal Service?
Will the U.S. Postal Service Deliver?
Tens of Millions of Ballots That Were Issued Haven't Been Received
Too Late for Mail - See Options Below for Absentee / Mail Ballots
October 30, 2020 / NYC Neighborhoods / U.S. Politics / News Analysis & Opinion / Gotham Buzz NYC.
The unofficial motto of the United States Postal Service is "Neither snow nor rain nor heat nor gloom of night stays these couriers from the swift completion of their appointed rounds".
While that may be true, the motto says nothing about whether the USPS will be able to continue making the swift completion of their appointed rounds, in spite of efforts by the new Postmaster General Bill DeJoy that appear intended to delay them.
Louis DeJoy Seems a Corrupt Choice for Postmaster General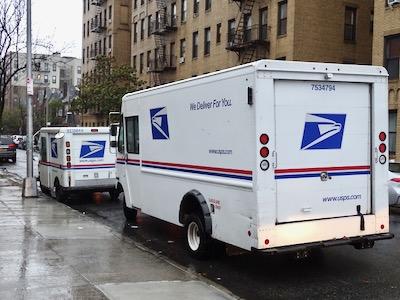 Louis DeJoy, was a $1.2 million dollar contributor to the 2020 Trump campaign, who a seemingly corrupt President appointed Postmaster General in June of this year. It was the first time in a couple of decades that someone from outside of the organization was appointed to the Postmaster General position.
According to Wikipedia, DeJoy's background is in logistics, and upon taking the job, he divested his holdings in UPS and Amazon, but held onto his
"$30-$75 million equity stake in XPO, a subcontractor for USPS."
They also report that since DeJoy became Postmaster General just over four months ago, the USPS has increased its business with XPO. We've seen this sort of conflict of interest / corruption in numerous cases at the Cabinet Level in the Trump Administration.
---
Donald Trump Corruption - Trump Appears to Use DHS Funds & Operations in Campaign Style Food Giveaway - Trump Swamp Corruption
Is Trump Using Taxpayer Dollars to Fund his Campaign & the DHS to Work for Him for Free?
Thursday Afternoon 10/15 in an NYC Neighborhood, Boxes of Food were Distributed with a White House Letter from Trump
October 15, 2020 / NYC Neighborhoods / U.S. Politics / News Analysis & Opinion / Gotham Buzz NYC.
I fell upon a food distribution event at the corner of 43rd Avenue between 46th and 47th Streets on Thursday, October 15th. It was being distributed by what appears to be a non-denominational church group - Mosaic Church and Community Center of 46-01 43rd Avenue in Sunnyside.
So I took a few photos of what seemed an ordinary event these days, until I asked them to allow me to photograph the contents in the boxes, where I found a letter from Donald Trump, in what appears to be a possible use and abuse of taxpayer dollars to fund his cash strapped re-election bid.
Letter on White House Stationery Signed by Trump
The contents of the letter are as follows and a photo of the letter in English is shown at right. The letter was also written in Spanish on the reverse side.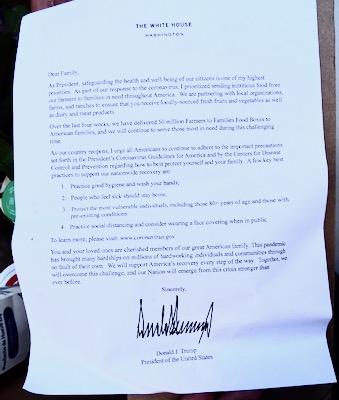 The White House
Washington
Dear Family,
As president, safeguarding the health and well being of our citizens is one of my highest priorities. As part of our response to the coronavirus, I prioritized sending nutritious food from our farmers to families in need throughout America. We are partnering with local organizations, farms and ranches to ensure that you receive locallly-sourced fresh fruits and vegetables as well as dairy and meat products.
Over the past four weeks, we have delivered 50 million Farmers to Families Food Boxes to American families, and we will continue to serve those most in need during this challenging time.
As our country reopens, I urge all Americans to continue to adhere to the important precautions set forth in the President's Coronavirus Guidelines for America and by the Centers for Disease Control and Prevention regarding how to best protect yourself and your family. A few key best practices to support our nationwide recovery are:
1. Practices good hygience and wash your hands.
2. People who feel sick should stay home.
3. Protect the most vulnerable individuals, including those 80+ years of age and those with pre-existing conditions
4. Practice social distancing and consider wearing a face covering when in public
To learn more, please visit www.coronavirus.gov.
You and your loved ones are cherished members of our great American family. This pandemic has brought many hardships on millions of hardworking individuals and communities through no fault of their own. We will support America's recovery every step of the way. Together, we will overcome this challenge, and our Nation will emerge from this crisis stronger than ever before.
Sincerely,
Donald J. Trump
President of the United States
---
Donald Trump Hoaxes - Trump's Staged Hospital Visit Hoax for CoVid Seemed Medically Unnecessary
Was Trump's Hospital Visit a Made-for-TV Hoax?
Much Ado About Nothing Fed to American People via Corporate TV Nets
Was a Free, Live & Staged TV Program Provided by the Donald?
October 5, 2020 / NYC Neighborhoods / U.S. Politics / News Analysis & Opinion / Gotham Buzz NYC.
The lines between 'reality TV' which seems staged reality on TV, and the real reality on TV seem to have disappeared. Occasionally I hear people complain about the authenticity of the information they get on the internet or social media - but from where I sit you can easily add the things you see on television - even network news - to the list of questionable sources.
The photo at right shows Trump saluting from the White House balcony after he was returned home from his trumped up hospital visit to Walter Reed Medical Center in Washington, D.C. It's unclear why he's saluting the White House lawn except for theatrics since he didn't speak.
TV News Seems Corrupted by the Ratings of the Things they Cover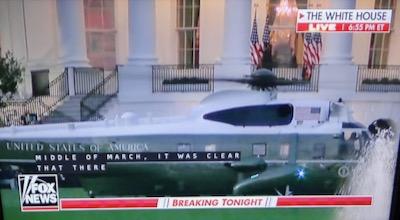 The reason I say this is because the beautiful, well dressed teleprompter actors and actresses who read you your highly scripted nightly bedtime news stories, rely on teams of well paid, ratings driven writers. Most of these readers and writers are not the hard scrabble, cynical, hard nosed, been around the block, highly inquisitive journalists of what seems a bygone era of American journalism.
They may work for corporations who own and leverage the same well known, once trusted brands - but when you look under the hood of these corporations at the people who are currently running things and how they are running things - oh, my, how things have changed.
And then there's Rupert Murdoch's Fox News, NY Post and Wall St Journal which seem a well oiled, outright propaganda machine.
The same is true of American government and politics. There was a time when the halls of Washington, D.C. were filled with people who believed in some things - like representing the people who voted for them, the U.S. Constitution and the guiding Englightment era philosophy behind it all. But today, the numbers of these kinds of folks in Washington, D.C., are few and far between. Far too many of them are beholden to wealthy individuals and large corporations for the funds needed to run their campaigns every election cycle.
So why does this matter? Because we have a vapid media and a vacuous Senate and [far less so] House that seem to do whatever, for the whoever, highest bidder. And Donald Trump and his co-conspirator (?) Australian born billionaire Rupert Murdoch know this. And they seem to exploit these failings every day. Like this past weekend.
Why Did the Donald Appear to Stage his CoVid Hospitalization?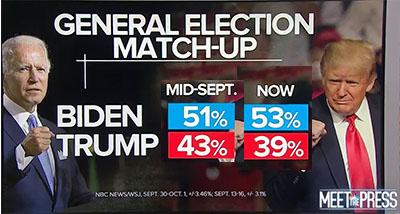 Last week Donald Trump had possibly one of the worst weeks ever - and even in these strange times that's VERY VERY BAD.
Last week: 1) news of the Donald's 'success' in not paying his fair share of taxes came out, 2) alongside the fact that he appears to owe $421 million in debt coming due after the election, that his current businesses aren't generating the profits required to enable payment [and to whom he owes the money remains a mystery], 3) that one of his campaign staffers / consultants - Brad Pascale - was alleged to be contemplating suicide having distributed $112 million in Trump Campaign cash to a myriad of LLC's [corruption?], 4) and the Donald turned in probably one of the worst debate performances in American History where in an hour and a half, as a sitting president, he said that he: a) wouldn't rebuke an alleged White Supremacist group - the Proud Boys - telling them to stand back and stand by, b) wouldn't agree to peacefully give up the office of the presidency of the United States unless he wins a second term and c) behaved on stage in a manner one might expect of a juvenile delinquent.
By creating a ruckus about his health, the Donald managed to bury an incredible amount of bad news, by distracting the glamorous TV dunces into focusing their coverage and the conversation about his health. And he managed to fit it fairly tightly into the weekend news cycle, so that little real campaign time was lost.
Based on the comments the Donald made coming out of his 'hospitalization' stage, it looks like he's going to use what seems a campaign staged event - to change the conversation going into the rest of the election. Change? You ask. Yes, change by using his personal hospitalization experience with CoVid to dismiss the threat of it, by telling people it's no big deal. I reckon the pitch will be something like, re-elect the Donald and CoVid will just 'disappear' ... [what they won't say is that it will disappear] from the news ...
---
CoVid Pandemic NYC - Eviction Extensions, CoVid Layoffs & Unemployment, CoVid Characteristics, Restaurants, Hospitality, Arts & Culture, Census 2020
NYC News Update & a Few Things To Do
Voting Registration Online, The Census Payout, CoVid Updates, the Economy & Events
October 2, 2020 / NYC Neighborhoods / U.S. Politics / News Analysis & Opinion / Gotham Buzz NYC.
Weather. The temperature highs will be in the high 60's and lows in the low to mid 50's. There's a 10% chance of a tiny amount of rain Sunday. Humidity will be between 50% and 60%. And winds will be about 5 mph. All in all not a bad fall weekend.
Check Your Voter Registration / Or Register Online Using Link
The last day to register to vote in NYC / NYS is October 9, 2020. If you're uncertain you are registered to vote use this link to check - https://voterlookup.elections.ny.gov/
And if you find you're not registered or need to change your voter registration [for example if you recently moved] then use this link to register - https://dmv.ny.gov/more-info/electronic-voter-registration-application
I recommend voting in person if you're at all able, as nearly one in ten mail in votes are disqualified on technical grounds. If you're at risk for CoVid or can't vote in person for any other reason, then vote by mail, making sure you follow all of the guidelines to the letter including sending it in as soon as possible. There was a huge mail ballot snafu in Brooklyn, so if you live in Brooklyn and received a mail ballot with an incorrect name on either the ballot or envelope, contact the Board of Elections for a new one.
Fill in the Census: We're Lagging the Nation so We Could Lose a Lot of Federal Funding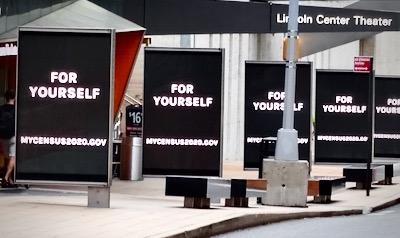 There's been a struggle over lengthening the time allowed for census takers to obtain census information. The original deadline was July 31st, which was extended to October 31st, which was shortened to September 30th, which was stayed until Sunday, October 4th. And today it was re-extended to October 31st. Given the back and forth I recommend filling it out right now, if you haven't already.
Each person counted in the census is worth about $30,000 to $40,000 per person in federal funding for schools, hospitals, mass transit, law enforcement and social services. And it only takes ten minutes, which you can do now by clicking the photo at right. It's the most amount of money you'll likely ever make for the time expended in your life, so please do it for yourself, your family and / or your community. Here's the link to the census.
https://my2020census.gov?utm_source=queensbuzz
NYC and NYC lag the rest of the nation in filling out the census, which means we won't get a proper share of funds and representation in Washington if folks don't fill out the census and quickly. Currently just under 64% of New Yorkers have filled out the census, while in the state of Utah just under 71% have filled out the census. That's a lot of cash in federal funding we're leaving on the table.
Events & Things To Do in NYC & Cancellations
The International Center of Photography opened its doors on Thursday, October 1st with a new photo exhibit about CoVid. The exhibit uses photographs collected from around the boroughs, the state, the nation and around the world. You have to rsvp a spot online at icp.org and adherence to CoVid guidelines is required.
In October a number of normally huge events have gone online including the following.
The NY Film Festival at Lincoln Center went online beginning September 17th and runs through October 11th - https://www.filmlinc.org/nyff2020/
Comic Con has gone online for the weekend of October 8th – 11th.
Swimming at indoor pools is now possible effective Wednesday, September 30th at 33% capacity and with CoVid guidelines in place.
The Rockettes Holiday kickoff and season of performances has been cancelled for this year. They will participate in some manner in the blended online / staged Macy's Thanksgiving Day Parade.
---
Donald Quacks in the First Presidential Debate 2020 vs Joe Biden
The Donald Quacks in First Debate of 2020
Trump Takes Time Off From "Making America Great" to Debate Biden
September 30, 2020 /NYC Neighborhoods / U.S. Politics / News Analysis & Opinion / Gotham Buzz NYC.
If it weren't so real, it would have been very funny.
A sitting president, who campaigned on the theme that he would Make America Great Again, is responsible for record breaking debt, a record breaking deficit, one of the worst economies since the Great Recession and Great Depression, failing to mitigate a still out of control raging pandemic, unable to calm racist induced social unrest for which it seems only fair to credit him with helping cause.
No. But wait - there's more. Then there are vast fires still raging on the west coast, and we're not yet completely through one of the worst hurricane seasons ever. The abnormal size and amount of fires and hurricanes appear to have been caused in part by climate change – the reality of which 'the president' denies.
No. But wait - there's more. And this depiction doesn't include what he's done to our foreign policy, by shirking our allies and cottoning up to dictators, while overseeing near record trade deficits.
If all this isn't 'Making America Great Again', then please tell me, what will? Come on, this would be really, really funny - if it were reality TV - not just plain old REALITY.
In the photo at right, moderator Chris Wallace is begging President Trump to please quit interrupting former Vice President Biden.
Reality vs Reality TV: What's Real Depends on Who You Are & Who You Trust
We may not be so rich that we don't know how to spend the money, as Trump seemed to promise us while campaigning in 2016. But maybe Trump wasn't speaking to us out in the audience, but rather directing his comments and promises to his multi-millionaire TV hosts on Fox 'News'. That might be why Sean Hannity keeps telling us promises made and promises kept despite a litany of Trump failures on healthcare, the deficit, law and order, the debt, the wall, the economy and so forth. The people living in the Trump bubble, like the enabling multi-millionaire pundits on Fox TV, are doing just fine.
---
Rupert Murdoch - Propaganda Wall St Journal Promotes Trump Economy Smoke Mirrors Fraud?
The Mirage of the 'Trump Economy' Part II
Australian born Billionaire, Rupert Murdoch Seems to use the Wall St Journal, NY Post & Fox News to Create the Illusion that Trump has Some Sort of Economic Magic Touch, but the Truth is $6 Trillion in New Debt & $3 Trillion in Federal Reserve Bond Purchases
September 21, 2020 / NYC Neighborhoods / Things To Do NYC / News Analysis & Opinion / Gotham Buzz NYC.
Few real journalists - if any - have ever honestly accused Rupert Murdoch and most of the large media brands he controls in our nation, of being bastions of truth. In fact, it would seem, quite the opposite - including by some of the people who work for him.
When Murdoch purchased the Wall Street Journal in 2007 [fact check], there were concerns that he would turn it into another one of his propaganda rags. Shortly after the acquisition, a number of Wall Street Journal reporters fled to Bloomberg News. In fact dozens of them. Those journalists that remained at the Wall Street Journal, had to learn how to operate for an Australian born billionaire who seems to delight in misleading the masses - rather than informing them - in order to profit from the audience's ignorance, to which Murdoch media appear to contribute greatly. Murdoch is kind of like a street hustler whose propagandists do sleight of tongue [hand] tricks, while his political accomplices [puppets like Trump & McConnell] pick the pockets of the audience [Americans].
Not Your Father's Wall Street Journal - A Murdoch Propaganda Rag?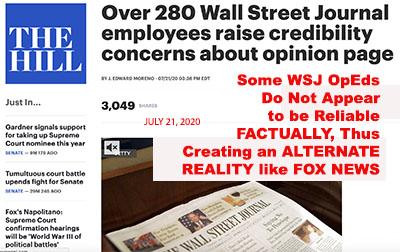 This summer over 280 journalists at the Wall Street Journal, became concerned that Herr Murdoch - like Nazi propagandist Herr Goebbels before him - was corrupting the Wall Street Journal into a propaganda outlet, in advance of the election this November. While Murdoch's distortion of the truth in the Wall Street Journal appears to have been going on for years, the event that immediately precipitated the letter, was a misleading - even deceptive - Op Ed by Vice Presidential candidate Mike Pence.
In the letter they had a few simple requests. A July 21, 2020 report in the Wall St Journal states,
"... [The WSJ's] Opinion's lack of fact-checking and transparency, and its apparent disregard for evidence, undermine our readers' trust and our ability to gain credibility with sources ..."
" ... The letter cites several examples of concern, including a recent essay by Vice President Mike Pence about coronavirus infections ... "
".. [and that] WSJ journalists should not be reprimanded for writing about errors published in Opinion ..."
"... suggests removing opinion pieces from the "Most Popular Articles" and "Recommended Videos" lists on the website, and creating a separate "Most Popular in Opinion" list..."
" ... letter highlighted was an opinion article titled "The Myth of Systemic Police Racism," which the letter's authors said was one of the paper's most read articles in June. The article argued that the "charge of systemic police bias was wrong during the Obama years and remains so today." The letter says the piece "selectively presented facts and drew an erroneous conclusion from the underlying data..."
i have reported on similar truth distortions by Rupert Murdoch's media, including Fox News, the NY Post and many other media outlets controlled by him in our section about Rupert Murdoch and the Rise of the 21st Century Propaganda Press, which you can find by clicking this link.
---
Was the Trump Economy a Couple of Con Men's MIrage?
Was the 'Trump Economy' a Couple of Con Men's Mirage?
Did the Donald, with the Help of Rupert Murdoch's Wall St Journal, Fox Business & NY Post, Successfully Convince Americans into Thinking that the Donald was Responsible for an Economy that has Since Disappeared?
September 8, 2020 / NYC Neighborhoods / NYC Economic News / News Analysis & Opinion / Gotham Buzz NYC.
Donald Trump is nothing, if not one of the greatest con men in the world. He allegedly - duped donors with the Trump Charity, duped enrollees of Trump University into thinking he would teach them the magic of his 'money making miracles', duped investors and bankers alike about the magic of the Trump Taj Mahal casino, duped contractors into thinking he would pay his bills, duped law enforcement vis a vis his money laundering scheme [they eventually caught him], duped Trump SoHo buyers about some of the facts related to the real estate they were buying.
But the greatest con the Donald may have ever done, wasn't getting voters to choose him in lieu of Hillary Clinton in 2016 - as Hillary need be given some of the credit for that - but was the convincing of nearly half the nation to believe that the Donald has some kind of magic touch vis a vis the 'Trump economy'. An economy which Trump then proceeded to crash by his stupefying mismanagement of the CoVid pandemic and subsequent public-pay-a-lot-and-get-nothing-back stimulus bills. What the Donald and Murdoch's Fox & Fake News seem to omit from the narrative of the magic of the 'Trump Economy' is the trillions in debt that they have dumped upon America's children. And they seem to give scant credit to the free wheeling multi-trillion dollar machinations of the Federal Reserve, which have kept interest rates low and liquidity available in an economy presided over by a seemingly corrupt man with a history of six bankruptcies.
Republican Deceit & Phony Fiscal Conservatism
I'm going to start with recent history to show how the Donald has robbed America's children by piling on public debt in order to give the super wealthy tax breaks, and subsequently doled out generous taxpayer funded stimulus checks, in order to gin up the economy to prop up his ailing reelection odds. And then I am going to work my way back to the early 1980's, so we can debunk the myth that Republicans are fiscal conservatives - because the last fifty years shows that they are not.
Republicans are talking point fiscal conservatives who scream about it as it suits their campaign convenience, and this includes their mid semester Washington, D.C. play-acting theatrics which are sometimes used to showcase their phony fiscal conservatism. Neither party seems fiscally conservative, and only one president in the past fifty years has run a federal government budget surplus [Democrat Bill Clinton in tandem with a Republican Congress]. So I'm asking you to not let them fool you, because fooling the public is the one skill at which the politicians in the Senate, House and Executive Branches of government seem most adept.
---
NYPBA Union Endorses Trump & NY Post Fictitious Front Page Masks Pat Lynch NYPBA Board Nearly All White Males
Triumph of The [Rupert's] Will: How Murdoch Manipulates Voter's Perceptions & Public Policy
Australian born Billionaire Appears to use his Media Outlets to Shape Voter's Views, Loading them with Misconceptions, So They'll Elect Compromised Fox Nation Pols, Who Upon Assuming Office, Seem to Reward Murdoch's Media Support, by Crafting Public Policy to Conform to Murdoch's Will, Favoring his Business Interests
September 4, 2020 / NYC Neighborhoods / U.S. Politics / News Analysis & Opinion / Gotham Buzz NYC.
As mentioned previously, I've been doing a fairly deep dive into learning as much about the Third Reich and Nazi Germany as time permits, in order to more fully understand what's happening in present day events.
Media Manipulation for Fun & Profit
I began noticing similarities between Australian born billionaire Rupert Murdoch's manipulative use of his large share of Amerian media in 2016, to what Joseph Goebbels, the Reich Minister of Propaganda for the Nazis, did beginning in the 1920's until his end in 1945. On May 1, 1945 Goebbels poisoned his children, his wife and himself as the Allied forces neared his home. Hitler and his companions had committed suicide the day before, as Allied forces invaded Berlin. None of them had the courage to stand trial for their crimes against humanity ... although like Mussolini, they may not have made it to court.
1. Did Fox 'News' Attempt to Protect the Reputation of a Propaganda Asset via Omission?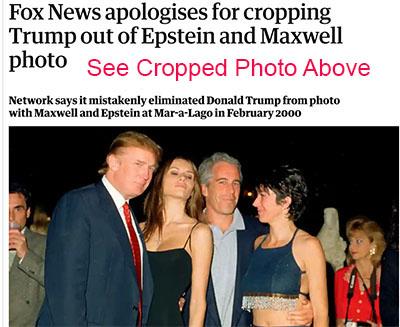 So today, we're going to look at just a few of Murdoch's media manipulations made in just the past couple of months - and I'm nearly certain that this is just the tip of the iceberg. Unfortunately, I don't have the resource to fact check what is the largest misleading news content producing organization in the nation, and possibly the free world.
Let's start with the first two photos on this page. This story broke in the Guardian on July 7, 2020.
The first photo shows Fox News 'reporting the news' regarding the sexcapades of Jeffrey Epstein and Ghislane Maxwell. In the first photo, Fox News conveniently cropped out Donald Trump. In the second photo [at right] we have the 'full picture' aka the truth.
The man who calls everyone else a 'sleezeball' is seen with Melania 'being best', and two of the people alleged to be among some of the sleeziest on the planet [Jeffrey Epstein and Ghislane Maxwell]. Do birds of a feather flock together?
So we must ask why Rupert Murdoch would crop Donald Trump out of the photo? Is it to avoid portraying the Donald in a negative light in order to keep him - a Murdoch asset - in office?
Trump appears to have been a boon to billionaire Murdoch through massive billionaire tax cuts funded by debt to be paid for by America's children and unborn? Or is because Trump's actions in the Middle East vis a visIsrael seemed to serve to legitimize Murdoch's investment in Genie Energy in the illegally occupied Syrian Golan Heights? Or was it because Trump loosened up the FCC ownership limits for mega media companies like Murdoch's thus allowing the few to control our media, which givens them the power to influence the national democratic conversation - and in Murdoch's case - it seems the power to corrupt it in order to profit from it. Or was it because Trump famously fired all U.S. Attorneys, including Preet Bharara - who was investigating Murdoch's companies for sexual harrassment and phone hacking - less than 24 hours after Sean Hannity on Fox News told him to do just that? Perhaps most importantly, Trump's Attorney General Bill Barr, greenlighted the merger of Disney / ABC, which was an inverted takeover resulting in Rupert Murdoch becoming Disney / ABC's largest shareholder.
---
The Republican National Convention of Lies & Deceit RNC 2020
The Republican National Convention - Where Trump 'Reality' TV Mixes with Murdoch's Fox Fake News
The Donald's Deceit, Disrespect & Demagoguery were on Full Display
Has Trump Taken America from 'Reality' TV to Staged Fiction?
August 28, 2020 / NYC Neighborhoods / U.S. Politics / News Analysis & Opinion / Gotham Buzz NYC.
It was a garish experience, watching the Republican Convention on TV this past week. The scripted and repetitive misleading and false statements, combined with what appeared outright lies, were delivered by different genders and colors of people so as to seem like it wasn't the choreographed theatrical production that it was. This is very much like what Rupert Murdoch's Fox News seems to do every night, and what Joseph Goebbels did for over a decade as the minister of propaganda for the Third Reich.
Has Trump Taken America from 'Reality' TV to Staged Fiction?
What I found interesting about the Republican Convention, was how it showcased women and people of color, who were representing what has essentially been a nearly All White Male Administration. Of the 22 cabinet level positions, only four [18%] are filled by women [Education, Transportation, CIA & Small Business] and only one [5%] person of color [Housing].
But you'd never, ever know that by watching the Trump RNC mirage this week, as women were showcased between a third and half the time [rough estimate is 40%] and there were at least three people of color [9%] - meaning the Republican Convention didn't look anything like the reality of the Trump Administration.
Trump Republicans of the Fox Nation Share Similarities to the Nazis of Goebbels Germany
I've been researching Goebbels, Hitler and the Third Reich since 2016. While investigating how Rupert Murdoch seemed to use his 'news' outlets as one big propaganda machine, I kept stumbling across references to all of them. Eventually I quit ignoring the references that popped up, and began following those threads, which have since led me to believe that the parallels between 1933 Nazi Germany and present day America are inescapable.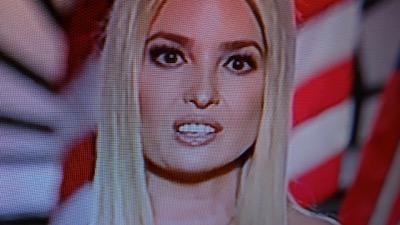 Fox News is comprised of seven hours of seemingly demagogic, even racist, propaganda programs including party line speeches and pseudo interviews by Sean Hannity, Tucker Carlson, Laura Ingraham, The Five, Fox & Friends as well as numerous Pinocchio pundits such as Jeanine Pirro, Greg Gutfield, Steve Hilton, and even Maria Bartiromo on Fox Business These 'news personalities' seem to deviate from a fair and balanced reporting of the facts far too often. Here's a link to what appears to be a distorted, even racist, report of the shooting of an African American in Georgia by Tucker Carlson.
Some of the other shows appear biased, but I haven't had the time to really tune into analyze them, as the primetime propaganda machine is already far more than I can stomach, of what seems Murdoch's continuous demagogic deceit.
To legitimate the propaganda machine, Murdoch provides an hour of real news, the Special Report with Bret Baier weekdays, as well as Fox News Sunday which is another hour of real news hosted by Chris Wallace. Murdoch reportedly fired Shep Smith after Attorney General Bob Barr was sent on a Trump campaign errand to tell Murdoch to pull Smith because Smith wasn't towing the Trump train party line. Murdoch appeared to oblige and Shepard Smith has remained silent.
I. Murdoch's Demagogic Press Manipulates People's Perceptions to Deliver Votes at the Polls - Goebbels Shaped Germans' Perceptions to Align with the Fuhrer's
Usurpation of power is the point of the propaganda machine posing as a news organization. If people know it to be a source of false information, it would be discredited and not believed. But by disguising it, by combining the propaganda with real news, Fox News is able to believably portray the world the way Rupert Murdoch wants his audience to see it.
In this manner he can deliver millions upon millions of Americans, Brits and Australians into the voting booth loaded with his propaganda machine's manipulated perceptions of events and candidates, so that his audience will vote for those pols he favors and from which he, and by virtue of payola - his propaganda pundits - will profit. Since Trump became president, multi-millionaire Sean Hannity cut a favorable multi-million dollar low interest government loan deal with HUD Secretary Ben Carson related to Hannity's $90 million property holdings.
Both Trump and Murdoch are demagogues which Merriam Webster defines as,
"... a leader who makes use of popular prejudices and false claims and promises in order to gain power ..."
Hitler and Goebbels were also demagogues and that is how they usurped and retained so much power in Nazi Germany in the 1930's and 1940's, which is why when I was doing my research, Hitler, Goebbels and the Third Reich kept showing up in my searches.
II. Trump Disrespects American Traditions & the American People by Personalizing Government Power - Hitler did the Same
The background for the Republican National Convention was a couple of taxpayer funded sites - the White House and Fort McHenry in Baltimore, Maryland. This represents yet another Trump break with American tradition of respect for the rule of law. Trump is using these taxpayer funded public sites for free, to accumulate more power. Not paying for the use of the White House lawn as a Convention site isn't the worst of it - it's the politicization of the public's property - and the seat of power that I find most disturbing.
Again, Hitler did something similar after he was elected Chancellor of Germany in 1933. He started personalizing the buildings of the German republic by adorning them with Nazi flags. That was the beginning of the personalization of power, which culminated in Hitler becoming the sole decision maker for the entire nation on everything, on whatever level he wanted. Earlier this year I identified Trump's abusive use of the Department of Homeland Security as a national police force as a disturbing parallel. Click this link a story detailing how Donald Trump has been personalizing the power of the U.S. government.
Our Founding Fathers instituted a system of checks and balances in the U.S. Constitution in order to prevent someone from personalizing power. The personalization of power, if left unchecked, leads right back to an authoritarian regime, which is exactly what the American War of Independence was all about. Kings are dictators, who have personalized all of the state power.
CLICK here to read the rest of our report on the Republican National Convention 2020 - where the Donald's deceit, disrespect and demagoguery were on display where 'reality' TV morphed into televised illusion.
---
The DNC - Battle for the Soul of the Nation
The Battle for the Soul of America Begins
Democrat Joe Biden Puts Forth a Bipartisan Convention & Makes a Strong Case for Uniting America Again
August 21, 2020 / NYC Neighborhoods / Dysfunctional Presidency of Donald J Trump / News Analysis & Opinion / Gotham Buzz NYC.
This week the virtual Democratic Convention took place across the nation beginning Monday and ending Thursday. I tuned in for a look / see on Monday, and found the convention of greater interest than I had expected. Each night I tuned in a bit more, ending last night watching most of the show.
Missing were the bells and whistles of major party conventions of prior years. The theatrical embellishments, large audiences and drama were also missing. But what came forth were four days of a well choreographed presentation for why the American people need to make a change in November.
In the photo at right is Braydon Harrington, a 13 year old stutterer featured in the Democratic National Convention. Harrington, like Biden, has a stutter handicap which is a neurological disorder that makes it difficult to get out certain words. Biden's father told Joe not to let his handicap define him.
Monday - Republican Governors, Bernie Sanders & Michelle Obama
The first night was hosted by Eva Longoria one of the stars of Suburban Housewives.
The program started on Monday and included New Yorkers Governor Cuomo and former Republican Congresswoman Susan Molinari. Molinari wasn't the only Republican to participate in the first night of the Democratic Convention. Two former Republican Governors - Christie Todd Whitman of New Jersey and John Kasich of Ohio - also participated, giving speechs at the Democratic virtual Convention.
One might ask why are Republicans giving speeches at the Democratic Convention. Both former Governors answered that question very clearly - they are concerned about the future of the American Democratic Republic if Trump's presidency doesn't end this year. Former New Jersey Republican Governor Whitman, a self described lifelong Republican, made the following statement which was published in an August 18, 2020 report by the New Jersey News Network,
"This isn't about a Republican or a Democrat. It's about a person ... A person decent enough, stable enough, strong enough, to get our economy back on track. A person who can work with everyone, Democrats and Republicans, to get things done. Donald Trump isn't that person Joe Biden is."
According to an August 17, 2020 report on Cleveland.com former Ohio Republican Governor Kasich, said he was proud of his Republican heritage, citing his party as the party of Lincoln, of unity and of a higher purpose. The Cleveland.com report said that,
"... Kasich ... [has] known Biden for 30 years, calling Biden a man of integrity"
They continued quoting Governor Kasich as follows,
" ... Yes, there are areas where Joe and I absolutely disagree. But that's OK because that's America ... Because whatever our differences, we respect one another ... no one person or party has all the answers ... But ... we know ... we can do better than what we've been seeing today for sure."
First Lady Michelle Obama advocated for Joe Biden's candidacy recommending that the American people replace a president "who is in over his head".
Senator Bernie Sanders delivered the most damning assessment of the Donald's four years in office, citing the CoVid pandemic infection and death rates, the pandemic economic fallout, and Trump's mismanagement of racial tensions which erupted in the wake of George Floyd's death. Sanders went on to call Trump a fraud citing Trump's promise to stand with working families before he won the office, and who after taking office gave huge tax breaks to the wealthy, tried removing discriminatory protections currently in place for people with pre-existing health conditions, and proposed massive cuts to Social Security, Medicare and Medicaid.
Likely many of Trump's supporters aren't aware of the issues discussed in Sanders remarks, because information that doesn't portray the president in a positive light seems rarely [ever?] reported on Rupert Murdoch's Fox News, NY Post and Wall Street Journal.
---
Comparison of Trump's use of the DHS Similarly to Hitler's use of the Gestapo
Law Enforcement, the Economy, but First Home Sweet Home?
Is Home is Where the Heart is or Where We Sleep?
July 20, 2020 / NYC Neighborhoods / NYC CoVid 19 Special Section / News Analysis & Opinion / Gotham Buzz NYC.
Casino Royale: Will the Donald Bankrupt America with Trillions in Spending?
The Administration, meanwhile, seems terribly out of touch with reality. Their retarded response to the CoVid pandemic paved the way for the viral explosion. One of their greatest mistakes was that they politicized Americans' choice to defend themselves from the virus by wearing a mask, and they squandered away trillions of the public's money - with the enabling help of the Democrats - to keep businesses functioning, without obtaining much in the way of concessions from them.
If the Donald is a great negotiator, then he's negotiating away American's future, in exchange for a junkie boost to his reelection prospects, and self-enrichment [there was a $160 billion tax break given to real estate developers like Trump and his son-in-law Jared Kushner and he fired five Inspector Generals within the six weeks that the largest spending bills in American history were passed totallying $3 trillion].
In Germany, Chancellor Angela Merkel obtained an equity stake of 20% - 25% from Lufthansa, in exchange for the German government bailout of that airline. And now the Donald and Republican Senate Majority Leader Mitch McConnell are in discussions to throw away another trillion or more in added stimulus - again without obtaining any concessions from those who will receive it.
The image at right shows the headline of a January 9, 2019 report in Vanity Fair. This report was published over a year before the $3 trillion in stimulus spending done in March / April of 2020.
Bread Crumbs for the Masses & Melania's "I Don't Care Do U?"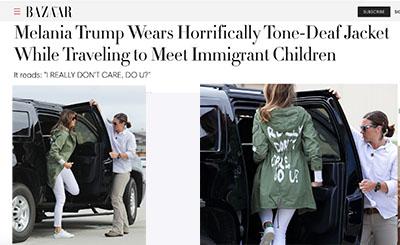 There was $3 trillion in stimulus spending bills passed in late March and early April of 2020. But the money that working class Americans [161 million people] received in the form of U.S. Treasury $1,200 checks amounts to only $193 million [161 x $1,200] of the $3 trillion stimulus spending done to date. And then there was the extra $600 per week in added stimulus payments - which paid many unemployed workers more than they had been making and reportedly cost the American taxpayer over $15 billion per week according to a July 17, 2020 CNBC report.
The CNBC report noted that 25.6 million were on this $600 per week government payout program. According to the report the reason the total pandemic relief recipients are higher than the unemployed is because the package includes people who are,
"... business owners, self-employed Americans, gig workers and independent contractors who are not typically eligible for unemployment."
So a rough estimate of the cost of this $600 per week program is 13 weeks x $600 per person per week x 26 million = $203 million. If you add the payments from these two payout programs together then the total payout to working Americans was [$203 billion plus $193 billion] was $396 billion or 13% of the stimulus spending. Thus it seems - a relatively small number of mega millionaire and billionaire real estate developers like Donald Trump, son-in-law Jared Kushner and their [industry segment] friends - collected over a third as much as what all working classs Americans collectively received in stimulus handouts.
This self dealing doesn't seem to be anything new for the Trumps. And the Trump insensitivity to those who less fortunate than they are, appears equally legendary. As you can see in the June of 2018 Bazaar report above, Melania Trump demonstrated an incredible insensitivity during a visit to the Texas border detention centers for immigrant children, when she wore a jacket that had the words "I don't care do u" on it.
---
Things to do this Weekend & Phase IV NYC Reopening
Things To This Weekend & Phase IV NYC Reopening
Governor's Island Opened 7/15, Statue of Liberty Island Opens 7/20 while Ellis Remains Closed, Subway Series this Weekend w/ o Fans, Evolving CoVid Science Update & More Economic News
July 17, 2020 / NYC Neighborhoods / NYC CoVid 19 Special Section / News Analysis & Opinion / Gotham Buzz NYC.
Well another CoVid influenced weekend in NYC has arrived. It's the weekend before the NYS Phase IV reopening of the economy, which is happening on Monday, July 20th - but with an important modification. The important modification is that indoor cultural centers and shopping will remain on hold indefinitely.
CoVid Droplets Can Linger in Air for up to 16 Hours
The rationale is that CoVid 19 appears to be transmitted significantly - if not primarily - via the air droplets of infected people who may or may not be symptomatic. In the outdoor environment, the droplets are diffused by the planetary volume of air, while in the indoor environment they can linger for up to 16 hours. It was previously believed that the droplets could linger for up to three hours.
In the photo at right is Congresswoman Alexandria Ocasio-Cortez handing out food bags at Our Lady of Sorrows Church in Corona, Queens. The Congresswoman's campaign raised funds to put together 250 food bags for the folks in the community. Our Lady of Sorrows Church has been the locale for a number of such prior distributions by various donors, including by the Catholic Charities Built In Queens.
Things To Do NYC / Events This Weekend
Mets host Yankees at 7.10 pm Saturday at Citi Field and Yankees host Mets at 7.05 pm at Yankee Stadium Sunday. No attendees will be allowed, but the games will be shown on the Yes Network on TV and WFAN radio.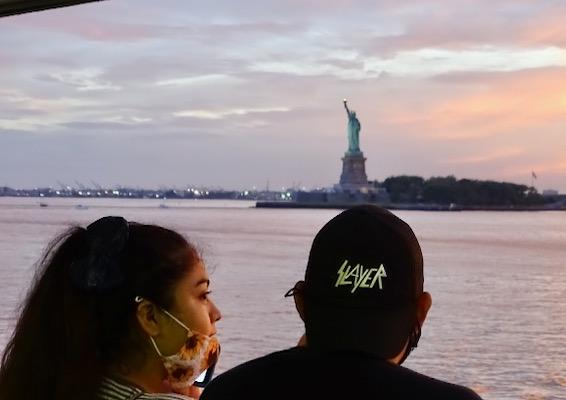 The Statue of Liberty island will open on Monday, July 20th. The statue itself will remain closed, but there will be limited souvenir and food shopping along with restrooms. The Ellis Island and the Liberty Museums will remain closed at this time. Both sites are part of the National Parks System. There are also new rules for a visit - https://www.nps.gov/stli/
St. John the Divine opened its doors to visitors from 7.30 am - 1 pm daily. No word yet on when services will resume. https://www.stjohndivine.org/
St Patrick's Cathedral reopened on June 28th for two daily services at 25% capacity on weekdays and two to three services daily on the weekend. They are suffering a $4 million revenue shortfall as a result of the Corona Virus pandemic - https://saintpatrickscathedral.org/
The piazza style dining in cordoned off streets continues on weekends beginning 5 pm Friday and at noon on Saturday and Sunday - ending at 11 pm each night. New streets and restaurants continue to be added to the original list, as clusters of restaurants apply and receive authorization for piazza style dining on their blocks / streets.
https://www1.nyc.gov/html/dot/html/pedestrians/openstreets-restaurants.shtml
The implementation of the curbside / sidewalk dining by local restaurants has been well received and appears to be a success. Thus this week the Mayor announced that it will be extended through October 31st.
Just over a week ago, on Thursday, July 9th, the Mayor extended the ban on large events requiring a city permit, through September 30th. The rationale for this extension is that states like Florida and Texas have seen surges due to large scale gatherings, where social distancing and mask norms were difficult to enforce and hence violated, leading to huge surges of the number of CoVid infections in those states. This ban extension includes NYC street fairs.
---
July 4th Weekend & Fireworks NYC Budget Piazza Style Dining in NYC BLS Unemployment Numbers Faked Phony Fiscal Conservatives
July 4th Weekend NYC: The New Normal is About Adjustment & Simplicity
The NYC Budget, NYC Events, the Economy & CoVid Update
July 2, 2020 / NYC Neighborhoods / NYC CoVid 19 Special Section / News Analysis & Opinion / Gotham Buzz NYC.
George Floyd Protests, the NYPD and other NYC Budget Cuts
The George Floyd protests seem to have abated, over a month after his death. The new NYC budget does cut about a billion from the NYPD budget by reducing the staff from 36,000 to 34,000 employees, cancelling the most current class of new cadets, and reallocating school security to the Department of Education and homeless engagement to social services units. About 5,000 people work in the school security program and that will be transferred over a period of time to make sure it works properly. Another$160 million was allocated to summer youth programs [$115 million], as well as to address food insecurity [$33 million] and housing [$8 million].
The overnight Staten Island Ferry service was also cut for the time being. That affects about 4,250 riders per night based on 2019 statistics. Other cuts included in the NYC budget include an $800 million cut for schools, a 5% - 7% cut to all departments, some labor savings [$1 billion]. The labor savings could result in NYC layoffs in the Fall if other solutions aren't found. The cuts were due to a mix of actual and expected NYC revenue shortfall of about $8 - $9 billion. City Councilmember Helen Rosenthal of the Upper West Side tells us that about $4 billion of the shortfall will be made up by the Mayor's rainy day fund, which de Blasio had prudently set aside to address unexpected events.
The Mayor also announced that NYC public schools would be reopening in the Fall. He said he was working with the unions to implement safe plans which would include social distancing measures which would possibly take larger classes online, stagger schedules to fill the school with fewer students at any given time, implement cleaning efforts and staggered lunchtimes. The Governor noted that ultimately it's his call on school reopenings. Nonetheless, the Mayor said that NYC was working to submit a plan by late July / early August.
NYC Moving to Phase III Monday but Indoor Dining on Hold
Because of the upturn in CoVid infections in other states as noted below, the Governor and Mayor have put indoor dining in NYC on hold. Nonetheless, the rest of Phase III will continue as planned on Monday, July 6th. Phase III also includes the opening of personal care businesses such as tanning, waxing & nail salons and spas.
Piazza Style Dining to come to 22 Streets in all Five Boroughs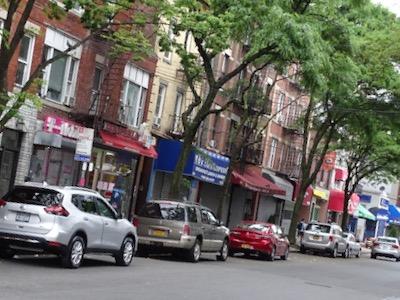 The Mayor announced efforts to mitigate the impact of the delay of the opening of restaurants indoor areas by further opening the streets to restaurateurs over the weekends beginning Friday evenings - in what was described as piazza style dining. Expanded dining areas are planned for 22 streets around all five boroughs in the city including Restaurant Row in the Hell's Kitchen neighborhood of Manhattan, Mulberry Street in the Little Italy neighborhood of Manhattan, and streets in Chinatown at Doyers Street, the East Village at Broome and Orchard Street, Harlem at 101st Street and Lexington, Gansevoort & 13th in the West Village, Broadway and 25th in the Flatiron District.
In the outer boroughs there's Arthur Avenue in the Little Italy / Belmont neighborhood of Bronx [7/10], New Dorp at Hylan Blvd in the New Dorp neighborhood of Staten Island, Bell Blvd in the Bayside neighborhood of Queens, and in Brooklyn a number of streets in DUMBO between the Brooklyn and Manhattan Bridge near the water in Brooklyn, 5th Avenue in the Park Slope neighborhood of Brooklyn, at Reed Street and Van Brunt near the Fairway in the Red Hook neighborhood of Brooklyn. And speaking of Fairway - they're planning to close three stores as a result of the pandemic including the one in Red Hook, another in Harlem and one on Long Island.
In Phase II NYC had started to clear the way for restaurants to occupy the curbside parking spaces in front of their dining / drinking establishments to allow the serving patrons outdoors. This appears to have worked well, with - thus far - no attendant substantive increase in CoVid cases. This is even though many to most of the folks I see dining and drinking outside aren't wearing masks. This is understandable as it's hard to eat and drink with a mask on, as I tried it a week ago and didn't like it.
But for the people who are most susceptible to severe illness - and even death - due to CoVid, they are advised to continue to exercise caution, even in the outdoor dining and drinking setting, as the consequences for them are too severe to take the risk.
---
CoVid 19 Pandemic 2020 Failed Federal Response Failed Reporting & Real Estate Prices & Subway Cleaning NYC
Unemployment Rises to 40 Million, Trump Fires FIVE Inspectors General Overseeing his Handling of the Largest Stimulus Bill in History & Life on the Ground in NYC
May 28, 2020 / NYC Neighborhoods / CoVid in NYC Special Section / News Analysis & Opinion / Gotham Buzz NYC.
If things appear to be chaotic these days, that's because they are.
America First - #1 in CoVid & Record Breaking Unemployment
Since the CoVid Pandemic began, new unemployment claims have risen by 40 million in the nation. That's out of an estimated American workforce of 158 million - meaning that 25% of Americans have lost their jobs since the pandemic began.
The April unemployment was reported at nearly 15%, while the May unemployment report is expected to rise to in the neighborhood of 20% - 23%. And according to the Federal Reserve, the June numbers could come in a bit worse than May. As a point of reference, during the worst days of the Depression, unemployment came in just under 25% before the American people fired Herbert Hoover.
Trump's Litany of Distractions, Enabled by Network TV Boobcasts
But the Donald isn't talking about the pain Americans are suffering from the pandemic, where over 1.7 million have been infected and over 100,000 have died. Nor is he talking about the pain and anxiety that is being felt by the 40 million Americans who have lost their jobs.
Nor is he willing to talk about the firings of five Inspector Generals who had been charged with overseeing the integrity of the largest stimulus package in American history - funded by America's babies and unborn children. It's like taking candy from a baby, only this time it's money - and lots of it.
The five Inspector Generals include one from Health & Human Services, Department of Defense, State Department, Intelligence Community and the Department of Transportation. Australian billionaire Rupert Murdoch's Goebbels-like propaganda machine - including his Fox News, Wall St Journal and NY Post appeared to support the firings. I wonder what Rupert's share of the predatory propaganda plunder is?
So what is the Donald talking about, repeated nightly on the TV News broadcasts, who I've come to view as the great enablers, and now think of as the nightly news boobcasts ? Anything else.
This week the list of TV News amplified Trump outrages included: 1) Twitter exercising its freedom of speech by putting suggestions that Trump Twitter followers get off their lazy bums to click into fair and balanced information checks of the Donald's disinformational tweets. 2) Prior to that Trump attacked the Governor of North Carolinafor following the CDC guidelines vis a vis reopening the economy. The reason? The Donald appears to want a jam packed media extravaganza at the Republican National Convention that was scheduled to be held in Charlotte, North Carolina in August. 3) Another of the shock jock president's distractions was his insinuation that mail ballots are fraudulent - WHICH MIGHT COME TRUE IN November as Trump is replacing the outgoing Postmaster General with a Trump donor / businessman from North Carolina. 4) And the most incredulous of the distractions was Trump's allegations having to do with MSNBC commentator Joe Scarborough and a decade(s) old death of someone who worked for him.
---
CoVid 19 Balancing CoVid Spread Health Safety & Economy NYC CoVid 19 Pandemic 2020 NYC
CoVid Back to Work NYC – Part III
Mayor & Governor Attempt a Balancing Act Worthy of the Flying Wallendas
May 3, 2020 / NYC Neighborhoods / NYC CoVid 19 Special Section / News Analysis & Opinion / Gotham Buzz NYC.
Well, at least we had a pleasant weather weekend. People were out and about again in greater droves than they have been in about a month and a half. It was just nice to stretch one's legs, soak in a bit of sunshine and see people again … albeit at a social distance.
Looking ahead the Mayor and Governor are in a tight spot, as people's economic needs begin to weigh heavily upon them, given a second month of rent and other payments have come due. Thus these two intrepid leaders need to work out a path to economic recovery, while not letting up on keeping the evil CoVid virus in check. My intent here is to add my two cents in hopes of stimulating dialogue and actions in that direction.
Putting Things In Perspective
Let's start with what has happened this past week. NYS CoVid Hospitalizations had skyrocketed to about 19,000 the week of April 13th, 2020. By this past weekend they had fallen to about 10,000 – nearly half of the peak.
At the time the Governor and Mayor, with federal government assistance, had put in place plans to accommodate the skyrocketing infected numbers, which as of April 13th had hit 195,000 people in New York State and about 107,000 in New York City. Today the cumulative totals for New York State are 318,000 and for New York City 177,000.
Brief History Of How Covid 19 Started In NYC & NYS
The first person identified with the CoVid virus, was a Manhattan healthcare worker who had picked it up overseas. She tested positive or it became publicly known on March 1st, 2020. A week and a half later, on March 10, 2020, Governor Cuomo set up a containment area in New Rochelle where there was a significant outbreak. The Governor's NY Pause – essentially shutting down non-essential business – began evolving shortly thereafter.
---
NYS Steps Up its Testing After U.S. Federal Government Fails to Quickly Respond to CoVid Pandemic
It's a Corona Virus Weekend NYC II
Even more than Last Week, the Corona Virus Pandemic Shuts Down NYC
* March 20, 2020 / NYC Social Issues / NYC Neighborhoods / Corona Virus in NYC & NYS CoVid 19 / News Analysis & Opinion / Gotham Buzz NYC.
* Weather. The Temperature highs will be in the mid 70's on Friday, dropping to 50 on Saturday and the mid 40's by Sunday. The temperature lows will be in the mid 40's on Friday, dropping to the mid 30's Saturday, rising a bit to the high 30's on Sunday. There is a 40% chance of a minuscule amount of Rain on Friday afternoon, for which the peaking probability is at 5 pm. Then no rain for the rest of the weekend, but cloudy Saturday morning. Winds will be 10 - 15 mph all weekend. The Humidity will be around 70 on Friday dropping to the mid 40% range for the rest of the weekend. Click for NYC Weather.
* MTA / Public Transit / Click here for the MTA Weekender.
A Racist President Applies a Demagogue Label to CoVid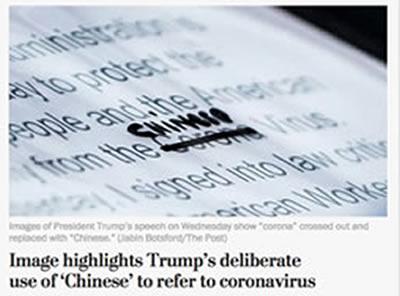 Unfortunately we have a president, who oftentimes makes situations worse, because of his ignorant and childish behavior. The Donald seems to be trying to label the Corona Virus the China virus and quite frankly, is doing more to confirm some of the labels given to him - like he's a racist - than convincing anyone other than his Fox 'News' toadies - to go along with his not-helpful-in-addressing-the-CoVid-crisis ploy.
It seems that our babyman president, won't even act like an adult, even in the midst of what appears to be the world's worst pandemic in this millenia.
A demagogue is
"a political leader who seeks support by appealing to the desires and prejudices of ordinary people rather than by using rational argument."
MTA Sanitizes Subway Cars and Buses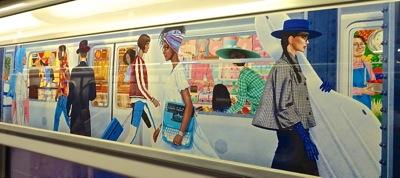 The NYC MTA moves between four and six million people daily. That's a mind boggling figure when you think about it. But last week ridership began falling significantly. And by this week, about a million or more people, had found some other way to get around, or were staying home. Thus the MTA is seeking federal funding to the tune of about $4 billion to help it shore up the lost revenue. And the ridership reductions are expected to continue for a while.
The MTA stepped up its cleaning regimen effective March 3, 2020. It now santizes its subway cars and buses on a rotating schedule every three days. Have the subways ever been so clean? In spite of the effort folks are still encouraged to practice social distancing meaning keeping six feet apart from others when possible. Anyone who is ill is asked to stay home.
The photo above right shows a placard on the subway, artistically depicting the diversity of our city. We live at the crossroads of the world, which means we are both the beneficiaries of that intellectual and cultural diversity, but also carry risks which are associated with that openess, because of our societal exposure. Like everything in life, we must strive to find the right balance of cultivating our openess, while managing and minimizing the associative risks. Data, science, education and discipline can help us strike the right balance.
---
Trump Gives State of the Union Address 2020 Appearing Intent on Dividing the Nation
State of the Union Dividers: Rupert & the Donald
February 4, 2020 / U.S. Politics / News Analysis & Opinion / Gotham Buzz NYC.
The Donald delivered his State of the Union Address in what was yet another one of his divisive speeches. It seems he's no longer talking to the nation as a whole - but that he's primarily talking to Rupert Murdoch's Fox Nation.
Plunderers always seek to divide, to destructively exploit community divisions, in order to further their own agenda.
Conversely real leaders seek to unite people around issues they can agree upon, in order to move forward with efforts that benefit the whole community.
Founding Father John Dickinson told the American people, prior to the Revolutionary War, that "United we stand. Divided we fall.". This is as true today as it was back then.
And Benjamin Franklin warned Americans at the Constitutional Convention that we had "A republic ... if you can keep it." Right now there are numerous powerful, deceptive and manipulative forces - both domestic and foreign - working relentlessly and insidiously to take our democracy and the rule of law away from us.
This year we, as a nation, will decide who we really are, and whether we can keep the republic.
---
The Real National Emergency: President Pinocchio's Pants are on Fire
The Real National Emergency?
President Pinocchio's Pants are on Fire
February 19, 2019 / NYC Neighborhoods / NYC Politics & Government / Gotham Buzz NYC. News Analysis, Opinion & Satire.
I stumbled upon an episode of Jimmy Kimmel Live, from January 10, 2018, about how Donald Trump has differentiated himself from all other presidents of the United States of America - as the greatest known liar of them all.
Cut and paste this link for a short video of Jimmy Kimmel's documentary of Trump Telling His 2,000th Lie over a year ago - https://www.youtube.com/watch?v=qQruDaf7bKs
Real Presidential Greatness vs 'Greatest'
It's important to distinguish between greatest - which compares one to another - and greatness, for which there is no comparison. Greatest is an amount or extent considerably above normal, while greatness is about having won the respect for achievements in one's field. True greatness is rarely achieved by braggadocious people, because they are too busy talking to make time to do anything truly great.
Presidential Greatness. George Washington was achieved greatness by risking his life as the Commander in Chief of the colonial army during the Revolutionary War. A greatness which was made even more so, by the fact that the first president didn't try to keep / possess the title of the president beyond two terms /eight years. Abraham Lincoln, similarly risked his life, to hold the Union together, while exorcising it of the heinous institution of slavery. And Franklin Delano Roosevelt, saved democracy, capitalism and freedom, by leading the nation through the Great Depression and the Second World War.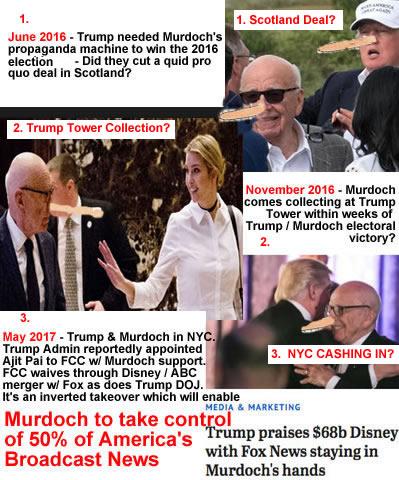 But while the Donald may not have done anything remotely deserving the moniker of greatness, over a year ago Jimmy Kimmel identifed that Trump had already become the greatest liar who ever occupied the White House. That was over a year ago, in January of 2018, and since then the Trump has continued onward with his train of lies.
President Pinocchio Supported by Murdoch's Fox News Pinocchio Pundits
But to be fair, Trump likely could not have come up with so many different lies to tell, without the help of multi-billionaire, global propagandist, Keith Rupert Murdoch, and his mass media mendacity machine.
The Murdoch propaganda machine includes outlets like Fox News and their portfolio of Pinocchio pundits, the Wall Street Journal and the NY Post.
Murdoch appears to have benefitted greatly from the Trump presidency, via 1) huge tax cuts for the wealthy, 2) Trump military action in Syria where Murdoch owns part of Genie Energy with former VP Dick Cheney and several other robber barons, 3) huge Fox News ratings wins due in part to the Donald's Crazy Town [name of a book by Bob Woodward about the Trump Administration] and last but not least 4) Department of Justice and FCC approval of Murdoch's inverted takeover of Disney / ABC which will soon enable Murdoch to take control of about half of America's broadcast news.
5 of President Pinocchio's Biggest Lies Since 7/2018
Since Kimmel's video was posted in January of 2018, Trump has continued telling many lies - including some very, very big ones. Here are five of Trump's biggest lies between July 2018 and today, including a brief analysis of the impact.
---
November 7, 2018 Midterm Election Results: Trump & Republicans Lose Badly in Midterms
Trump Suffers Huge Losses in Midterms
Americans Sharply Reprimand the Un-Reality TV President
November 7, 2018 / NYC Neighborhoods / NYC Politics & Government / New Analysis & Opinion / Gotham Buzz NYC.
The American people have spoken.
Now what the voters have said, by virtue of their votes, is already being spun by Donald Trump's and Rupert Murdoch's propaganda spin machines in order to further their self-serving agendas.
But before we look at the spin, let's look at the facts, as the electoral outcome is a measure of the American people's endorsement - or lack thereof - of the presidency of Donald J. Trump and by association, Rupert Murdoch, the multi-billionaire, global propagandist who was instrumental in helping Trump take the White House.
Republicans Gain 2 Senate Seats - One from Pence's Home State of Indiana & one from Donald's 2nd Home State of Florida
The Republican Party strengthened its already firm grip on the Senate by picking up three [North Dakota, Missouri & Indiana] maybe four [Florida] Democratic Senate seats, while losing two Republican seats [Nevada and Arizona], leaving them with a net gain of two seats.
Update - Republicans won Florida, so they gained four Senate seats and lost two. The tally now stands at 47 Democrats to 53 Republicans, meaning the Republican party continues to control the Senate.
So, assuming that the follow on election in Mississippi goes to Republicans, and the current tiny lead in Florida is not overwhelmed with absentee ballots, the Senate tally will change from the current 49 Democrats - 51 Republicans to 47 Democrats - 53 Republicans. Of note is that Republicans had only six seats to defend, while Democrats had 27 seats up for grabs.
At the moment there are two unresolved Senate races, one of which has been Republican [Mississippi] and the second of which is Florida [Democratic incumbent], so this tally could change.
Home States Advantage. It's worth mentioning that one of the seats picked up by the Republicans came from Indiana, the home state of Vice President Mike Pence, and the possibility of another comes from Florida, which I categorize as the second home state of President Donald Trump, given how much property he owns / manages there and how often he golfs there.
Republicans Lose Control of the House & Lose Control of 7 State Capitals
As of this report the Republican Party lost 27 and likely more seats in the House, thus relinquishing their majority in that body for the first time in eight years. And for the first time during the Trump presidency, the opposition Democrats have an opportunity to play a real role in governing again. The Democrats now have subpoena power, they have the power to impeach, and no legislation can be passed without Democratic signatures. At present count the Democrats have won 222 seats [218 provides majority rule] to the Republicans 194 seats, and there are 17 races that have not yet been officially announced, so the net loss / gain tallies will change, as the remaining 19 contests are settled. There are 435 congressional representatives.
Update - Democrats won 235 Congressional seats, while Republicans won 200 Congressional seats meaning there was a HUGE flip from strong Republican control of Congress to strong Democratic control of Congress.
---
Senator Susan Collins Votes to Confirm Brett Kavanaugh to the U.S. Supreme Court
Kavanaugh Epilogue: Onto the Midterms?
Collins' Speech, McConnell Cash & What will the Donald do if Republicans win the Senate?
Update October 7, 2018 / NYC Neighborhoods / NYC Politics & Government / News Analysis & Opinion / Gotham Buzz NYC.
Susan Collins Speech - Honest ... but?
Susan Collins gave a speech explaining to the American people why she was going to vote to approve Brett Kavanaugh to the Supreme Court. She reaffirmed what I have stated below, which that it was not a court proceeding, but rather a confirmation hearing which does not require a standard of being beyond reasonable doubt.
Collins went on to say that none of the people Christine Blasey Ford named as attendees at the party, could remember or verify their attendance at the party. And that she thought that to be fair to Brett she would vote for him, since the allegations of sexual assault were not confirmed. BUT she did not talk about any of the other allegations noted above, nor did the 'limited' investigation attempt to get at the root of those, including whether Kavanaugh had lied under oath.
Mitch McConnell's Gloating & Telling the Big Ones?
Mitch McConnell told Fox News that he was proud he and his fellow Republicans had stood up to the mob. The mob he was talking about was comprised of the American people that he often times uses as cover to justify the work he does for the people he is really serving. McConnell's campaign, or indirectly the McConnell's personally, accept oodles of cash from the super rich corporate donors, the Chinese with which his father-in-law does business, and the Russian oligarchs who are newcomers to the Mitch McConnell selling out of America program. Russian Oligarch companies donated $2.5 million to McConnell campaigns, $7.5 million to Republicans in general including Senator Lindsay Graham, and allegedly $30 million to the NRA, which is believed to have used that money in support of the Trump Campaign.
Thus, contrary to Mitch McConnell's claims to the contrary, in reality he stood up AGAINST the American people IN FAVOR the rich and powerful, including the Chinese and Russian Oligarchs, because Kavanaugh reportedly rules in favor of the corporate establishment over 80% of the time - against the American consumer, against American's health aka the environment and against American small business.
---
Brett Kavanaugh - Trump Attacks Christine Blasey Ford - American Corporate Media Failure
Kavanaugh: American Corporate Media Failure
Fox, ABC, NBC, CBS, NYT and WAPO all Sow Disinformation by Repeating Trump Attacks on Blasey Ford w/o Specifically Refuting all of Them
Only CBS's Late Show with Stephen Colbert had the Intelligence, Decency & took the Initiative to do so
October 4, 2018 / NYC Neighborhoods / NYC Politics & Government / News Analysis & Opinion / Gotham Buzz NYC.
The six largest American media corporations unanimously added insult to injury, regarding Christine Blasey Ford's testimony, which alleged Brett Kavanaugh attempted to rape her several decades ago.
Every one of them repeated Trump's false attacks on her or showed video of Trump falsely mocking Christine Blasey Ford on Tuesday, October 2nd. Trump said Blasey Ford didn't know in which neighborhood this happened [Bethesda, Md], where the house party was [between Blasey Ford's house and the country club], when this happened [36 years ago], and was it upstairs or downstairs [at the top of the stairs].
One of the big news corporations said Blasey Ford was 100% sure it was Kavanaugh, but without providing added supporting evidence. Another outlet went on to replay and amplify multiple other of Trump fake news comments, again failing to directly refute all of the ones Trump had just made regarding Blasey Ford's testimony, which was less than a week ago. And a third major American news outlet noted that as recently as last week Trump had declared Blasey Ford gave credible testimony. But so what? Trump says lots of contradictory things. So now, like so many times before, Trump contradicts himself allowing his followers to believe what they want to believe, amplified by the American corporate media.
These large media corporations, with all their resources and well educated journalists, didn't have the decency, intellect, and didn't take the initiative to do a little - very little - fact checking of the less than week old testimony.
America has a broken public information system. And when the public information system is broken, the nation is like an aircraft that has lost its flight instrumentation. The nation is flying blind. We're flying blind and making bad decisions because we are not getting accurate readings on what's going on, and where we are.
Russian billionaires and foreign companies may soon have more pull with the Supreme Court than 'We The People'. It seems the Russians already have significant influence with many of our Senators and President - see more about this in a prior report we did about Brett Kavanaugh Supreme Court Nominee.
---
---
---
Issues of Character - Brett Kavanaugh - Supreme Court Nominee
Kavanaugh: Have Republicans Abandoned Family Values and Law & Order?
Are Trump & Republicans Rushing the Nomination of a man who may be a Lying, Partisan, Alcoholic, Sex Offender with a Gambling Problem?
October 2, 2018 / NYC Neighborhoods / NYC Politics & Government / News Analysis & Opinion / Gotham Buzz NYC.
Over the past couple of weeks, we've been treated to a new season of a made-for-TV series, the Unreal Presidency of Donald J. Trump. The Donald is the star TV shock jock protagonist. He is an elderly man who appears hell bent on seeing just how far he can exercise executive privilege to serve his own ends, before some of the other 320 million people in the nation will actually stand up to stop him.
There are many antagonists including those who have filed a lawsuit accusing Trump of violating the Emoluments Clause of the U.S. Constitution [using the office of the presidency for personal profit] and there are many grassroots Democrats who are pushing their representatives on the idea that Trump was exactly the kind of president the Founding Fathers had in mind when they included the Impeachment process in the Constitution.
The past and current episodes of the Unreal Presidency of D.J. Trump have been a made-for-TV-News ratings sensation. The current episodes have been focused on Trump's rush to confirm Brett Kavanaugh, a nominee with hair-raising disqualifications, to the Supreme Court. The Trump propaganda machine - friend Rupert Murdoch's Fox Fake News - has been the ratings winner of this taxpayer funded drama.
And Murdoch's Fox News proudly declared that on Friday, September 28, 2018 with the following headline [see above],
"Fox News dominates ratings on coverage of dramatic Kavanaugh-Ford hearing."
Murdoch's Fox Fake News uses red, white and blue iconography all over its broadcast studio, calling themselves 'America's Newsroom'. Their hijacking of America's colors and flag, is reminiscent of how the Nazis hijacked German nationalism in the 1930's for their own ends. The Nazis claimed to be the one true patriotic party of Germany.
The Appearance of Due Process for TV Cameras?
The reality comes from Trump and the Republicans using Executive Privilege to withhold critical documents from the Senate, also limiting the time Senators were given to question Kavanaugh, and at first denying an authorized investigation into some of the most egregious allegations that have arisen against Trump nominee Brett Kavanaugh.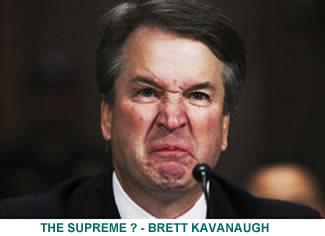 Trump's opposition, the minority political party in both the Senate and House, want access to documents surrounding one of the two roles that Kavanaugh played in the Bush Administration [2003 - 2006], when it is believed Kavanaugh ignored or supported illegal torture, illegal surveillance of the American people, and possibly worked with documents Kavanaugh knew to be obtained illegally.
What's more, the allegations surrounding Kavanaugh's character seems serious enough to disqualify him, including lying under oath, attempted rape, alcoholism and that he has a gambling problem. These allegations, if true, would impugn the integrity of the Supreme Court, as an impartial body that deliberates over the laws that govern our society.
Supreme Court Justice Nominee or Supreme A_ _ Hole?
The photo at right shows Kavanaugh at the hearing, demonstrating some of his famous anger management issues. His lying about his inability to control himself is at the core of the Senate's reluctance to confirm him - as he is alleged to have gotten into a bar dispute after repeatedly drinking too much, to have repeatedly sexually offended several women where alcohol was also involved, and to have erupted in rage following a gambling bout.
---
How Corrupt is Kentucky Senator Mitch McConnell?
How Corrupt is Mitch McConnell?
Are Republican Senators Really Russian & Chinese Lobbyists?
McConnell Accepted $2.5 Million from Russian Oligarch Company & Accepted $ Millions from Father-in-Law Who Does Big Business with China
September 27, 2018 / NYC Neighborhoods / NYC Politics & Government / Gotham Buzz NYC / News Analysis & Opinion.
Republicans & Democrats need pay heed to the real demographic fault Lines - the fault lines between the Super Rich and everyone else.
In history all conquerors need a strategy to conquer entire peoples, and that strategy is usually one based on a divide and conquer strategy. In the 1700 and 1800's the British were accomplished users of this strategy, aligning with minority groups in the Middle East - so the minority would need to rely on the British help - to maintain their control over the majority. Further away from the center of British power, Hong Kong, an island separate from the Chinese mainland, was used to extract valuable trade from the continent using a defensible locale.
In modern times Hitler used a claim to defend the German minorities in Austria and the Czech Sudetenland, as a pretext for conquering those nations. And today, we see how that strategy has evolved, as Russian and American Oligarchs, manipulate Americans and exploit divisions along ideological lines, in order to strip away the government apparatus of checks and balances embedded in the U.S. Constitution. Like Hitler, they are going about this in a more or less legal manner, in order to add legitimacy to something that in reality is anything but.
2015 - 2016 Campaign: Mitch McConnell & Republicans Receive $7.5 Million from Russians
Mitch McConnell's dedication to and representation of his fellow Americans is highly suspect when you gaze through his campaign funding sources.
According to an August 3, 2017 OpEd in the Dallas News, in the 2015 - 2016 election season Republican Senate Majority Leader Mitch McConnell's GOP Leadership Fund accepted $2.5 million in donations from Leonid Blavatnik's Access Technologies [$1.5 million] and AI Altep Holdings [$1 million]. The newspaper goes on to report that other top ranking Republicans including Florida Republican Senator Marco Rubio's Conservative Solutions PAC [$1.5 million] and South Carolina Republican Senator Lindsey Graham [$800K] accepted money from the Russian Oligarch's companies. All tolled Republican candidates received $7.5 million in Russian Oligarch money. OpenSecrets.org, a non profit truth seeking organization, was the original source.
NOT ONE of McConnell's Top Funders From Home State of Kentucky
Mitch McConnell's dedication to and representation of his fellow Kentuckians is even more highly suspect when you gaze through his American campaign funding sources.
According to an October 24, 2016 report in the Louisville, Kentucky Courier-Journal, a USA Today affiliated newspaper, between January 2009 and October 2016 McConnell's highest donor was Sheldon Adelson, a Nevada casino operator, who contributed $20 million. During the same period [for all listed in this paragraph = same source], One Nation, a Karl Rove affiliated dark money group, contributed $9 million. Two Houston, Texas based energy companies donated $5.6 million. And three investment companies / hedge funds donated a combined $10 million. There's plenty more from where that came from, as I'm still listing donors above the $2 million mark - and not a one of them is from Kentucky.
Moscow Mitch & Quid Pro Quo?
Do you think the Russian Oligarchy cash had anything to do with McConnell's December 2016 refusal to entertain the idea of a Senate Committee dedicated to investigating the Russian interference in the election? Do you the Russian Oligarchy's contributions had anything to do with the fact that in September of 2018 McConnell said the Senate won't be taking up Russian sanctions until after the election?
How Much of Mitch McConnell's Net Worth Gains - from an Estimated $3 to $36 Million - Came from Wife Elaine Chao's Father & the Chinese Seeking Influence?
In a March 17, 2018 report in the NY Post, author Peter Schweizer's book, Secret Empires: How the American Political Class Hides Corruption and Enriches Family and Friends, is reviewed. In the review the NY Post notes that Mitch McConnell and his wife Elaine Chao were worth about $3.1 million in 2004. Ten years later their wealth had increased to somewhere between $9.2 and $36.5 million.
He goes on to note that Chao's father, who operates the Foremost Group, which is a shipping company that does a significant amount of its business with China. James Chao, McConnell's father-in-law, was a classmate of former Chinese President Jiang Zemin. And Mitch McConnell's wife, Elaine Chao, is now the Trump Administration Transportation Secretary. So Father James Chao is in the shipping business, daughter Elaine Chao is the U.S. Transportation Secretary, and son-in-law Mitch McConnell is the Senate Majority Leader.
Following Marriage to Elaine Chao Mitch McConnell Flip Flops on China?
In 1994, shortly after McConnell's marriage to Elaine Chao, the NY Post report continues, McConnell took hardline positions against China. But by 1999, McConnell's stance had softened considerably, as McConnell opposed supporting Jesse Helms sponsored legislation in support of Taiwanese independence that had 21 Republican co-sponsors and heavy Republican support. In recent years McConnell continues to support China, having fought hard to stop the U.S. Senate from punishing China for undervaluing its currency, when Harry Reid was the Senate Majority Leader.
Sound like the Clinton Cash? It should. Peter Schweizer was author of the 2016 book, Clinton Cash, which was published by Harper Collins, which is a publishing house controlled by the NY Post / Fox News / Wall Street Journal Media Fuhrer, Rupert Murdoch. Murdoch appears to like to be in a position to take down the very people he promotes, as Elaine Chao was once a Board Member of 21st Century Fox. CLICK here to learn about how Rupert Murdoch who controls Fox Fake News, the Wall Street Journal and NY Post seems to undermine our democracy by misinforming his audience in order to get them to vote for candidates he favors who seem willing to grant him favors using public power.
It's worth noting that Mitch McConnell is one of the longest serving members of the Senate Leadership. And yet while Mitch is doing great, Kentuckians lag far behind the rest of the nation with a median income of $47,000 vs the national average of $59,000. So Mitch McConnell is doing great - but the people he represents aren't. Is that a surprise?
So Why is McConnell Rushing Kavanaugh Nomination?
In March of 2016, when then president Obama nominated Merrick Garland for the Supreme Court, Senate Majority Leader Mitch McConnell held off a review of Garland. In a March 16, 2016 NPR report McConnell is quoted as telling the nation,
"The American people are perfectly capable of having their say on this issue, so let's give them a voice. Let's let the American people decide. The Senate will appropriately revisit the matter when it considers the qualifications of the nominee the next president nominates, whoever that might be."
Fast forward to September 24, 2018 and McConnell tells us this on CNN.
"Chairman Grassley will make sure the facts will be heard. Judge Kavanaugh and the American people deserve nothing less."
That same day PBS reports that the Republican Senate majority on the Judiciary Committee scheduled a vote on the Kavanaugh nomination for the morning after Christine Blasey Ford's testimony. Christine Blasey Ford is the woman who accused Brett Kavanaugh of attempting to rape her at a party while they were both teenagers.
Old Saying - Haste Makes Waste
I find this rush to judgment disturbing because within the past week or so, two other accusers of Brett Kavanaugh's alleged sexual misconduct, have come forward. One is a Kavanaugh classmate from Yale - Deborah Ramirez, and the other is an alleged friend from Kavanaugh's high school years in the D.C. area, Julie Swetnick. And there may be a fourth accuser. A CBS Local report on September 27th, 2016 tells us that eleven Maryland lawmakers have asked the Montgomery County police to investigate allegations against Brett Kavanaugh, should the accusers wish them to do so.
So in March of 2016 Mitch McConnell can wait from March through January to let the American people weigh in. But in July of 2018, when Brett Kavanaugh's nomination came up, McConnell UNILATERALLY decided NOT TO LET THE AMERICAN PEOPLE WEIGH IN. And now, in the face of growing evidence of sexual misconduct, McConnell is trying to rush the Senate role in consenting on the nomination of Brett Kavanaugh through without even giving his fellow Senators a chance to fairly weigh in.
This alone would be enough to give one cause for concern. In this report I explore an alternative narrative as to why McConnell - who acts like a Chinese / Russian Lobbyist while pretending to be a 'Red State' Republican Senator - might want to rush Kavanaugh's nominating process. And it's not about Conservative values or Abortion - but rather about possible McConnell cash and payola.
---
Michael Moore's Film Fahrenheit 11/9
Michael Moore's Fahrenheit 11/9
New Documentary Film by the Only Pundit in America to Predict that Trump Would Win the Presidency in 2016
September 21, 2018 / NYC Neighborhoods / NYC Politics & Government / News Analysis & Opinion / Gotham Buzz NYC.
When Michael Moore talks, I tend to listen.
Why?
Because he's the only national pundit in America who predicted Trump would win the presidency in 2016.
In a July 2016 editorial, independent filmmaker Michael Moore explained the contributing psychological and cultural factors upon which his predictions for a Trump victory were based. The tenets for much of his underlying political analysis, still hold true today, and is explored more fully in his new film.
Moore, a Working Class Journalist, Probes the Psychology of Trump, Trump's Followers, and the Mainstream Media Folks
Michael Moore is sometimes typecast as a liberal, but his working class credentials have never been challenged. The liberal label may have arisen because one of his earlier films, Roger & Me, called out the CEO of General Motors for exporting American jobs, thus shafting of the American working class, of which Moore was a member back in the 1990's. And another of Moore's films, Fahrenheit 9/11, attacked George W. Bush and the American corporate media for their inept response to the 911 attacks. But labels these days, are used a means by which those who wish to discredit, to shout down people who offer alternative narratives that differ from their own.
Moore shows little tolerance for both conservatives and liberals, as he believes those in charge of the both the liberal and conservative media and political apparatus are living in insulated seclusion from the rest of us. Moore brought this point home in the DemocracyNow.org interview, by talking about mundane TV shows watched by Trump supporters, that he said are not watched by most of the people delivering the corporate media news. He used the TV shows people watch, as a means to exemplify the cultural disconnect, between those who present the news and those who watch it.
The example he used was the importance of the TV show The Apprentice, in creating Donald Trump. He told us that every week the Donald would fire someone from the staff that was nearly universally despised, elating the audience, who Moore opined, worked with similar characters at their own jobs.
Moore doesn't work for a corporation, nor is he sponsored by big corporate money, so he seems about as independent these days, as we're going to get, because nobody owns him.
---
Is Donald Trump a Hostage of the Russian Czar Putin?
Is Donald Trump a Hostage of Russian Murderers, Capitalists & Thieves?
Is the Trump & 'Bambino' Family so Criminally or Financially Compromised, that They are Betraying America?
Updated August 27 - August 23, 2018 / NYC Neighborhoods / NYC Politics / News Analysis & Opinion / Gotham Buzz NYC.
The first part of this report will show you some of the many known Trump family 'social' interactions with key Russian Oligarchs [Kleptocrats?] close to Putin, and of the Trump campaign officials and consultants known meetings with Czarist President Vladimir Putin's government officials.
Do Americans really think all of the following interactions were just coincidence? Just a couple of billionaire women and campaign officials just have a little old fashioned czarist fun?
Part I: Trump Family & Campaign Interactions w/ Russia 2016
I can't help wonder whether Ivanka Trump and her Russian-Oligarch-loving friend Wendi Deng Murdoch [Rupert Murdoch's ex-wife rumored in March of 2016 to be Putin's girlfriend (denied much later by Deng)], weren't conduits through which information passed between then candidate Donald J. Trump and Russian czarist President, Vladimir Putin?
Why hasn't the FBI called them in for interrogations about what they may know, based on their numerous interactions with the Oligarchs throughout the presidential campaign season of 2016?
Why haven't they called in billionaire propagandist Rupert Murdoch who controls Fox Fake New, the Wall Street Journal and the NY Post - all of which unabashedly promoted the Trump candidacy with distorted, and at times false news reporting, as well as the suppression of stories relevant to the election? Murdoch was reported to speak somewhere between daily and weekly to Trump, following the election, as was his surrogate pseudo anchorman Sean Hannity. Both had business with the federal government and - as far as I know - neither has registered as a lobbyist, even though both men appear to have profited handsomely since the election of Trump as a result of Trump policies, FCC rules changes and for Hannity a new multi-million loan agreement with far more generous terms.
Trump Family & Campaign Officials Hold Over a Half Dozen Meetings with Russians Close to Putin Throughout 2016
On March 2, 2016 Rupert Murdoch, who controls two of America's six largest media content companies, tweeted that the GOP "would be mad not to unify" around Trump, if he's the Republican nominee. Murdoch controls the Fox News, WSJ & NY Post propaganda machine that catapulted Trump into the Oval Office in November 2016, along with the help of the Russians.
Some of Known 2016 Interactions of Trump Family & Campaign w/ Putin's Russia
1. On March 14, 2016, George Papadopolous, one of five foreign policy consultants, recruited by Trump co-Campaign Chairman Clovis, met with Joseph Mifsud. Mifsud is reported to be a British university professor with connections to high ranking Russian officials. Papadopolous met with Mifsud again on March 24, 2016 at a London Hotel and again in late April of 2016 when Mifsud was accompanied by a Russian woman who told him that they had dirt in Clinton in the form of thousands of emails. Mifsud attends the Valdai Discussion Club in Sochi, Russia which is a conference periodically attended by Putin himself.
Are Ivanka Trump & Wendi Deng Murdoch Shills for Billionaires / Oligarchs?
2.a. Less than a month later, on March 31, 2016 US Weekly, a gossip magazine, reported that the former wife of Rupert Murdoch, Wendi Deng Murdoch, was dating Vladimir Putin. Two days later, on April 2, 2016 Murdoch's former wife, Wendi Deng Murdoch, was seen on a boat associated with the yacht of Roman Abramovich, a Russian Oligarch considered among Putin's closest 'friends'. Abramovich's wife, introduced to Ivanka years earlier by Deng, is reported to be a friend of Ivanka's.
2.b. A month later, on May 2, 2016, Wendi Deng Murdoch was seen at the Met Gala along with her close friend Ivanka Trump. Wendi Deng Murdoch was, at the time, rumored to be Putin's girlfriend, and she had named Ivanka Trump as the trustee for Wendi Deng Murdoch's children's $300 million trust, which was reported in 2015 to hold numerous shares in Rupert Murdoch's 21st Century Fox. Ivanka served as a trustee for Deng until December of 2016 when she stepped down.
In 2014, following the Murdoch's divorce, Rupert Murdoch reportedly accused his ex-wife Wendi Deng Murdoch of being a Chinese spy. This appears to have been corroborated by U.S. Intelligence, which warned Ivanka Trump and Jared Kushner that Deng was a spy, following Trump's Electoral College victory in December of 2016.
3. In May of 2016 Roger Stone, a long time friend of Donald Trump [attended two of three weddings], who had worked for him on prior occasions, met with a Russian who offerred him dirt on Clinton. Stone initially denied the meeting took place, before admitting it. According to Wikipedia, two Stone associates claim he collaborated with Julian Assange of Wiki Leaks to release dirt on Clinton. In August of 2015, Roger Stone stepped down from his official role in the Trump campaign.
4. On June 9, 2016 Don Trump Jr. and Ivanka's husband Jared Kushner met with a Russian spy, Natalai Veselnetskya, at Trump Tower in Manhattan to get dirt on Clinton. At first Donald Trump Jr. lied to Americans about the real purpose of the meeting claiming it was about adoption, before admitting it was to get dirt from the Russians on Clinton.
The Trump / Murdoch Mob? The Donald Publicly Invites Russian Interference
Murdoch's ex-wife, Wendi Deng Murdoch, waited until July 25, 2016 - nearly four months after the reports broke - to deny that she was dating Vladimir Putin.
On July 27, 2016, two days after Wendi Deng Murdoch's denial of a relationship with Putin [she was reportedly never seen with him, but seen on Russian Oligarch yacht(s)], Trump publicly invited Russia to hack and release Clinton's emails, when he stated the following at a nationally televised press conference in Florida.
"I will tell you this: Russia, if you're listening, I hope you're able to find the 30,000 emails that are missing. I think you will probably be rewarded mightily by our press."
Did he mean they will be rewarded by the propaganda press of unrelenting Trump supporter, multi-billionaire Rupert Murdoch, or by the entire American press?
The Trump Family & Campaign Meetings with Russia Continue
5. In July 2016, Carter Page, a financial and oil man, who spent years in Russia and was reportedly sympathetic to Russia, traveled to Moscow to give a speech. He met with a former cabinet member of ex-president of Russia, Dmitry Medvedev. Page initially denied this meeting took place and later his 'memory came back to him'. Page was the Trump Campaign Foreign Policy Advisor from March 21, 2016 until September 2016, when it was disclosed that Page had allegedly met with at least one U.S. sanctioned Russian Oligarch, Igor Sechin of Russian conglomerate Rosneft.
6. On August 14, 2016 Wendi Deng Murdoch, Ivanka Trump and her husband Jared Kushner vacationed together in Dubrovnik, Croatia. Likely not coincidently, Russian Oligarch, Rybolovlev's yacht was reportedly moored there at the same time, and his private plane was reported to have landed there too.
Seven years earlier, following the real estate bubble crash in 2008 / 2009, Russian Oligarch Rybolovlev paid Donald Trump $95 million for a house Trump had purchased for $41 million only four years earlier. Rybolovlev, a member of Putin's inner circle, eventually demolished the home, leading people to question whether Rybolovlev had financially bailed Trump out during the real estate and stock market crash of 2008. At the time Trump was again allegedly in serious financial straits, following a string of six bankruptcies that began in the 1990's and bled into the 2000's.
Around that same time in 2008, while the American real estate bubble was bursting, Elena Baronoff, a former Russian 'attaché of cultural affairs' [spy?], began helping Trump sell property in Sunny Isle, Florida. She sold nearly $100 million of Trump real estate to Russians, reportedly at top dollar [inflated?] prices, which led some pundits to question whether the Trump's were laundering money via real estate sales. In 2007 Ivanka got her start with her father's company, also working on a project in Panama, which reportedly was suspected of laundering what was believed to be Russian and drug cartel money.
Trump sales agent Baronoff reportedly contracted leukemia in 2014 and conveniently died in 2015, right around the time Donald Trump began testing the waters for his presidential candidacy.
7. On September 12, 2016 Ivanka Trump, Wendi Deng Murdoch and Oligarch Abramovich's wife Dasha Zhukova were photographed attending the U.S. Open together. One report credits Wendi Deng Murdoch with introducing Ivanka Trump to Dasha Zhukova, billionaire Russian Oligarch Abramovich's wife, and there are reports that the two have been friendly for nearly a decade.
Was the Murdoch Propaganda Machine Colluding with Russia & Trump?
Murdoch's WSJ was reported to have held a story in the fall of 2016 about the Donald and his mob connected past - allegedly for editorial reasons. But if I recall correctly, the WSJ Editor, Paul Gigot, also said something along the lines of holding it to stave off a Clinton victory. I NEED TO VERIFY THIS.
Eleven days prior to the election, on October 28, 2016, the case involving Clinton's emails was reopened, because some of them were found on Anthony Weiner's laptop. Rupert Murdoch's Wall Street Journal had issued related reports about them a couple of months earlier, and Murdoch Fox News regular Rudy Giuliani [now Trump's lawyer] foreshadowed the timely release of the news - that there were more Clinton emails - on Fox News. Giuliani is reportedly paid over a half million dollars to be a paid contributor on Fox Fake News.
Within days the FBI had sifted through them, informing the public that there wasn't anything new.
7. Russian Oligarch Rybolovlev was tracked to North Carolina by the Daily Kos, just five days before election day 2016 at the same airport where candidate Donald Trump had landed only 20 minutes earlier to make a campaign stop. Rybolovlev reportedly paid $95 million to Trump for a mansion he demolished, and for which Trump had paid $45 million only four years earlier. It was reported to be worth about $25 - $30 million less at the time.
I found it interesting that Rybolovlev's battery company in America was reported to build batteries in what look like storage containers, and upper management is mostly comprised of ex-Russian government people [agents?]. Rybolovlev recently closed down the company and Russia is reportedly withdrawing money from America, as Mueller probe gets closer to closing in on Trump. I can't help wonder whether the Russians were planning to use these 'batteries in containers' to ship other things - like say weapons technology, people, drugs - in and out of our country?
666. On November 8, 2016, Devilish Donald Trump was elected president. Numerous Oligarchs planned to attend Trump's Inauguration. Even Putin was rumored to be planning to attend.
Going into the voting booths, most Americans were not fully aware of Trump's mobster ties dating back into the 20th century, nor even remotely aware of all of the ties Trump has had with what appears Russian-like mobsters over the past 20 to 30 years.
The Inauguration of Benedict Donald - J. Trump
Several Oligarchs showed at Trump's Inauguration [and helped fund it?] including Vekselberg and Maskevitch. Reports said they were expecting great things during the Trump years. Are / were they expecting to convert American democracy into a Putin kleptocracy, Russian style?
PRIME COLLUSION PARTICIPANTS? Ivanka Trump, Wendi Deng Murdoch, Rupert Murdoch & Sean Hannity
Is Wendi Deng Murdoch, the ex-wife of the powerful, multi-billionaire Rupert Murdoch who controls the Fox Fake News propaganda machine above the law? Is the President's daughter, Ivanka Trump Kushner, who appears to be a shill for the Trump Organization above the law?
Is Rupert Murdoch, whose WSJ buried a negative Trump story before election above the law? Is pseudo anchorman Sean Hannity, who Michael Cohen advised on real estate & who famously ordered Trump to fire ALL U.S. Attorneys - which Trump did the next day - immune from questioning? Murdoch's Fox Fake News & Hannity went on to do a very sympathetic, propagandistic interview with Assange in captivity in the Ecuadorian Embassy in London following the election. Both men have, during the Trump presidency, been reported to be in constant contact with Trump [daily to weekly phone calls].
CLICK here to read the rest of our report about whether a financially compromised president who appears a hostage of the Russian mob-like kleptocrats who appear to be possible murderers and thieves of the Russian people's wealth.
---
Unite The Right Rally in Washington D.C. Aug 2018
What I Found: Unite The Right Rally in D.C.
Media Reality Distortion - How Out of Whack is America's News / Information System?
August 13, 2018 / Government, Media & Politics USA / Washington, D.C. / Gotham Buzz NYC.
Just over a week ago, I made the decision to travel down to Washington, D.C. to cover the Unite The Right Rally scheduled Sunday, August 12th, on the anniversary of the same rally organized by the same group in Charlottesville, Virginia. Charlottesville is located about 100 miles south / mostly west of Washington, D.C.
In the rally a year ago, White Supremacists, Ku Klux Klansmen, neo-Confederates and neo-Nazis participated in the rally and it became violent. One person was killed in the event when an alleged neo-Nazi drove his car through the crowd, and two officers monitoring the event in a helicopter died, when the aircraft crashed [I believe it was an accident]. And somewhere between 19 and 34 people were injured in clashes between the Unite The Right rally participants and Antifa along with other counter protesters.
The D.C. event was scheduled in D.C. because Jason Kessler, the Unite The Right Founder, couldn't get a permit in Charlottesville for the first year anniversary of the Unite The Right event. After some skirmishing over the permitting with the local Washington, D.C. authorities, Kessler prevailed and was given a permit to hold a march and rally ending in Lafayette Park, just south of the White House.
At one point there were discussions about arranging separate public transit buses for the Unite The Right rally members from their staging area a several miles west of the White House, to the march starting point at Foggy Bottom Metro Station. But the D.C. public transit union resisted, as the majority of their members are African Americans, and the union reportedly opined that they didn't want to do anything to facilitate the Unite The Right rally.
---
Corrupt Presidency of Donald Trump - Corruption
The Ridiculous & Scary Presidency of Benedict Donald
If Trump is so Innocent, Why is his Legal Team Spending so Much Effort on Asserting he can Pardon Himself?
June 4, 2018 / NYC Neighborhoods / NYC Politics / News Analysis & Opinion / Gotham Buzz NYC.
This would be funny, if it wasn't so real.
While Trump loudly and continuously proclaims his innocence, both he and his legal team are aggressively claiming that the president is above the law and can self pardon. These actions and concurrent narratives don't seem very innocent to me.
Is this a Shakespearean comedy of errors by fools?
Do They Think Americans Are Morons?
Is Democratic Rule of Law being Ceded to Billionaire Oligarchs?
Rudy Giuliani, once a lawyer who prosecuted the mob, seems to have sold out by becoming a lawyer who now represents mob-like characters, including Donald J. Trump and Turkish Iranian businessman Reza Zarrab.
Not long after Trump began his career in the real estate business in the 1970's, Trump is believed to have associated with the mob, doing business with them on deals relating to the construction of Trump Tower, and in developing casinos in Atlantic City, New Jersey. Trump reportedly admitted he was friendly with mobsters and I've seen photos of Trump with some. Trump has also sold in the neighborhood of a hundred million dollars or more in real estate to Russians, including an Oligarch, according to Haaretz, an Israeli English language publication. The Oligarchs are considered to be the Russian equivalent to what was the American mob by some. Click here for a brief and likely very incomplete accounting of some of what seem like Trump's nefarious dealings - Donald Trump & the Art of the Steal.
Rudy Giuliani was also hired by Reza Zarrab's defense lawyers - not to plead their case as their attorney - but to do something else, possibly akin to what Trump fixer Michael Cohen does. Giuliani was a staunch candidate Trump supporter in 2016, an unofficial Trump security adviser in 2017, and most recently became a member of the Trump legal team. According to an April 3, 2017 Seattle Times report,
"[Guiliani and former Attorney General Michael Mukasey] were hired by Zarrab's defense. But oddly, neither is involved in pleading the case in U.S. District Court, leading prosecutors to wonder if the defense is trying to circumvent the regular judicial process by going above prosecutors' heads. ... He [Zarrab] and several others are accused of conspiring to evade U.S. sanctions against Iran, using a network of companies to mask the true nature of transactions and defraud multiple banks. Prosecutors say they processed hundreds of millions of dollars for Iran and claim to have thousands of pages of bank, email and phone records to prove it. Zarrab pleaded not guilty."
To make a long story short, Trump subsequently fired Preet Bahara, the U.S. Attorney for the Southern District of New York who was prosecuting the Zarrab case [and also prosecuting a couple of cases against a company controlled by Trump propagandist billionaire Rupert Murdoch - see link below]. At the time it was believed that Marc Mukasey, Michael Mukasey's son, would replace Bahara. Instead Trump left the position vacant for about a half year, before a New York judge appointed a temporary replacement. The position may not have been filled to avoid the appearance of what it really may have been ... another example of Trump obstruction of justice.
Democracy Destroying Don: Trump Claims He's Above the Law
On Saturday, June 2, 2018 the NYT published a story that included the following,
"In a brash assertion of presidential power, the 20-page letter -- sent to the special counsel, Robert S. Mueller III, and obtained by The New York Times -- contends that the president cannot illegally obstruct any aspect of the investigation into Russia's election meddling because the Constitution empowers him to, "if he wished, terminate the inquiry, or even exercise his power to pardon."
According to a June 2, 2018 report by The Hill quoting Nick Akerman, the Assistant Watergate Prosecutor,
"First of all, the whole idea that he [Trump] can't be charged with obstruction of justice -- the last time that ever happened in this country is when we were ruled by King George ... That's what the whole rule of law is about. The president has to faithfully execute the laws." [Akerman told MSNBC]
Axis of Evil: Trump, Giuliani & Rupert Murdoch's Media
Rudy Giuliani began doing rounds on the media circuit, most notably, Rupert Murdoch's propaganda machine outlets including Fox News, where he appeared to assert that the president of the United States is above the law. To become better acquainted with what seems to be in it for Rupert Murdoch - who controls Fox News, Wall Street Journal, NY Post, Barron's, Market Watch, WWOR-TV, Fox 5 and Harper Collins Books - in exchange for his unapologetic propagandistic support of Trump - click the link above.
Trump Corruption Makes the Clintons Look Like Amateurs?
During the 2016 campaign Benedict Donald repeatedly labeled Hillary Clinton as Crooked Hillary. That resonated with the American people because the Clinton's appear to have a history of questionable political maneuvering and the billion dollar Clinton Foundation oftentimes seems self-serving.
But in the one and a half years since Trump took office, he's managed to make the Clintons look like small potato amateurs, and you're hearing that from someone who is no fan of the Clintons.
Not Serving the Nation but Criminals Serving Themselves?
Taxpayers Spend Added $60 Million on Trump's Golf Game & Family Travels. In 2017 the U.S. Secret Service budget had to be increased $60 million to keep apace with the Trump family travels. A good portion of that spending appears to be to provide protection for Trump's 100 days of golf which he did in his first 408 days in office.
D.C. Swamp Now a Trump-sized Cess Pool
Middle East Wars: American Foreign Policy & Security For Sale?
Jared Kushner, Trump's son-in-law, secured a $30 million investment from an Israeli finance company, Menora Mivtachim shortly after Kushner accompanied Trump on a trip to Israel in May of 2017. In December 2017 the U.S. Embassy in Israel was moved to Jerusalem following receipt of the investment.
A March 22, 2018 report by MSNBC states that The Intercept noted that the Saudi Royal Prince said he had Jared Kushner "in his pocket". Kushner, who has national security clearance, is reportedly an avid reader of Trump's daily security briefing.
U.S. to Pay For Murdoch Cheney Prince Black Ops?
Blackwater / Academi, Erik Prince, Dick Cheney, Rupert Murdoch & Syria - You Know This Can't be Good
According to a May 3, 2018 report in the NYT, the U.S. has quietly deployed Special Forces to Yemen, in what appears to be an escalation of help to the Saudi government's involvement in the Yemeni Civil War. The Trump Administration says America is providing refueling, logistics and intel sharing help and the Trump Administration never lies - do they? According to reports in the NYT in 2011 and in 2015 the United Arab Emirates and the Saudis have hired Blackwater [now called Academi] mercenaries and there have been reports of countless civilian casualties in Yemen and torture prisons either in Yemen, or elsewhere in the Middle East, or both.
Betsy De Vos' brother, Blackwater billionaire & Founder Erik Prince, is interested in going to the mercernaries-for-hire business again in the Middle East. According to an April 18, 2018 report in the WSJ,
"... the Trump administration is seeking to assemble an Arab force to replace the US military contingent in Syria and help stabilise the north-eastern part of the country ... [and that Erik Prince] has been informally contacted by Arab officials about the prospect."
It's worth mentioning that Rupert Murdoch, the global billionaire propagandist, went into business with former VP Dick Cheney through Genie Energy which bought energy rights from Israel in 2013 in the illegally-occupied Syrian Golan Heights. In 2007, on Cheney's watch, Erik Prince's Blackwater allegedly murdered dozens of unarmed Iraqi civilians - of which the most notable incident was the Nisour Square Massacre. And Erik Prince is also suspected of attempting to establish a back channel for Trump / Putin in the Seychelles [islands off the coast of Africa] in December of 2016.
It seems like the gang is back in town and American's reputation and government taxed money may be used again by these millionaires and billionaires to further enrich themselves. This time it seems they will make themselves even more fabulously rich on the stolen energy rights of the Syrian people, using the American taxpayer Defense budget to pay for it. An effort to defund some of these operations in March / April 2018 was stopped by one of Rupert Murdoch's many puppets, Senate Majority 'Leader' Mitch McConnell [his wife Elaine Chao was previously on Murdoch's 21st Century Fox Board].
Banking Deregulation For Sale?
Kushner also secured a half billion dollars in loans during Trump's first year as U.S. President. After multiple meetings at the White House in Spring of 2017, Citibank made a $325 million loan to Kushner. In November 2017 Apollo Global Management made a $184 million loan to Kushner. The loan they made to Kushner was reportedly triple the size of the average property loan in their portfolio. Apollo's slogan is "We take many paths to value."
In March 2018, Mouse McConnell, the Republican Senate Majority Leader announced that the Senate had passed a bank deregulation bill that pulls back the bank reforms made after a bank bailout and economic recovery that cost the American taxpayer over $4 TRILLION DOLLARS. In May 2018 Trump and the Republican Congress, led by Paul Ryan, passed a similar banking deregulation bill.
Chinese Trade Deals & American Security For Sale?
A May 23, 2018 report on Bloomberg states,
"Press reports in early May centered on $500 million in expected loans [to a Trump Partnership in Malaysian tycoon developer Hary Tanoesoedibjo] from a Chinese state-owned institution. This was particularly piquant because of Trump's unexpected announcement on May 13, via Twitter, that he was working with Chinese President Xi Jinping to give the Chinese phone maker ZTE Corp., which has been cut off from U.S. suppliers for violating sanctions against trading with Iran and North Korea, "a way to get back into business, fast." That produced accusations that Trump had engaged in a quid pro quo with Xi."
CLICK here to continue reading our report about the Ridiculous Presidency of Benedict Donald including the alleged sale of access to Russian Oligarchs, sale of U.S. federal land and mineral rights, potential corruption at Betsy De Vos' Department of Education, 187 former lobbysists working in the swamp-turned-cesspool, Melania's friend's multi-million dollar windfall, taxpayer funded federal government luxury, possibly a Cabinet member's Mile High Club enrollment on a U.S. Air Force jet and the Trump $1.5 trillion robbery of America's children.
---
Trump Tax Plan - Super Rich Bilk Billions from America's Babies
Trump Tax Plan: A Morally Bankrupt President's Gift?
Are Billionaires Trump & Murdoch Bilking America's Unborn Babies?
Updated 12/26/17 _ December 19, 2017 / New York City Neighborhoods / New York City Business / News Analysis & Opinion / Gotham Buzz NYC.
Like many of you, I have been watching the Trump Tax plan make its way through Congress. While Trump and his cohorts were whipping together the tax package, I was doing research on the possible implications of some of their tax policy proposals.
According to an October 20, 2017 PolitiFact report [based on the plan at that time, which has since been modified],
"... in the first year of changes, the top 1 percent are projected to draw a little over half the tax savings. The threshold of 80 percent going to the top 1 percent is projected for the tenth year."
While directionally this statement is likely to hold [meaning the plan is biased toward the rich], the exact numbers as to how biased the Trump Tax Plan will be for the wealthy - based on the final bill - remains to be calculated.
In this report we look at a number of tax cuts included in the final bill including repatriation of overseas profits, reduction of the estate tax, reduction of the corporate tax and the blue vs red state tax increase. We include a review questioning why the Trump Administration is pushing this deficit expanding / debt increasing fiscal stimulus package - when we're in a full employment economy with rising wages. We also include how the Trump Tax Cut Plan has been treated propagandistically by Rupert Murdoch's media outlets, as he appears to personally and corporately benefit immensely from the tax cuts.
But before we begin, we take you on a quick review at some key characteristics and prior dealings of the man behind the plan - Donald J. Trump.
I. Character & The Art of the Deal - Or Steal?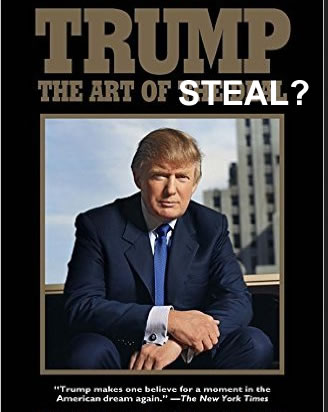 In Donald Trump's book The Art of the Deal, he says,
"You can't con people, at least not for long. You can create excitement, you can do wonderful promotion and get all kinds of press, and you can throw in a little hyperbole. But if you don't deliver the goods, people will eventually catch on ..."
Is the Trump Tax Plan a Tax Boondoggle for Billionaires?
Based on recent polls regarding the Trump Tax Plan, it appears the American people are of the opinion that this a very bad deal for them and their children. Perhaps this is why the Donald appears to be rushing through what appears to be one of the greatest tax billionaire boondoggles in modern history, while telling the public that this tax plan isn't good for him ... or his super rich family and friends.
Always Pay Attention to a Person's Integrity or Lack Thereof
To listen to the Donald, you'd think he has always been a champion, if not a living martyr, of the middle and working classes of America. But the facts don't always square with the Donald's narratives. And the Donald, seems never to admit blame. That's why he has continually lashed out at the media who inform the public about him - calling all, but Rupert Murdoch's vast mass manipulation media [Fox News, Wall Street Journal & NY Post], Fake News. Trump and Murdoch live in the Bizarro World, where so much of what they say appears to be the truth turned upside down.
In the graphic at right, I modified Rupert Murdoch's Fox News website front page celebrating the passage of Trump Tax Plan - in which it appears that the bulk of the breaks will go to the super-rich, including the multi-billionaire Murdoch, who is a global propagandist and powerful Trump supporter. I call this Murdoch's propaganda payout and it appears to be HUGE.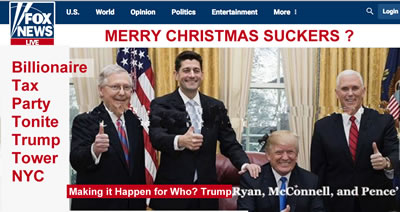 Law and Crime, a web magazine funded in part by A & E Network, states in a February 16, 2016 report that Trump was named in at least 169 Federal Lawsuits. They went on to say that,
"The federal lawsuits that we reviewed date back to 1983 and involve everything from business disputes, antitrust claims and, more recently, accusations that Trump's campaign statements are discriminatory against minorities. Some of the cases have been resolved, some were dismissed as frivolous, and others were privately settled. He's been sued by celebrities, personal assistants, prisoners, people in mental hospitals, unions, and wealthy businessmen. Of course, Donald Trump has also done his fair share of suing as well."
Slippery Donald - A Sales Promoter Who Must be Watched Carefully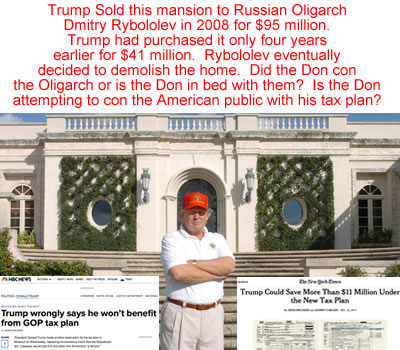 Watching Trump promote and sell his tax plan to the American public reminded me of a report about how the Donald sold a Palm Beach mansion - Maison de L'Amitie at 515 North Country Road - to Russian Oligarch Dmitry Rybolovlev in 2009. In a July 28, 2016 story in Politico, reporter Jose Lambiet says of the deal,
"This is what he [Trump] does with everything. He puts a little veneer on things and he doubles the price, and people buy it," ... "He's [Trump] all smoke and mirrors--and that house was the proof."
Dmitry, the Russian Oligarch, paid $95 million for what Trump had paid only $41 million just four years earlier. Dmitry is now reportedly planning to demolish the mansion.
The question is whether the Donald snuck one by the Russian Oligarch, or whether the Donald is in cahoots with the Russian Oligarchs, and this was an indication of such?
The graphic / photo at right shows Trump standing in front of the Maison de L'Amitie. In the lower left I added his claim that he wouldn't benefit from the Trump Tax Plan as reported by NBC News on November 29, 2017; while in the lower right is a December 22, 2017 New York Times analysis indicating that the Trump Tax Cuts might enable him to take advantage of $11 million in tax breaks.
II. Trump & The Russian Oligarchs
Are These Birds of a Feather Flocking Together?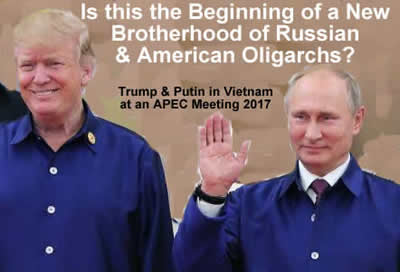 A July 13, 2017 report by the New Republic informs us that,
"In 2015, the Taj Mahal [controlled by Donald J. Trump] was fined $10 million--the highest penalty ever levied by the feds against a casino [in years] - and [they] admitted to having "willfully violated" anti-money-laundering regulations."
The report references the book, Red Mafiya, about the rise of the Russian mob in America, by investigative reporter Robert I. Friedman. It appears that the laundered money came from the Russian mob, and further in the story we learn a bit more about what appear to be the Donald's shadowy business dealings with Russia.
"In April 2013, a little more than two years before Trump rode the escalator to the ground floor of Trump Tower to kick off his presidential campaign, police burst into Unit 63A of the high-rise and rounded up 29 suspects in two gambling rings. The operation, which prosecutors called "the world's largest sports book," was run out of condos in TrumpTower--including the entire fifty-first floor of the building. In addition, unit 63A--acondo directly below one owned by Trump--served as the headquarters for a "sophisticated money-laundering scheme" that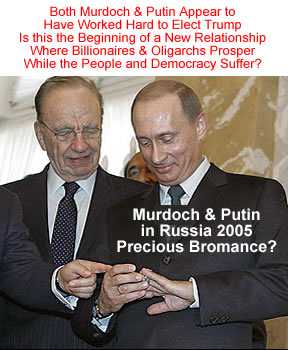 moved an estimated $100 million outof the former Soviet Union, through shell companies in Cyprus, and into investments in the United States. The entire operation, prosecutors say, was working under the protection of Alimzhan Tokhtakhounov, whom the FBI identified as a top Russian vor closely allied with Semion Mogilevich. In a single two-month stretch, according to the federal indictment, the money launderers paid Tokhtakhounov $10 million.
Tokhtakhounov, who had been indicted a decade earlier for conspiring to fix the ice-skating competition at the 2002 Winter Olympics, was the only suspect to elude arrest. For the next seven months, the Russian crime boss fell off the radar of Interpol, which had issued a red alert. Then, in November 2013, he suddenly appeared live on international television--sitting in the audience at the Miss Universe pageant in Moscow. Tokhtakhounov was in the VIP section, just a few seats away from the pageant owner, Donald Trump.
After the pageant, Trump bragged about all the powerful Russians who had turned out that night, just to see him. "Almost all of the oligarchs were in the room," he told Real Estate Weekly."
A Tax Plan for the new American Oligarchs?
The U.S. has a Full Employment Economy & Wages are Rising
So Why is Trump Promoting Fiscal Stimulus in a Full Employment Economy?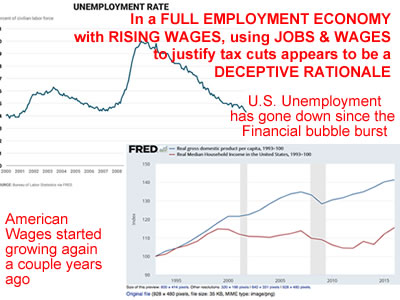 Over the past few years the economy has been steadily adding new jobs, and wages have been rising. The unemployment rate is 4.1%, which means the U.S. is operating in a full employment economy. A full employment economy is defined as one where everyone who wants a job, has one, except those who are in transition. Normal transitioning is generally estimated at 5% of those who are employed. These transitioning unemployed workers are those workers who are making the change from school to jobs or vice versa, switching jobs or careers, moving from one locale to another, or making other relevant job or life changes such as illnesses etc..
So given we're in a full employment economy where wages are rising, why are we incurring over $1 trillion in new debt to give the richest people in the nation / world tax breaks? The new jobs, higher wages argument seems deceptive as it just doesn't seem to apply here.
Former NYC Mayor Bloomberg Says "This Tax Bill is a Trillion Dollar Blunder"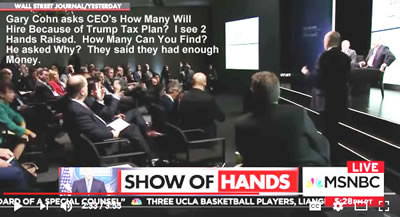 Former Republican Mayor Michael Bloomberg wrote an editorial dated December 15, 2017 on Bloomberg.com entitled "This Tax Bill is a Trillion Dollar Blunder".
In the editorial Bloomberg cites his rationale, including an anecdotal poll taken by Trump Economic Adviser Gary Cohn who on November 14, 2017 asked CEO's to raise their hands if they planned any additional hiring. In the video of the event I saw only two hands raised, and the moderator goes on to ask, 'Why weren't more hands raised?'. Go to YouTube.com and type in the search 'gary cohn asks ceos to raise hands' to see the video for yourself. The answer is that the top CEO's are sitting on trillions in cash, so a tax break isn't going to change the investment landscape for them with respect to adding jobs.
Bloomberg concluded his editorial with the following statement.
"The tax bill is an economically indefensible blunder that will harm our future."
It's also important to note that since the lows following the Great Recession of 2008 - 2009, wages have been going up between two and four percent, as measured on a quarterly basis.
---
Fox News Sean Hannity is Whose Voice?
Fox News Sean Hannity is Whose Voice?
Stock Market adds Trillions & Working Middle Class Gets What?
March 6, 2017 / NYC Neighborhoods / NYC Business & Politics / News Analysis & Opinion / Gotham Buzz NYC.
Has Rupert Murdoch's Fox News mouthpiece, Sean Hannity, been pushing hard for tax reform because the Trump tax plan will be good for the working class people - one of which he appears to pretend to be? Or because the Trump Tax Plan will be good for mega multi-millionaires like Sean Hannity and mega multi-billionaires like Hannity's boss, Rupert Murdoch?
How Much a Phony is Fox News Sean Hannity?
Does he Pretend to be Working Class Guy ...
- So he can Dupe Fox News Viewers into Supporting a Tax Plan that Favors NOT them -
... but Mega-Millionaires like Him?
Hannity hasn't been a working class guy for in the neighborhod of two decades. In fact, according to Forbes in a 2015 survey Hannity is a very rich man. According to Zillow Hannity owns a palacial home on Long Island worth millions [see Zillow photo at right] and a second home located in a wealthy enclave in Naples, Florida.
Forbes published that Sean Hannity's earnings in 2015 were $29 million [see graphic at right]. So it's not implausible to guess that Hannity may have purchased the second home in Florida, so he could claim residency there in order to avoid NYS taxes, which Hannity has been publicly complaining about for years.
Which tax candidates and priorities do you think Sean Hannity is supporting - yours - or his own and Boss Murdochs?
Televangelist Hannity Preaches Gospel According to Murdoch
Fox News & Hannity Dictate Orders to Republicans ... Implied Threat is Suffer the Wrath of Murdoch's Propaganda Machine?
Hypocrisy & Half Truths on Hannity on Fox News Tonight?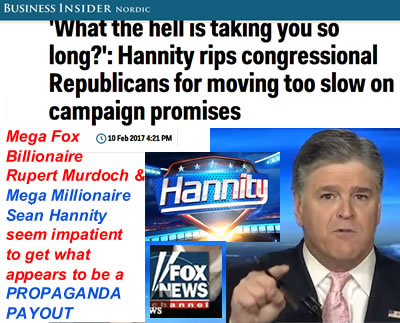 I'm using Fox News propagandist Sean Hannity as an example of what appears to be the incredible hypocrisy and misleading information regarding Trump and the Trump tax plan, being provided by Murdoch's Fox News, one of America's largest TV networks.
It appears Hannity lures unwitting viewers into believing he's a working class guy - when he isn't - so his viewers will take his advice when he labels political candidates and public issues in childly simplistic terms of 'US' vs 'THEM' and 'GOOD' vs 'BAD'. Hannity seems to use small words and incessantly repeats himself, instructing his viewers like they are a bunch of five year-old kids who don't have the contextual experience nor even the infantile analytical skills required to think for themselves.
Fox and Hannity oftentimes appear to make no attempt to find and disseminate the truth on issues or government officials, but instead appear to propagandistically promote or punish those who do not bend to their will, as exemplified in the Business Insider headline to your right. The implicit message to Republicans appears to be obey us - or suffer the consequences of losing your elected government post - because our audience believes us and will do what we tell them to do.
Fox News Hannity's pugnacious rhetoric sounds kind of Nazi-like. This seems to be an indication that the FCC has granted and entrusted these people with way too much power - and that they appear to be corrupting it to serve their own selfish interests.
Click here to continue reading this report about Fox News propaganda & Hannity, O'Reilly propagandists on Fox News which is a lead into a report about how it appears they will profit handsomely from their propaganda services.
---
Trump Budget: Is Extravagant U.S. Defense Spending Hurting America's Economic Future?
You Decide: President to Address Nation
Proposing $54 Billion Defense Budget Increase - Why?
February 28, 2017 / NYC Government / NYC Business / News Analysis & Opinion / Gotham Buzz NYC.
Tonight President Trump will address the nation regarding his plans for the U.S. One of the notable previews given by sources within the Administration is that Trump plans to increase Defense spending by $54 billion. I decided to take a quick look at some of the economic statistics to see if that appears warranted, especially vis a vis other priorities.
U.S. Government Deficits
The first chart [Congressional Budget Office] shows that the U.S. government has been spending more than it has been taking in. The gap widened in the wake of the September 2008 near financial meltdown, as tax receipts fell and fiscal stimulus [government spending] was needed to keep the economy going.
The higher levels of debt continued through the first term of the Obama Administration and then fell sharply back to Bush II era levels during the second term of the Obama Administration.
The net result is that near financial meltdown resulted in higher government deficits, which added to the overall U.S. government debt.
U.S. Government Debt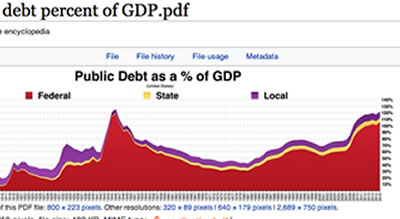 The second chart [Wikipedia] shows U.S. government debt relative to U.S. GDP. GDP is the acronym for Gross Domestic Product, which is a measure of the nation's economic output in goods and services.
The chart shows that the overall U.S. government debt relative to GDP rose significantly in the wake of the 2008 near financial meltdown. Currently the U.S. debt level is equal to about an entire year of U.S. economic output.
Many economists think that the U.S. has an unhealthy level of debt as it doesn't provide much slack for unforseen circumstances, like the 2008 near financial meltdown or prolonged involvement addressing international crises.
U.S. Defense Spending One Third of Global Total
About Equal to the Next 8 Nations Combined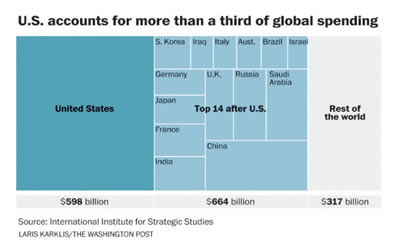 Currently the U.S. appears to overspend on military operations vis a vis the rest of the world. The U.S. military accounts for one third of defense spending in the world and its budget is roughly equal to the military budgets of the next EIGHT leading defense spenders in the world.
You can see this in the chart at right which was created by the Institute for Strategic Studies and published in the Washington Post.
Click here to read the rest of our report on how out of balance U.S. Defense Spending in America is compromising the nation's economic future.
---
Dysfunctional Donald: The Trump Presidency
The American Presidency & Dysfunctional Donald Trump
This Section is Dedicated to Informing the American Public about the Democracy Destroying Donald
Updated October 10, 2021 from 9/16/20 / NYC Neighborhoods / NYC Politics / News Analysis, Opinion & Satire / Gotham Buzz.
Beginning in late 2016 I began to start paying attention to some of the crazy stories floating around about Donald Trump. At first the stories seemed almost unbelievable tales of someone competing to become president of the United States, but the more I dug, the more I found, and eventually the evidence of who this man was and is, almost frightened me when pausing to consider that he had and still has control of the most powerful government apparatus in the world.
Empires and civilizations come and go because those who worked hard to build them are not the same people who inherit them. And the people who inherit them are oftentimes unappreciative of the hard work and thought that went before them.
We're too close, to my way of thinking, of squandering the gifts that were left to us by our forbears because we have not paid attention to all of the malfeasance and corruption that today is so much a part of government and the media we rely on to inform us. I've began running a series on what I view as the most egregious threat coming from the media in the series on Rupert Murdoch and the Rise of the Propaganda Press, which I had at first titled Murdoch Media Madness.
This series is a compendium of reports I've published on the presidency of the dysfunctional Donald. The graphic above showing Rupert Murdoch's Fox Fake News celebrating the billionaire tax cut of December 2017 includes my take on things in red.
---
---
---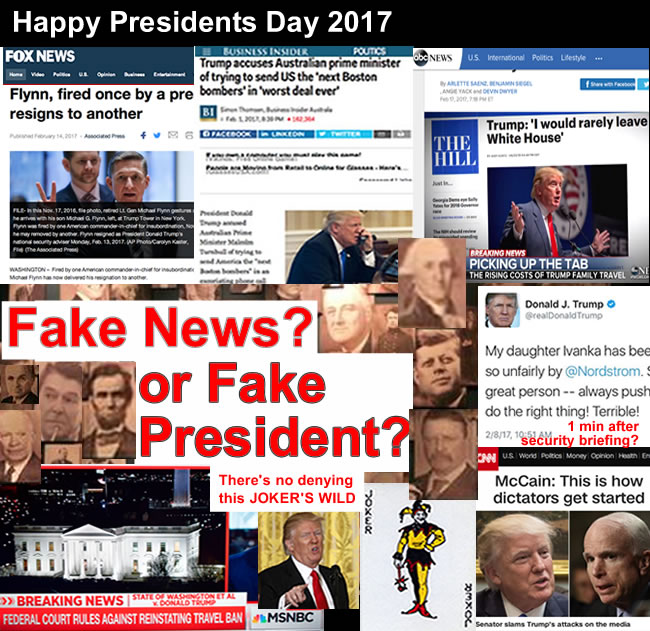 ---
The Trump Train
Fake News or Fake President?
February 19, 2017 / NYC Neighborhoods / NYC Politics & Media / News Analysis & Opinion / Gotham Buzz NYC.
I know a lot of people have found watching the news both addictive and frustrating lately.
They're tired of hearing the president make unsupported false statements every week, and listening to the media rebroadcast or reprint or repeat these false statements before they go onto correct him.
Hitler Said Repeat a Lie Often Enough and it Will Be Believed
Why does the media give these statements life in the first place - by repeating them at all?
It just gives these untruths some sort of strange validation, especially to those voters who make their decisions based on the noise level of soundbytes, instead of doing the research needed to understand the serious issues of the day, and the candidates' positions on them.
Jefferson said that those who believe they can be ignorant and free - believe in something that never was and never will be.
It seems to me that all of us need to start refocusing our attention from the petty distractions of what appears to be a Celebrity Apprentice President all-too-real TV show, to the serious business of addressing the issues facing the nation.
The president seems to be setting the tone for this chaos with his outrageous statements and theatrics. And the media - as during the 2016 campaign - seem to be knee-jerk reacting to almost everything he says.
They are enabling the president to suck up all the news oxygen out of the nation because all we hear about is Trump, Trump, Trump. They cover his antics - like he's media crack.
Enough already.
Special Request of the American Press: Separate the News from the Mockery
If the only thing the Trump Administration offers at its press conferences is of entertainment value, then I recommend that the news organizations treat it as such and forward the video outtakes of the 'fake president's fake press conferences' - which make a mockery of the office - to the 'fake news' outlets - meaning the late night comedy shows.
Folks who don't stay up late to watch these shows, can now catch these fictitious news shows on Youtube. Stephen Colbert of the Late Show, Seth Meyer of Late Night, and Saturday Night Live all seem to be on a tear. It's funny - but then again - it's not.
As for the news organizations, if you can't get anything of real substance out of the White House / Administration press briefings - then get out of your comfort zones and begin wandering the Capitol in search of the legislators, staffers, policy experts and industry experts who understand the issues and are working to address them. Put them front and center on the front page of your newspapers, websites and news shows, instead of the Trump Train.
By taking away the open mic you've been giving Trump since he began campaigning for the presidency, you will either influence him to start engaging in the issues and start acting like a real president - or begin marginalizing him - thus giving visibility to the people with the education, experience and knowledge to guide the nation in the right direction ... whatever that may be.
Special Request of the American People: Start Engaging in the Democratic Process
But we, the audience, are also part of the problem. Could it be that both Trump and the media are giving the audience 'what they (appear to) want' based on our behavorial response in watching, reading and clicking into the Trump Train News?
Perhaps it's time for us to tune out this show which parodies our system of government, while mocking us as a society. And maybe it's time to start listening to the advice of Mahatma Ghandi who said, "Live the change you want to see."
Instead of helplessly standing by, perhaps it's time for us to get involved at the grass roots level of the causes or issues we care about - on either side of the ideological spectrum. And maybe now is the time for us to get out from behind our computer screens so that we can infuse new energy into our own real lives. Spring is a good time for new initiatives.
Of course, then again, we could keep watching the Trump Train - if we want to keep this unreal TV show on the air - by continuing to contribute to its ratings success.
And even though our role in the process may sometimes feel insignificant, collectively we are each, one of the many deciders.
Special Presidents Day Request for Donald J. Trump
I have a special Presidents Day request to make of Donald J. Trump - and that is that you quit acting like a rich, spoiled brat and start acting like the president of the United States of America.
This request includes NOT encouraging the people who work for you (like Steve Bannon) telling the press to shut up, NOT ignoring 'tough' questions you don't like posed by members of the press who in some measure are asking the questions that many of us have, and most certainly NOT tweeting that the press is the enemy of the American people.
The First Amendment of the United States Constitution guarantees the right to freedom of expression / free speech / freedom of the press.
These sorts of statements made by you and your Administration, since you've taken office, might be expected of your good friends from less free countries, like RUSSIA - but NOT by the Leader of the Free World - which likie it or not - you are.
Either grow up quickly and quit embarrassing us - or please resign and let Mike Pence become the 46th President of the United States of America.
Have a Happy Presidents Day.
---