---
The American Presidency & Dysfunctional Donald Trump
This Section is Dedicated to Informing the American Public about the Democracy Destroying Donald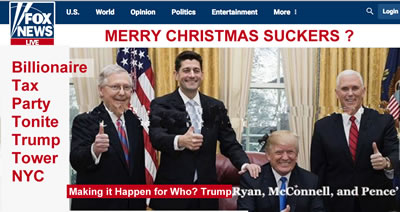 November 13, 2019 / NYC Neighborhoods / NYC Politics / News Analysis, Opinion & Satire / Gotham Buzz.
Beginning in late 2016 I began to start paying attention to some of the crazy stories floating around about Donald Trump. At first the stories seemed almost unbelievable tales of someone competing to become president of the United States, but the more I dug, the more I found, and eventually the evidence of who this man was and is, almost frightened me when pausing to consider that he had and still has control of the most powerful government apparatus in the world.
Empires and civilizations come and go because those who worked hard to build them are not the same people who inherit them. And the people who inherit them are oftentimes unappreciative of the hard work and thought that went before them.
We're too close, to my way of thinking, of squandering the gifts that were left to us by our forbears because we have not paid attention to all of the malfeasance and corruption that today is so much a part of government and the media we rely on to inform us. I've began running a series on what I view as the most egregious threat coming from the media in the series on Rupert Murdoch and the Rise of the Propaganda Press, which I had at first titled Murdoch Media Madness.
This series is a compendium of reports I've published on the presidency of the dysfunctional Donald. The graphic above showing Rupert Murdoch's Fox Fake News celebrating the billionaire tax cut of December 2017 includes my take on things in red.
---
Dysfunctional Donald & the American Presidency
This Section is Dedicated to Informing the American Public about the Democracy Destroying Donald
November 13, 2019 / NYC Neighborhoods / NYC Politics / News Analysis & Opinion / Gotham Buzz. Continued.
2019 _ Dysfunctional Donald and the American Presidency
2018 _ Donald the Democracy Destroyer
2017 _ Is The Donald - The Greatest Con Man in the World?
---
The Real National Emergency: President Pinocchio's Pants are on Fire
The Real National Emergency?
President Pinocchio's Pants are on Fire
February 19, 2019 / NYC Neighborhoods / NYC Politics & Government / Gotham Buzz NYC. News Analysis, Opinion & Satire.
I stumbled upon an episode of Jimmy Kimmel Live, from January 10, 2018, about how Donald Trump has differentiated himself from all other presidents of the United States of America - as the greatest known liar of them all.
Cut and paste this link for a short video of Jimmy Kimmel's documentary of Trump Telling His 2,000th Lie over a year ago - https://www.youtube.com/watch?v=qQruDaf7bKs
Real Presidential Greatness vs 'Greatest'
It's important to distinguish between greatest - which compares one to another - and greatness, for which there is no comparison. Greatest is an amount or extent considerably above normal, while greatness is about having won the respect for achievements in one's field. True greatness is rarely achieved by braggadocious people, because they are too busy talking to make time to do anything truly great.
Presidential Greatness. George Washington was achieved greatness by risking his life as the Commander in Chief of the colonial army during the Revolutionary War. A greatness which was made even more so, by the fact that the first president didn't try to keep / possess the title of the president beyond two terms /eight years. Abraham Lincoln, similarly risked his life, to hold the Union together, while exorcising it of the heinous institution of slavery. And Franklin Delano Roosevelt, saved democracy, capitalism and freedom, by leading the nation through the Great Depression and the Second World War.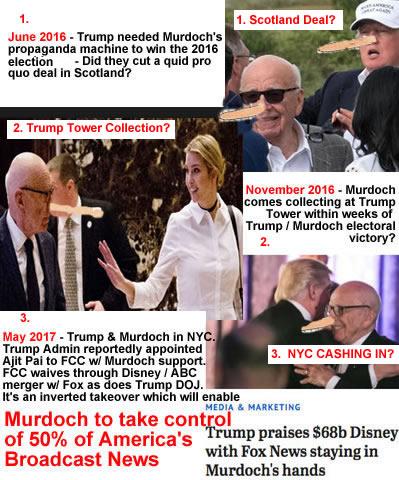 But while the Donald may not have done anything remotely deserving the moniker of greatness, over a year ago Jimmy Kimmel identifed that Trump had already become the greatest liar who ever occupied the White House. That was over a year ago, in January of 2018, and since then the Trump has continued onward with his train of lies.
President Pinocchio Supported by Murdoch's Fox News Pinocchio Pundits
But to be fair, Trump likely could not have come up with so many different lies to tell, without the help of multi-billionaire, global propagandist, Keith Rupert Murdoch, and his mass media mendacity machine.
The Murdoch propaganda machine includes outlets like Fox News and their portfolio of Pinocchio pundits, the Wall Street Journal and the NY Post.
Murdoch appears to have benefitted greatly from the Trump presidency, via 1) huge tax cuts for the wealthy, 2) Trump military action in Syria where Murdoch owns part of Genie Energy with former VP Dick Cheney and several other robber barons, 3) huge Fox News ratings wins due in part to the Donald's Crazy Town [name of a book by Bob Woodward about the Trump Administration] and last but not least 4) Department of Justice and FCC approval of Murdoch's inverted takeover of Disney / ABC which will soon enable Murdoch to take control of about half of America's broadcast news.
5 of President Pinocchio's Biggest Lies Since 7/2018
Since Kimmel's video was posted in January of 2018, Trump has continued telling many lies - including some very, very big ones. Here are five of Trump's biggest lies between July 2018 and today, including a brief analysis of the impact.
---
November 7, 2018 Midterm Election Results: Trump & Republicans Lose Badly in Midterms
Trump Suffers Huge Losses in Midterms
Americans Sharply Reprimand the Un-Reality TV President
November 7, 2018 / NYC Neighborhoods / NYC Politics & Government / New Analysis & Opinion / Gotham Buzz NYC.
The American people have spoken.
Now what the voters have said, by virtue of their votes, is already being spun by Donald Trump's and Rupert Murdoch's propaganda spin machines in order to further their self-serving agendas.
But before we look at the spin, let's look at the facts, as the electoral outcome is a measure of the American people's endorsement - or lack thereof - of the presidency of Donald J. Trump and by association, Rupert Murdoch, the multi-billionaire, global propagandist who was instrumental in helping Trump take the White House.
Republicans Gain 2 Senate Seats - One from Pence's Home State of Indiana & one from Donald's 2nd Home State of Florida
The Republican Party strengthened its already firm grip on the Senate by picking up three [North Dakota, Missouri & Indiana] maybe four [Florida] Democratic Senate seats, while losing two Republican seats [Nevada and Arizona], leaving them with a net gain of two seats.
Update - Republicans won Florida, so they gained four Senate seats and lost two. The tally now stands at 47 Democrats to 53 Republicans, meaning the Republican party continues to control the Senate.
So, assuming that the follow on election in Mississippi goes to Republicans, and the current tiny lead in Florida is not overwhelmed with absentee ballots, the Senate tally will change from the current 49 Democrats - 51 Republicans to 47 Democrats - 53 Republicans. Of note is that Republicans had only six seats to defend, while Democrats had 27 seats up for grabs.
At the moment there are two unresolved Senate races, one of which has been Republican [Mississippi] and the second of which is Florida [Democratic incumbent], so this tally could change.
Home States Advantage. It's worth mentioning that one of the seats picked up by the Republicans came from Indiana, the home state of Vice President Mike Pence, and the possibility of another comes from Florida, which I categorize as the second home state of President Donald Trump, given how much property he owns / manages there and how often he golfs there.
Republicans Lose Control of the House & Lose Control of 7 State Capitals
As of this report the Republican Party lost 27 and likely more seats in the House, thus relinquishing their majority in that body for the first time in eight years. And for the first time during the Trump presidency, the opposition Democrats have an opportunity to play a real role in governing again. The Democrats now have subpoena power, they have the power to impeach, and no legislation can be passed without Democratic signatures. At present count the Democrats have won 222 seats [218 provides majority rule] to the Republicans 194 seats, and there are 17 races that have not yet been officially announced, so the net loss / gain tallies will change, as the remaining 19 contests are settled. There are 435 congressional representatives.
Update - Democrats won 235 Congressional seats, while Republicans won 200 Congressional seats meaning there was a HUGE flip from strong Republican control of Congress to strong Democratic control of Congress.
---
Senator Susan Collins Votes to Confirm Brett Kavanaugh to the U.S. Supreme Court
Kavanaugh Epilogue: Onto the Midterms?
Collins' Speech, McConnell Cash & What will the Donald do if Republicans win the Senate?
Update October 7, 2018 / NYC Neighborhoods / NYC Politics & Government / News Analysis & Opinion / Gotham Buzz NYC.
Susan Collins Speech - Honest ... but?
Susan Collins gave a speech explaining to the American people why she was going to vote to approve Brett Kavanaugh to the Supreme Court. She reaffirmed what I have stated below, which that it was not a court proceeding, but rather a confirmation hearing which does not require a standard of being beyond reasonable doubt.
Collins went on to say that none of the people Christine Blasey Ford named as attendees at the party, could remember or verify their attendance at the party. And that she thought that to be fair to Brett she would vote for him, since the allegations of sexual assault were not confirmed. BUT she did not talk about any of the other allegations noted above, nor did the 'limited' investigation attempt to get at the root of those, including whether Kavanaugh had lied under oath.
Mitch McConnell's Gloating & Telling the Big Ones?
Mitch McConnell told Fox News that he was proud he and his fellow Republicans had stood up to the mob. The mob he was talking about was comprised of the American people that he often times uses as cover to justify the work he does for the people he is really serving. McConnell's campaign, or indirectly the McConnell's personally, accept oodles of cash from the super rich corporate donors, the Chinese with which his father-in-law does business, and the Russian oligarchs who are newcomers to the Mitch McConnell selling out of America program. Russian Oligarch companies donated $2.5 million to McConnell campaigns, $7.5 million to Republicans in general including Senator Lindsay Graham, and allegedly $30 million to the NRA, which is believed to have used that money in support of the Trump Campaign.
Thus, contrary to Mitch McConnell's claims to the contrary, in reality he stood up AGAINST the American people IN FAVOR the rich and powerful, including the Chinese and Russian Oligarchs, because Kavanaugh reportedly rules in favor of the corporate establishment over 80% of the time - against the American consumer, against American's health aka the environment and against American small business.
---
Brett Kavanaugh - Trump Attacks Christine Blasey Ford - American Corporate Media Failure
Kavanaugh: American Corporate Media Failure
Fox, ABC, NBC, CBS, NYT and WAPO all Sow Disinformation by Repeating Trump Attacks on Blasey Ford w/o Specifically Refuting all of Them
Only CBS's Late Show with Stephen Colbert had the Intelligence, Decency & took the Initiative to do so
October 4, 2018 / NYC Neighborhoods / NYC Politics & Government / News Analysis & Opinion / Gotham Buzz NYC.
The six largest American media corporations unanimously added insult to injury, regarding Christine Blasey Ford's testimony, which alleged Brett Kavanaugh attempted to rape her several decades ago.
Every one of them repeated Trump's false attacks on her or showed video of Trump falsely mocking Christine Blasey Ford on Tuesday, October 2nd. Trump said Blasey Ford didn't know in which neighborhood this happened [Bethesda, Md], where the house party was [between Blasey Ford's house and the country club], when this happened [36 years ago], and was it upstairs or downstairs [at the top of the stairs].
One of the big news corporations said Blasey Ford was 100% sure it was Kavanaugh, but without providing added supporting evidence. Another outlet went on to replay and amplify multiple other of Trump fake news comments, again failing to directly refute all of the ones Trump had just made regarding Blasey Ford's testimony, which was less than a week ago. And a third major American news outlet noted that as recently as last week Trump had declared Blasey Ford gave credible testimony. But so what? Trump says lots of contradictory things. So now, like so many times before, Trump contradicts himself allowing his followers to believe what they want to believe, amplified by the American corporate media.
These large media corporations, with all their resources and well educated journalists, didn't have the decency, intellect, and didn't take the initiative to do a little - very little - fact checking of the less than week old testimony.
America has a broken public information system. And when the public information system is broken, the nation is like an aircraft that has lost its flight instrumentation. The nation is flying blind. We're flying blind and making bad decisions because we are not getting accurate readings on what's going on, and where we are.
Russian billionaires and foreign companies may soon have more pull with the Supreme Court than 'We The People'. It seems the Russians already have significant influence with many of our Senators and President - see more about this in a prior report we did about Brett Kavanaugh Supreme Court Nominee.
---
---
---
Issues of Character - Brett Kavanaugh - Supreme Court Nominee
Kavanaugh: Have Republicans Abandoned Family Values and Law & Order?
Are Trump & Republicans Rushing the Nomination of a man who may be a Lying, Partisan, Alcoholic, Sex Offender with a Gambling Problem?
October 2, 2018 / NYC Neighborhoods / NYC Politics & Government / News Analysis & Opinion / Gotham Buzz NYC.
Over the past couple of weeks, we've been treated to a new season of a made-for-TV series, the Unreal Presidency of Donald J. Trump. The Donald is the star TV shock jock protagonist. He is an elderly man who appears hell bent on seeing just how far he can exercise executive privilege to serve his own ends, before some of the other 320 million people in the nation will actually stand up to stop him.
There are many antagonists including those who have filed a lawsuit accusing Trump of violating the Emoluments Clause of the U.S. Constitution [using the office of the presidency for personal profit] and there are many grassroots Democrats who are pushing their representatives on the idea that Trump was exactly the kind of president the Founding Fathers had in mind when they included the Impeachment process in the Constitution.
The past and current episodes of the Unreal Presidency of D.J. Trump have been a made-for-TV-News ratings sensation. The current episodes have been focused on Trump's rush to confirm Brett Kavanaugh, a nominee with hair-raising disqualifications, to the Supreme Court. The Trump propaganda machine - friend Rupert Murdoch's Fox Fake News - has been the ratings winner of this taxpayer funded drama.
And Murdoch's Fox News proudly declared that on Friday, September 28, 2018 with the following headline [see above],
"Fox News dominates ratings on coverage of dramatic Kavanaugh-Ford hearing."
Murdoch's Fox Fake News uses red, white and blue iconography all over its broadcast studio, calling themselves 'America's Newsroom'. Their hijacking of America's colors and flag, is reminiscent of how the Nazis hijacked German nationalism in the 1930's for their own ends. The Nazis claimed to be the one true patriotic party of Germany.
The Appearance of Due Process for TV Cameras?
The reality comes from Trump and the Republicans using Executive Privilege to withhold critical documents from the Senate, also limiting the time Senators were given to question Kavanaugh, and at first denying an authorized investigation into some of the most egregious allegations that have arisen against Trump nominee Brett Kavanaugh.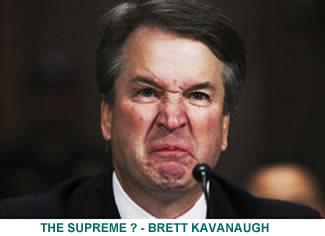 Trump's opposition, the minority political party in both the Senate and House, want access to documents surrounding one of the two roles that Kavanaugh played in the Bush Administration [2003 - 2006], when it is believed Kavanaugh ignored or supported illegal torture, illegal surveillance of the American people, and possibly worked with documents Kavanaugh knew to be obtained illegally.
What's more, the allegations surrounding Kavanaugh's character seems serious enough to disqualify him, including lying under oath, attempted rape, alcoholism and that he has a gambling problem. These allegations, if true, would impugn the integrity of the Supreme Court, as an impartial body that deliberates over the laws that govern our society.
Supreme Court Justice Nominee or Supreme A_ _ Hole?
The photo at right shows Kavanaugh at the hearing, demonstrating some of his famous anger management issues. His lying about his inability to control himself is at the core of the Senate's reluctance to confirm him - as he is alleged to have gotten into a bar dispute after repeatedly drinking too much, to have repeatedly sexually offended several women where alcohol was also involved, and to have erupted in rage following a gambling bout.
---
How Corrupt is Kentucky Senator Mitch McConnell?
How Corrupt is Mitch McConnell?
Are Republican Senators Really Russian & Chinese Lobbyists?
McConnell Accepted $2.5 Million from Russian Oligarch Company & Accepted $ Millions from Father-in-Law Who Does Big Business with China
September 27, 2018 / NYC Neighborhoods / NYC Politics & Government / Gotham Buzz NYC / News Analysis & Opinion.
Republicans & Democrats need pay heed to the real demographic fault Lines - the fault lines between the Super Rich and everyone else.
In history all conquerors need a strategy to conquer entire peoples, and that strategy is usually one based on a divide and conquer strategy. In the 1700 and 1800's the British were accomplished users of this strategy, aligning with minority groups in the Middle East - so the minority would need to rely on the British help - to maintain their control over the majority. Further away from the center of British power, Hong Kong, an island separate from the Chinese mainland, was used to extract valuable trade from the continent using a defensible locale.
In modern times Hitler used a claim to defend the German minorities in Austria and the Czech Sudetenland, as a pretext for conquering those nations. And today, we see how that strategy has evolved, as Russian and American Oligarchs, manipulate Americans and exploit divisions along ideological lines, in order to strip away the government apparatus of checks and balances embedded in the U.S. Constitution. Like Hitler, they are going about this in a more or less legal manner, in order to add legitimacy to something that in reality is anything but.
2015 - 2016 Campaign: Mitch McConnell & Republicans Receive $7.5 Million from Russians
Mitch McConnell's dedication to and representation of his fellow Americans is highly suspect when you gaze through his campaign funding sources.
According to an August 3, 2017 OpEd in the Dallas News, in the 2015 - 2016 election season Republican Senate Majority Leader Mitch McConnell's GOP Leadership Fund accepted $2.5 million in donations from Leonid Blavatnik's Access Technologies [$1.5 million] and AI Altep Holdings [$1 million]. The newspaper goes on to report that other top ranking Republicans including Florida Republican Senator Marco Rubio's Conservative Solutions PAC [$1.5 million] and South Carolina Republican Senator Lindsey Graham [$800K] accepted money from the Russian Oligarch's companies. All tolled Republican candidates received $7.5 million in Russian Oligarch money. OpenSecrets.org, a non profit truth seeking organization, was the original source.
NOT ONE of McConnell's Top Funders From Home State of Kentucky
Mitch McConnell's dedication to and representation of his fellow Kentuckians is even more highly suspect when you gaze through his American campaign funding sources.
According to an October 24, 2016 report in the Louisville, Kentucky Courier-Journal, a USA Today affiliated newspaper, between January 2009 and October 2016 McConnell's highest donor was Sheldon Adelson, a Nevada casino operator, who contributed $20 million. During the same period [for all listed in this paragraph = same source], One Nation, a Karl Rove affiliated dark money group, contributed $9 million. Two Houston, Texas based energy companies donated $5.6 million. And three investment companies / hedge funds donated a combined $10 million. There's plenty more from where that came from, as I'm still listing donors above the $2 million mark - and not a one of them is from Kentucky.
Moscow Mitch & Quid Pro Quo?
Do you think the Russian Oligarchy cash had anything to do with McConnell's December 2016 refusal to entertain the idea of a Senate Committee dedicated to investigating the Russian interference in the election? Do you the Russian Oligarchy's contributions had anything to do with the fact that in September of 2018 McConnell said the Senate won't be taking up Russian sanctions until after the election?
How Much of Mitch McConnell's Net Worth Gains - from an Estimated $3 to $36 Million - Came from Wife Elaine Chao's Father & the Chinese Seeking Influence?
In a March 17, 2018 report in the NY Post, author Peter Schweizer's book, Secret Empires: How the American Political Class Hides Corruption and Enriches Family and Friends, is reviewed. In the review the NY Post notes that Mitch McConnell and his wife Elaine Chao were worth about $3.1 million in 2004. Ten years later their wealth had increased to somewhere between $9.2 and $36.5 million.
He goes on to note that Chao's father, who operates the Foremost Group, which is a shipping company that does a significant amount of its business with China. James Chao, McConnell's father-in-law, was a classmate of former Chinese President Jiang Zemin. And Mitch McConnell's wife, Elaine Chao, is now the Trump Administration Transportation Secretary. So Father James Chao is in the shipping business, daughter Elaine Chao is the U.S. Transportation Secretary, and son-in-law Mitch McConnell is the Senate Majority Leader.
Following Marriage to Elaine Chao Mitch McConnell Flip Flops on China?
In 1994, shortly after McConnell's marriage to Elaine Chao, the NY Post report continues, McConnell took hardline positions against China. But by 1999, McConnell's stance had softened considerably, as McConnell opposed supporting Jesse Helms sponsored legislation in support of Taiwanese independence that had 21 Republican co-sponsors and heavy Republican support. In recent years McConnell continues to support China, having fought hard to stop the U.S. Senate from punishing China for undervaluing its currency, when Harry Reid was the Senate Majority Leader.
Sound like the Clinton Cash? It should. Peter Schweizer was author of the 2016 book, Clinton Cash, which was published by Harper Collins, which is a publishing house controlled by the NY Post / Fox News / Wall Street Journal Media Fuhrer, Rupert Murdoch. Murdoch appears to like to be in a position to take down the very people he promotes, as Elaine Chao was once a Board Member of 21st Century Fox. CLICK here to learn about how Rupert Murdoch who controls Fox Fake News, the Wall Street Journal and NY Post seems to undermine our democracy by misinforming his audience in order to get them to vote for candidates he favors who seem willing to grant him favors using public power.
It's worth noting that Mitch McConnell is one of the longest serving members of the Senate Leadership. And yet while Mitch is doing great, Kentuckians lag far behind the rest of the nation with a median income of $47,000 vs the national average of $59,000. So Mitch McConnell is doing great - but the people he represents aren't. Is that a surprise?
So Why is McConnell Rushing Kavanaugh Nomination?
In March of 2016, when then president Obama nominated Merrick Garland for the Supreme Court, Senate Majority Leader Mitch McConnell held off a review of Garland. In a March 16, 2016 NPR report McConnell is quoted as telling the nation,
"The American people are perfectly capable of having their say on this issue, so let's give them a voice. Let's let the American people decide. The Senate will appropriately revisit the matter when it considers the qualifications of the nominee the next president nominates, whoever that might be."
Fast forward to September 24, 2018 and McConnell tells us this on CNN.
"Chairman Grassley will make sure the facts will be heard. Judge Kavanaugh and the American people deserve nothing less."
That same day PBS reports that the Republican Senate majority on the Judiciary Committee scheduled a vote on the Kavanaugh nomination for the morning after Christine Blasey Ford's testimony. Christine Blasey Ford is the woman who accused Brett Kavanaugh of attempting to rape her at a party while they were both teenagers.
Old Saying - Haste Makes Waste
I find this rush to judgment disturbing because within the past week or so, two other accusers of Brett Kavanaugh's alleged sexual misconduct, have come forward. One is a Kavanaugh classmate from Yale - Deborah Ramirez, and the other is an alleged friend from Kavanaugh's high school years in the D.C. area, Julie Swetnick. And there may be a fourth accuser. A CBS Local report on September 27th, 2016 tells us that eleven Maryland lawmakers have asked the Montgomery County police to investigate allegations against Brett Kavanaugh, should the accusers wish them to do so.
So in March of 2016 Mitch McConnell can wait from March through January to let the American people weigh in. But in July of 2018, when Brett Kavanaugh's nomination came up, McConnell UNILATERALLY decided NOT TO LET THE AMERICAN PEOPLE WEIGH IN. And now, in the face of growing evidence of sexual misconduct, McConnell is trying to rush the Senate role in consenting on the nomination of Brett Kavanaugh through without even giving his fellow Senators a chance to fairly weigh in.
This alone would be enough to give one cause for concern. In this report I explore an alternative narrative as to why McConnell - who acts like a Chinese / Russian Lobbyist while pretending to be a 'Red State' Republican Senator - might want to rush Kavanaugh's nominating process. And it's not about Conservative values or Abortion - but rather about possible McConnell cash and payola.
---
Michael Moore's Film Fahrenheit 11/9
Michael Moore's Fahrenheit 11/9
New Documentary Film by the Only Pundit in America to Predict that Trump Would Win the Presidency in 2016
September 21, 2018 / NYC Neighborhoods / NYC Politics & Government / News Analysis & Opinion / Gotham Buzz NYC.
When Michael Moore talks, I tend to listen.
Why?
Because he's the only national pundit in America who predicted Trump would win the presidency in 2016.
In a July 2016 editorial, independent filmmaker Michael Moore explained the contributing psychological and cultural factors upon which his predictions for a Trump victory were based. The tenets for much of his underlying political analysis, still hold true today, and is explored more fully in his new film.
Moore, a Working Class Journalist, Probes the Psychology of Trump, Trump's Followers, and the Mainstream Media Folks
Michael Moore is sometimes typecast as a liberal, but his working class credentials have never been challenged. The liberal label may have arisen because one of his earlier films, Roger & Me, called out the CEO of General Motors for exporting American jobs, thus shafting of the American working class, of which Moore was a member back in the 1990's. And another of Moore's films, Fahrenheit 9/11, attacked George W. Bush and the American corporate media for their inept response to the 911 attacks. But labels these days, are used a means by which those who wish to discredit, to shout down people who offer alternative narratives that differ from their own.
Moore shows little tolerance for both conservatives and liberals, as he believes those in charge of the both the liberal and conservative media and political apparatus are living in insulated seclusion from the rest of us. Moore brought this point home in the DemocracyNow.org interview, by talking about mundane TV shows watched by Trump supporters, that he said are not watched by most of the people delivering the corporate media news. He used the TV shows people watch, as a means to exemplify the cultural disconnect, between those who present the news and those who watch it.
The example he used was the importance of the TV show The Apprentice, in creating Donald Trump. He told us that every week the Donald would fire someone from the staff that was nearly universally despised, elating the audience, who Moore opined, worked with similar characters at their own jobs.
Moore doesn't work for a corporation, nor is he sponsored by big corporate money, so he seems about as independent these days, as we're going to get, because nobody owns him.
---
Is Donald Trump a Hostage of the Russian Czar Putin?
Is Donald Trump a Hostage of Russian Murderers, Capitalists & Thieves?
Is the Trump & 'Bambino' Family so Criminally or Financially Compromised, that They are Betraying America?
Updated August 27 - August 23, 2018 / NYC Neighborhoods / NYC Politics / News Analysis & Opinion / Gotham Buzz NYC.
The first part of this report will show you some of the many known Trump family 'social' interactions with key Russian Oligarchs [Kleptocrats?] close to Putin, and of the Trump campaign officials and consultants known meetings with Czarist President Vladimir Putin's government officials.
Do Americans really think all of the following interactions were just coincidence? Just a couple of billionaire women and campaign officials just have a little old fashioned czarist fun?
Part I: Trump Family & Campaign Interactions w/ Russia 2016
I can't help wonder whether Ivanka Trump and her Russian-Oligarch-loving friend Wendi Deng Murdoch [Rupert Murdoch's ex-wife rumored in March of 2016 to be Putin's girlfriend (denied much later by Deng)], weren't conduits through which information passed between then candidate Donald J. Trump and Russian czarist President, Vladimir Putin?
Why hasn't the FBI called them in for interrogations about what they may know, based on their numerous interactions with the Oligarchs throughout the presidential campaign season of 2016?
Why haven't they called in billionaire propagandist Rupert Murdoch who controls Fox Fake New, the Wall Street Journal and the NY Post - all of which unabashedly promoted the Trump candidacy with distorted, and at times false news reporting, as well as the suppression of stories relevant to the election? Murdoch was reported to speak somewhere between daily and weekly to Trump, following the election, as was his surrogate pseudo anchorman Sean Hannity. Both had business with the federal government and - as far as I know - neither has registered as a lobbyist, even though both men appear to have profited handsomely since the election of Trump as a result of Trump policies, FCC rules changes and for Hannity a new multi-million loan agreement with far more generous terms.
Trump Family & Campaign Officials Hold Over a Half Dozen Meetings with Russians Close to Putin Throughout 2016
On March 2, 2016 Rupert Murdoch, who controls two of America's six largest media content companies, tweeted that the GOP "would be mad not to unify" around Trump, if he's the Republican nominee. Murdoch controls the Fox News, WSJ & NY Post propaganda machine that catapulted Trump into the Oval Office in November 2016, along with the help of the Russians.
Some of Known 2016 Interactions of Trump Family & Campaign w/ Putin's Russia
1. On March 14, 2016, George Papadopolous, one of five foreign policy consultants, recruited by Trump co-Campaign Chairman Clovis, met with Joseph Mifsud. Mifsud is reported to be a British university professor with connections to high ranking Russian officials. Papadopolous met with Mifsud again on March 24, 2016 at a London Hotel and again in late April of 2016 when Mifsud was accompanied by a Russian woman who told him that they had dirt in Clinton in the form of thousands of emails. Mifsud attends the Valdai Discussion Club in Sochi, Russia which is a conference periodically attended by Putin himself.
Are Ivanka Trump & Wendi Deng Murdoch Shills for Billionaires / Oligarchs?
2.a. Less than a month later, on March 31, 2016 US Weekly, a gossip magazine, reported that the former wife of Rupert Murdoch, Wendi Deng Murdoch, was dating Vladimir Putin. Two days later, on April 2, 2016 Murdoch's former wife, Wendi Deng Murdoch, was seen on a boat associated with the yacht of Roman Abramovich, a Russian Oligarch considered among Putin's closest 'friends'. Abramovich's wife, introduced to Ivanka years earlier by Deng, is reported to be a friend of Ivanka's.
2.b. A month later, on May 2, 2016, Wendi Deng Murdoch was seen at the Met Gala along with her close friend Ivanka Trump. Wendi Deng Murdoch was, at the time, rumored to be Putin's girlfriend, and she had named Ivanka Trump as the trustee for Wendi Deng Murdoch's children's $300 million trust, which was reported in 2015 to hold numerous shares in Rupert Murdoch's 21st Century Fox. Ivanka served as a trustee for Deng until December of 2016 when she stepped down.
In 2014, following the Murdoch's divorce, Rupert Murdoch reportedly accused his ex-wife Wendi Deng Murdoch of being a Chinese spy. This appears to have been corroborated by U.S. Intelligence, which warned Ivanka Trump and Jared Kushner that Deng was a spy, following Trump's Electoral College victory in December of 2016.
3. In May of 2016 Roger Stone, a long time friend of Donald Trump [attended two of three weddings], who had worked for him on prior occasions, met with a Russian who offerred him dirt on Clinton. Stone initially denied the meeting took place, before admitting it. According to Wikipedia, two Stone associates claim he collaborated with Julian Assange of Wiki Leaks to release dirt on Clinton. In August of 2015, Roger Stone stepped down from his official role in the Trump campaign.
4. On June 9, 2016 Don Trump Jr. and Ivanka's husband Jared Kushner met with a Russian spy, Natalai Veselnetskya, at Trump Tower in Manhattan to get dirt on Clinton. At first Donald Trump Jr. lied to Americans about the real purpose of the meeting claiming it was about adoption, before admitting it was to get dirt from the Russians on Clinton.
The Trump / Murdoch Mob? The Donald Publicly Invites Russian Interference
Murdoch's ex-wife, Wendi Deng Murdoch, waited until July 25, 2016 - nearly four months after the reports broke - to deny that she was dating Vladimir Putin.
On July 27, 2016, two days after Wendi Deng Murdoch's denial of a relationship with Putin [she was reportedly never seen with him, but seen on Russian Oligarch yacht(s)], Trump publicly invited Russia to hack and release Clinton's emails, when he stated the following at a nationally televised press conference in Florida.
"I will tell you this: Russia, if you're listening, I hope you're able to find the 30,000 emails that are missing. I think you will probably be rewarded mightily by our press."
Did he mean they will be rewarded by the propaganda press of unrelenting Trump supporter, multi-billionaire Rupert Murdoch, or by the entire American press?
The Trump Family & Campaign Meetings with Russia Continue
5. In July 2016, Carter Page, a financial and oil man, who spent years in Russia and was reportedly sympathetic to Russia, traveled to Moscow to give a speech. He met with a former cabinet member of ex-president of Russia, Dmitry Medvedev. Page initially denied this meeting took place and later his 'memory came back to him'. Page was the Trump Campaign Foreign Policy Advisor from March 21, 2016 until September 2016, when it was disclosed that Page had allegedly met with at least one U.S. sanctioned Russian Oligarch, Igor Sechin of Russian conglomerate Rosneft.
6. On August 14, 2016 Wendi Deng Murdoch, Ivanka Trump and her husband Jared Kushner vacationed together in Dubrovnik, Croatia. Likely not coincidently, Russian Oligarch, Rybolovlev's yacht was reportedly moored there at the same time, and his private plane was reported to have landed there too.
Seven years earlier, following the real estate bubble crash in 2008 / 2009, Russian Oligarch Rybolovlev paid Donald Trump $95 million for a house Trump had purchased for $41 million only four years earlier. Rybolovlev, a member of Putin's inner circle, eventually demolished the home, leading people to question whether Rybolovlev had financially bailed Trump out during the real estate and stock market crash of 2008. At the time Trump was again allegedly in serious financial straits, following a string of six bankruptcies that began in the 1990's and bled into the 2000's.
Around that same time in 2008, while the American real estate bubble was bursting, Elena Baronoff, a former Russian 'attaché of cultural affairs' [spy?], began helping Trump sell property in Sunny Isle, Florida. She sold nearly $100 million of Trump real estate to Russians, reportedly at top dollar [inflated?] prices, which led some pundits to question whether the Trump's were laundering money via real estate sales. In 2007 Ivanka got her start with her father's company, also working on a project in Panama, which reportedly was suspected of laundering what was believed to be Russian and drug cartel money.
Trump sales agent Baronoff reportedly contracted leukemia in 2014 and conveniently died in 2015, right around the time Donald Trump began testing the waters for his presidential candidacy.
7. On September 12, 2016 Ivanka Trump, Wendi Deng Murdoch and Oligarch Abramovich's wife Dasha Zhukova were photographed attending the U.S. Open together. One report credits Wendi Deng Murdoch with introducing Ivanka Trump to Dasha Zhukova, billionaire Russian Oligarch Abramovich's wife, and there are reports that the two have been friendly for nearly a decade.
Was the Murdoch Propaganda Machine Colluding with Russia & Trump?
Murdoch's WSJ was reported to have held a story in the fall of 2016 about the Donald and his mob connected past - allegedly for editorial reasons. But if I recall correctly, the WSJ Editor, Paul Gigot, also said something along the lines of holding it to stave off a Clinton victory. I NEED TO VERIFY THIS.
Eleven days prior to the election, on October 28, 2016, the case involving Clinton's emails was reopened, because some of them were found on Anthony Weiner's laptop. Rupert Murdoch's Wall Street Journal had issued related reports about them a couple of months earlier, and Murdoch Fox News regular Rudy Giuliani [now Trump's lawyer] foreshadowed the timely release of the news - that there were more Clinton emails - on Fox News. Giuliani is reportedly paid over a half million dollars to be a paid contributor on Fox Fake News.
Within days the FBI had sifted through them, informing the public that there wasn't anything new.
7. Russian Oligarch Rybolovlev was tracked to North Carolina by the Daily Kos, just five days before election day 2016 at the same airport where candidate Donald Trump had landed only 20 minutes earlier to make a campaign stop. Rybolovlev reportedly paid $95 million to Trump for a mansion he demolished, and for which Trump had paid $45 million only four years earlier. It was reported to be worth about $25 - $30 million less at the time.
I found it interesting that Rybolovlev's battery company in America was reported to build batteries in what look like storage containers, and upper management is mostly comprised of ex-Russian government people [agents?]. Rybolovlev recently closed down the company and Russia is reportedly withdrawing money from America, as Mueller probe gets closer to closing in on Trump. I can't help wonder whether the Russians were planning to use these 'batteries in containers' to ship other things - like say weapons technology, people, drugs - in and out of our country?
666. On November 8, 2016, Devilish Donald Trump was elected president. Numerous Oligarchs planned to attend Trump's Inauguration. Even Putin was rumored to be planning to attend.
Going into the voting booths, most Americans were not fully aware of Trump's mobster ties dating back into the 20th century, nor even remotely aware of all of the ties Trump has had with what appears Russian-like mobsters over the past 20 to 30 years.
The Inauguration of Benedict Donald - J. Trump
Several Oligarchs showed at Trump's Inauguration [and helped fund it?] including Vekselberg and Maskevitch. Reports said they were expecting great things during the Trump years. Are / were they expecting to convert American democracy into a Putin kleptocracy, Russian style?
PRIME COLLUSION PARTICIPANTS? Ivanka Trump, Wendi Deng Murdoch, Rupert Murdoch & Sean Hannity
Is Wendi Deng Murdoch, the ex-wife of the powerful, multi-billionaire Rupert Murdoch who controls the Fox Fake News propaganda machine above the law? Is the President's daughter, Ivanka Trump Kushner, who appears to be a shill for the Trump Organization above the law?
Is Rupert Murdoch, whose WSJ buried a negative Trump story before election above the law? Is pseudo anchorman Sean Hannity, who Michael Cohen advised on real estate & who famously ordered Trump to fire ALL U.S. Attorneys - which Trump did the next day - immune from questioning? Murdoch's Fox Fake News & Hannity went on to do a very sympathetic, propagandistic interview with Assange in captivity in the Ecuadorian Embassy in London following the election. Both men have, during the Trump presidency, been reported to be in constant contact with Trump [daily to weekly phone calls].
CLICK here to read the rest of our report about whether a financially compromised president who appears a hostage of the Russian mob-like kleptocrats who appear to be possible murderers and thieves of the Russian people's wealth.
---
Unite The Right Rally in Washington D.C. Aug 2018
What I Found: Unite The Right Rally in D.C.
Media Reality Distortion - How Out of Whack is America's News / Information System?
August 13, 2018 / Government, Media & Politics USA / Washington, D.C. / Gotham Buzz NYC.
Just over a week ago, I made the decision to travel down to Washington, D.C. to cover the Unite The Right Rally scheduled Sunday, August 12th, on the anniversary of the same rally organized by the same group in Charlottesville, Virginia. Charlottesville is located about 100 miles south / mostly west of Washington, D.C.
In the rally a year ago, White Supremacists, Ku Klux Klansmen, neo-Confederates and neo-Nazis participated in the rally and it became violent. One person was killed in the event when an alleged neo-Nazi drove his car through the crowd, and two officers monitoring the event in a helicopter died, when the aircraft crashed [I believe it was an accident]. And somewhere between 19 and 34 people were injured in clashes between the Unite The Right rally participants and Antifa along with other counter protesters.
The D.C. event was scheduled in D.C. because Jason Kessler, the Unite The Right Founder, couldn't get a permit in Charlottesville for the first year anniversary of the Unite The Right event. After some skirmishing over the permitting with the local Washington, D.C. authorities, Kessler prevailed and was given a permit to hold a march and rally ending in Lafayette Park, just south of the White House.
At one point there were discussions about arranging separate public transit buses for the Unite The Right rally members from their staging area a several miles west of the White House, to the march starting point at Foggy Bottom Metro Station. But the D.C. public transit union resisted, as the majority of their members are African Americans, and the union reportedly opined that they didn't want to do anything to facilitate the Unite The Right rally.
---
Corrupt Presidency of Donald Trump - Corruption
The Ridiculous & Scary Presidency of Benedict Donald
If Trump is so Innocent, Why is his Legal Team Spending so Much Effort on Asserting he can Pardon Himself?
June 4, 2018 / NYC Neighborhoods / NYC Politics / News Analysis & Opinion / Gotham Buzz NYC.
This would be funny, if it wasn't so real.
While Trump loudly and continuously proclaims his innocence, both he and his legal team are aggressively claiming that the president is above the law and can self pardon. These actions and concurrent narratives don't seem very innocent to me.
Is this a Shakespearean comedy of errors by fools?
Do They Think Americans Are Morons?
Is Democratic Rule of Law being Ceded to Billionaire Oligarchs?
Rudy Giuliani, once a lawyer who prosecuted the mob, seems to have sold out by becoming a lawyer who now represents mob-like characters, including Donald J. Trump and Turkish Iranian businessman Reza Zarrab.
Not long after Trump began his career in the real estate business in the 1970's, Trump is believed to have associated with the mob, doing business with them on deals relating to the construction of Trump Tower, and in developing casinos in Atlantic City, New Jersey. Trump reportedly admitted he was friendly with mobsters and I've seen photos of Trump with some. Trump has also sold in the neighborhood of a hundred million dollars or more in real estate to Russians, including an Oligarch, according to Haaretz, an Israeli English language publication. The Oligarchs are considered to be the Russian equivalent to what was the American mob by some. Click here for a brief and likely very incomplete accounting of some of what seem like Trump's nefarious dealings - Donald Trump & the Art of the Steal.
Rudy Giuliani was also hired by Reza Zarrab's defense lawyers - not to plead their case as their attorney - but to do something else, possibly akin to what Trump fixer Michael Cohen does. Giuliani was a staunch candidate Trump supporter in 2016, an unofficial Trump security adviser in 2017, and most recently became a member of the Trump legal team. According to an April 3, 2017 Seattle Times report,
"[Guiliani and former Attorney General Michael Mukasey] were hired by Zarrab's defense. But oddly, neither is involved in pleading the case in U.S. District Court, leading prosecutors to wonder if the defense is trying to circumvent the regular judicial process by going above prosecutors' heads. ... He [Zarrab] and several others are accused of conspiring to evade U.S. sanctions against Iran, using a network of companies to mask the true nature of transactions and defraud multiple banks. Prosecutors say they processed hundreds of millions of dollars for Iran and claim to have thousands of pages of bank, email and phone records to prove it. Zarrab pleaded not guilty."
To make a long story short, Trump subsequently fired Preet Bahara, the U.S. Attorney for the Southern District of New York who was prosecuting the Zarrab case [and also prosecuting a couple of cases against a company controlled by Trump propagandist billionaire Rupert Murdoch - see link below]. At the time it was believed that Marc Mukasey, Michael Mukasey's son, would replace Bahara. Instead Trump left the position vacant for about a half year, before a New York judge appointed a temporary replacement. The position may not have been filled to avoid the appearance of what it really may have been ... another example of Trump obstruction of justice.
Democracy Destroying Don: Trump Claims He's Above the Law
On Saturday, June 2, 2018 the NYT published a story that included the following,
"In a brash assertion of presidential power, the 20-page letter -- sent to the special counsel, Robert S. Mueller III, and obtained by The New York Times -- contends that the president cannot illegally obstruct any aspect of the investigation into Russia's election meddling because the Constitution empowers him to, "if he wished, terminate the inquiry, or even exercise his power to pardon."
According to a June 2, 2018 report by The Hill quoting Nick Akerman, the Assistant Watergate Prosecutor,
"First of all, the whole idea that he [Trump] can't be charged with obstruction of justice -- the last time that ever happened in this country is when we were ruled by King George ... That's what the whole rule of law is about. The president has to faithfully execute the laws." [Akerman told MSNBC]
Axis of Evil: Trump, Giuliani & Rupert Murdoch's Media
Rudy Giuliani began doing rounds on the media circuit, most notably, Rupert Murdoch's propaganda machine outlets including Fox News, where he appeared to assert that the president of the United States is above the law. To become better acquainted with what seems to be in it for Rupert Murdoch - who controls Fox News, Wall Street Journal, NY Post, Barron's, Market Watch, WWOR-TV, Fox 5 and Harper Collins Books - in exchange for his unapologetic propagandistic support of Trump - click the link above.
Trump Corruption Makes the Clintons Look Like Amateurs?
During the 2016 campaign Benedict Donald repeatedly labeled Hillary Clinton as Crooked Hillary. That resonated with the American people because the Clinton's appear to have a history of questionable political maneuvering and the billion dollar Clinton Foundation oftentimes seems self-serving.
But in the one and a half years since Trump took office, he's managed to make the Clintons look like small potato amateurs, and you're hearing that from someone who is no fan of the Clintons.
Not Serving the Nation but Criminals Serving Themselves?
Taxpayers Spend Added $60 Million on Trump's Golf Game & Family Travels. In 2017 the U.S. Secret Service budget had to be increased $60 million to keep apace with the Trump family travels. A good portion of that spending appears to be to provide protection for Trump's 100 days of golf which he did in his first 408 days in office.
D.C. Swamp Now a Trump-sized Cess Pool
Middle East Wars: American Foreign Policy & Security For Sale?
Jared Kushner, Trump's son-in-law, secured a $30 million investment from an Israeli finance company, Menora Mivtachim shortly after Kushner accompanied Trump on a trip to Israel in May of 2017. In December 2017 the U.S. Embassy in Israel was moved to Jerusalem following receipt of the investment.
A March 22, 2018 report by MSNBC states that The Intercept noted that the Saudi Royal Prince said he had Jared Kushner "in his pocket". Kushner, who has national security clearance, is reportedly an avid reader of Trump's daily security briefing.
U.S. to Pay For Murdoch Cheney Prince Black Ops?
Blackwater / Academi, Erik Prince, Dick Cheney, Rupert Murdoch & Syria - You Know This Can't be Good
According to a May 3, 2018 report in the NYT, the U.S. has quietly deployed Special Forces to Yemen, in what appears to be an escalation of help to the Saudi government's involvement in the Yemeni Civil War. The Trump Administration says America is providing refueling, logistics and intel sharing help and the Trump Administration never lies - do they? According to reports in the NYT in 2011 and in 2015 the United Arab Emirates and the Saudis have hired Blackwater [now called Academi] mercenaries and there have been reports of countless civilian casualties in Yemen and torture prisons either in Yemen, or elsewhere in the Middle East, or both.
Betsy De Vos' brother, Blackwater billionaire & Founder Erik Prince, is interested in going to the mercernaries-for-hire business again in the Middle East. According to an April 18, 2018 report in the WSJ,
"... the Trump administration is seeking to assemble an Arab force to replace the US military contingent in Syria and help stabilise the north-eastern part of the country ... [and that Erik Prince] has been informally contacted by Arab officials about the prospect."
It's worth mentioning that Rupert Murdoch, the global billionaire propagandist, went into business with former VP Dick Cheney through Genie Energy which bought energy rights from Israel in 2013 in the illegally-occupied Syrian Golan Heights. In 2007, on Cheney's watch, Erik Prince's Blackwater allegedly murdered dozens of unarmed Iraqi civilians - of which the most notable incident was the Nisour Square Massacre. And Erik Prince is also suspected of attempting to establish a back channel for Trump / Putin in the Seychelles [islands off the coast of Africa] in December of 2016.
It seems like the gang is back in town and American's reputation and government taxed money may be used again by these millionaires and billionaires to further enrich themselves. This time it seems they will make themselves even more fabulously rich on the stolen energy rights of the Syrian people, using the American taxpayer Defense budget to pay for it. An effort to defund some of these operations in March / April 2018 was stopped by one of Rupert Murdoch's many puppets, Senate Majority 'Leader' Mitch McConnell [his wife Elaine Chao was previously on Murdoch's 21st Century Fox Board].
Banking Deregulation For Sale?
Kushner also secured a half billion dollars in loans during Trump's first year as U.S. President. After multiple meetings at the White House in Spring of 2017, Citibank made a $325 million loan to Kushner. In November 2017 Apollo Global Management made a $184 million loan to Kushner. The loan they made to Kushner was reportedly triple the size of the average property loan in their portfolio. Apollo's slogan is "We take many paths to value."
In March 2018, Mouse McConnell, the Republican Senate Majority Leader announced that the Senate had passed a bank deregulation bill that pulls back the bank reforms made after a bank bailout and economic recovery that cost the American taxpayer over $4 TRILLION DOLLARS. In May 2018 Trump and the Republican Congress, led by Paul Ryan, passed a similar banking deregulation bill.
Chinese Trade Deals & American Security For Sale?
A May 23, 2018 report on Bloomberg states,
"Press reports in early May centered on $500 million in expected loans [to a Trump Partnership in Malaysian tycoon developer Hary Tanoesoedibjo] from a Chinese state-owned institution. This was particularly piquant because of Trump's unexpected announcement on May 13, via Twitter, that he was working with Chinese President Xi Jinping to give the Chinese phone maker ZTE Corp., which has been cut off from U.S. suppliers for violating sanctions against trading with Iran and North Korea, "a way to get back into business, fast." That produced accusations that Trump had engaged in a quid pro quo with Xi."
CLICK here to continue reading our report about the Ridiculous Presidency of Benedict Donald including the alleged sale of access to Russian Oligarchs, sale of U.S. federal land and mineral rights, potential corruption at Betsy De Vos' Department of Education, 187 former lobbysists working in the swamp-turned-cesspool, Melania's friend's multi-million dollar windfall, taxpayer funded federal government luxury, possibly a Cabinet member's Mile High Club enrollment on a U.S. Air Force jet and the Trump $1.5 trillion robbery of America's children.
---
Trump Tax Plan - Super Rich Bilk Billions from America's Babies
Trump Tax Plan: A Morally Bankrupt President's Gift?
Are Billionaires Trump & Murdoch Bilking America's Unborn Babies?
Updated 12/26/17 _ December 19, 2017 / New York City Neighborhoods / New York City Business / News Analysis & Opinion / Gotham Buzz NYC.
Like many of you, I have been watching the Trump Tax plan make its way through Congress. While Trump and his cohorts were whipping together the tax package, I was doing research on the possible implications of some of their tax policy proposals.
According to an October 20, 2017 PolitiFact report [based on the plan at that time, which has since been modified],
"... in the first year of changes, the top 1 percent are projected to draw a little over half the tax savings. The threshold of 80 percent going to the top 1 percent is projected for the tenth year."
While directionally this statement is likely to hold [meaning the plan is biased toward the rich], the exact numbers as to how biased the Trump Tax Plan will be for the wealthy - based on the final bill - remains to be calculated.
In this report we look at a number of tax cuts included in the final bill including repatriation of overseas profits, reduction of the estate tax, reduction of the corporate tax and the blue vs red state tax increase. We include a review questioning why the Trump Administration is pushing this deficit expanding / debt increasing fiscal stimulus package - when we're in a full employment economy with rising wages. We also include how the Trump Tax Cut Plan has been treated propagandistically by Rupert Murdoch's media outlets, as he appears to personally and corporately benefit immensely from the tax cuts.
But before we begin, we take you on a quick review at some key characteristics and prior dealings of the man behind the plan - Donald J. Trump.
I. Character & The Art of the Deal - Or Steal?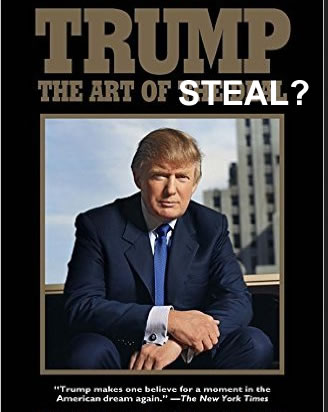 In Donald Trump's book The Art of the Deal, he says,
"You can't con people, at least not for long. You can create excitement, you can do wonderful promotion and get all kinds of press, and you can throw in a little hyperbole. But if you don't deliver the goods, people will eventually catch on ..."
Is the Trump Tax Plan a Tax Boondoggle for Billionaires?
Based on recent polls regarding the Trump Tax Plan, it appears the American people are of the opinion that this a very bad deal for them and their children. Perhaps this is why the Donald appears to be rushing through what appears to be one of the greatest tax billionaire boondoggles in modern history, while telling the public that this tax plan isn't good for him ... or his super rich family and friends.
Always Pay Attention to a Person's Integrity or Lack Thereof
To listen to the Donald, you'd think he has always been a champion, if not a living martyr, of the middle and working classes of America. But the facts don't always square with the Donald's narratives. And the Donald, seems never to admit blame. That's why he has continually lashed out at the media who inform the public about him - calling all, but Rupert Murdoch's vast mass manipulation media [Fox News, Wall Street Journal & NY Post], Fake News. Trump and Murdoch live in the Bizarro World, where so much of what they say appears to be the truth turned upside down.
In the graphic at right, I modified Rupert Murdoch's Fox News website front page celebrating the passage of Trump Tax Plan - in which it appears that the bulk of the breaks will go to the super-rich, including the multi-billionaire Murdoch, who is a global propagandist and powerful Trump supporter. I call this Murdoch's propaganda payout and it appears to be HUGE.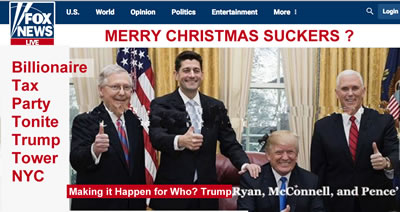 Law and Crime, a web magazine funded in part by A & E Network, states in a February 16, 2016 report that Trump was named in at least 169 Federal Lawsuits. They went on to say that,
"The federal lawsuits that we reviewed date back to 1983 and involve everything from business disputes, antitrust claims and, more recently, accusations that Trump's campaign statements are discriminatory against minorities. Some of the cases have been resolved, some were dismissed as frivolous, and others were privately settled. He's been sued by celebrities, personal assistants, prisoners, people in mental hospitals, unions, and wealthy businessmen. Of course, Donald Trump has also done his fair share of suing as well."
Slippery Donald - A Sales Promoter Who Must be Watched Carefully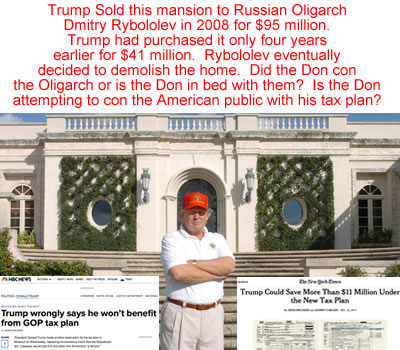 Watching Trump promote and sell his tax plan to the American public reminded me of a report about how the Donald sold a Palm Beach mansion - Maison de L'Amitie at 515 North Country Road - to Russian Oligarch Dmitry Rybolovlev in 2009. In a July 28, 2016 story in Politico, reporter Jose Lambiet says of the deal,
"This is what he [Trump] does with everything. He puts a little veneer on things and he doubles the price, and people buy it," ... "He's [Trump] all smoke and mirrors--and that house was the proof."
Dmitry, the Russian Oligarch, paid $95 million for what Trump had paid only $41 million just four years earlier. Dmitry is now reportedly planning to demolish the mansion.
The question is whether the Donald snuck one by the Russian Oligarch, or whether the Donald is in cahoots with the Russian Oligarchs, and this was an indication of such?
The graphic / photo at right shows Trump standing in front of the Maison de L'Amitie. In the lower left I added his claim that he wouldn't benefit from the Trump Tax Plan as reported by NBC News on November 29, 2017; while in the lower right is a December 22, 2017 New York Times analysis indicating that the Trump Tax Cuts might enable him to take advantage of $11 million in tax breaks.
II. Trump & The Russian Oligarchs
Are These Birds of a Feather Flocking Together?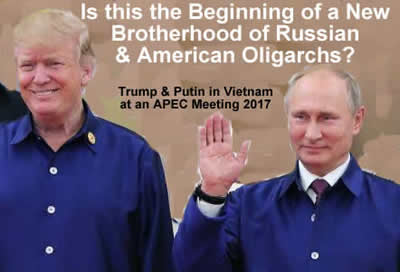 A July 13, 2017 report by the New Republic informs us that,
"In 2015, the Taj Mahal [controlled by Donald J. Trump] was fined $10 million--the highest penalty ever levied by the feds against a casino [in years] - and [they] admitted to having "willfully violated" anti-money-laundering regulations."
The report references the book, Red Mafiya, about the rise of the Russian mob in America, by investigative reporter Robert I. Friedman. It appears that the laundered money came from the Russian mob, and further in the story we learn a bit more about what appear to be the Donald's shadowy business dealings with Russia.
"In April 2013, a little more than two years before Trump rode the escalator to the ground floor of Trump Tower to kick off his presidential campaign, police burst into Unit 63A of the high-rise and rounded up 29 suspects in two gambling rings. The operation, which prosecutors called "the world's largest sports book," was run out of condos in TrumpTower--including the entire fifty-first floor of the building. In addition, unit 63A--acondo directly below one owned by Trump--served as the headquarters for a "sophisticated money-laundering scheme" that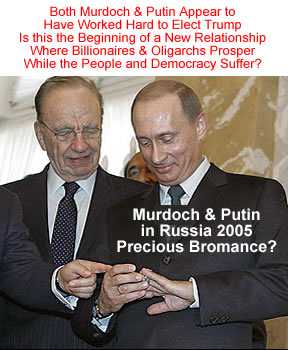 moved an estimated $100 million outof the former Soviet Union, through shell companies in Cyprus, and into investments in the United States. The entire operation, prosecutors say, was working under the protection of Alimzhan Tokhtakhounov, whom the FBI identified as a top Russian vor closely allied with Semion Mogilevich. In a single two-month stretch, according to the federal indictment, the money launderers paid Tokhtakhounov $10 million.
Tokhtakhounov, who had been indicted a decade earlier for conspiring to fix the ice-skating competition at the 2002 Winter Olympics, was the only suspect to elude arrest. For the next seven months, the Russian crime boss fell off the radar of Interpol, which had issued a red alert. Then, in November 2013, he suddenly appeared live on international television--sitting in the audience at the Miss Universe pageant in Moscow. Tokhtakhounov was in the VIP section, just a few seats away from the pageant owner, Donald Trump.
After the pageant, Trump bragged about all the powerful Russians who had turned out that night, just to see him. "Almost all of the oligarchs were in the room," he told Real Estate Weekly."
A Tax Plan for the new American Oligarchs?
The U.S. has a Full Employment Economy & Wages are Rising
So Why is Trump Promoting Fiscal Stimulus in a Full Employment Economy?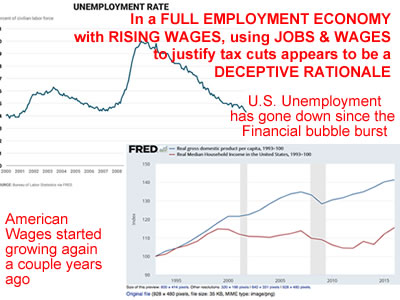 Over the past few years the economy has been steadily adding new jobs, and wages have been rising. The unemployment rate is 4.1%, which means the U.S. is operating in a full employment economy. A full employment economy is defined as one where everyone who wants a job, has one, except those who are in transition. Normal transitioning is generally estimated at 5% of those who are employed. These transitioning unemployed workers are those workers who are making the change from school to jobs or vice versa, switching jobs or careers, moving from one locale to another, or making other relevant job or life changes such as illnesses etc..
So given we're in a full employment economy where wages are rising, why are we incurring over $1 trillion in new debt to give the richest people in the nation / world tax breaks? The new jobs, higher wages argument seems deceptive as it just doesn't seem to apply here.
Former NYC Mayor Bloomberg Says "This Tax Bill is a Trillion Dollar Blunder"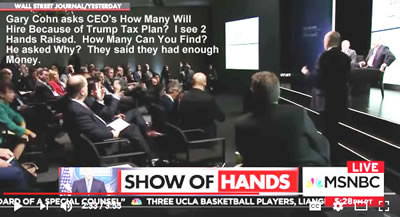 Former Republican Mayor Michael Bloomberg wrote an editorial dated December 15, 2017 on Bloomberg.com entitled "This Tax Bill is a Trillion Dollar Blunder".
In the editorial Bloomberg cites his rationale, including an anecdotal poll taken by Trump Economic Adviser Gary Cohn who on November 14, 2017 asked CEO's to raise their hands if they planned any additional hiring. In the video of the event I saw only two hands raised, and the moderator goes on to ask, 'Why weren't more hands raised?'. Go to YouTube.com and type in the search 'gary cohn asks ceos to raise hands' to see the video for yourself. The answer is that the top CEO's are sitting on trillions in cash, so a tax break isn't going to change the investment landscape for them with respect to adding jobs.
Bloomberg concluded his editorial with the following statement.
"The tax bill is an economically indefensible blunder that will harm our future."
It's also important to note that since the lows following the Great Recession of 2008 - 2009, wages have been going up between two and four percent, as measured on a quarterly basis.
---
Fox News Sean Hannity is Whose Voice?
Fox News Sean Hannity is Whose Voice?
Stock Market adds Trillions & Working Middle Class Gets What?
March 6, 2017 / NYC Neighborhoods / NYC Business & Politics / News Analysis & Opinion / Gotham Buzz NYC.
Has Rupert Murdoch's Fox News mouthpiece, Sean Hannity, been pushing hard for tax reform because the Trump tax plan will be good for the working class people - one of which he appears to pretend to be? Or because the Trump Tax Plan will be good for mega multi-millionaires like Sean Hannity and mega multi-billionaires like Hannity's boss, Rupert Murdoch?
How Much a Phony is Fox News Sean Hannity?
Does he Pretend to be Working Class Guy ...
- So he can Dupe Fox News Viewers into Supporting a Tax Plan that Favors NOT them -
... but Mega-Millionaires like Him?
Hannity hasn't been a working class guy for in the neighborhod of two decades. In fact, according to Forbes in a 2015 survey Hannity is a very rich man. According to Zillow Hannity owns a palacial home on Long Island worth millions [see Zillow photo at right] and a second home located in a wealthy enclave in Naples, Florida.
Forbes published that Sean Hannity's earnings in 2015 were $29 million [see graphic at right]. So it's not implausible to guess that Hannity may have purchased the second home in Florida, so he could claim residency there in order to avoid NYS taxes, which Hannity has been publicly complaining about for years.
Which tax candidates and priorities do you think Sean Hannity is supporting - yours - or his own and Boss Murdochs?
Televangelist Hannity Preaches Gospel According to Murdoch
Fox News & Hannity Dictate Orders to Republicans ... Implied Threat is Suffer the Wrath of Murdoch's Propaganda Machine?
Hypocrisy & Half Truths on Hannity on Fox News Tonight?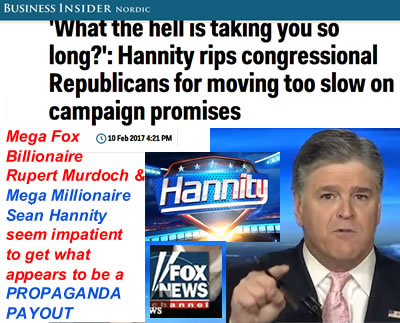 I'm using Fox News propagandist Sean Hannity as an example of what appears to be the incredible hypocrisy and misleading information regarding Trump and the Trump tax plan, being provided by Murdoch's Fox News, one of America's largest TV networks.
It appears Hannity lures unwitting viewers into believing he's a working class guy - when he isn't - so his viewers will take his advice when he labels political candidates and public issues in childly simplistic terms of 'US' vs 'THEM' and 'GOOD' vs 'BAD'. Hannity seems to use small words and incessantly repeats himself, instructing his viewers like they are a bunch of five year-old kids who don't have the contextual experience nor even the infantile analytical skills required to think for themselves.
Fox and Hannity oftentimes appear to make no attempt to find and disseminate the truth on issues or government officials, but instead appear to propagandistically promote or punish those who do not bend to their will, as exemplified in the Business Insider headline to your right. The implicit message to Republicans appears to be obey us - or suffer the consequences of losing your elected government post - because our audience believes us and will do what we tell them to do.
Fox News Hannity's pugnacious rhetoric sounds kind of Nazi-like. This seems to be an indication that the FCC has granted and entrusted these people with way too much power - and that they appear to be corrupting it to serve their own selfish interests.
Click here to continue reading this report about Fox News propaganda & Hannity, O'Reilly propagandists on Fox News which is a lead into a report about how it appears they will profit handsomely from their propaganda services.
---
Trump Budget: Is Extravagant U.S. Defense Spending Hurting America's Economic Future?
You Decide: President to Address Nation
Proposing $54 Billion Defense Budget Increase - Why?
February 28, 2017 / NYC Government / NYC Business / News Analysis & Opinion / Gotham Buzz NYC.
Tonight President Trump will address the nation regarding his plans for the U.S. One of the notable previews given by sources within the Administration is that Trump plans to increase Defense spending by $54 billion. I decided to take a quick look at some of the economic statistics to see if that appears warranted, especially vis a vis other priorities.
U.S. Government Deficits
The first chart [Congressional Budget Office] shows that the U.S. government has been spending more than it has been taking in. The gap widened in the wake of the September 2008 near financial meltdown, as tax receipts fell and fiscal stimulus [government spending] was needed to keep the economy going.
The higher levels of debt continued through the first term of the Obama Administration and then fell sharply back to Bush II era levels during the second term of the Obama Administration.
The net result is that near financial meltdown resulted in higher government deficits, which added to the overall U.S. government debt.
U.S. Government Debt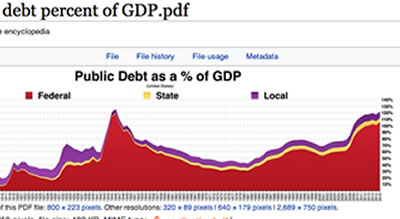 The second chart [Wikipedia] shows U.S. government debt relative to U.S. GDP. GDP is the acronym for Gross Domestic Product, which is a measure of the nation's economic output in goods and services.
The chart shows that the overall U.S. government debt relative to GDP rose significantly in the wake of the 2008 near financial meltdown. Currently the U.S. debt level is equal to about an entire year of U.S. economic output.
Many economists think that the U.S. has an unhealthy level of debt as it doesn't provide much slack for unforseen circumstances, like the 2008 near financial meltdown or prolonged involvement addressing international crises.
U.S. Defense Spending One Third of Global Total
About Equal to the Next 8 Nations Combined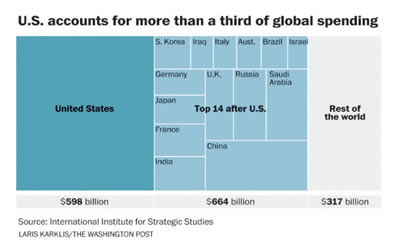 Currently the U.S. appears to overspend on military operations vis a vis the rest of the world. The U.S. military accounts for one third of defense spending in the world and its budget is roughly equal to the military budgets of the next EIGHT leading defense spenders in the world.
You can see this in the chart at right which was created by the Institute for Strategic Studies and published in the Washington Post.
Click here to read the rest of our report on how out of balance U.S. Defense Spending in America is compromising the nation's economic future.
---
Dysfunctional Donald: The Trump Presidency
The American Presidency & Dysfunctional Donald Trump
This Section is Dedicated to Informing the American Public about the Democracy Destroying Donald
December 11, 2019 / NYC Neighborhoods / NYC Politics / News Analysis, Opinion & Satire / Gotham Buzz.
Beginning in late 2016 I began to start paying attention to some of the crazy stories floating around about Donald Trump. At first the stories seemed almost unbelievable tales of someone competing to become president of the United States, but the more I dug, the more I found, and eventually the evidence of who this man was and is, almost frightened me when pausing to consider that he had and still has control of the most powerful government apparatus in the world.
Empires and civilizations come and go because those who worked hard to build them are not the same people who inherit them. And the people who inherit them are oftentimes unappreciative of the hard work and thought that went before them.
We're too close, to my way of thinking, of squandering the gifts that were left to us by our forbears because we have not paid attention to all of the malfeasance and corruption that today is so much a part of government and the media we rely on to inform us. I've began running a series on what I view as the most egregious threat coming from the media in the series on Rupert Murdoch and the Rise of the Propaganda Press, which I had at first titled Murdoch Media Madness.
This series is a compendium of reports I've published on the presidency of the dysfunctional Donald. The graphic above showing Rupert Murdoch's Fox Fake News celebrating the billionaire tax cut of December 2017 includes my take on things in red.
---
---
---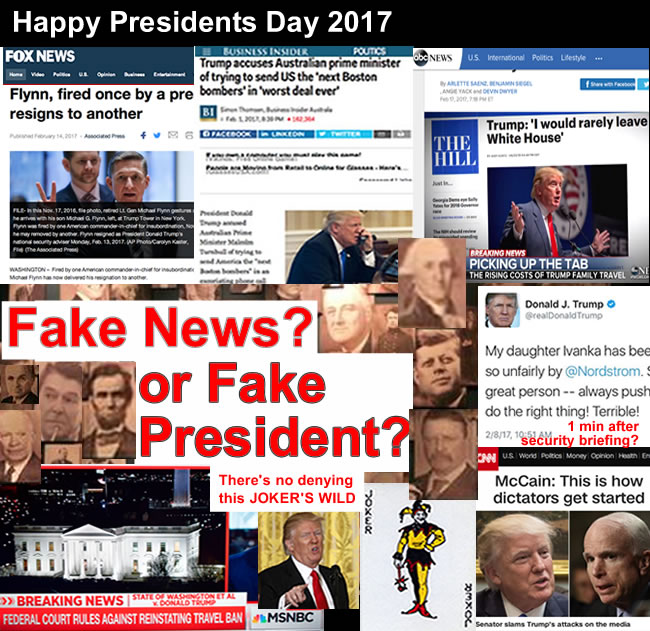 ---
The Trump Train
Fake News or Fake President?
February 19, 2017 / NYC Neighborhoods / NYC Politics & Media / News Analysis & Opinion / Gotham Buzz NYC.
I know a lot of people have found watching the news both addictive and frustrating lately.
They're tired of hearing the president make unsupported false statements every week, and listening to the media rebroadcast or reprint or repeat these false statements before they go onto correct him.
Hitler Said Repeat a Lie Often Enough and it Will Be Believed
Why does the media give these statements life in the first place - by repeating them at all?
It just gives these untruths some sort of strange validation, especially to those voters who make their decisions based on the noise level of soundbytes, instead of doing the research needed to understand the serious issues of the day, and the candidates' positions on them.
Jefferson said that those who believe they can be ignorant and free - believe in something that never was and never will be.
It seems to me that all of us need to start refocusing our attention from the petty distractions of what appears to be a Celebrity Apprentice President all-too-real TV show, to the serious business of addressing the issues facing the nation.
The president seems to be setting the tone for this chaos with his outrageous statements and theatrics. And the media - as during the 2016 campaign - seem to be knee-jerk reacting to almost everything he says.
They are enabling the president to suck up all the news oxygen out of the nation because all we hear about is Trump, Trump, Trump. They cover his antics - like he's media crack.
Enough already.
Special Request of the American Press: Separate the News from the Mockery
If the only thing the Trump Administration offers at its press conferences is of entertainment value, then I recommend that the news organizations treat it as such and forward the video outtakes of the 'fake president's fake press conferences' - which make a mockery of the office - to the 'fake news' outlets - meaning the late night comedy shows.
Folks who don't stay up late to watch these shows, can now catch these fictitious news shows on Youtube. Stephen Colbert of the Late Show, Seth Meyer of Late Night, and Saturday Night Live all seem to be on a tear. It's funny - but then again - it's not.
As for the news organizations, if you can't get anything of real substance out of the White House / Administration press briefings - then get out of your comfort zones and begin wandering the Capitol in search of the legislators, staffers, policy experts and industry experts who understand the issues and are working to address them. Put them front and center on the front page of your newspapers, websites and news shows, instead of the Trump Train.
By taking away the open mic you've been giving Trump since he began campaigning for the presidency, you will either influence him to start engaging in the issues and start acting like a real president - or begin marginalizing him - thus giving visibility to the people with the education, experience and knowledge to guide the nation in the right direction ... whatever that may be.
Special Request of the American People: Start Engaging in the Democratic Process
But we, the audience, are also part of the problem. Could it be that both Trump and the media are giving the audience 'what they (appear to) want' based on our behavorial response in watching, reading and clicking into the Trump Train News?
Perhaps it's time for us to tune out this show which parodies our system of government, while mocking us as a society. And maybe it's time to start listening to the advice of Mahatma Ghandi who said, "Live the change you want to see."
Instead of helplessly standing by, perhaps it's time for us to get involved at the grass roots level of the causes or issues we care about - on either side of the ideological spectrum. And maybe now is the time for us to get out from behind our computer screens so that we can infuse new energy into our own real lives. Spring is a good time for new initiatives.
Of course, then again, we could keep watching the Trump Train - if we want to keep this unreal TV show on the air - by continuing to contribute to its ratings success.
And even though our role in the process may sometimes feel insignificant, collectively we are each, one of the many deciders.
Special Presidents Day Request for Donald J. Trump
I have a special Presidents Day request to make of Donald J. Trump - and that is that you quit acting like a rich, spoiled brat and start acting like the president of the United States of America.
This request includes NOT encouraging the people who work for you (like Steve Bannon) telling the press to shut up, NOT ignoring 'tough' questions you don't like posed by members of the press who in some measure are asking the questions that many of us have, and most certainly NOT tweeting that the press is the enemy of the American people.
The First Amendment of the United States Constitution guarantees the right to freedom of expression / free speech / freedom of the press.
These sorts of statements made by you and your Administration, since you've taken office, might be expected of your good friends from less free countries, like RUSSIA - but NOT by the Leader of the Free World - which likie it or not - you are.
Either grow up quickly and quit embarrassing us - or please resign and let Mike Pence become the 46th President of the United States of America.
Have a Happy Presidents Day.
---